Transportation changes
My trusty 1982 BMW R100RS has been my transportation device for the past four years. (Two wheels good, four wheels bad!) I finally broke down and bought a vehicle with four wheels. The shame of it! One of the requirements for a four wheeled vehicle is that it be able to carry the BMW.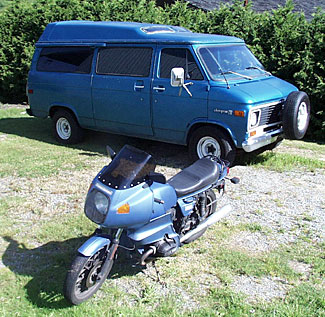 My "new" four wheeled vehicle — a 1976 6 cylinder Chevy cargo van. No seats (well — there is one for the driver and one passenger). The back of the van has been lined with plywood and carpeted. A great vehicle for carrying stuff. The van has been well taken care of and runs well. Yesterday was spent having my mechanic look at the van and then finalizing the transaction. The bike is the BMW which needs to be retired for some overdue maintenance and cleaning. It will return and claim it's rightful place as my primary transportation device.
But I will still have a good two wheeled transportation device.
I finally got some new tires for my Trek and am back riding it again. I need to get back in shape. With my black shorts, black shirt, very white legs (and expanded girth from not riding for too many years) I look like Orca Man! There are some great roads for cycling here on Whidbey Island. Lots of nice hills.
Between buying the van, and doing David Ossmans TT I have gotten behind in blogging and work. Regularly scheduled activity will return soon.