photography
I've been robbed by black and white photographs. Don't get me wrong, I do love a fine black and white photograph. Some of the great images of photography came out of the depression through the lenses of government funded photographers. These images are iconic. These photographers took these pictures to record a time and place but they forgot something — color. Well, they didn't actually forget color. Generally, color wasn't an option. But a few photographers did use the new Kodachrome and seeing these color images of the depression is a shock. Yes, I know that the world wasn't in black and white,no matter what my kids say. It's just that seeing these color pictures of the depression is like seeing this time and place for the first time. The first link is a New York Times link that they don't provide a blog friendly link for so it will go away soon. Don't dawdle. The second link has many, many, many, more pictures and will be around for a long while.
| | | |
| --- | --- | --- |
| | In our mind's eye, much of the past exists in black and white. This is particularly true of Depression-era America, in large part because of the unforgettable monochrome images created by the New Deal-sponsored photographers who traversed the country in the 1930's and early 1940's, chronicling the lives of its citizens. About 160,000 of their pictures are collected in the archives of the Library of Congress. Less well known are the roughly 1,600 of these photographs that were shot in color -- most notably by the photographers Russell Lee and Jack Delano -- using Kodachrome film, which Kodak introduced in 1936. This month, the Library of Congress and Harry N. Abrams are making a substantial collection of these images available for the first time in a book called ''Bound for Glory: America in Color 1939-43.'' As the writer Paul Hendrickson notes in his introduction to the volume, these photos give us more than just blues and yellows and reds -- they offer ''a new and complementary way of comprehending our national identity.'' | |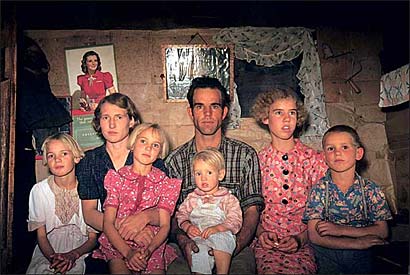 A homesteader and his family, Pie Town, N.M., October 1940.
[more]
thanks to Life In The Present



America from the Great Depression to World War II
Color Photographs from the FSA-OWI, 1939-1945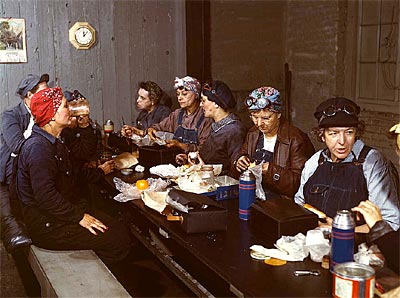 Women workers employed as wipers in the roundhouse having lunch in their rest room, C. & N.W. R.R., Clinton, Iowa
[more]
thanks to Magpie