let there be light or forward! into the past -- a rant
When I bought my FED 2 I did so because I couldn't afford to rebuild my Leica IIIc but I needed a Leica like camera. I took what I felt to be the bottom feeder route. What using the FED and hanging out at the Rangefinder forum has taught me is that these bottom feeders, and I include all the other "obsolete" rangefinders and cameras of all sizes, are no slouches. Progress has marched on but progress has not always been an improvement. The latest whiz-bang film or digital camera can do all sorts of things but all you really need to do is to focus the camera, adjust the aperture and shutter speed (but not always), and fire the shutter. So much of what is called progress has gone to automate these functions. I'm not sure that is really moving forward. Looking at the Classic Camera Contest and the pictures taken with "obsolete" cameras (I first saw mentioned at the RFF) should dispel any doubts that old cameras can still take fine pictures.
Recently, one of the tinkerers at the Rangefinder forum, greyhoundman, took a Brownie Hawkeye Flash Model and converted (at great physical danger to himself) it to electronic flash.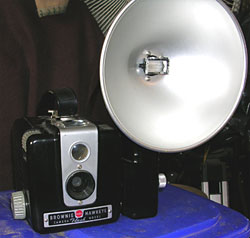 Progress. An improvement over the old fashioned and primitive flashbulb. Or maybe not. I just received my own Brownie Hawkeye Flash Model with 10 #5 flashbulbs.
I've been searching the web for information on these archaic devices. What I found is that progress in electronic flash has simplifed the use of flash for the user. It has made it convient. It has also made it a lot more expensive for a lot less light. J and C photo sells Press 25 bulbs for $1. Shop around on eBay and you can get them a lot cheaper than that. You can get a Kodak B-C flashholder, with a 5 inch reflector, for a couple of bucks on eBay. These look similar to the Hawkeye flash but it has a bracket and synch cord. The guide number for a Press 25 bulb in one of these flasholders, at ASA 100, is 280 feet. Looking at B&H I see that the Metz 70 MZ-5 goes for $789 and has a guide number of 164 feet at ISO 100. Hmmmm. Where is the progress?
Check out some of these links:
Underground Photographer Flashbulb Resource
Cress Photo

And then look at what a real Flashman could do with bulbs -- the late and great O. Winston Link.


I've got some Press 25s coming for the Brownie and there are some Kodak B-C flasholders in my future. I'm looking at all my lenses to see if they are M synched for bulbs. The 100mm on my Mamiya Universal has an M synch, although you can X synch them under 1/30 sec. You can gang these these flasholders together and get some *real* light.

Let there be light!

Forward! Into the past!