boxes of memories
If it isn't one thing, it's another. My mother moved into a family care facility last week. Last night two of my brothers (our other brother lives in California) and my sister met at her old place and split up her belongings that she couldn't take with her, which was most of her stuff. Even though we have our differences it all went well. It was sad but also a time of telling stories and remembering and laughing. I ended up with all the photographs. I did a quick look through the photographs this morning and pulled out some gems for quick scans. A couple of them are of the Leica IIIc that my grandfather gave me.
This is my grandfather (mom's side) and grandmother. (I don't know who the woman and child are.) He is in Japan during the occupation. He went over in 1949, to Sendai in NE Japan, so this is probably taken in 1949 or 1950. He has is Leica on. The Leica has a 1949 serial number so it is pretty new in this picture.
large version
In 1960 my grandfather and grandmother returned to Sendai to visit. My family was living in Japan at the time. My dad was in the Air Force. The second picture has my grandfather taking a picture with the Leica. The gaijins, from the left, are my father, mother, grandfather, and grandmother.
large version
Here is a detail from the above picture showing my Leica.
Another one taken the at the same time of my dad. He died in in 1972 at age 54. He must have been 42 in this picture.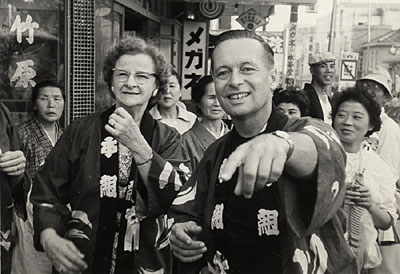 large version
My mom at 2 years 7 months. That would be 1922. Written on the back, by my grandmother: "She thinks she is a flapper with her hair curled." She grew up in Maine.
large version
My mom is now 85. It's hard to think that she once was, to use the vernacular, a hottie. I think she was 18 when this picture was taken. She worked that summer at the Poland Spring Inn. That's a large bottle of Poland Spring Water.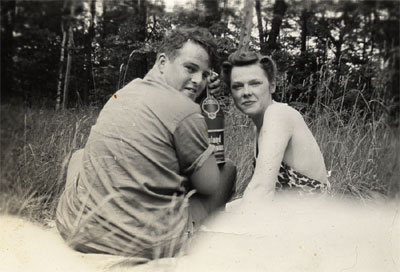 large version
My mom as a war bride. Seattle in early 1945. She is holding me.
large version
I'm in the middle. Terry on the left and Michael on the right. Terry and Michael are twins. Michael died almost 10 years ago. There was a break of about six years and then three more siblings: Mark, Roger, and Madelane.
large version
I have lots of pictures. I will be scanning them, restoring them, and posting them. I'm not quite sure how I will organize them but I'm sure I will think of something.