acquisitions — temporary and permanent
Of course it can be said that all acquisitions are temporary but some are just more temporary than others. Thursday I had a wonderful lunch with Leo. Leo is a fellow addict follower of Rangefinder Forum and a participant in the Pass the Camera project where a camera is sent around the world to Rangefinder Forum members. Each member shoots a roll, posts pictures to the Pass the Camera gallery, and then passes the camera on to the next one on the list. Leo had the camera last and gave it to me at Toby's in Coupeville (over a pint of Red Hook ESB and a pound of mussels grown right up the street at Penn Cove.) Here is the camera: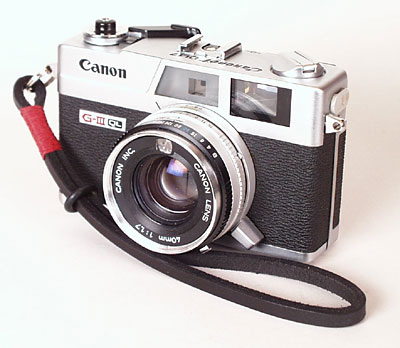 It's a Canon Canonet GIII QL17. It's a fixed lens but it has a reputation has a very excellent lens. It's 40mm which is slightly wide angle and a nice focal length. And it's a fast f1.7. It's really a wonderful camera and if someone wanted a film camera with only one lens this would be very hard to beat. They can be had on eBay for under $50 if you are a patient. This camera has been to Netherlands, Belgium, Denmark, Austria, Germany, Switzerland, Italy, Spain, France, UK, Republic of Singapore, Australia, New Zealand, Columbia and now the US. I am the second one in the US. Check out the Pass the RF, where are you? thread and the Pass the Camera Gallery. Here is a picture from that gallery by Manolo Gozales in the UK: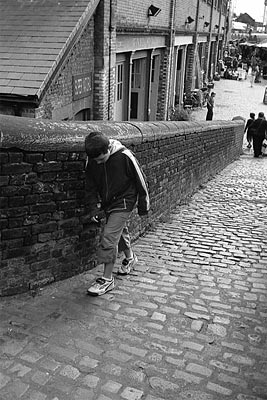 The little Canon now winds it way through the US and then Canada. Friday I received two packages with repaired cameras. My Salut_S with the shutter I jammed now unjammed and ready for some shooting. The other package was my Zorki 3M which is now all back together again.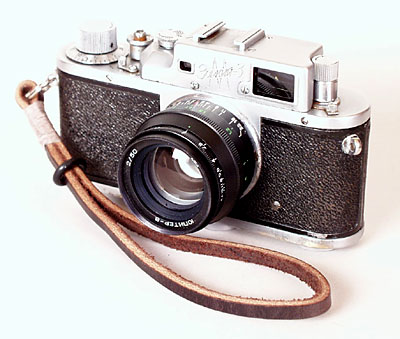 Not as nicely finished as my Leica but what a lovely large viewfinder. At first I thought something was wrong, that is was showing a telephoto view but it's just that I've been shooting with the 35mm for too long now. Here it is with my other 35mm rangefinders.

My Leica IIIc on the right with the 35/2.8 Jupiter 12 which wants to live there permanently and who am I to argue? I've been agonizing over adding a 28mm lens or maybe a 25mm lens but I think I'm going to stop with the 35mm for my rangefinders. Part of it is cost. Going wider will run $150 to $200 and I think the type of wider shots I might want to do would be better on a SLR. And a bargain 28mm lens, at KEH, for my Pentaxes can be had for $27. On the left is the Zorki 3M with my late 50/2 Jupiter 8. Lovely lens but I want an earlier tabbed J8 for it and one is on the way from Prague with a Zorki 4 as a body cap that I traded for two camera straps. A little cleaning and it should fit right in with my other tabbed 50s — the 50/3.5 Industar 50 and 50/2 Summitar,which still needs a CLA. In the middle is the Red FED 2 with the 85/2 Jupiter 9. The lens is stiff from old grease but I think I will attempt to relube it myself. Kim Coxon has some nice pages on lens disassembly. First I will try to get a J8 back together that I took apart over a year ago. If that is successfull then on to the J9. The Leica now lives in my right coat pocket and the Zorki in my left.