big brother is watching
You would think that people would learn. We went through all of this over 30 years ago. Only now technology has made it much worse.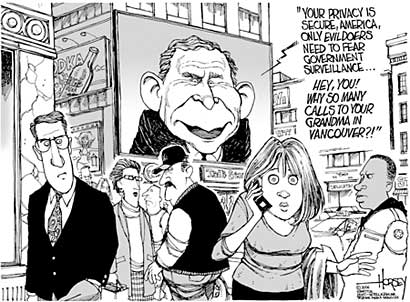 [more]
NSA has massive database of Americans' phone calls

The National Security Agency has been secretly collecting the phone call records of tens of millions of Americans, using data provided by AT&T, Verizon and BellSouth, people with direct knowledge of the arrangement told USA TODAY.

The NSA program reaches into homes and businesses across the nation by amassing information about the calls of ordinary Americans — most of whom aren't suspected of any crime. This program does not involve the NSA listening to or recording conversations. But the spy agency is using the data to analyze calling patterns in an effort to detect terrorist activity, sources said in separate interviews.


[more]
thanks to daily KOS



An Illusion of Privacy and Security

The administration misled the public about the scope of its "Terrorist Surveillance Program." Despite disclosures in December of 2005 that the government had indeed tapped into telecommunication systems and was engaged in data-mining, the administration maintained publicly that the program was "limited" in nature.

That was a lie.


[more]
| | | |
| --- | --- | --- |
| | Awakening this morning to the astounding news that nearly two-thirds of Americans are A-OK with being spied upon, I hastily threw together a Top Ten list of talking points as to why average citizens should worry about this. The NSA's logging of millions and millions of phone calls has many more drawbacks, I'm sure, than I'm listing here. But off the top of my head, here are obvious and fundamental problems that all Americans should worry about with this program: | |
[more]
The Times and USA Today have Missed the Bigger Story -- Again
by Greg Palast

I know you're shocked -- SHOCKED! -- that George Bush is listening in on all your phone calls. Without a warrant. That's nothing. And it's not news.

This is: the snooping into your phone bill is just the snout of the pig of a strange, lucrative link-up between the Administration's Homeland Security spy network and private companies operating beyond the reach of the laws meant to protect us from our government. You can call it the privatization of the FBI -- though it is better described as the creation of a private KGB.


[more]
thanks to Larry Dobson



The NSA is on the line -- all of them
An intelligence expert predicts we'll soon learn that cellphone and Internet companies also cooperated with the National Security Agency to eavesdrop on us.

The fact that the federal government has my phone records scares the living daylights out of me. They won't learn much from them other than I like ordering pizza on Friday night and I don't call my mother as often as I should. But it should scare the living daylights out of everybody, even if you're willing to permit the government certain leeways to conduct the war on terrorism.

We should be terrified that Congress has not been doing its job and because all of the checks and balances put in place to prevent this have been deliberately obviated. In order to get this done, the NSA and White House went around all of the checks and balances. I'm convinced that 20 years from now we, as historians, will be looking back at this as one of the darkest eras in American history. And we're just beginning to sort of peel back the first layers of the onion.


[more]

This really has been remarkable. It's all out of a playbook we've seen before -- it's so Watergate, we don't really even need a new name for it.

One of the problems, of course, is that the more hardcore of the Nixonites never really learned anything -- or thought they had done anything wrong -- in Watergate or the penumbra of scandals that led to those final botched moments of a presidency. The actors of those times may have been met with press investigations, belated government investigations, and even jailtime, but the core of the Republican and conservative movements never quite repudiated Watergate; they simply looked upon those acts as unfortunate but understandable sins of enthusiasm.

And so as the Nixonites themselves moved on, continuing to show up in administration after administration and in the halls of what nowadays passes for punditry, the same behaviors followed them. Prominent among them are, of course, Dick Cheney and Donald Rumsfeld. Even the jailed G. Gordon Liddy himself was fully "rehabilitated", in that he is now a prominent conservative radio voice, and is a frequent vessel for conservative thought on Fox News and other bastions of nuttery.

The only error, Nixonites and their broad base of supporters determined, was getting caught. And so the difference between then and now is that this administration is even more secretive, using the War on Terror to claim preemptive legitimacy and secrecy over every action, no matter how absurd the supposed justification seems. They intend to circumvent the mistakes of the past. They don't intend to give any institution -- the Congress, the FISA court, the press -- the slightest hint of sunlight through which the new but familiar, ever-expanding "programs" can be illuminated.


[more]
Urban Legends for a Post-Social-Network-Analysis Age

An American businessman visiting San Francisco on a sales trip met a beautiful Chinese woman in a bar. She tempted him back to his hotel room, where the effects of alcohol and a Rohypnol chaser caused him to fall unconscious.

To his spine-chilling horror, he awoke the next morning in a bathtub full of ice, excruciating agony piercing his lower back. A note scrawled on the bathroom mirror in lipstick enjoined him to call for a paramedic.

When the authorities arrived, they discovered that the man had a fresh surgical scar on his back, where a kidney had been removed. The Chinese Tongs, who, it is well known, deal in the international human-organ market, had claimed another victim.

The NSA, through telephonic data-mining, was immediately able to trace the Tongs, roll them up to the last foot-soldier, and return the man his kidney.


[more]