book recommendations

A while back I linked to some articles and interviews with Mark Klett. Mark was someone I kept running across and I wanted to know more. My local library had: Revealing Territory: Photographs of the Southwest, Yosemite in Time: Ice Ages, Tree Clocks, Ghost Rivers, After the Ruins, 1906 and 2006: Rephotographing the San Francisco Earthquake and Fire.





Revealing Territory:
Photographs of the Southwest
by Mark Klett
Mark first made his mark (I'm sorry, I couldn't resist.) with the Rephotographic Survey Project where he, and others, rephotographed photographs made by the photographers of the Western surveys in the 1860s and 1870s. The determined the exact location, time of year, and time of day to retake the photographs. This was done in the 1970s and produced a book that is long out of print. Revealing Territory, unfortunately, is also out of print. Mark is a large format landscape photographer with a twist. His landscapes of the American Southwest are not absent of people. Hopefully your library has one (Mine does!) or there are used ones to be had. It's worth searching out.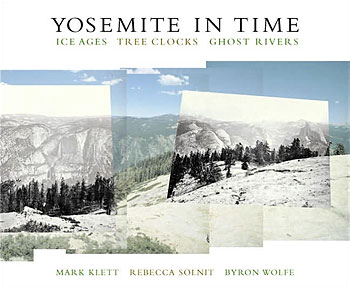 Yosemite in Time:
Ice Ages, Tree Clocks, Ghost Rivers
by Mark Klett, Rebecca Solnit, Byron G. Wolfe
Rebecca Solnit's River of Shadows was a biography of Eadweard Muybridge, noted for his ground breaking motion studies. It turns out that Muybridge also did a series of mammoth plate (20x24 inches) photographs of Yosemite. (No, Ansel wasn't first in Yosemite.) Rebecca contacted Mark Klett on rephotographing Muybridge's mammoth plate photos. This book is the result. It grew to also include rephotographing photographs by Saint Ansel and Big Ed Weston. They also carried their rephotography in some different directions by including the original images in current panel panorams. Wonderful juxtapostions with a modern Yosemite that actually has people. Actually, it always has, only the first ones were Indians and they didn't seem to count with the early white inhabitants. Not only that but those Indians are still around. Rebecca writes about them, too.



YOSEMITE IN TIME
by Rebecca Solnit
| | | |
| --- | --- | --- |
| | Rephotographing Eadweard Muybridge's extraordinary 1872 mammoth-plate pictures of Yosemite was only the first reason Mark Klett, Byron Wolfe, and I went to Yosemite in the summer of 2001 and returned for four more expeditions. We were interested in Muybridge, and rephotography was a uniquely compelling way to investigate his wanderings across the steep topography of the Sierra. But we were interested in Muybridge because we were interested in time as photography freezes it, represents it, and questions its nature. | |
[more]


After the Ruins, 1906 and 2006:
Rephotographing the San Francisco Earthquake and Fire
by Mark Klett, Michael Lundgren, Philip L. Fradkin, Rebecca Solnit
Mark was then asked to rephotograph the San Francisco earthquake and fire. From Amazon:
| | | |
| --- | --- | --- |
| | How exactly has San Francisco's urban landscape changed in the hundred years since the earthquake and cataclysmic firestorms that destroyed three-quarters of the city in 1906? For this provocative rephotography project, bringing past and present into dynamic juxtaposition, renowned photographer Mark Klett has gone to the same locations pictured in forty-five compelling historic photographs taken in the days following the 1906 earthquake and fires and precisely duplicated each photograph's vantage point. The result is an elegant and powerful comparison that challenges our preconceptions about time, history, and culture. "I think the pictures ask us to become aware of the extraordinary qualities of our own distinct moment in time. But it is a realization that a particular future is not guaranteed by the flow of time in any given direction." So says Mark Klett discussing this multilayered project in an illuminating interview included in this lavishly produced volume, which accompanies an exhibition at The Fine Arts Museums of San Francisco. | |
Mark actually considers Yosemite in Time and After the Ruins to be numbers two and three of a trilogy. Mark was involved with another Rephotographic Survey, done between 1997 and 2000, where they rephotographed the rephotographs of the 1970s Rephotographic Survey. These are in a book titiled Third View. My library doesn't have it but I've requested that they purchase it.