Archives
Wednesday January 18 2006
despair
The end of the walk
Last Wednesday I had too much. It used to be that Gerry would start getting scared in the evening. She couldn't be by herself. That's why we have a caregiver coming in the evenings. But her Alzheimer's keeps getting worse and now she has to have someone with her pretty much all the time. That usually means me. She is not too bad in the morning but by late morning I have to sit with her in her bedroom. That makes it very hard to get any work done.
Last Wednesday the stress was getting too much and I blew up. I had to get out of the house. I drove around aimlessly and then headed for Double Bluff and started walking down the beach. The beach heads west for about two miles until the bluff comes back down to the beach and the shore takes a right angle and heads north. It was getting dark and although there were rain clouds it wasn't raining on me. I walked until I came to the where I couldn't walk west anymore.
I just stood there comparing the scene before me with my life and took this picture. It was getting dark and I finally turned around and headed back. I had walked quickly out but walked very slowly back. Slow enough that it was dark soon. I had forgotten how much I like walking beaches at night. It helped clear my head.
This afternoon Zoe goes to check out a care facility in Oak Harbor. That's causing a whole different set of emotions with her. But it's time. Physically Gerry is having a harder and harder time getting around. She is bent over and takes little shuffle steps. It scares me that I may not be able to do what's needed for her. She will be moving in the near future. That's good and bad. Zoe and I will start getting our lives back. But Gerry's disentegration will continue.
turmoil
The Bush destruction of this country rolls on with the Alito confirmation. But there are cracks forming in the Bush steamroller. Those cracks could bring this nightmare to an end but it's hard to tell if there are enough Democrats that aren't part of the problem and if they can stop it soon enough before the Supreme Court is lost for a generation.
Bush v. Reality
War, Trials, Leakers, Investigations, Packed Courts, and a Constitutional Crisis
| | | |
| --- | --- | --- |
| | 2006 is sure to be the year of living dangerously -- for the Bush administration and for the rest of us. In the wake of revelations of warrantless spying by the National Security Agency, we have already embarked on what looks distinctly like a constitutional crisis (which may not come to a full boil until 2007). In the meantime, the President, Vice President, Secretaries of Defense and State, various lesser officials, crony appointees, acolytes, legal advisors, leftover neocons, spy-masters, strategists, spin doctors, ideologues, lobbyists, Republican Party officials, and congressional backers are intent on packing the Supreme Court with supporters of an "obscure philosophy" of unfettered Presidential power called "the unitary executive theory" and then foisting a virtual cult of the imperial presidency on the country. | |
[more]

I'm not sure what is worse: the fact that Democratic Senators and their staffs couldn't be bothered to do serious work on the Alito nomination hearings and coordinate a coherent and focused strategy for the hearings, the message and beyond over the Christmas break because they were too busy doing personal fundraising or hanging out at the club; or that they felt the need to publicly whine about it, in all its infinite detail, to the NYTimes before a vote was even held on the Alito nomination in the Judiciary Committee.

And I am so angry this morning, I am shaking. I've had to read through the freaking article three times in order to reach any sort of equilibrium other than wanting to yell "Damn it! Damn it! Damn it!" as loudly as I can. (And I didn't think that was appropriate analysis, frankly, because this deserves a hell of a lot more discussion than just being pissed off.)


[more]

Last time I checked, Article II didn't give the President the power to appoint a nominee with the advise and the consent of the media. Yet so many take the media's smug words that "Alito will be confirmed" as gospel. It's a self-fulfilling prophecy, where the media and the GOP tell us we'll fail, so we believe them, and we do.

Senators have yet to cast their votes, and we're already putting another black robe on Alito and bringing the hangers out of the closet. Sure, Feinstein and too many Democrats have come and said they don't think a filibuster is warranted. But you know what? It isn't their damn decision. It's ours. They represent us.

Don't tell me a filibuster isn't warranted when 56% of this nation says Alito SHOULD be blocked if he'll overturn Roe. Don't tell me a filibuster isn't warranted when Alito implied Bush could invade Iran without the consent of Congress. And don't tell me a filibuster isn't warranted when it's my rights, my body, my way of life on the line.

I keep hearing the Dems needs to "grow a spine." That we need "angry" Dems, we need Dems with courage. We need Dems with courage. Well guess what-- we HAVE angry Dems, we HAVE courageous Dems. Look in the damn mirror, people. WE are the party. WE are the Democrats. We're angry, we spit fire, and our time has come.


[more]

People say I'm optimistic. Fuck no. I know American history. Bush is a piker compared to the people who ran Mississippi in the 1950's. That was a police state, complete witrh secret police, disappearances and mob rule. Most American have forgotten that, but they shouldn't.

Bush's power came from our weakness and fear, we didn't protect what we should have when we should have. We gave him too much trust and he failed us all. Now, we have to reclaim it and that will not be easy. But is has to be done. Compared to the other challenges Americans have faced, it's not a massive thing, no one has to steal Tory land at gunpoint or dodge German bullets on Omaha Beach or face fire hoses and dogs, but it won't be easy either. But it needs to be done. And no matter how shitty it seems at any one moment, like reading the Times this morning, you don't get to lose heart. Why? Because if you can read this, you probably aren't doing that bad.

The people who need a different America, soldiers, Wal Mart employees, don't get the time to call Congress. We do. So keep in mind, if you do nothing, the people who catch it in the neck isn't you, but someone who's already struggling and doesn't need another burden. You aren't just fighting for yourself. Every time you read about Wal Mart, and get pissed, remember, you're not just protecting your rights, but a lot of people who have no voice. That's why we do this, not just to vent your anger and express your frustration. America has left a lot of people behind, and if no one else want to think of them, it is our moral duty to do so.


[more]
consumption

Cell phones, Orlando 2004
[more]
thanks to Conscientious
oblivion

It would be hard to imagine a sadder landscape than these rural backwaters along the New York / Vermont border. Geographically they are still beautiful. It's a region of tender hills, well-wooded now, and ribboned with trout streams. It's the human furnishings that are desolate and what they say about what we have become as a nation. This was a farming region of course, and the re-growth of the woods is a symptom of farming's decline the past fifty years.

Dairying was the big thing through the first three-quarters of the 20th century. But regional milk production became irrelevant during the decades of cheap oil, when New Yorkers could just as easily get milk and cheese from Wisconsin or California. So now only a few relic farms still operate. Every building in the landscape related to farming is now decrepit. Siding and shingles have peeled off the barns. The sills are rotting and the ridgeboards sag. The tractor sheds are too far gone to keep tractors in, so the machines sit out in the rain now. The older houses -- many of them dating from the Greek Revival of the 1850s -- are subject to indignities beyond simple neglect. Many are partially cocooned in plastic, because fixing the wooden parts was too expensive, or just too difficult for people whose skills are now limited to operating cars, televisions, and forklifts. The yards are littered with plastic debris: tricycles, hoses, and patio chairs disintegrating under the daily ultraviolet -- and you could see it all because a week of January temperatures into the 50s melted all the snow cover off.

You can track the decades of overgrowth in the pastures: sumac and poplar in the early going, then regular trees. In many places, stone walls from the 19th century run along the roads in woods that were sheep meadows a hundred and fifty years ago. You have to wonder how long all that wood will be there now, with heating bills up 50 percent this year and no relief in sight. Indeed, I wonder if the remnant of people living here will have any idea what to do with their land, when the forklift jobs in the Target Store regional warehouse thirty-eight miles away are no longer there. I'd like to suppose that even people unaccustomed to challenges can be resilient and resourceful when they simply have to be. But if the televisions stay on, they may just choose to die in front of them.


[more]
hope
Although much seems to be going to shit, to use the vernacular, I'm putting much in place (inch by inch) that will move me forward when the dust clears, which will probably be sooner than later. I'm referring to Gerry moving into a care facility. This is definitely one of those good and bad things. I will get some of my life back but not without much sadness when she leaves. But on to more positive developments.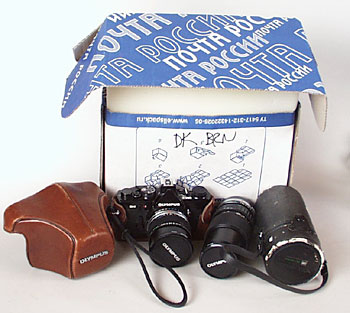 I posted the OM2 over at Rangefinder Forum and sold it to a photographer in the United Kingdom. There it is with the zoom lens ready to pack.
I was hoping to trade it for a 28mm lens for the Leica IIIc but ended up with cash (through the miracle of PayPal.) I decided to get my Salut-S with the jammed shutter repaired and have it given a CLA. It's going off to Arax.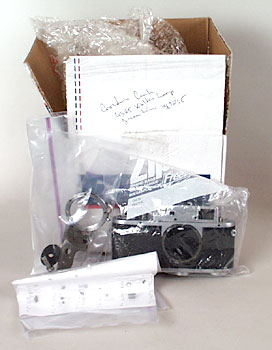 And the Zorki 3M is off to Oleg to get put back together with some new shutter curtains.
All buttoned up and ready to ship. They got off in the mail today.
The Pentax Spotmatic SPII that came at the same time as the OM2 has had a roll of film run through it and all is well. It could use some seals but has no light leaks. I should have an adapter in my hands soon, from Russia, that will let me us my medium format lenses on the Spotmatic and just ordered some extension tubes for the Salut-S which I can use on the Spotmatic with the adapter and my close focus 90mm lens for the Salut-S.
The camera strap sales are steadily increasing. Right now I'm limited by the leather I can get. I've been using scrap from one of my customers who is a leather maker. I'm negotiating with him to trade some web design for some hides. If I don't get the hides from him I will get the money from somewhere and buy them. I will be expanding my neck straps with all four colors available as well as some leather neck pads I'm working on. I have a little banner over at Rangefinder Forum and it has made a difference with sales. I will be advertising at APUG soon and that should make another difference in sales. And I'm working having a little template machined for trimming leaders for Leica and Leica clone bottom loaders. Lots happening on the camera strap front. It looks to have a lot of potential.
I've also started talking to Sean who runs APUG about starting a forum for hybrid photography similar to APUG. I've got to think about this one carefully but I'm pretty excited about it. There are a lot of photographers who use both analog and digital processes in creating their photographs and they are generally scorned by both the analog and digital purists. Could be interesting.
And I'm looking foward to the time when I will have time to take pictures, build a black and white film processing darkroom, and print digitally. That all might be helped if I sell my Brett Weston. It's been at a gallery in Seattle since this summer. The gallery owner is taking it to a show in LA for a show at the end of this month. She used it in her advertising and we hope that it will finally sell. That will get me some printers and a new scanner.
So there is much to be hopeful for. Good things are continuing to happen even if they get overshadowed by the not so good things.