Archives
Jenny and Robyn have a party
Jenny, my daughter, turned 23 Friday and Robyn, her daughter, turned 3 on Thursday. Zoe and I picked Jenny and Robyn up at noon and went up to Coupeville for lunch at the Knead and Feed. Great soup and bread. Family and friends came over for ice cream and cake.
Zoe and I got Robyn a little tent. It's her "house" now. That's Jenny with Robyn in the tent with a bow in front of her face.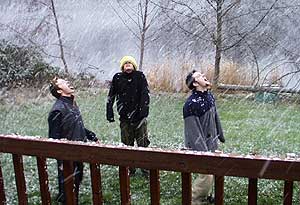 The snow started coming down just as the party was breaking up. My bright son, Robby, is on the right, Justin is center and Eliott on the left. It doesn't take much to amuse us here on the Island.
Everyone is gone now, but they will be back. Robby and Katie are taking Jenny out tonight so I will be babysitting. With a 2 and 3 year old around, I probably won't be online much tonight.
Today and tomorrow are going to be light days of blogging. It's those pesky customers again that want some web work done.
Israel/Palestine
These are two impassioned Israeli voices seemingly calling out in the wilderness. The Gideon Levy piece is a must read.
Tell the truth, Shimon
By Gideon Levy
In the 24 years of our acquaintance, four of which I spent working as your aide, this is the third time I have written you an open letter. In 1989, when you were finance minister in the Shamir government and the first intifada was raging, I used these pages to write "A letter to a former boss." Then, I told you that "for the first time in your life, you have nothing left to lose - except the prospect of vanishing into thin air." This was after you kept silent in the face of the IDF's conduct in the intifada, in the face of the continuation of the occupation and Israel's stubborn refusal to recognize the PLO as the representative of the Palestinians. At the time, I believed that you thought differently from Yitzhak Shamir and Yitzhak Rabin (known then as the "bone-breaker"), but that you just weren't bold enough to speak up.
Eleven years later, in 2000, I wrote you another open letter. This was after Oslo and the Rabin assassination, and after you again had lost an election - this time, to the office of president. Then, I said: "Many Israelis see you as a different person now. For them, you represent the hope of something else." And now, as I write to you again, I have to say: You no longer represent hope for anything.
(...)
Ask your brother-in-law, Prof. Rafi Walden, the head of surgery at Sheba Medical Center, who sometimes travels to the territories as a volunteer with Physicians for Human Rights, and he'll tell you what you're a partner to. He'll tell you about the women in labor - not just one or two, not just the rare exception - who can't get to the hospital because of the cruelty of the IDF of which you were once so proud, and whose babies die right after they deliver them. He'll tell you about the cancer patients prevented from getting to Jordan for treatment. No, they cannot even go to Jordan - for "security reasons."
He'll tell you about the hospitals in Bethlehem that were shelled by the IDF. He'll tell you about the doctors and nurses who sleep in the hospital because they can't get home. He'll tell you about the dialysis patients forced to spend hours jostled about while traveling makeshift routes three times a week in a desperate attempt to reach the machines that their lives depend on. He'll tell you about the patients denied crucial medical treatment because of the closure and about the ambulances prevented from passing through checkpoints, even when they're carrying critically ill passengers. He'll tell you about the people who have died at the checkpoints and about those who died at home because they didn't dare to approach the checkpoints - which are now made up of menacing tanks in the middle of the road, or mounds of dirt and cement blocks that cannot be budged - even for someone on the brink of death.
You have imprisoned an entire people for over a year with a degree of cruelty unprecedented in the history of the Israeli occupation. Your government is trampling three million people, leaving them with no semblance of normal life. No going to the market, no going to work, no going to school, no visiting a sick uncle. Nothing. No going anywhere, and no coming back from anywhere. No day or night. Danger lurks everywhere, and everywhere there is another checkpoint, choking off life.
(...)
But the only way for you to add one more meaningful accomplishment to your rich biography is not just to get up now and resign from this government, which you may be compelled to do at some point anyway, but to do it while speaking out loud and clear, and telling Israelis all that you think about everything that is happening, especially about the evil we are perpetrating with our own hands. Once more in your life, try to build something new - not an atomic reactor or an aircraft industry, of which we already have more than enough. Now, against all the odds, try to build a radical Israeli peace camp, to make something out of nothing. Is it too farfetched to believe that you still see things differently than the rest of your colleagues in the government? Tell the truth, Shimon.
[read more]
A moment before the embrace of death
It is still in our power, but not for much longer, to prevent the Israeli- Palestinian death hug; before we return the Palestine Liberation Organization to the terrorism of the 1970s; before the Palestinians return us to the retaliatory operations of the 1950s; before the entire world gives up on the attempt to help us understand what they have already understood in Ireland, in Cyprus and even in Kashmir; before our children leave us here to our insanity and move to other regions; before we lose any chance of attracting Jewish immigration, even from distressed countries
Again we are living according to a conception. It can be heard from almost all sides: "[Former prime minister Ehud] Barak offered everything, got an intifada and now it's clear that there's nobody to talk to, and nothing to talk about." This conception reached an epitome this week when the new head of Military Intelligence, Aharon Ze'evi, brought sensational "information" to the members of the Knesset Foreign Affairs and Defense Committee: Arafat will not agree to peace even in exchange for Jerusalem and the realization of the right of return. The media reported this just as they would have reported intelligence information about an explosive device found in Rafah. Like every conception in the past - regarding Egypt before the Yom Kippur War or the issue of withdrawal from Lebanon - it is mistaken, and we know that this is the case when on all sides, everyone makes identical declarations. There is someone to talk to - even if he is problematic; there is something to talk about - the Clinton plan and the "right of return" will not be a part of any agreement.
(...)
Today it is possible, tomorrow the violence will paralyze all of us. The nuclear threat by the countries on our periphery will change the balance of power, and what is happening in the delivery rooms will change the demographic balance. Before we long for the days of late January 2002, when despite the difficulty and the violence and the pessimism, it is still possible to change direction, we must act. Ramallah is still only a 10- minute drive from Jerusalem.
[read more]
Another Music Orgy
From the Book of Tea:
The sympathetic communion of minds necessary for art appreciation must be based on mutual concession. The spectator must cultivate the proper attitude for receiving the message, as the artist must know how to impart it. The tea-master, Kobori-Enshiu, himself a daimyo, has left to us these memorable words: "Approach a great painting as thou wouldst approach a great prince." In order to understand a masterpiece, you must lay yourself low before it and await with bated breath its least utterance. An eminent Sung critic once made a charming confession. Said he: "In my young days I praised the master whose pictures I liked, but as my judgement matured I praised myself for liking what the masters had chosen to have me like." It is to be deplored that so few of us really take pains to study the moods of the masters. In our stubborn ignorance we refuse to render them this simple courtesy, and thus often miss the rich repast of beauty spread before our very eyes. A master has always something to offer, while we go hungry solely because of our own lack of appreciation.
This was written by Kakuzo Okakura (1862-1913) in a remarkable little book that I highly recommend. It's available at Amazon and at Project Gutenberg . (Hint: The copy at Project Gutenberg is a free download.)
I bring up this quote because I am now praising myself for liking what a master had chosen to have me like. I am a big Miles Davis fan. I particularly liked what Miles was doing when he went electric. In 1969 he started his electric heresy with In a Silent Way. Bitches Brew was a monster. But Miles lost me with On the Corner. Well, I am found. I just finished listening to On the Corner and it's incredible. I'm not sure I even played it all the way through when I first bought it 30 years ago. How I got to listening to this 30 year old masterpiece is another musical journey that I have been on in the last two days.
I have listened to a lot of music in these last two days so this will only be a summary. Details in the future when I have absorbed it more. My 19 year old son, Robby, is into dance, techno, trance, and who knows what all. I told him that this electronic shit isn't new. I have some Stockhausen (Stockhausen: Kontakte No12) that I used to listen to in the 60s that he should hear. (It's an old Deutsche Grammaphon recording without the pianos.) I did play Oxygène for him. "That was done before I was born?" Of course, I also have Switched-On Bach by Walter Carlos. The current version is by Wendy Carlos but mine is by Walter, when he still had a dick.
But that's old stuff. I really hadn't heard a any new electronic stuff that I like. Until yesterday.
I have a couple of interesting CDs that I will cover in detail some future time: L. Shankar's Soul Searcher and Apocalypse Across the Sky by the Master Musicians of Jajouka. They are both produced by Bill Laswell. I have read some about him. A very intersting person. He as been referred to as a "multi-talented, genre-busting, all-round superbeing". Can't beat that. Whatever he does is interesting. It turns out that EMusic has 11 Bill Laswell CDs. I downloaded several yesterday and was blown away. I went back this evening and downloaded the rest.
I did a Google search on Laswell and find out that he was influenced by Stockhausen and Miles Davis (among many others). The Miles Davis album that blew him away as a kid was On the Corner. Which is how I came about to drag it out and put it on the turntable.
But wait, there's more! A musician that Laswell seemed to collaborate with a lot is Jah Wobble. EMusic has 8 Jah Wobble CDs. Incredible stuff. I downloaded all 8. (Gotta love DSL.)
We're not through yet! Another name associated with Laswell is Pete Namlook. EMusic has 25 Peter Namlook CDs. I only downloaded one. I listened to it and will be back for the other 24.
My mind was reeling by this point. To clean the pallete, so to speak, I downloaded an interesting CD I saw listed at EMusic: North Folk Flyer by the Black Twig Pickers. The notes on the page said: The Pickers hail from the musically fertile Virginia-North Carolina line, playing traditional Appalachian bluegrass as "mountain ragas," to the accompaniment of night insects, passing trains, and the noise of wandering children. The music retains its charm of tradition while subverting any concept of standard bluegrass. It just made my mind reel more.
A little catching up on some weblogs will settle me down, says I. So I went off to wood s lot. Can I escape this music here? Nooooo. Mark has links to articles about DJ Spookey and his illbient music. This guy is a fucking genius! I tried to read it and there just wasn't any room in my head to absorb it so I have bookmarked them.
It gets worse! EMusic has 3 DJ Spooky CDs. I have all three now. Good shit!
I am undone.
Wednesday January 23 2002
Enron
Craig has some excellent links on Enrongate.
Check them out: Enron Links
Latin Jazz. Something old and something new.
Tito Peunte
Wanna dance? Tito was the master. This seems to be his most popular CD at Amazon: Oye Como Va: The Dance Collection. Santana did some nice things to Oye Como Va. Tito wrote it. Hear what Tito does with it!
Put this CD on and you will dance. You will dance when you do the dishes. You won't walk across the room, you will dance across the room. Are you sitting down? If so, you will be butt-dancing. With Tito driving the band on the timbales. Yes!
This is also can be downloaded from EMusic: Oye Como Va!: The Dance Collection. As the EMusic page says: Extra good and plenty Puente in a classic Latin-jazz collection of definitive dance jams by the immortal mambo master. EMusic has 11 other albums by Tito. Start those downloads!
Lets mambo! (You have to use a lot of exclamation marks when you listen to this music!!)
Profile: Tito Puente
Tito Puente
El Rey's Mambo-ology: An Interview with Tito Puente
Tito Puente Way
TITO PUENTE - MUCH MORE THAN A LEGEND
Latin musician Tito Puente dies after heart surgery

Tony Martinez
Last November, I downloaded Tony's latest album in a download orgy at Emusic. It was at that time that my receiver was dying. Listening to a stereo recording on one channel leaves something to be desired. It is only recently that I have gone back and listened to Tony. Hoo boy!
As he brazenly demonstrated on La Habana Vive, his 1998 debut for the Blue Jackel Entertainment label, Tony Martinez is among the most elite ranks of contemporary Cuban musicians. An artist with an exceptional understanding of his country's African- derived rhythms, he possesses an equally impressive awareness of how to incorporate elements of jazz, funk and other non-Cuban ingredients to achieve stylistic hybrids that produce uncommonly bracing results. His ability to meld primordial rhythmic and vocal elements with contemporary jazz savvy values places him in the vanguard of today's most impressive and promising Latin musicians.
On Maferefun, his follow-up release for Blue Jackel, the 31 year old master musician, composer and arranger and his group The Cuban Power further advance their goal of defining a new way of using the dialect of traditional Afro-Cuban rhythms to forge a new music language for the next millennium. And the company Martinez keeps on the album speaks both of the high esteem in which he is held by many of Cuba's most important musicians and of their eagerness to contribute to the leader's imposing artistic quest.
[read more]
The entire band cooks! (More exclamation marks!) Tony's CDs are available at Amazon: Maferefun and La Habana Vive.
Emusic has both these CDs for download as MP3s (you have to join and pay a monthly fee but it's worth it!):
Maferefun "70 Minutes of the most advanced and revolutionary Afro-Cuban Jazz music that has come out this year." --Oasis Salsero
La Habana Vive "While Martinez's style is firmly grounded in such rich Afro-Cuban traditions as son and rumba, the fashionably dreadlocked Cuban is every bit the contemporary musician, infusing this session with modern dance grooves. "Tony's Cha Cha Cha" and the Irakere inspired title track are superb examples of how Martinez can achieve dramatic, forward-thinking results by giving traditional rhythms a smart new attitude." - Mark Holston, JAZZIZ
Tony Martinez & The Cuban Power - Maferefun
Tony Martinez
Tony Martinez - Maferefun
Microsoft
At last, someone is standing up and fighting back.
Netscape Files Suit Against Microsoft For Violations of the Antitrust Laws
thanks to Dan Gillmor
A Shoe Drops as Netscape Sues Microsoft
by Dan Gillmor
Israel/Palestine
Craig asked, in response to recent and probable future Palestinian attacks, What do the Palestinians have left?. Well, they have a over 2.5 million people with nowhere to go. Over 2.5 million people with nothing left to lose. Over 2.5 million living in a prison with Sharon as the jailer. And they are all looking at the business end of the gun of an Israeli tank.
The following article was in Israel Insider.
Mr. Grossman seems not to be bothered by the prospect of Jews being driven out just like British were. As a former Arab League Secretary once said to Abba Eban, "nations never concede; they fight." You are either the victor, or the vanquished. There is nothing in between.
The Jews should learn from Arabs how to fight the enemy. There was no "cycle of violence" after Syria's Assad crushed a revolt in Hama. There was no "cycle of violence" after King Hussein uncompromisingly and with all his might fought and expelled the PLO in the early 70s.
What do these examples teach us? The way to break the cycle of violence is to crush your enemy in such a way that there is left no doubt in his mind as to who won. You don't fight your sworn enemy - the enemy, who is bent to destroy you completely - with pinpricks. He will keep coming back at you. You must knock him out. And I mean "out."
Everybody is talking about how desirable is a two-state solution. However, what many do not understand is that what they are really talking about is a three-state solution. There is already an Arab Palestinian state and this state is Jordan. The creation of a 2nd Arab state in Palestine is an absurd and dangerous idea.
[read more]
This gentleman's view seems to be a typical right wing point of view. But how close are the Palestinians to driving out the Jews? C'mon folks, let's try to get a grip on reality. F16s against automatic rifles and explosives wrapped around human bodies? The Palestinian leader is sitting in his office that is ringed by Israeli tanks. He is not allowed to leave unless the Israelis let him. This has always been the case. Now the Israelis are holding him captive and blaming him for the actions of any Palestinian that kills an Israeli.
Who's in control here? Who has the power and is controlling what is happening? Certainly not Arafat.
So, what to the Palestinians have to look forward too?
Toppling Arafat?
Israel's latest military actions in the West Bank have deepened the Palestinian conviction that Ariel Sharon, Israel's prime minister, has decided to topple Yasser Arafat, chairman of the Palestinian Authority, and reoccupy all the areas it controls. Many Israelis now share this analysis
Palestinian fears about Mr Sharon's intentions are increasingly converging with Israeli suspicions. Both on the Israeli right and the left, it is now widely assumed that the prime minister is determined to remove Mr Arafat from the picture. The main difference between the two camps' assessments is over whether Mr Sharon proposes to do away with the entire structure of the PA, or rather to engineer a more palatable leadership to replace Mr Arafat. Significantly, this analysis of Mr Sharon's intentions is provoking little outcry, or even much sustained criticism, within Israeli mainstream politics.
(...)
Israeli gloating over Washington's purported or imminent dumping of Mr Arafat is probably unfounded, or at any rate premature. But Mr Sharon expects—and undisguisedly hopes—that the American administration will decide this week not to send Mr Zinni back to the region for the time being. Briefing the leadership of the American Israel Public Affairs Committee, the most important pro- Israeli lobby in Washington, the prime minister said the envoy's return would only "give the Palestinians hope that they can keep on shooting and also negotiate at the same time."
But if Mr Zinni's absence is indeed taken as American endorsement for a plan to oust Mr Arafat, and the plan succeeds, what then? The forecast of Ahmed Abdul Rahman, one of Mr Arafat's aides, may be biased, but at the moment it is hard to argue with: "suicidal armed chaos".
[read more]
Suicidal armed chaos. That's what 2.5 million Palstinians have left.
On that happy note, here are some more links. At least there are some Israelis who see what's coming and are waving red flags around as hard as they can. It just seems that those in power are on some blind auto-pilot programmed for some other reality.
Arafat defiant as Israeli siege grows heavier
Enron
Crime in the Suites
by William Greider
The collapse of Enron has swiftly morphed into a go-to-jail financial scandal, laden with the heavy breathing of political fixers, but Enron makes visible a more profound scandal--the failure of market orthodoxy itself. Enron, accompanied by a supporting cast from banking, accounting and Washington politics, is a virtual piñata of corrupt practices and betrayed obligations to investors, taxpayers and voters. But these matters ought not to surprise anyone, because they have been familiar, recurring outrages during the recent reign of high-flying Wall Street. This time, the distinctive scale may make it harder to brush them aside. "There are many more Enrons out there," a well-placed Washington lawyer confided. He knows because he has represented a couple of them.
(...)
The fallacies of our era are on the table now, visible for all to see, but the follies are unlikely to be challenged promptly--not without great political agitation. The other obvious deformity exposed by Enron is the insidious corruption of democracy by political money. The routine buying of politicians, federal regulators and laws does not constitute a go-to- jail scandal since it all appears to be legal. But we do have a strong new brief for enacting campaign finance reform that is real. The market ideology has produced the best government that money can buy. The looting is unlikely to end so long as democracy is for sale.
[read more]
thanks to MetaFilter
Reaching Out: The First Lady's Message to Victims of the Enron Collapse
Gals, wondering what to do with your worthless Enron stock certificates? Decoupage! That's right, Decoupage - the French art of dressing up surfaces with attractive scrap paper!
It seems like a whole mess of folks out there are sitting on Enron Stock Certificates, wondering what to do with them. Well, as your First Lady and Chairlady of the Washington chapter of Bringing Integrity To Christian Homemakers, I feel as if it is my responsibility to reach out to you all and help.
[read more, lots more]
thanks to BookNotes
Lord of the Rings
This is hysterical.
Alternative authors' versions of Lord of the Rings
One of the cult novels of the 1970s turned out to be Lord of the Rings. Written by one of the unlikeliest of best-selling authors, it affected a large number of people, not least of them being those people now in their teens saddled with names like Galadriel.
How would this book have turned out had it been written by someone else?
[read more]
thanks to Doc Searls
If you don't want to sit through 3 hours of movie this lego version is just the ticket.
J. R. R. Tolkien's Lord of the Rings is my all time favorite book. I'm going to try and present the bulk of the story in Lego format. This is going to take a long time, so check back regularly.
[read more]
thanks to MetaFilter
Camp X-Ray
Craig, at BookNotes, had these links which are worth repeating.
Brutal conditions inside Cuban cage
The latest photographs from Camp X-Ray show the harsh, brutal conditions at Cuba's Guantanamo Bay. Dressed in bright orange overalls, some with tight- fitting orange hats covering their shaved heads, the imprisoned terrorists kneel face down behind barbed wire fences as army officers inspect them.
Since their eyes are covered with goggles and their faces hidden by white masks, it is impossible to identify them. Even their manacled hands are covered with black cloth.
(...)
Hicks has not been charged with any crime and public pressure is mounting on the Federal Government to bring him home to face justice, although it is unclear what, if any, laws he has broken.
"It concerns us greatly that he has been in custody for over a month now and still the US has not brought forward any charges or any allegations and they have not allowed him any legal representation," Mr Kenny said.
"If he is not a prisoner of war and they are alleging he is a criminal then he is entitled to be charged, he is entitled to know what those charges are, he is entitled to know the evidence against him and have access to legal representation."
[read more]
Bound, shaved, deprived of sight and sound - how to lose the moral high ground
The photograghs of the prisoners from Afghanistan, bound, shaven and deprived of sense of sight, sound, touch and even smell, confirm the folly of the United States in its determination to go it alone in dispensing justice to those responsible for the mass murders of last September.
[read more]
American action is unlawful, say legal experts
"The status of unlawful combatants that the US has given to them is not recognised in law," he said. "They can be categorised so that they are either people engaged in war against the invasion of Afghanistan or they are suspects linked to the conspiracy surrounding 11 September." To take neither course, Mr Mansfield warned, would be a breach of the Geneva Convention.
(...)
Stephen Solley QC, chairman of the Bar's human rights committee, said the treatment of the suspects was "so far removed from human rights norms that it [was] difficult to comprehend". He said even the Nuremberg trials of Nazi war criminals more than 50 years ago were conducted with some dignity, and access to lawyers had not been an issue.
[read more]
IndyMedia
My nephew, Cameron, wrote me a few days ago. He just turned 16 and has been involved with the Seattle Independent Media Center.
well i was lookin at your sources and things like seattle times and pi and new york times but NO IMC!?!?!?! do you check it out ever or just didn't post a link. well if you don't know its www.indymedia.org. check it out cause its our media.
And then today Doc Searls notes this article:
The very first Independent Media Center (IMC) sprang to life in Seattle, during the fall of 1999. In November, the World Trade Organization and hundreds of international delegates were preparing to come to the city. At the same time, young activists -- galvanized by years of anti-globalization work -- were asking themselves how they could impact the meeting and get the word out about protest marches and rallies. Part of the answer was to create an alternative news source that would cover the demonstrations and the issues behind them.
The Seattle IMC attracted scores of media activists who provided round- the-clock coverage of what came to be known as "the Battle in Seattle." Members said the Web site they built got about 1.5 million hits during the WTO protests. Like everything else, the ISP services were (and still) are donated. When the site traffic skyrocketed, a staff person from the ISP braved the tear gas in downtown Seattle to bring the IMC a second DSL line. (Tech members today estimate the entire network gets about 400,000 page views a day.)
After Seattle, IMCs began to pop up around the world, from South Africa to New York City. At current count there are more than 60 centers in 25 different countries. Some, like Seattle and New York, have permanent, physical offices. Others, such as Philadelphia, live mostly on the Net -- with meetings taking place online and in the homes of local members of editorial collectives. This model is replicated around the world.
(...)
Donations also come from individuals. Media analyst Ed Herman, who co- authored the book Manufacturing Consent with Noam Chomsky, gave money to the Philadelphia IMC when it was gearing up to cover the convention and said he plans to give more in the future.
In an e-mail interview, Herman said he considers alternative media crucial for a democratic society.
"I think the IMC movement has done very important work in counteracting the mainstream media's gross bias in dealing with events approved by the elite, like the political conventions and actions of the World Trade Organization and [International Monetary Fund] IMF," he wrote. "They have actually embarrassed the mainstream media. They have an important potential, and I must support them because they are part of the hope for a democratic future. If they and institutions like them don't succeed, this society is in deeper trouble than I like to think about."
[read more]
I will be adding Seattle Independent Media Center, Independent Media Center, and Israel Independent MediaCenter to my list. There are a lot more. Check them out.

Israel/Palestine
Israel continues to slide down a slope that appears to have no return. My posts are often critical of Israel. This does not mean that I think Israel is wrong in everything or that the Palestinians are right in pushing Israel into the sea. It's not that simple. There is blood on both sides. But they are both there and neither side is going away.
My concern is that Israel is self-destructing. The think they can "stop terrorsim" without any understanding of what is driving that "terrorism". Their actions keep worsening the situation. Their actions give the Palestinians less hope. People with no hope and nothing to lose are to be feared. Israel thinks that a powerful army can subjugate a people succesfully. Israel will only lose and that will *not* be a good thing.
Last year, just before the world changed, I linked to a series of articles in the New York Review of Books. One of them, in particular (they are all worth reading), was written by a legend of journalism: I. F. Stone. A name few remember. It's a pity. He was what journalism should be and what we need now. But, so it goes. His article was written August 3, 1967. After the 7 Days War.
Holy War
By I. F. Stone
Stripped of propaganda and sentiment, the Palestine problem is, simply, the struggle of two different peoples for the same strip of land. For the Jews, the establishment of Israel was a Return, with all the mystical significance the capital R implies. For the Arabs it was another invasion. This has led to three wars between them in twenty years. Each has been a victory for the Jews. With each victory the size of Israel has grown. So has the number of Arab homeless.
(..)
The experiences from which M. Sartre draws his emotional ties are irrelevant to this new struggle. Both sides draw from them conclusions which must horrify the man of rationalist tradition and universalist ideals. The bulk of the Jews and the Israelis draw from the Hitler period the conviction that, in this world, when threatened one must be prepared to kill or be killed. The Arabs draw from the Algerian conflict the conviction that, even in dealing with so rational and civilized a people as the French, liberation was made possible only by resorting to the gun and the knife. Both Israeli and Arabs in other words feel that only force can assure justice. In this they agree, and this sets them on a collision course. For the Jews believe justice requires the recognition of Israel as a fact; for the Arabs, to recognize the fact is to acquiesce in the wrong done them by the conquest of Palestine. If God as some now say is dead, He no doubt died of trying to find an equitable solution to the Arab-Jewish problem.
(..)
All this may seem anachronistic nonsense, but this is an anachronistic quarrel. The Bible is still the best guide to it. Nowhere else can one find a parallel for its ethnocentric fury. Nowhere that I know of is there a word of pity in the Bible for the Canaanites whom the Hebrews slaughtered in taking possession. Of all the nonsense which marks the Jewish-Arab quarrel none is more nonsensical than the talk from both sides about the Holy Land as a symbol of peace. No bit of territory on earth has been soaked in the blood of more battles. Nowhere has religion been so zestful an excuse for fratricidal strife. The Hebrew shalom and the Arabic salaam are equally shams, relics of a common past as Bedouins. To this day inter-tribal war is the favorite sport of the Bedouins; to announce "peace" in the very first word is a necessity if any chance encounter is not to precipitate bloodshed.
(...)
If in this account I have given more space to the Arab than the Israeli side it is because as a Jew, closely bound emotionally with the birth of Israel, I feel honor bound to report the Arab side, especially since the US press is so overwhelmingly pro-Zionist. For me, the Arab- Jewish struggle is a tragedy. The essence of tragedy is a struggle of right against right. Its catharsis is the cleansing pity of seeing how good men do evil despite themselves out of unavoidable circumstance and irresistible compulsion. When evil men do evil, their deeds belong to the realm of pathology. But when good men do evil, we confront the essence of human tragedy. In a tragic struggle, the victors become the guilty and must make amends to the defeated. For me the Arab problem is also the No. 1 Jewish problem. How we act toward the Arabs will determine what kind of people we become: either oppressors and racists in our turn like those from whom we have suffered, or a nobler race able to transcend the tribal xenophobias that afflict mankind.
[read more]
While I. F. Stone was not an Israeli, he was a Jew who was there in the early days of the creation of the Israeli state. In a footnote to this article he states:
I first arrived in Palestine on Balfour Day Nov. 2, 1945, the day the Haganah blew up bridges and watch towers to begin its struggle against the British and immigration restrictions. The following spring I was the first newspaperman to travel with illegal Jewish immigrants from the Polish-Czech border through the British blockade. In 1947 I celebrated Passover in the British detention camps in Cyprus and in 1948 I covered the Arab-Jewish war. See my Underground to Palestine (1946) and This is Israel (1948). I was back in 1949, 1950, 1951, 1956, and 1964.
I. F. Stone stated it well: "How we act toward the Arabs will determine what kind of people we become: either oppressors and racists in our turn like those from whom we have suffered, or a nobler race able to transcend the tribal xenophobias that afflict mankind."
Israel has all the power while the Palestinians have none. How has Israel used that power? Not for reconciliation as I. F. Stone had hoped. I. F. Stone saw two paths. Israel has not taken the path that would have "transcended the tribal xenophobias." At least there are some Israeli's that see that the old ways of Sharon aren't working.
Interview with Ami Ayalon, former head of Shin Bet
AC: Do you exclude the possibility of an Israeli victory, despite the power differential?
AA: We have had our "victory"! In 1967, we occupied all the Palestinian lands. Once "terrorism is vanquished," what shall we do? This is absurd. The Palestinians want self-rule. Whoever wants to "vanquish" them, then offer them bread and circuses, understands nothing. The Israeli army is stronger than ever, our secret services are excellent; then why is the problem not resolved? Reoccupying the Palestinian Authority lands, and killing Arafat, what would that change? Those who want victory want an unending war.
AC: Yet, since September 11, many think that Israel can change the regional situation in its favor.
AA: An illusion! September 11 has changed many paradigms in the U.S., but nothing basic in the Middle East. Whatever Arafat's errors, the Palestinian people will continue to exist. As long as the Palestinian question is not resolved, the region will not know stability. Only a Palestinian state will preserve the Jewish and democratic character of Israel.
[read more]
Israeli Solider Says: Troops Competed to Kill Palestinians
In a special interview aired at Israeli television, Channel 2, and reported by the Palestinian News Agency, WAFA, a solider who was discharged from the Israeli army a week ago said that Israeli troops and special units carried out "unimaginable" practices against Palestinians.
[read more]
Since the beginning of the new Intifada, there were at least seventeen documented cases in which Palestinians were killed while under custody. In some cases they were summarily executed, in other cases there is evidence of torture prior to killing. In none of these cases was anyone brought to justice, or even investigated, as far as I know.
[read more]
With Tul Karm again in IDF hands, Israelis wonder if there's method in the marching orders
A major IDF push - viewed by Palestinians as the "re-occupation" of a West Bank city - touched off fierce debate in Israel over whether the government was carrying out a secret master strategy, or if the Jewish state was revisiting the slippery slope from which it slid into the quagmire of Lebanon.
[read more]
The only strategy the Sharon government can boast of is no strategy at all. We have no leader and no leadership. This elephant, with its 40 ministers and deputy ministers, and a parliamentary majority of 84 mandates, is actually waging a war of attrition against its own citizens. From every possible perspective, we are being pushed off a cliff. This administration is not functioning in any sphere: not defense, not economy, not social welfare, not foreign policy.
[read more]
Martin Luther King 1929 - 1968

1958: Arrested for "loitering" in Montgomery, Alabama, Dr. King was manhandled by police.

thanks to Life

"Darkness cannot drive out darkness; only light can do that. Hate cannot drive out hate; only love can do that"
Dr. Martin Luther King, Jr.

thanks to Seattle Times

"Increasingly, by choice or by accident, this is the role our nation has taken, the role of those who make peaceful revolution impossible by refusing to give up the privileges and the pleasures that come from the immense profits of overseas investments. I am convinced that if we are to get on the right side of the world revolution, we as a nation must undergo a radical revolution of values. We must rapidly begin the shift from a thing-oriented society to a person-oriented society. When machines and computers, profit motives and property rights, are considered more important than people, the giant triplets of racism, extreme materialism and militarism are incapable of being conquered." from Beyond Vietnam, 1967

thanks to Seattle IndyMedia

The Martin Luther King, Jr. Papers Project
The King Center
The Seattle Times' site dedicated to the life and legacy of Dr. King.
Marting Luther King, Jr. - A LIFE Tribute





Earth

This is a spectacular view of...

thanks to follow me here...





Media

Journalism or Just Stenography?

Palagummi Sainath does not pull punches or waste words. "In my view, the bulk of what is happening in the press these days is stenography."

True journalism, he said, has morphed into corporate journalism. The cause of this transformation? Convergence of media ownership.
[read more]

thanks to wood s lot





Ando Hiroshige

Hiroshige was one of the great Japanese woodblock printers. Not only does this site have a large number of prints, the prints are big. These prints are incredible. Each image is a masterpiece. Amazing!

There is also a lot of text explaining it all.

thanks to follow me here...





Music

Philips moves to put 'poison' label on protected audio CDs

Netherlands giant Philips Electronics has lobbed a grenade into the audio copy protection arena by insisting that that CDs including anti- copying technology should bear what is effectively a plague warning. They should in Philips' view clearly inform users that they are copy- protected, and they shouldn't use the "Compact Disc" logo because they are not, in Philips' considered view, proper compact discs at all.
[read more]

thanks to MetaFilter

Doc Searls gave a rave review for Amélie. I checked out the movie site and some reviews (it does sound like a must see) when one of the reviews mentioned the following which apparently appears in Amélie.

A portrait of the last Black medicine-show performer, Arthur "Peg Leg Sam" Jackson, with brilliant harmonica songs, tales of hoboing, buck dances, and an authentic live medicine-show performance filmed at a North Carolina county fair in 1972.
[read more]

The "portrait" is a 29 minute documentary film done in 1972. You can stream or download the movie. Those with inadequate bandwith can listen to RealAudio.





Israel/Palestine

Traveling in a car last week through the streets of Gaza City and through the alleyways of Dir al-Balah, Khan Yunis and Rafah, I saw hundreds and hundreds of graffiti messages, which once more "decorate" outer walls in Palestinian cities. The intifada has revived "wall communication" - and nearly all the messages bore the signatures of the various shahid (holy martyr) brigades. In every corner of the West Bank and the Gaza Strip, groups have arisen to avenge the deaths of local people who have been assassinated. All these groups declare the attacks they will launch in that person's memory. Will the Israeli defense establishment assassinate these youthful masses? Already one notes an exaggeration in the high ranks Israeli leaders assign to the assassinated Palestinians. Granted, some of them did head terrorist networks, but some of them were local blood-thirsty punks, not commanders of military wings as certain people are trying to present them.
[read more]

Neither killing nor house demolitions frighten people here. "In prison it's not the inmates who are afraid and in the cemeteries the dead have no more fear in their heart," says a resident of Gaza. "Let the jailers be afraid."

On these streets, in which the rainwater has mixed with the sewage to form a malodorous ooze, there is no danger of a powder keg blowing up. It has already exploded, spraying everything in the area: the children going to school even though absolutely nothing awaits them at the end of the track; the young people who have finished school and plunged from the heights of the final grade to the muddy street corners; the fathers who are being forced to leap over an entire generation of realizing dreams for their children; and the uniformed, Kalashnikov-carrying guards who no longer guard anything and only hope they will not wake up one morning and find themselves trampled under the feet of the residents. Suicide, it seems, is not only an operation against the enemy; it is an honorable way to put an end to the dying.
(...)

Israel can shout that the PA is infested with terrorism, but that represents the less cogent danger. Because if a situation arises in which the PA no longer exists, Israel is going to have to deal with each and every resident of the Gaza Strip. The cage will no longer be able to contain them.
[read more]





Double-crested Cormorant

I saw my first Robin yesterday. A flash of red belly as it flew away. Spring is getting closer.

The winter birds are still here though. The Buffleheads are still out on the lake diving for food. Another winter bird out on the lake diving for food has been the Double-crested Cormorant. I have seen four at one time. I haven't seen any for a week or so until this afternoon.
Double-crested Cormorant Phalacrocorax auritus
The Double-crested Cormorant forms its nest of sea-weeds, some sticks, moss, and clods of earth, with grass adhering to them, which it piles up into a solid mass, often as high as three feet from the rock, with a diameter of fifteen or eighteen inches at the top, and of two and a half feet at the base. The whole has an appearance of solidity seldom seen in the nests of water-birds. The nests are placed as near each other as the nature of the ground will permit, and a great number which appeared to have stood out against the winter storms, had been enlarged and repaired that season. Many, however, lay scattered over the rocks, having been demolished by heavy gales or the breaking of the surf during tempests. The whole surface of the rock resembled a mass of putridity: feathers, broken and rotten eggs, and dead young, lay scattered over it; and I leave you to guess how such a place must smell in a calm warm day. The eggs are three or four, average two and a half inches in length by one inch and four and a half eighths in breadth, and have an elongated form. They are covered with a calcareous coating, which is more or less soiled with filth, but when carefully scraped, shews a fine light greenish-blue tint.
[read more]
Pictures and text by John James Audubon.
These are good sized birds. Cormorants aren't very popular with fisherman though. A number of links that I found were very disparaging of these birds. It seems they eat the same fish the fisherman want to catch. Honeymoon Lake is stocked with trout and those trout have been providing a nice winter feast for the Cormorants. After they have finished diving for fish, they will climb up on a dock and spread their wings to dry them.
They flap their wings and start running on the water to take off. It takes a bit to get them airborne. They will then fly in a couple of large circles gaining altitude until they finally fly toward the salt water and out of site.
Double-crested Cormorant Phalacrocorax auritus
Double-crested Cormorant Phalacrocorax auritus
Double-crested comorant Phalacrocorax auritus
Double-Crested Comorant - (Phalacrocorax auritus)
One of those sites that seem to find the Cormorant as a less than desirable neighbor:
Southern California's Cormorant Problem
Fellow anglers, the cormorant (ugly black bird found in ALL So. Cal. trout lakes) is eating up all of our trout! Each year, we anglers pay big $$ in fishing license fees so our lakes are regularly stocked with trout for us to catch. Based on my own witness and stories told by other anglers, I believe this bird is responsible for more than 50% of the DFG trout taken fom our waters.