Archives
housing
Mortgage Report Rattles Markets
Dow Down 2% On a Big Rise In Delinquencies
| | | |
| --- | --- | --- |
| | A national survey showing that a soaring number of homeowners failed to make their mortgage payments in the last quarter of 2006 rattled lawmakers in Washington and the markets in New York yesterday, as the Dow Jones industrial average plummeted 2 percent, or nearly 243 points. | |
[more]
Loan turmoil closes doors for buyers
Mortgage terms are tightening as more sub-prime borrowers default and lenders reel.

ShaRon Lewis is facing a 50% hike in the payment on her adjustable-rate mortgage next month.

This week, she discovered she can't qualify for a new loan with payments that she could afford.

And although she's willing to sell the West Hills home she's owned for two years, she has been told it won't fetch what she paid for it. "I have to laugh to keep from bawling," the 30-something Lewis said.

Her situation is becoming increasingly common across the country amid the implosion of the business of sub-prime mortgages — loans for people with less-than-perfect credit or no credit histories.

Many would-be home buyers, and homeowners who want to refinance, are finding that virtually overnight their status has changed: They no longer are eligible for the kind of easy-credit loans that helped millions of people join the ranks of property owners during the housing boom.


[more]
thanks to Politics in the Zeros



Top investor sees U.S. property crash

Commodities investment guru Jim Rogers stepped into the U.S. subprime fray on Wednesday, predicting a real estate crash that would trigger defaults and spread contagion to emerging markets.

"You can't believe how bad it's going to get before it gets any better," the prominent U.S. fund manager told Reuters by telephone from New York.

"It's going to be a disaster for many people who don't have a clue about what happens when a real estate bubble pops.


[more]
thanks to Drudge Report



Velkomin to the United States of Foreclosure

The stock market is about to crash. The only question is whether it will quickly drop down the elevator shaft or follow the jerky flight-path of a man pushed down a stairwell. Either way, the outcome will be the same; stocks will nose-dive, the dollar will plummet, and the bruised US economy will be splattered on the canvas like George Foreman in Rumble in the Jungle.

Troubles in the sub-prime market have just begun to materialize and already 38 main sub prime lenders have gone kaput. Foreclosures have reached a 37 year high, and an estimated 2 million homeowners will be put out on the street in the next few years.

And that's just for starters.


[more]
give us this day our daily photograph
Wet Windshield
It's been a while since I've put a new photo. Here is one playing around with my new Pentax DSLR with an old 28mm screw mount lens giving a 35mm equivalent. It's been wet and rainy around here. At least the alder seems to have stopped blooming giving relief to those with hay fever and leaving a nice yellow dust on the cars.
global climate change
Now the Pentagon tells Bush: climate change will destroy us

Climate change over the next 20 years could result in a global catastrophe costing millions of lives in wars and natural disasters.

A secret report, suppressed by US defence chiefs and obtained by The Observer, warns that major European cities will be sunk beneath rising seas as Britain is plunged into a 'Siberian' climate by 2020. Nuclear conflict, mega-droughts, famine and widespread rioting will erupt across the world.

The document predicts that abrupt climate change could bring the planet to the edge of anarchy as countries develop a nuclear threat to defend and secure dwindling food, water and energy supplies. The threat to global stability vastly eclipses that of terrorism, say the few experts privy to its contents.


[more]
thanks to Politics in the Zeros



It's not going to be cold enough in Siberia to...
| | | |
| --- | --- | --- |
| | Lack of snow, or in many cases a shorter frozen season can have a significant impact on the logistics of operations up in the Far North. And here the problems of global warming are likely to have an effect. There is a story in February's Popular Mechanics about the problems of supplying the North-West Territories of Canada, where the main supply road, some 370 miles runs up the lakes from Yellowknife to the Tahera Diamond Mine. It can only be built after the ice gets to be about a foot thick, since it is planed and graded using heavy equipment, and then, after the ice gets to be 40 inches thick it can carry 70-ton trucks. Last year that did not happen until March, and because the mechanics of the ice road limit speed, it reduces the volume of supplies that can be sent. | |
[more]
Warming Report to Warn of Coming Drought

The harmful effects of global warming on daily life are already showing up, and within a couple of decades hundreds of millions of people won't have enough water, top scientists will say next month at a meeting in Belgium.

At the same time, tens of millions of others will be flooded out of their homes each year as the Earth reels from rising temperatures and sea levels, according to portions of a draft of an international scientific report obtained by The Associated Press.

Tropical diseases like malaria will spread. By 2050, polar bears will mostly be found in zoos, their habitats gone. Pests like fire ants will thrive.

For a time, food will be plentiful because of the longer growing season in northern regions. But by 2080, hundreds of millions of people could face starvation, according to the report, which is still being revised.


[more]
Forest Replacing Tundra At Rapid Rate
| | | |
| --- | --- | --- |
| | Forests of spruce trees and shrubs in parts of northern Canada are taking over what were once tundra landscapes--forcing out the species that lived there. This shift can happen at a much faster speed than scientists originally thought, according to a new University of Alberta study that adds to the growing body of evidence on the effects of climate change. | |
[more]
No one is willing to address the accelerating growth in the world's population

In the time it takes you to get to the end of this sentence, seven people have been added to the population of the world. At this rate, the United Nations estimates the number of people on the planet will nearly double by the middle of this century. Even with significant reductions in birth rates, the population is expected to increase from 6.7 billion now to 9.2 billion by 2050.

These figures are staggering. Yet there was hardly a mention of them in a major story last week: the announcement by Britain's two main political parties of how they will tackle what is commonly agreed to be the biggest threat facing the planet, global warming and ensuing climate change.


[more]
book recommendation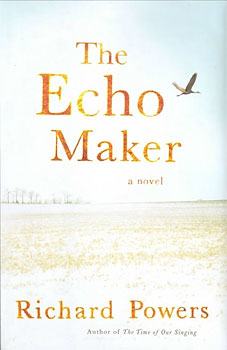 The Echo Maker
by Richard Powers
I love Richard Powers books. I need to read more. From Amazon:
| | | |
| --- | --- | --- |
| | A truck jackknifes off an "arrow straight country road" near Kearney, Nebr., in Powers's ninth novel, becoming the catalyst for a painstakingly rendered minuet of self-reckoning. The accident puts the truck's 27-year-old driver, Mark Schluter, into a 14-day coma. When he emerges, he is stricken with Capgras syndrome: he's unable to match his visual and intellectual identifications with his emotional ones. He thinks his sister, Karin, isn't actually his sister—she's an imposter (the same goes for Mark's house). A shattered and worried Karin turns to Gerald Weber, an Oliver Sacks–like figure who writes bestsellers about neurological cases, but Gerald's inability to help Mark, and bad reviews of his latest book, cause him to wonder if he has become a "neurological opportunist." Then there are the mysteries of Mark's nurse's aide, Barbara Gillespie, who is secretive about her past and seems to be much more intelligent than she's willing to let on, and the meaning of a cryptic note left on Mark's nightstand the night he was hospitalized. MacArthur fellow Powers (Gold Bug Variations, etc.) masterfully charts the shifting dynamics of Karin's and Mark's relationship, and his prose—powerful, but not overbearing—brings a sorrowful energy to every page. | |
That doesn't even begin to cover it. Here are some more reviews, or just go read the book.



| | | |
| --- | --- | --- |
| | To dispense with the longstanding book reviewing practice of first-paragraph throat clearing, may I offer up Richard Powers's "Echo Maker" as a wise and elegant post-9/11 novel? It avoids some of the now familiar features of the genre. It does not unfold in the sunny spring and summer before the disaster, placing the shallow high jinks and aspirations of the characters in stark relief by our knowledge of the looming event, ending perhaps with a dissipated yuppie waking on that September morning and relishing what a nice blue day it is outside. Nor does the book open in the anxious days after the attack, with the characters wandering the white, deserted streets and wondering, "How can I ever go back to my superficial preoccupations over high-thread-count sheets / that new S.U.V. / my [insert timely, vapid cultural signifier here]." "The Echo Maker" is not an elegy for How We Used to Live or a salute to Coming to Grips, but a quiet exploration of how we survive, day to day. | |
[more]
In the Heart of the Heartland
By Margaret Atwood

The Echo Maker is Richard Powers's ninth novel. His first, the acclaimed Three Farmers on Their Way to a Dance, came out in 1985. In the twenty-one years since then, Powers has been a volcano of activity, producing works as varied as Prisoner's Dilemma, Galatea 2.2, The Gold Bug Variations, Plowing the Dark, Gain, and The Time of Our Singing. He's been nominated three times for the National Book Critic's Circle Award, and has received both of the "Genius" prizes—a MacArthur Fellowship and a Lannan Literary Award. As I am writing this, he has just been nominated for a National Book Award, for the very book I am now reviewing.

That sort of thing puts a critic on notice, and indeed Powers has gathered critical comments that most writers would kill their grannies for. "Powers is a writer of blistering intellect," said the Los Angeles Times Book Review. "He only has to think of a subject and the paint curls off. He is a novelist of ideas and a novelist of witness, and in that respect he has few American peers." There's more in that vein, and more, and more.

So if he's so good, why isn't he better known? Let me put it another way —why haven't his books won more medals? It's as if juries have recognized the prodigious talent, the impressive achievement, and have put him onto short lists, but then have drawn back, as if they've suddenly felt that they might be giving an award to somebody not quite human—to Mr. Spock of Star Trek, for instance. He's got a Vulcan mind-meld on the critics, all right, but could it be that he's just not cozy enough at the core—that he's too challenging, or daunting, or— dread word—too bleak?

On the other hand, there are books you read once and there are other books you read more than once because they are so flavorful, and then there are yet other books that you have to read more than once. Powers is in the third category: the second time through is necessary to pick up all the hidden treasure-hunt clues you might have missed on your first gallop through the plot. You do gallop, because Powers can plot. Of some books you don't ask How will it all turn out? since that isn't the point. It's certainly part of the point with Powers. Only part, however.


[more]
middle east clusterfuck
How easy it is to put hatred on a map
Our guilt in this sectarian game is obvious. We want to divide our potential enemies
by Robert Fisk

Buy Time magazine, dear reader, turn to page 30, and what will you find? "How to Tell Sunnis and Shi'ites Apart." Helpful, uh? And after this, are columns of useful, divisive information. "Names," for example. "Some names carry sectarian markers... Abu Bakr, Omar and Uthman ... men with these names are almost certainly Sunni. Those called Abdel-Hussein and Abdel-Zahra," (I have never in met an "Abdel-Zahra" by the way) "are most likely Shi'ite." Then there are columns headed "Prayer", "Mosques", "Homes", "Accents" and "Dialects", even - heaven spare us - "cars". The last, for those readers not already reeling in disbelief, tells us which car stickers to look out for (spot a picture of Imam Ali and you know the driver is Shia) or which licence plate (Anbar province registrations, for instance) means a probable Sunni driver.

Thanks again. I don't know why the American military doesn't just buy up this week's edition of Time and drop the lot over Baghdad to help any still ignorant local murderers with easy-to-identify targets. But will Time be helping us to identify America's deeply divided society (who has most rubbish in their gardens in Washington, which bumper stickers to look for in Dearborn, Michigan)? Will they hell.

I, too, am guilty of playing these little sectarian games in the Middle East. I ask a Lebanese where he or she comes from, not to remember the mountains or rivers near their home but to code them into my map. But I easily come unstuck. The man who tells me he comes from the Lebanese south (Shia) turns out to live in the southern Druze town of Hasbaya. The woman who tells me she's from Jbeil (Christian) turns out to be from the town's Shia minority. Oh, if only these pesky minorities would go and live in the right bit of our imperial, sectarian maps.

And we go on talking to our Sunni monarchs in the Middle East - we listen to their raving about the "Shia crescent" - no wonder we hate Shia Iran so much. And we go on dividing and scissoring up the lands, and printing more and more of our racial maps and I do wonder most seriously if we wish to promote civil war across this part of the world, and you know what? I rather think we do.


[more]
Beyond Quagmire
A panel of experts convened by Rolling Stone agree that the war in Iraq is lost. The only question now is: How bad will the coming explosion be?

WORST-CASE SCENARIO
WORLD WAR III

Freeman: This could become the Islamic equivalent of the Thirty Years War between Protestants and Catholics in Europe in the 1600s -- a religious schism that blossoms into overt mayhem and murder and massacres and warfare. The various Iraqi factions will obtain the backing of other Middle Eastern states as they conduct their ideological and ethnic struggles. It will be a free-for-all that spreads beyond the anarchic zone of Iraq.

Scheuer: The Shiites in Iran will not tolerate the re-emergence of a Sunni government in Iraq. And the last thing the Saudis, Kuwaitis, Egyptians, Jordanians and the rest of the Sunni-dominated states will tolerate is letting the Shia control another oil-rich state in the Muslim heartland. So you're going to see those states running guns and money to Sunni fighters in Iraq. For Jordan and Egypt, this is a golden opportunity to send their young firebrands to fight in Iraq as they did in Afghanistan. It's kind of a pressure-release valve for Sunni dictatorships: People who would be out causing problems because their governments aren't Islamic enough will be out in Iraq fighting the ultimate heretics, the Shia.


[more]
dillema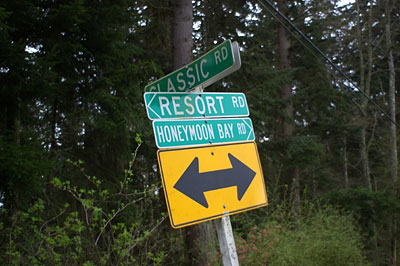 I live in a little cluster of houses around manmade Honeymoon Lake. There is only one road out: Honeymoon Bay Road, which runs along the west side of Holmes Harbor. Heading south will take you to Freeland. Turning left on Honeymoon Bay Road takes you roughly north up a hill to Classic Road. At Classic Road Honeymoon Bay Road turns into Resort Road at one of my favorite intersections. The road is lined on both sides by a forest of conifers. Until last week.
It turns out that the 40 acres south-west of the intersection belong to a mill in Everett and now was the time to harvest the trees. The treeline in the picture runs along Classic Road. There were trees just as tall in the now empty space on the left.
This is taken from Classic Road looking south. It kind of makes your heart break.
But here is the dillema. Bemoaning the loss of a beautiful forest to the rapacious loggers is a bit like an animal rights activist who likes to wear leather. I hate seeing that forest go but I'm using wood to make a camera case, not to mention the paper products, made from wood, I use from the reams I feed through my printer to the rolls that reside next to the toilet. Somebody's forest had to be cut for that wood. And the vanished forest had vanished before. The entire Island, except for a section across from South Whidbey State Park, was logged off early in the last century. The house where I live is made of wood and the land it sits on was once old growth forest. So, what's a poor fella to do?



The Walrus and The Carpenter
by Lewis Carroll

[...]

"But not on us!" the Oysters cried,
Turning a little blue.
"After such kindness, that would be
A dismal thing to do!"
"The night is fine," the Walrus said.
"Do you admire the view?

"It was so kind of you to come!
And you are very nice!"
The Carpenter said nothing but
"Cut us another slice:
I wish you were not quite so deaf--
I've had to ask you twice!"

"It seems a shame," the Walrus said,
"To play them such a trick,
After we've brought them out so far,
And made them trot so quick!"
The Carpenter said nothing but
"The butter's spread too thick!"

"I weep for you," the Walrus said:
"I deeply sympathize."
With sobs and tears he sorted out
Those of the largest size,
Holding his pocket-handkerchief
Before his streaming eyes.

"O Oysters," said the Carpenter,
"You've had a pleasant run!
Shall we be trotting home again?'
But answer came there none--
And this was scarcely odd, because
They'd eaten every one.


[more]
update: Here is an article in the local fishwrap.
Massive 40-acre clearcut near Honeymoon Bay riles neighbors

A clearcut logging operation of a 40-acre property south of Greenbank has left neighbors angry and frustrated over the loss of a scenic forest.

The owner of the property, however, said the logging was necessary because he has a large estate tax bill to pay.

Clearing of the property near the intersection of Honeymoon Bay Road and Classic Road intensified earlier this month. It continued this week as two massive logging cranes gathered and stacked logs this week to be hauled to an off-island mill.

Neighbors are upset that the logging began without much notice.

"Some of us have been physically sick over this," said Jo Van Patton.


[more]
iraq
War at Home
How the Vietnam war is being replayed in Iraq.
| | | |
| --- | --- | --- |
| | Of all the depressing ways that the war in Vietnam has been replayed in Iraq--the failed architect of the war being promoted to World Bank chief, the failed ground commander being promoted to Army chief of staff, congressional Democrats reverting to Vietnam-type, the whole rotten litany--nothing can top the belated dispatch to Iraq of David Petraeus, a general who actually knows what he's doing. Armed with a strategy that rejects nearly four years' worth of big-unit sweeps and the widespread application of conventional tactics against an unconventional foe, Petraeus has instead focused on securing Baghdad's population. Already, attacks and executions in the capital have (depending on the source) declined by one-half to one-third. Alas, the surge could transform Baghdad into Zurich, and it wouldn't be enough to budge the course of the U.S. enterprise in Iraq. That's because the base of support for the war--American public opinion--has utterly collapsed, and it's not the public's fault. If the circumstances seem familiar, that's because they are: In General Petraeus, the ghost of Creighton Abrams walks again. | |
[more]
thanks to Sic Semper Tyrannis 2007



This next one is just to depressing. Long and depressing. Don't let that stop you from reading it, though. Just another way that America has totally fucked up.

On a cold, wet night in January, I met two young Iraqi men in the lobby of the Palestine Hotel, in central Baghdad. A few Arabic television studios had rooms on the upper floors of the building, but the hotel was otherwise vacant. In the lobby, a bucket collected drips of rainwater; at the gift shop, which was closed, a shelf displayed film, batteries, and sheathed daggers covered in dust. A sign from another era read, "We have great pleasure in announcing the opening of the Internet café 24 hour a day. At the business center on the first floor. The management." The management consisted of a desk clerk and a few men in black leather jackets slouched in armchairs and holding two-way radios.

The two Iraqis, Othman and Laith, had asked to meet me at the Palestine because it was the only place left in Baghdad where they were willing to be seen with an American. They lived in violent neighborhoods that were surrounded by militia checkpoints. Entering and leaving the Green Zone, the fortified heart of the American presence, had become too risky. But even the Palestine made them nervous. In October, 2005, a suicide bomber driving a cement mixer had triggered an explosion that nearly brought down the hotel's eighteen-story tower. An American tank unit that was guarding the hotel eventually pulled out, leaving security in the hands of Iraqi civilians. It would now be relatively easy for insurgents to get inside. The one comforting thought for Othman and Laith was that, four years into the war, the Palestine was no longer worth attacking.


[more]
thanks to Sic Semper Tyrannis 2007



So, What's Iraq Actually About Now?
| | | |
| --- | --- | --- |
| | Four years into the Iraq war — "hard to believe," eh, Mr Wolfowitz? — don't expect the U.S. media to dwell on the conceptual foundations of this catastrophe. That may be because the media was rather complicit in laying those foundations. But the more interesting question, today, I think, is where the Iraq adventure is going, because its narratives have clearly unraveled, and its strategic purpose — in the sense of attainable goals rather than fantasies — is now far from clear. To be sure, today, Washington is clear only on what it wants to prevent in Iraq, and even then its chances of doing so are slim. Still, as Bush says, that doesn't mean it can withdraw. | |
[more]
Four Years Later... And Counting

As you read this, we're four years from the moment the Bush administration launched its shock-and-awe assault on Iraq, beginning 48 months of remarkable, non-stop destruction of that country … and still counting. It's an important moment for taking stock of Operation Iraqi Freedom.

Here is a short rundown of some of what George Bush's war and occupation has wrought:

Nowhere on Earth is there a worse refugee crisis than in Iraq today. According to the United Nations High Commissioner for Refugees, some two million Iraqis have fled their country and are now scattered from Jordan, Syria, Turkey, and Iran to London and Paris. (Almost none have made it to the United States, which has done nothing to address the refugee crisis it created.) Another 1.9 million are estimated to be internally displaced persons, driven from their homes and neighborhoods by the U.S. occupation and the vicious civil war it has sparked. Add those figures up – and they're getting worse by the day – and you have close to 16% of the Iraqi population uprooted. Add the dead to the displaced, and that figure rises to nearly one in five Iraqis. Let that sink in for a moment.


[more]
travel photography
Photos of Tibet in the early1940's
| | | |
| --- | --- | --- |
| | These photos were taken in Tibet by members of the Tolstoy expedition of 1942-43. Two U.S. Army officers, Lt. Col. Ilya Tolstoy and Capt. Brooke Dolan were sent to Tibet from India to explore the possibility of getting military supplies to Chiang Kai-shek's Republican Chinese government, via Tibet. | |
[more]
thanks to Heading East



iran
War With Iran is Not a Done Deal
| | | |
| --- | --- | --- |
| | o, is the U.S. going to attack Iran? I've been in South Africa for much of the past month, and the question kept recurring among observers of the international scene. Nobody knows the answer, of course, for the simple reason that it's unlikely that a decision has been taken. To be sure, as Michael Klare points out, President Bush's rhetoric suggests that he's already decided to bomb Iran. And the Administration, served as ever by a willfully naive media corps stoking misconceptions, is certainly preparing the public for a confrontation. And there's no question that the folks who brought you the Iraq war would very much like to see a second front opened in Iran. At the same time, however, there are a number of powerful countervailing forces in play that will restrain President Bush's more hawkish instincts — it's clear, already, that the bomb-Iran crowd faces considerable hostility in the U.S. Congress, among the key U.S. Sunni-Arab allies in the region (on whose behalf Washington claims to be challenging Iran) and, very importantly, among the uniformed leadership of the U.S. military. And the leadership in Iran, aware of the danger, appears to be moving to calm tensions on a wide array of fronts (moves that allow the pragmatists in Washington to craft a narrative — for domestic consumption — arguing that pressure on Iran has strengthened the U.S. hand to negotiate with Iran, and that negotiations can now proceed). | |
[more]
The Redirection
Is the Administration's new policy benefitting our enemies in the war on terrorism?
by Seymour M. Hersh
| | | |
| --- | --- | --- |
| | In the past few months, as the situation in Iraq has deteriorated, the Bush Administration, in both its public diplomacy and its covert operations, has significantly shifted its Middle East strategy. The "redirection," as some inside the White House have called the new strategy, has brought the United States closer to an open confrontation with Iran and, in parts of the region, propelled it into a widening sectarian conflict between Shiite and Sunni Muslims. | |
[more]
War Without Win - A White Paper On Iran

The ancient Greek name for Iran was Persis, which was usually spoken with fear - for good reason. At the beginning of the Fifth Century BC, the Persian Empire under Darius the Great was the most threatening force on Earth and was poised to conquer the democratic city states of Greece and, perhaps, the embryonic Roman republic beyond. But for a series of unfortunate events (for the Persians) modern study of the classics would be concentrated on the Persian language, history and literature, rather than upon Greek and Latin.

Iran, the last remnant of the Persian Empire, is presently threatened by the greatest super power in history - the Unites States of America. The conclusion of this article is that, rather than attack, the United States should immediately reestablish diplomatic relations with Iran, negotiate unconditionally, and ensure its protection from armed attack by Israel or any other nation under a comprehensive policy that seeks to avoid the expansion of nuclear weapons to Iran and all other nations and to disarm all nations within ten years. To arrive at this solution, we and those who purport to lead us must appreciate the history of the Iranian people and have a clear understanding of the facts leading to this crisis.


[more]
too much reality
There has been just too much of that reality stuff going on to get caught up on links. The last couple of days has been finishing up a new website and getting ready for Robyn's visit. Robyn is our 8 year old granddaughter who will be on spring break next week. Jenny, my oldest, and William are her parents and they all live at Fort Carson, Colorado, except that William is temporarily residing in Baghdad. She will be flying unaccompanied so this is a big adventure for her. She arrives at 11:20pm tomorrow night. Pictures will ensue. We can hardly wait!
Wednesday was another trip to the dentist for some oral surgery. My favorite way to spend an afternoon. Tuesday we made it down to Tacoma to visit Zoe's mom, Gerry, who has Alzheimer's. She was in a good mood and a good time was had by all. Most of her conversation was not understandable but it was easy to get the feeling and there were times when Gerry actually did make sense. I made up some of Gerry's squash souffle and Zoe make some of Gerry's "American Sphaghetti" (with tomato sauce and Cheez Whiz - comfort food from when Zoe was a kid.) Gerry loved it. Zoe has a lot more. It was good seeing her. I wish it wasn't a 2 1/2 hour trip each way.
And, to back up one more day, Monday was over at my friend Vern's building the box for my 5x7 Burke & James Commercial View camera. It will go into the rolling luggage camera case I'm making.
Vern's wood shop is perhaps a little overkill for this little project. He is currently using it to mill custom trim work for a 5,300 square foot house he is working on. High end stuff. We used 1/4" square section spruce to hold the box together. He ran the spruce thru a planer to get it down to 1/4 inch thick.
We had first cut up some marine grade 4mm thick plywood for the box sides.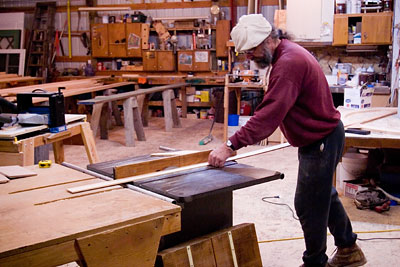 Then he cut the spruce into 1/4" strips. Twigs he called them.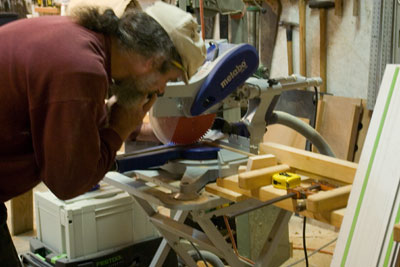 Then to cut the twigs to length.
He used a pneumatic pin gun to shoot teeny pins into the plywood and spruce to hold it together while the glue went off.
The box takes shape.
The final piece goes together to achieve boxness. Now I need to glue foam on the inside and install in in the rolling luggage. Now I need to design a top to the box that will also hold sheet film holders. I will be back at Verns for more building but probably not until Robyn's visit is over.
book recommendation


Blood and Oil:
The Dangers and Consequences of America's Growing Dependency on Imported Petroleum
by Michael T. Klare
What Amazon said:
| | | |
| --- | --- | --- |
| | The world's rapidly growing economy is dependent on oil, the supply is running out and the U.S. and other great powers are engaged in an escalating game of brinkmanship to secure its continued free flow. Such is the premise of Klare's powerful and brilliant new book (following Resource Wars). The U.S.—with less than 5% of the world's total population—consumes about 25% of the world's total supply of oil, he argues. With no meaningful conservation being attempted, Klare sees the nation's energy behavior dominated by four key trends: "an increasing need for imported oil; a pronounced shift toward unstable and unfriendly suppliers in dangerous parts of the world; a greater risk of anti-American or civil violence; and increased competition for what will likely be a diminishing supply pool." In clear, lucid prose, Klare lays out a disheartening and damning indictment of U.S. foreign policy. From the waning days of WWII, when Franklin Roosevelt gave legitimacy to the autocratic Saudi royalty, to the current conflict in Iraq, Klare painstakingly describes a nation controlled by its unquenchable thirst for oil. Rather than setting out a strategy for energy independence, he finds a roadmap for further U.S. dependence on imported oil, more exposure for the U.S. military overseas and, as a result, less safety for Americans at home and abroad. While Klare offers some positive suggestions for solving the problem, in tone and detail this work sounds a dire warning about the future of the world. | |
I hadn't realized how tied up with oil our foriegn policy has been since Roosevelt in WWII. Very illuminating. Unfortunately, his solutions aren't really solutions. There is no exit. The rest of the book is a must read. Here is an interview and a couple of articles by Klare.
Oil, Geopolitics, and the Coming War with Iran



oil
Ghawar Is Dead!
The Wide-Spread Use of Advanced Extraction Techniques are Killing the Mother of All Oil Fields

I've watched in shock and awe in recent days, shaking my head and wringing my hands. Yet another unremarkable narrative of celebrity intrigue entered the echo chamber of the mainstream media system and its 24/7-positive-feedback-amplification-loop to emerge as biggest news event - no, the earth-shaking cultural event of the year. This time it is…Anna Nicole is dead!

Her mournful supplicants conduct vigils in her memory and quietly reflect upon her iconic life, wishing her soul Godspeed. Meanwhile, we are left to ponder the paternity of her unfortunate offspring and the symbolic meaning of her celebrity status for posterity. All the while we wait with bated breath as Wikipedia straightens out the facts of her untimely demise.

Hers was the quintessentially American tale of the technological metamorphosis of East Texas trailer trash into the bearer of the trophy titties for an oil tycoon. Her bare breasts in the pages of Playboy reaffirmed the greatness of our country! She pulled her self up by her bra-straps and made her way in the world. We imagine that the indelible image of her "candle in the wind" life will never be extinguished because she really lived the collective dream. Sometimes it's funny how fake-life makes contact with real-life.

It was also announced recently, without the same media feeding frenzy, that another queen of mass-culture is dead too. Few of us even know her name. Rather than being the personification of the contemporary zeitgeist, she is one of the cornerstones of what Marx called global capitalism's base. She was an integral part of the concrete material conditions that make our peculiar form of social organization possible. Her name is Ghawar, and she is the mother-of-all oil fields. She was once a veritable sea of light sweet crude 174 miles long and 12 miles wide, under the sands of the eastern province of the Kingdom of Saudi Arabia (KSA), and now she is dead.


[more]
photography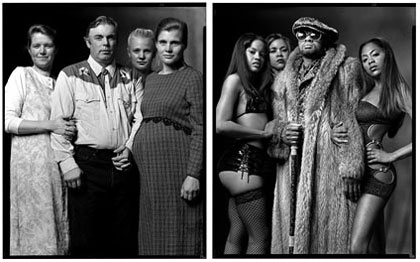 Polygamist with Wives / Pimp with Prostitutes 2004 / 2003
[more]
thanks to The Online Photographer
kurdistan

Since the Turkish Republic was set up in 1923, no Turkish statesman has shown the necessary combination of courage and imagination to resolve the question of how the country's ethnic Kurds, who are now estimated to number fifteen million people, should be treated. Turkey's leaders have tried variously to isolate the Kurds, integrate them, and repress them, hoping that they might agree to live unobtrusively in a state that was set up on the premise that all its inhabitants, except for a small number of non-Muslim minorities, are Turks.

During the past twenty years, several million Kurds have moved from their homes in southeastern Turkey to towns and cities further west, many to Istanbul—some to escape the state's pitiless treatment of Kurds, others in the hope of becoming a bit less poor. Some of these Kurds have done what the state wanted them to. They have married Turks, or they have decided not to teach their children to speak Kurmanji, the Kurdish language that is most widespread in Turkey. They have taken their place in the mainstream Turkish economy and learned to enjoy Turkish food, pop music, and soap operas. In short, they have become the Turks that the state always insisted they were.

But there is another group, perhaps as large, who have remained in the southeast and in the Kurdish neighborhoods of cities in western Turkey. These people, recalling the humiliations to which they, as Kurds, have for years been subject, or because members of their families have fought against the Turkish state, retain a strong sense of Kurdish identity that has not been weakened by the military defeat that the Kurdish Workers Party (PKK) sustained in the late 1990s, when it was forced to scale down its long guerrilla war against the Turkish army; and that has survived the capture, in 1999, of the PKK leader, Abdullah Ocalan, who is serving a life sentence on a prison island near Istanbul.

The pride of such Kurds in their identity has been sharpened by two unexpected developments. First, since the American invasion of Iraq, the Kurds of northern Iraq have established a federal region that enjoys nearly complete autonomy. It runs its own armed forces, decides how to spend its revenues, and maintains independent (if unofficial) foreign relations. This nearly sovereign Kurdistan —inhabited by more than five million people—is a source of pride to Kurdish nationalists everywhere. Second, under pressure from the European Union, a club that the Turkish government has long wanted to join, Turkey passed a series of laws, mostly between 2002 and 2004, which have increased freedom of expression and relaxed slightly the monopoly held by the official Turkish culture. Under these laws, Kurds now have the right to broadcast in Kurdish and to set up private Kurdish-language schools. They are able to articulate their grievances more bluntly and they are physically safer. Following the passage of anti-torture legislation, reports of torture in police stations and jails have dropped markedly.


[more]
bloggus interruptus
There I was Tuesday last ready to post a pile of links when I received a call from Candi, my ex-wife, telling me Bill Feeley had died in his sleep the day before.
I first met Bill in the late 1960s. We both did sports car rallies. In the early 1970s I switched over to bicycle racing and lost touch with him until the mid 1970s when I ended up working in the same group with him at Boeing. We became friends and that even survived his selling me a two-stroke Saab with a frozen engine. He had rebuilt the engine but when he fired it up he forgot to put coolant in the radiator and the poor little thing froze up. I found another engine for a replacement and would go over to his house several nights during the week to work on it.(I lived in Seattle and Bill lived in Kirkland.) I didn't have a car at the time so he would take me home with him. One evening he said he had to stop by a friend's house for dinner so I tagged along. That friend was Candi who I later married and was the mother of the three most perfect children in the world. In the late 1970s Bill moved to Whidbey Island. We moved to Vashon Island and then Los Angeles. We came back from LA in 1987 and decided to move to Whidbey Island since I would be working in nearby Everett and we had developed a liking for island living. We slept on the floor at Bill and Nancy's for a month until we found our own place. Our lives changed, Candi and I split up and eventually so did Bill and Nancy but we still kept in touch. When ever we would see each other we would stop and fill each other in on out adventures. I would borrow his beat up Ford pickup and would help him stack his wood pile. His passion was astronomy and chasing total eclipses of the sun. He taught astronomy locally. A while back he sold his house and moved in with Donna. The last time I saw him was at the Freeland post office. He said he had a mild heart attack. Apparently he was doing worse the last few weeks and had been taking some tests at the hospital. He had been using oxygen at night and Sunday Donna had him use it during the day. Sunday night his sleep was restless until he slipped away. His memorial will be a potluck at the Deer Lagoon Grange at Lone Lake on the 24th at 3:30. Bring food and memories. I miss him. He was one of those anchors in life that is now no longer there.
Then later in the week I had a couple of tooth extractions followed by a rush to finish up a web site Friday night. The web site is an interesting one. Don was a young photographer back in the early 1960s in Los Angeles. He has started selling some of his photos. Some historic drag racing photos at Rare Photographic Moments. He has some other interesting projects coming up.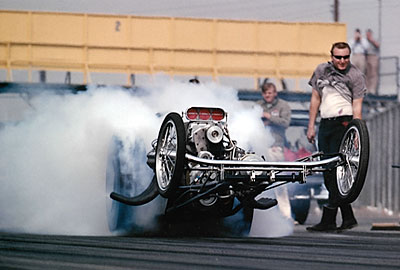 Most of the rest of my strobe lighting stuff is in and now I need to start putting it together. A part of that was getting my own digital Pentax *ist DL camera for chimping the lighting.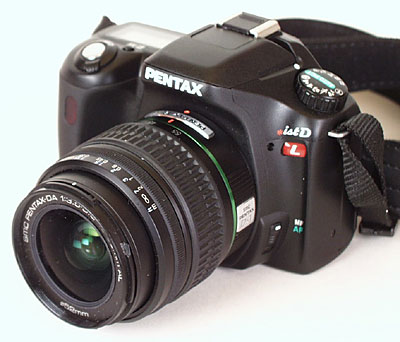 I had been borrowing Zoe's DL but that just wasn't working out. We both use it differently and use quite different settings. I'm going to be using mine a lot for checking lighting, even when I'm using film. The DL has been replaced by the K110D so used ones are going for a reasonable price. Zoe's was $600 new, which was a great price. You can get used ones from $300 to $330 on eBay with lens and $255 to $275 without lens. Mine was $301 with lens. A helluva deal. Now we have matching cameras.
Last night we went over to my daughter Katie's to see the painting. It finally made it home and is on the wall.
It's big. When she put it on the wall she noticed how dusty it was so she and Robby dusted it off which brightened it up considerably. The on-camera flash doesn't do it justice. When I get my off-camera strobes set up I'm going to be taking them over and get a proper shot of it.
The plywood is in for my 5x7 camera case so I will be going over to Vern's this week to start cutting it up and I have a new website to start putting together so it looks like another busy week. I will start getting links up later, for real.