Archives
robyn has gone home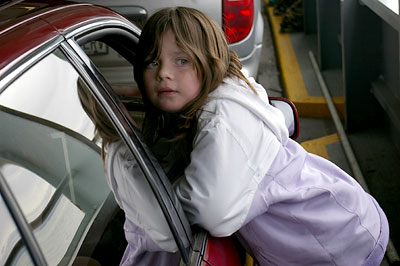 It's a little depressing around the house tonight. The picture is of Robyn on the ferry. She had been talking to Zoe. Last night we had Robyn's 7 year-old cousin Mike over. Zoe and I were exhausted but tonight we are sad to that Robyn's energy is gone. Tonight I took her bed apart and straightened things out. It was like erasing the last remnants of her stay. We miss her already.
Zoe and I have matching Pentax *ist DLs. We were like a couple of paparazzi clicking away whenever Robyn was around. We have hundreds of images to process. I just counted 562 files downloaded from my Pentax over the week. Some of them were shot by Zoe. She would grab my Pentax if hers wasn't handy or grab mine thinking it was hers. It makes it handy having matching cameras. We do like some different settings. For one, we use diopter settings at opposite extremes. She has a bunch of pictures on her camera and Robyn was using them too. I think we will be posting pictures all week. Some sweet stuff.
it was an intense week. Now to resume regularly scheduled programming.
robyn's visit is almost over
It's been a busy week with my 8 year old granddaughter Robyn visiting even though she hasn't been with us a lot of the time. We finally figured out when everyone could spend time with her. Monday she went to the Seattle Science center with Robby (my son) and Hannah, Tuesday Katie (my daughter) took her to Deception Pass and Fort Casey to fly kites with Robyn's 7 year old cousin Mike, Wednesday Candi (my ex-wife) took Robyn and Mike down to the beach. It's a beach I used to take Robyn and Mike's parents too when they were kids. Wednesday we met up with Robyn and Katie at a school concert that Mike was in.
Yesterday we went to visit my mom, Robyn's great grandmother who lives in Federal Way, between Seattle and Tacoma. We went out to lunch at a Red Robin.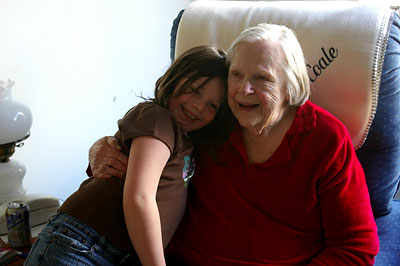 On the way back through Seattle we stopped for a doctor's appointment for Zoe and swung by the Apple store in Alderwood Mall to find out her Apple laptop battery problem was a bad battery that was covered under warranty (Yay!!). A new battery and off to Target to buy a new coat for Robyn to replace the one we forgot at the Red Robin. We finally made it home. We have lots of pictures thanks to a 2GB SD card in the Pentax DSLR. We have pictures from Candi and Katie and now need to round up the pictures from Robby to add to the Robyn's Visit website. Today we start to pack and get ready to send Robyn home tomorrow. Hopefully we will get a chance to make bread with Robyn this afternoon. Mike will be over this evening to spend the last night with Robyn. Tomorrow her plane leaves at 2:55pm. We will miss her.
family stuff
My grandaughter, Robyn is visiting. I'm putting together a website of her visit: Robyn's Visit. She spent time with Robby (Robyn's uncle) and Hannah Monday, Katie (Robyn's aunt) and Mike (Robyn's cousin) today, and Candi (Robyn's grandmother) tomorrow. We get her back tomorrow night for the rest of the stay. More pictures to add and lots of text.