Archives
iraq — where the myth of america is finally overtaken by the reality of america; where the america the world knows becomes obvious even to americans; where saying "i told you so" only brings tears to my eyes; where i'm so fucking sorry that a fine young iraqi woman like riverbend has to say what she says; where riverbend says more than all the pundits and talkings heads in the world; where americans are not worthy of licking the bottom of the foot of a single iraqi

People are seething with anger- the pictures of Abu Ghraib and the Brits in Basrah are everywhere. Every newspaper you pick up in Baghdad has pictures of some American or British atrocity or another. It's like a nightmare that has come to life.

Everyone knew this was happening in Abu Ghraib and other places… seeing the pictures simply made it all more real and tangible somehow. American and British politicians have the audacity to come on television with words like, "True the people in Abu Ghraib are criminals, but…" Everyone here in Iraq knows that there are thousands of innocent people detained. Some were simply in the wrong place at the wrong time, while others were detained 'under suspicion'. In the New Iraq, it's "guilty until proven innocent by some miracle of God".

People are so angry. There's no way to explain the reactions- even pro-occupation Iraqis find themselves silenced by this latest horror. I can't explain how people feel- or even how I personally feel. Somehow, pictures of dead Iraqis are easier to bear than this grotesque show of American military technique. People would rather be dead than sexually abused and degraded by the animals running Abu Ghraib prison.

There was a time when people here felt sorry for the troops. No matter what one's attitude was towards the occupation, there were moments of pity towards the troops, regardless of their nationality. We would see them suffering the Iraqi sun, obviously wishing they were somewhere else and somehow, that vulnerability made them seem less monstrous and more human. That time has passed. People look at troops now and see the pictures of Abu Ghraib… and we burn with shame and anger and frustration at not being able to do something. Now that the world knows that the torture has been going on since the very beginning, do people finally understand what happened in Falloojeh?

I'm avoiding the internet because it feels like the pictures are somehow available on every site I visit. I'm torn between wishing they weren't there and feeling, somehow, that it's important that the whole world sees them. The thing, I guess, that bothers me most is that the children can see it all. How do you explain the face of the American soldier, leering over the faceless, naked bodies to a child? How do you explain the sick, twisted minds? How do you explain what is happening to a seven-year-old?

There have been demonstrations in Baghdad and other places. There was a large demonstration outside of the Abu Ghraib prison itself. The families of some of the inmates of the prison were out there protesting the detentions and the atrocities… faces streaked with tears of rage and brows furrowed with anxiety. Each and every one of those people was wondering what their loved ones had suffered inside the walls of the hell that makes Guantanamo look like a health spa.

And through all this, Bush gives his repulsive speeches. He makes an appearance on Arabic tv channels looking sheepish and attempting to look sincere, babbling on about how this 'incident' wasn't representative of the American people or even the army, regardless of the fact that it's been going on for so long. He asks Iraqis to not let these pictures reflect on their attitude towards the American people… and yet when the bodies were dragged through the streets of Falloojeh, the American troops took it upon themselves to punish the whole city.

He's claiming it's a "stain on our country's honor"... I think not. The stain on your country's honor, Bush dear, was the one on the infamous blue dress that made headlines while Clinton was in the White House... this isn't a 'stain' this is a catastrophe. Your credibility was gone the moment you stepped into Iraq and couldn't find the WMD... your reputation never existed.

So are the atrocities being committed in Abu Ghraib really not characteristic of the American army? What about the atrocities committed by Americans in Guantanamo? And Afghanistan? I won't bother bringing up the sordid past, let's just focus on the present. It seems that torture and humiliation are common techniques used in countries blessed with the American presence. The most pathetic excuse I heard so far was that the American troops weren't taught the fundamentals of human rights mentioned in the Geneva Convention… Right- morals, values and compassion have to be taught.

All I can think about is the universal outrage when the former government showed pictures of American POWs on television, looking frightened and unsure about their fate. I remember the outcries from American citizens, claiming that Iraqis were animals for showing 'America's finest' fully clothed and unharmed. So what does this make Americans now?

We heard about it all… we heard stories since the very beginning of the occupation about prisoners being made to sit for several hours on their knees… being deprived of sleep for days at a time by being splashed with cold water or kicked or slapped… about the infamous 'red rooms' where prisoners are kept for prolonged periods of time… about the rape, the degradations, the emotional and physical torture… and there were moments when I actually wanted to believe that what we heard was exaggerated. I realize now that it was only a small fragment of the truth. There is nothing that is going to make this 'better'. Nothing.

Through all of this, where is the Governing Council? Under what rock are the Puppets hiding? Why is no one condemning this? What does Bremer have to say for himself and for the Americans? Why this unbearable silence?

I don't understand the 'shock' Americans claim to feel at the lurid pictures. You've seen the troops break down doors and terrify women and children… curse, scream, push, pull and throw people to the ground with a boot over their head. You've seen troops shoot civilians in cold blood. You've seen them bomb cities and towns. You've seen them burn cars and humans using tanks and helicopters. Is this latest debacle so very shocking or appalling?

The number of killings in the south has also risen. The Americans and British are saying that they are 'insurgents' and people who are a part of Al-Sadir's militia, but people from Najaf are claiming that innocent civilians are being killed on a daily basis. Today the troops entered Najaf and there was fighting in the streets. This is going to cause a commotion because Najaf is considered a holy city and is especially valuable to Shi'a all over the world. The current situation in the south makes one wonder who, now, is going to implement a no-fly zone over areas like Falloojeh and Najaf to 'protect' the people this time around?

I sometimes get emails asking me to propose solutions or make suggestions. Fine. Today's lesson: don't rape, don't torture, don't kill and get out while you can- while it still looks like you have a choice... Chaos? Civil war? Bloodshed? We'll take our chances- just take your Puppets, your tanks, your smart weapons, your dumb politicians, your lies, your empty promises, your rapists, your sadistic torturers and go.


[more]
jobs
Things may slow down here. I'm making a little career change. I'm a freelance web designer that does a little freelance photography. Unfortunately, the economy has not been good for my customers and my web work has fallen off precipitously. Today I added Freelance Architectural Drafter to my skill list. It's sort of coming full circle. I started out as an Architecture major in the early 60s. I ran out of money and ended up at Boeing as a drafter for many years. I got into CAD/CAM (Computer Aided Design/Computer Aided Manufacturing) in 1979. I moved away from CAD, into technical and standards writing, in 1992. I became a web designer in 1995 and now I'm back to Architecture. I will be completing Autocad drawings for a local architect. So now I will also be an Autocad monkey. Dusting off *old* skills is hurting my head but it's fun to be getting back into it. Too many projects — too little time.
commie and pre-commie russian architecture
Expo-Park From Vasily Bazhenov Till Vasily Bychkov
architecture of exhibition pavilions from the collection of State Museum of Architecture

F.O.SHEHTEL
Competition project.
Mausoleum of V.I.Lenin in Moscow. 1924
Paper on cardboard, Indian ink, water-colour. 32,5?45,5

[more]
thanks to The Cartoonist
old and in the way
I turn 60 in August, so the age thing has been on my mind. Occasionally I go trolling at Technorati. I found this site that has linked to me because I am an old fart with a blog. The focus of the blog is on getting older. It's excellent. It will go in my blogroll when I get time. The lower age limit for her Older Bloggers blogroll is 45. I don't know. 45 is nothing but a young whippersnapper!
Time Goes By
what it's really like to get older

When the owner of a German engineering firm near Stuttgart lost six mid-career employees he had trained for ten years to larger companies like Porsche, Daimler and Bosch, he was at first flummoxed about where he could find experienced replacements. But after some research, Otmar Fahrion had more engineers than he could use – excellent ones.

"We…found there was a pool of engineers with the know-how, experience, dedication, flexibility and eagerness right under our noses," he says. "There were all these engineers with great skills who were pushed off into early retirement after about the age of 50."

Even moreso than in the U.S., Germany squanders the professional talents and experience of its citizens. A recent survey there found that 60 percent of businesses employ no one older than 50, and only about half of German men between 55 and 64 are employed.


[more]
photography
This site has some wonderful pictures. One whole section is on commuting in New York City with an emphasis on the subway. It was a rush to see those pictures. The subway was one of the highlights to my trip to NYC recently. Some nice pictures of a gathering of jazz guitarists. I can't even begin to imagine the music he heard. And some pictures of his little girl and some flowers. How can you go wrong with that?
[more]
thanks to Time Goes By
kent state and the wheel goes round
The following remarks were delivered by William Rivers Pitt on May 4th on the campus of Kent State University, at a ceremony to mark the 34th anniversary of the Kent State Shootings.
Tin Soldiers and We are Coming
By William Rivers Pitt

The truth is that it is all too convenient to use tricks of language to blame Iraqi 'terrorist insurgents' for the deaths of all those Americans. Trade places with them, however, and face an invading army commanded by leaders whose goals and motives are fully criminal, face an invading army that would kill and torture and humiliate, and think about what you would do. Language is a funny thing. It can be used to reveal, and to disguise. Even today, 34 years later, you can find a similar argument right here. Were the people shot down here insurgents? Were they terrorists? Were they patriots?

There is language, and there is truth. The truth, for me, is this: Those who fell here on this day were patriots, and the wheel has come round. The truth, for me, is this: I blame George W. Bush for our wretched estate today. I lay the bodies of our dead, and all the Iraqi dead, at the doorstep of this White House. This war, conceived in darkness and doomed to fail from the beginning, has been lost. All we are doing now is stirring the ashes. We. Never. Learn.

The truth, for me, is this: We have gathered here today to mourn the loss and celebrate the lives of those who fell here 34 years ago. This is sacred ground. 34 years ago, some very ordinary Americans rose up to strike a blow against a disastrous war, and the price paid for this decision to speak up and speak out was fearful and mortal. The wheel has rolled, and has come around once more.

We must rise again on this sacred ground, we must enter again into the valley of the shadow of death, and we must fear no evil, because this must be stopped, and we must be the ones to stop it. Patriots once marched here, and must march here again. We. Must. Learn.

This is your wake up call, Mr. Bush. Your 15 minutes are just about over. Tin soldiers and we are coming.


[more]
commie art
Revolution by Design:
The Soviet Poster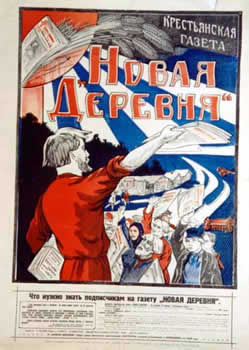 [more]
thanks to plep
abu ghuraib
The Abu Ghuraib nightmare expands faster than the cover-ups and denials. How bad can it get? Just hang around for awhile. A sad time to be an American.
[more]
A Wretched New Picture Of America
Photos From Iraq Prison Show We Are Our Own Worst Enemy

Among the corrosive lies a nation at war tells itself is that the glory -- the lofty goals announced beforehand, the victories, the liberation of the oppressed -- belongs to the country as a whole; but the failure -- the accidents, the uncounted civilian dead, the crimes and atrocities -- is always exceptional. Noble goals flow naturally from a noble people; the occasional act of barbarity is always the work of individuals, unaccountable, confusing and indigestible to the national conscience.

This kind of thinking was widely in evidence among military and political leaders after the emergence of pictures documenting American abuse of Iraqi prisoners in Abu Ghraib prison. These photographs do not capture the soul of America, they argued. They are aberrant.

This belief, that the photographs are distortions, despite their authenticity, is indistinguishable from propaganda. Tyrants censor; democracies self-censor. Tyrants concoct propaganda in ministries of information; democracies produce it through habits of thought so ingrained that a basic lie of war -- only the good is our doing -- becomes self-propagating.

But now we have photos that have gone to the ends of the Earth, and painted brilliantly and indelibly, an image of America that could remain with us for years, perhaps decades. An Army investigative report reveals that we have stripped young men (whom we purported to liberate) of their clothing and their dignity; we have forced them to make pyramids of flesh, as if they were children; we have made them masturbate in front of their captors and cameras; forced them to simulate sexual acts; threatened prisoners with rape and sodomized at least one; beaten them; and turned dogs upon them.
[...]

Reputation, image, perception. The problem, it seems, isn't so much the abuse of the prisoners, because we will get to the bottom of that and, of course, we're not really like that. The problem is our reputation. Our soldiers' reputations. Our national self-image. These photos, we insist, are not us.

But these photos are us. Yes, they are the acts of individuals (though the scandal widens, as scandals almost inevitably do, and the military's own internal report calls the abuse "systemic"). But armies are made of individuals. Nations are made up of individuals. Great national crimes begin with the acts of misguided individuals; and no matter how many people are held directly accountable for these crimes, we are, collectively, responsible for what these individuals have done. We live in a democracy. Every errant smart bomb, every dead civilian, every sodomized prisoner, is ours.

And more. Perhaps this is just a little cancer that crept into the culture of the people running Abu Ghraib prison. But stand back. Look at the history. Open up to the hard facts of human nature, the lessons of the past, the warning signs of future abuses.


[more]
thanks to daily KOS



Telltale Signs of Torture Lead Family to Demand Answers
Wife, Daughters Tell of Iraqi Man Discharged from U.S. Custody in Coma
| | | |
| --- | --- | --- |
| | Not all evidence of military personnel mistreating Iraqis held in US custody come from leaks within the American- and British-run detention facilities. In many cases, such as that of Sadiq Zoman, 57, who last year entered US custody healthy but left in a vegetative state, the story originates with family members desperate to share their loved one's story with anyone willing to listen. | |
[more]
Turki: Bremer "Didn't Care" about Torture Evidence:
Sa'idi: American Democracy is Dead save for the Facade
by Juan Cole



Fallujah and Abu Ghuraib: No Comparison
by Juan Cole



Continuity of Government
by Billmon



The Role
Another Open Letter to the Troops in Iraq
hanger technology
origin of the the wire coat hanger

in response to co-workers' complaints of too few coat hooks, and in a burst of inventive inspiration, albert j parkhouse bent a piece of wire into two ovals with the ends twisted together to form a hook.
then he grabbed some wire and twisted it around so that it fit inside the shoulders of his coat. he bent another wire to curl in the center, allowed him to hang the coat practically anywhere he wanted.
he continued to refine the idea over the next few weeks and soon, all the other employees started using copies provided by albert.


[more]
thanks to Incoming Signals
the iraqi intifada — vietnam, lebanon, and the west bank on internet time
Iraq continues to unravel — faster and faster...

I just had a long and very interesting conversation with a reporter back from Iraq. Here's a partial summary:

- Many Iraqis have turned against America itself. After the invasion, there were always Iraqis who were anti-American, but the majority were not. Up until recently, Iraqis were anti-Bush and anti-occupation, but still talked about how much they loved the American people. Right before Al-Sadr and Falluja, this changed. Iraqis started to turn against American journalists and now do not like Americans, period.

- The significance of the pictures of torture cannot be overstated. While Saddam tortured more systematically and more often, Iraqis never saw evidence of it in print. Since they do not trust the press to report the truth just because that's the function of the press, many have concluded that the American occupation is in fact worse than Saddam. Why else would pictures of torture be allowed?


[more]
Analysis: Withdrawal on the cards?
Events in Iraq have been spinning out of control - and out of control of the spinners - so fast on so many fronts that the W word - withdrawal - is now being mentioned.




One of the things I've found difficult about writing about Iraq in recent days is imputing some level of seriousness to the arguments of the president and his retainers who continue to press an optimistic view of what's happening in Iraq. From them, on any given day, you can still hear the argument that, notwithstanding some tough days, things are still getting better in Iraq and the key to success is sticking with it.

At the same time, I talk to, or have conversations related to me with, various foreign policy, intelligence and military experts, all of whom --- across the political spectrum --- seem to believe that things are about as bleak as they can be. On top of this, they seem uniform in the belief -- sometimes based on inference, other times based on direct knowledge -- that the White House is fresh out of ideas about what to do, and basically hasn't any idea how to proceed.


[more]
How Ahmed Chalabi conned the neocons
The hawks who launched the Iraq war believed the deal-making exile when he promised to build a secular democracy with close ties to Israel. Now the Israel deal is dead, he's cozying up to Iran -- and his patrons look like they're on the way out. A Salon exclusive.



Pentagon to Keep 135, 000 Troops in Iraq
thanks to Political Animal



U.S. Military Deaths in Bush's Iraq Crusade
[more]
thanks to The Blogging of the President: 2004
industrial art
Doodles, Drafts, and Designs
Industrial Drawings from the Smithsonian
[more]
thanks to wood s lot


The new normalcy in my tribe's home turf -- that would be terrorism-threatened Israel -- is to avoid target-rich public transportation options, especially the buses, and to resign yourself to being frisked just about everywhere. One such check happened just off King George Street in West Jerusalem, at Cafe Hillel, to which a young security guard in a black windbreaker admitted me with a wave of her metal-detector wand. (The apple pie with nuts tasted good, but no need to linger.) The new normalcy is to sit and stew in a Tel Aviv traffic jam while police conduct a bomb sweep of a neighborhood, and to indulge in black-humor jokes about how maybe the early Zionists should have accepted Imperial Britain's first offer of a homeland in Uganda. Top off those experiences with an edgy visit to the occupied West Bank with an unarmed Jewish settler who steered us through a remote patch of Palestinian farmland -- and you bet I heaved a sigh of relief after clearing customs to catch an El Al flight to New York.

Was Zionism a monumental mistake -- for the Jews, that is? I wonder. One core aim of Zionism -- to restore the lost self-respect of the European ghetto Jew -- was achieved with the successful establishment of the modern state of Israel in 1948 and the nation's rise as the reigning military power in one of the toughest blocks in the world -- the Arab Middle East. Nobody messes with Israel without paying a price. But the other core purpose -- to provide a sanctuary and refuge for Jewish people in the shadow of the Holocaust -- looks like a tragic and, to a certain degree, self-inflicted failure. For Israel has turned out to be one of the least safe and most stressful of all places for a Jew to be. Counting its war of independence, the country has fought three major set-piece wars with its Arab neighbors, conducted a prolonged campaign against guerrillas in Lebanon, and confronted two violent uprisings mounted by Palestinians in the Israeli-occupied West Bank and Gaza, the second of which, the so-called Al Aqsa intifada, continues to rage. The wars took the lives of more than 20,500 Israeli soldiers, and the current uprising has killed more than 900 Israeli civilians in suicide bombings and other terrorist attacks over the past three years. For this year's Passover holiday, when Jews celebrate their divine deliverance from bondage in ancient Egypt and subsequent passage to Palestine, the terrorism risk was sufficiently high for Israel's police commissioner to advise citizens with gun licenses to keep their weapons close at hand.
[...]

Amid this trial, which is also sapping the Israeli economy, Jews are fleeing Israel in a growing reverse exodus. One destination, somewhat improbably, is Russia, to which an estimated 50,000 Russian Jewish emigres to Israel have returned; another, not so surprisingly, is America, which already houses an Israeli Diaspora numbering in the hundreds of thousands. Meanwhile, the Jewish Diaspora in the United States and elsewhere is helping to keep Israel afloat with its philanthropy: Israel annually receives some $1 billion in private donations from outside sources. The general idea of Zionism was that Israel would support the Diaspora, not the other way around.


[more]
thanks to Altercation
pilgrimages
I've started putting up my journal notes and photographs taken on my recent trip to Washington, DC, and New York City.
Gordy and Madelane's Great Pilgrimage
Observations and Digressions

Day 1
April 20, 2004 — Tuesday

6:00pm
I'm waiting for the ferry to pull away from the dock. The ferry's engines just increased their RPMs and the boat is moving. The journey begins. This has now gone past the point of planning and remembering things. I will have to make do with what I have brought with me.



waiting at the gate
[more]
oil

BBC openly speculates about withdrawl from Iraq while Oil hits a 13 year high.

These events are at a nexus - the last time oil was at these prices, the world waited for war against Saddam. The quest to open Iraq's oil market is the deciding geopolitical factor, regardless of the slogans, involved in events as they unfold. Every leader is asking only one question: "How can I arrange this on the most favorable terms to my nation?"

In the US, the road to failure is already laid out, the question is when, not if, Greenspan must raise interest rates to squeeze out energy inflation, which is now causing general inflation in the US - which ran at an annualized rate of 6.1% last month. The UK had hoped to join the alliance, and be able to restrain the flood of oil, because the UK's economy relies on a high, but not too high, price. The Saudi's meanwhile, having played the waiting game, are caught. On one hand they want oil higher for their own purposes, on the other hand, Iraq is now a cauldron, which means that there must be a flood of currency into Iraq to quiet the unease.

That the unease is growing can be traced from the uptick in bombings in Baghdad, attacks on US service personnel in Najaf, and the more or less surrender of Fallujah to Saddamist elements. If 1000 fighters - the US's current estimate, itself too low by at least 2000 - can stand off 2500 heavily armed Marines backed by air power, then the US is defeated indeed.


[more]
testingtesting
The archive sound and pictures are up for Monday's show with Amaranth. Listen and enjoy some fine music from my living room.
[more]
corporate censorship
Disney Has Blocked the Distribution of My New Film... by Michael Moore

Friends,

I would have hoped by now that I would be able to put my work out to the public without having to experience the profound censorship obstacles I often seem to encounter.

Yesterday I was told that Disney, the studio that owns Miramax, has officially decided to prohibit our producer, Miramax, from distributing my new film, "Fahrenheit 9/11." The reason? According to today's (May 5) New York Times, it might "endanger" millions of dollars of tax breaks Disney receives from the state of Florida because the film will "anger" the Governor of Florida, Jeb Bush. The story is on page one of the Times and you can read it here (Disney Forbidding Distribution of Film That Criticizes Bush).

The whole story behind this (and other attempts) to kill our movie will be told in more detail as the days and weeks go on. For nearly a year, this struggle has been a lesson in just how difficult it is in this country to create a piece of art that might upset those in charge (well, OK, sorry -- it WILL upset them...big time. Did I mention it's a comedy?). All I can say is, thank God for Harvey Weinstein and Miramax who have stood by me during the entire production of this movie.

There is much more to tell, but right now I am in the lab working on the print to take to the Cannes Film Festival next week (we have been chosen as one of the 18 films in competition). I will tell you this: Some people may be afraid of this movie because of what it will show. But there's nothing they can do about it now because it's done, it's awesome, and if I have anything to say about it, you'll see it this summer -- because, after all, it is a free country.

Yours,

Michael Moore
mmflint@aol.com
www.michaelmoore.com


[more]
thanks to Counterspin Central



Disney bars distribution of film critical of Bush
| | | |
| --- | --- | --- |
| | The Walt Disney Co. is blocking its Miramax division from distributing a new documentary by Michael Moore that harshly criticizes President Bush, executives at both Disney and Miramax said yesterday. | |
[more]
More free publicity for Michael Moore. When will they learn?

panos
| | | |
| --- | --- | --- |
| | Guilin has some of the most famous sceneries in China. Old sayings says that "Guilin has the most beautiful scenery in China, but Yangsuo's is the unmatched in Guilin." | |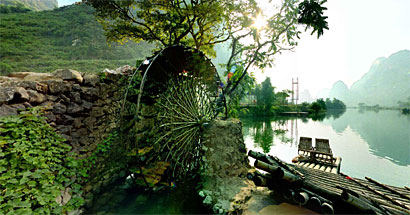 [more]
democrats are smarter
Average IQ by state and how they voted in 2000: notice a pattern here?
[more]
thanks to Politics in the Zeros
technology
| | | |
| --- | --- | --- |
| | In this contest your challenge is to take modern products and display them in a vintage light, through advertisements, packaging or even the product itself. | |
[more]
thanks to J-Walk Blog
testingtesting
Tonight is time for another webcast from my living room. We have the group Amaranth, led by Barbara Dunn, as well as the TestingTesting House Band with Derek Parrott, Joanne Rouse, Lisa Toomey, Steve Showell, and Barton Cole. So, click on in for a fun evening of living room music.
abu ghraib
This is the story. Seymour Hersh does it again.
TORTURE AT ABU GHRAIB
American soldiers brutalized Iraqis. How far up does the responsibility go?
by SEYMOUR M. HERSH

As the international furor grew, senior military officers, and President Bush, insisted that the actions of a few did not reflect the conduct of the military as a whole. Taguba's report, however, amounts to an unsparing study of collective wrongdoing and the failure of Army leadership at the highest levels. The picture he draws of Abu Ghraib is one in which Army regulations and the Geneva conventions were routinely violated, and in which much of the day-to-day management of the prisoners was abdicated to Army military-intelligence units and civilian contract employees. Interrogating prisoners and getting intelligence, including by intimidation and torture, was the priority.

The mistreatment at Abu Ghraib may have done little to further American intelligence, however. Willie J. Rowell, who served for thirty-six years as a C.I.D. agent, told me that the use of force or humiliation with prisoners is invariably counterproductive. "They'll tell you what you want to hear, truth or no truth," Rowell said. "'You can flog me until I tell you what I know you want me to say.' You don't get righteous information."

Under the fourth Geneva convention, an occupying power can jail civilians who pose an "imperative" security threat, but it must establish a regular procedure for insuring that only civilians who remain a genuine security threat be kept imprisoned. Prisoners have the right to appeal any internment decision and have their cases reviewed. Human Rights Watch complained to Secretary of Defense Donald Rumsfeld that civilians in Iraq remained in custody month after month with no charges brought against them. Abu Ghraib had become, in effect, another Guantánamo.

As the photographs from Abu Ghraib make clear, these detentions have had enormous consequences: for the imprisoned civilian Iraqis, many of whom had nothing to do with the growing insurgency; for the integrity of the Army; and for the United States' reputation in the world.

Captain Robert Shuck, Frederick's military attorney, closed his defense at the Article 32 hearing last month by saying that the Army was "attempting to have these six soldiers atone for its sins." Similarly, Gary Myers, Frederick's civilian attorney, told me that he would argue at the court-martial that culpability in the case extended far beyond his client. "I'm going to drag every involved intelligence officer and civilian contractor I can find into court," he said. "Do you really believe the Army relieved a general officer because of six soldiers? Not a chance."


[more]
Wolf Blitzer interviews Seymour Hersh. It's about two thirds of the way down. The stuff above it is as equally depressing.
CNN LATE EDITION WITH WOLF BLITZER
Interview With Dan Senor; Interview With Seymour Hersh

BLITZER: Very graphic, and it gets even worse because I read the excerpts that you included in your article.

But the bottom line, he says, General Myers, this was not -- there's no evidence of systematic abuse. This may have been a few soldiers simply going bad.

HERSH: Taguba says otherwise. He says this is across the board. And what he says that's very important, is that these are jails, by the way, when we talk about prisoners, these are full of civilians. These are people picked up at random checkpoints and random going into houses. And even in the Taguba report, he mentions that upwards of 60 percent or more have nothing to do with anything.

So they're people just there. There's no processing. It's sort of a complete failure of anything the Geneva Convention calls for. And what can I tell you?
[...]

BLITZER: Well, let's get to this. What role did you discover the CIA played in this, and what role did private contractors, who are civilians, play in this alleged abuse?

HERSH: Never mind me. It's what General Taguba said. He said he believes that the private contractors and the civilians, the CIA, paramilitary people, and the military drove the actions of that prison.

In other words, what we saw -- look, a bunch of kids from -- they're reservists from West Virginia, Virginia, rural kids -- the one thing you can do to an Arab man to shame him -- you know, we thrive on guilt in this society, but in that world, the Islamic world, it's shame -- have a naked Arab walking in front of men, walking in front of other men is shameful, having simulated homosexual sex acts is shameful. It's all done to break down somebody before interrogation.

Do you think those kids thought this up? It's inconceivable. The intelligence people had this done.
[...]

BLITZER: And what do you think should happen?

HERSH: You mean, besides getting out of Iraq?
[...]

BLITZER: It sounds as if you've got more information that you're ready to release at some point as well, that this article in The New Yorker is not everything you know?

HERSH: Of course not.

BLITZER: What are you waiting for?

HERSH: I have to prove what I believe to be true. I have to get it proven. I believe this is more extensive, yes. I believe there are other things. I believe General Karpinski, as much at fault as she was, this was on her watch, I believe there's a point to what she says. I believe there's a point to what the soldiers say.

Again, not to excuse them. I would be shamed forever having participated in taking pictures, but there was a lot of pressure on these people to get interrogation. The whole system had been turned into basically an interrogation center.

And, again, I'm telling you, we're not talking about prisoners captured in Afghanistan who are trying to kill us. We're talking about people picked up at random.

And they lost control of the system. And the Army can talk about it all they want, but they lost control.


[more]
al-Wafd: American Prison Guards are "Dark Angels of Hell"
by Juan Cole



Victims of Our Own High-Flown Morality
The "Good Guys" Who Can Do No Wrong
by Robert Fisk



Patterns and Practices
by Billmon



An Iraq Prison Diary
by Billmon



Up the chain
by David Neiwert



Iraqi prisoners and war crimes
by David Neiwert



Torture commonplace, say inmates' families
Luke Harding at Abu Ghraib prison, near Baghdad, where stories of US guards routinely abusing prisoners come as no surprise to Iraqis



Beyond the law
The abuse of Iraqi prisoners by US personnel shows that outsourcing military jobs has gone too far



photography
| | | |
| --- | --- | --- |
| | This exhibition features the work of this pioneering photographer who set up her first studio in London in 1914 and developed a method of producing vivid colour prints, particularly associated with her famous portraits of society women as Greek and Roman goddesses. | |
[more]

Madame Yevonde
Sognando i piselli
foto pubblicitaria, 1937
[more]
all thanks to Conscientious
the iraqi intifada — vietnam, lebanon, and the west bank on internet time
The military seems to be crumbling in front of our eyes. Sad. Bob Morris, at Politics in the Zeros, puts it well...
Abbott and Costello in Falluja

Let's see, two weeks ago the US was sternly opposed to former Saddam loyalists having any post whatsoever under their new puppet government, saying this absolutely positively would not happen because such people were evildoers. One week ago they reversed their decision, saying by golly a former Saddam general would now be in charge of forces at Falluja, and that he appeared to be a swell fellow. Today they reversed their reversal saying the Saddam general will not be in charge after all. Uh huh, I am deeply impressed with the clarity of US leadership.

And just a few days ago, the US miltary was making dire threats about the world-class butt-stomping Falluja was about to receive. Today those in Falluja are celebrating the US pullout - more signs of a collapsing US command.

And what does the US military plan to do in Falluja now? They've no idea.

Falluja plan in doubt as US deals with furor over abuse.


[more]
Iraqi general refuses to give up Falluja fighters



Doesn't Play Well With Others ...



A Year from "Mission Accomplished"
An Army in Disgrace, a Policy in Tatters, the Real Prospect of Defeat



The U.S. Has Lost the Battle of the Photographs
By Juan Cole

The images of the war have stubbornly come out despite the best efforts of Donald Rumsfeld and Karl Rove, Bush's campaign manager. True, the wounded US soldiers and the wounded Iraqi children have gotten relatively little news coverage. But burning Humvees, bomb craters, and collapsed buildings, have all along punctuated the evening news. The intimate pictures directly touching on Americans have had a more gut-wrenching impact. The photographs of the dead fresh-faced twenty-somethings were highlighted this week by Koppel, and by major newspapers like the Washington Post. The pictures of flag-draped coffins coming into Dover have already become iconic of the Iraq war, despite earlier attempt to suppress them.

But the most fateful pictures of all have been the footage of the aerial bombardment by Americans of Fallujah, a densely inhabited city, and of American soldiers torturing and humiliating Arab prisoners. The success of the American war effort depends crucially on retaining public support in the U.S. and winning hearts and minds in Iraq and the Arab world. The images seeping out of Iraq are undermining both, because aggression, wrong-headed policies and incompetence have left a trail in photos. That is what the manipulators of the media who favor perpetual war are so afraid of.


[more]
photography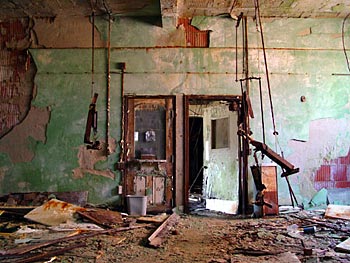 [more]
thanks to Geisha asobi blog

Bush expended what little political capital he had left, with the Arab world, when he supported Sharon's disengagement plan/land grab. Now it looks like it's dead and Bush gets nothing.
Gamble on Sharon Goes Awry for Bush
Likud Vote Against Plan a Blow to U.S. Credibility

President Bush took a huge diplomatic gamble two weeks ago when he forcefully embraced Israeli Prime Minister Ariel Sharon's plan to withdraw from Gaza and handed Israel key concessions on a final peace deal. The backlash in Arab and European countries was especially intense, but administration officials argued Sharon's plan carried the seeds of a breakthrough in the stalled peace process.

Now, the Likud Party's overwhelming rejection of that plan has left the administration's credibility in the Middle East in tatters. The tilt toward Israel will not soon be forgotten by the Arab world, but it will be harder for the administration to claim that Bush's support of Sharon has made a difference. Moreover, the Likud vote comes when the image of the United States is already greatly damaged by accounts of psychological and sexual abuse of Iraqi prisoners by some U.S. soldiers.

"The real objective of giving Sharon the blank check he left with was to shore up his political support at home," said a State Department official speaking on the condition of anonymity. "We paid a very high price and did not get a return."


[more]
A Slender Hope From An Unexpected Quarter
by Billmon

The Likud Party's decisive rejection of Ariel Sharon's proposed Gaza withdrawal plan (actually a West Bank land grab disguised as a withdrawal plan) is the first bit of good news we've had from the Middle East in a very long time. It not only deals a potentially mortal blow to Sharon's grip on power, it also preserves the admittedly faint hope that in some distant future a viable, if not equitable, two-state solution might be found for the Israeli-Palestinian conflict.

As a kind of dividend, the referendum results also are a sharp set back for the White House branch of the neocon cabal, which had hoped to achieve a final, perrmanent victory over the so-called Quartet -- the United States, the EU, the UN and Russia (a nominal member, at best -- by driving a final stake through the Quartet's so-called "roadmap" for getting peace negotations back on track.

The great irony, of course, is that this double whammy was delivered by the Likud grassroots members, who hated the Sharon plan because they thought it gave up too much -- not because it grabbed too much.


[more]
Analysis / Ariel Sharon has become a leader without a party
| | | |
| --- | --- | --- |
| | The defeat of Prime Minister Ariel Sharon in the Likud Party referendum on the disengagement plan, leaves him in the same place as his predecessor, Ehud Barak, found himself in the closing days of his short term of office. | |
[more]
poster art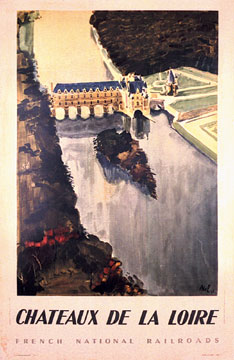 [more]
thanks to Coudal Partners
environment
Drought Settles In, Lake Shrinks and West's Worries Grow

At five years and counting, the drought that has parched much of the West is getting much harder to shrug off as a blip.

Those who worry most about the future of the West — politicians, scientists, business leaders, city planners and environmentalists — are increasingly realizing that a world of eternally blue skies and meager mountain snowpacks may not be a passing phenomenon but rather the return of a harsh climatic norm.

Continuing research into drought cycles over the last 800 years bears this out, strongly suggesting that the relatively wet weather across much of the West during the 20th century was a fluke. In other words, scientists who study tree rings and ocean temperatures say, the development of the modern urbanized West — one of the biggest growth spurts in the nation's history — may have been based on a colossal miscalculation.


[more]
prints
[more]
thanks to Cipango
voting
Reader Yolanda Flanagan reminded me of this site. I knew about it but haven't been there recently. We all need to keep up with what is going on with Bev Harris. She's the one that broke the story on the fraud called elctronic voting.
The Secret Service Wants Your Name: Will "subpeona" this web site?

And by the way, they read every word. Hi, agent Mike. This "investigation" no longer passes the stink test.

He says not to tell folks about the "investigating" they are doing.

I have cooperated ad nauseum to this absurd investigation of the "VoteHere hack" which looks to me like it is something entirely different. I'll tell you what it looks like to me:

A fishing expedition.

It appears that they may be using the Patriot Act to circumvent some of the civil rights protections laid down in the 60s. You see, it is illegal for a government agency to go in and demand the list of all the members of a group. And you can't investigate leaks to journalists by going in and grabbing the reporter's computer.


[more]
transportation
[more]
thanks to Politics in the Zeros