Archives
iraq

Every morning the streets of Baghdad are littered with dozens of bodies, bruised, torn, mutilated, executed only because they are Sunni or because they are Shiite. Power drills are an especially popular torture device.

I have spent nearly two of the three years since Baghdad fell in Iraq. On my last trip, a few weeks back, I flew out of the city overcome with fatalism. Over the course of six weeks, I worked with three different drivers; at various times each had to take a day off because a neighbor or relative had been killed. One morning 14 bodies were found, all with ID cards in their front pockets, all called Omar. Omar is a Sunni name. In Baghdad these days, nobody is more insecure than men called Omar. On another day a group of bodies was found with hands folded on their abdomens, right hand over left, the way Sunnis pray. It was a message. These days many Sunnis are obtaining false papers with neutral names. Sunni militias are retaliating, stopping buses and demanding the jinsiya , or ID cards, of all passengers. Individuals belonging to Shiite tribes are executed.

Under the reign of Saddam Hussein, dissidents called Iraq "the republic of fear" and hoped it would end when Hussein was toppled. But the war, it turns out, has spread the fear democratically. Now the terror is not merely from the regime, or from U.S. troops, but from everybody, everywhere.


[more]
thanks to Juan Cole



The Shame Of Kilo Company
Sparked by a TIME report published in March, a U.S. military investigation is probing the killing of as many as 24 Iraqi civilians by a group of Marines in the town of Haditha last November. Several Marines may face criminal charges, including murder. And new revelations suggest that their superiors may have helped in a cover-up

The outfit known as Kilo Company, 3rd Battalion, 1st Marine Regiment, wasn't new to Iraq last year when it moved into Haditha, a Euphrates River farming town about 150 miles northwest of Baghdad. Several members of the unit were on their second tour of Iraq; one was on his third. The men in Kilo Company were veterans of ferocious house-to-house fighting in Fallujah. Their combat experience seemed to prepare them for the ordeal of serving in an insurgent stronghold like Haditha, the kind of place where the enemy attacks U.S. troops from the cover of mosques, schools and homes and uses civilians as shields, complicating Marine engagement rules to shoot only when threatened. In Haditha, says a Marine who has been there twice, "you can't tell a bad guy until he shoots you."

But one morning last November, some members of Kilo Company apparently didn't attempt to distinguish between enemies and innocents. Instead, they seem to have gone on the worst rampage by U.S. service members in the Iraq war, killing as many as 24 civilians in cold blood. The details of what happened in Haditha were first disclosed in March by TIME's Tim McGirk and Aparisim Ghosh, and their reporting prompted the military to launch an inquiry into the civilian deaths. The darkest suspicions about the killings were confirmed last week, when members of Congress who were briefed on the two ongoing military investigations disclosed that at least some members of a Marine unit may soon be charged in connection with the deaths of the Iraqis--and that the charges may include murder, which carries the death penalty. "This was a small number of Marines who fired directly on civilians and killed them," said Representative John Kline, a Minnesota Republican and former Marine who was briefed two weeks ago by Marine Corps officials. "This is going to be an ugly story."


[more]
What May Come of the Haditha Massacre?
by Karen Kwiatkowski

CNN's Wolf Blitzer again bumbles into old news and proudly reports it. He's shocked, shocked, that Marines in Haditha murdered as many as 24 Iraqi civilians in cold blood last November and then tried to cover it up.

Also shocked is Senator John Warner, one of many war-loving old bastards residing comfortably in the US Capitol. Warner, icon of the aging, do nothing and morally challenged Senate that has cursed this country throughout the late 20th and early 21st century, looked very serious today after being briefed by the Pentagon brass on a horrendous bit of terroristic brutality committed by US Marines in the name of freedom, democracy, human rights, and anti-terrorism.

Warner, and McCain, Hillary Clinton, and Joe Biden all stand in sharp contrast to another aging politician, Representative John Murtha, who has single-handedly made what happened in Haditha a major domestic news story. Murtha has been willing to act morally in the face of grave political danger. God bless him, and the Walter Jones, and the Ron Pauls and others in Congress who have bucked the administration and tried to do the right thing to remedy this illegal invasion, ongoing U.S. quagmire, and unnatural disaster for 25 million Iraqis.


[more]
thanks to Antiwar.com



Iranian-backed militia groups take control of much of southern Iraq
| | | |
| --- | --- | --- |
| | Southern Iraq, long touted as a peaceful region that's likely to be among the first areas returned to Iraqi control, is now dominated by Shiite Muslim warlords and militiamen who are laying the groundwork for an Islamic fundamentalist government, say senior British and Iraqi officials in the area. | |
[more]
thanks to Antiwar.com



Pentagon chief 'wasted US lives in Iraq'
| | | |
| --- | --- | --- |
| | A senior American general who served as a combat commander in Iraq has accused the Defence Secretary, Donald Rumsfeld, of squandering the lives of United States soldiers by ignoring military advice on how to conduct the campaign. | |
[more]
book recommendation


Harry Callahan : The Photographer at Work
by Britt Salvesen, John Szarkowski
This book has been a major creative whack on the side of the head for me. I first heard about it at The Online Photographer. Callahan is a photographer I've heard a little about and I've seen some of his photographs but overall I've not know a lot about him. While this book has a great collection of photographs, worth the price of admission, what was inspirational for me was the text which talked about how he worked. Quite a breadth of output, from 35mm street photography to 8x10 (that's the negative) "snapshots". He used all the tools: 35mm, 2 1/4, 4x5, and 8x10. An exploring mind. From Amazon:
| | | |
| --- | --- | --- |
| | Bringing together images from a career spanning 60 years, this catalogue commemorates Harry Callahan's singular photographic achievement. Among the volume's 120 plates are photographs of weeds and grasses arranged against the sky, women captured anonymously on street corners, intimate portraits of the photographer's wife, seemingly unremarkable streetscapes and snapshot-like outdoor portraits of Callahan's wife and daughter. Rarely iconic but always unexpectedly eloquent, Callahan's compositions reveal the idiosyncratic approach he developed after emerging from the influence of modernist giants Stieglitz and Adams, and retain a lively, searching quality befitting the work of a man who once said, "I think that when you get a style, you're sort of dead." Essays by John Szarkowski, former director of photography at the Museum of Modern Art; and Salvesen, curator at the Center for Creative Photography, make clear that the serendipitous, almost offhand elegance of Callahan's oeuvre came as the result of a lifelong commitment to the daily practice of photography, and contact sheets, slides, proof prints and negatives from the Callahan archives attest to his rigorous work ethic. With enough archival material and previously unpublished work to distinguish it from existing books on the artist, this work serves as both an introduction to the photographer and an essential volume for Callahan devotees. | |
As an aside, I had a friend who studied under Callahan and Rhode Island School of Design. It was this same friend who inspired me to make my leather straps (He thought thin leather straps were more then adequate for holding up cameras.) and he gave me a camera that had been his father's, a 4x5 Graflex SLR. I lost touch with him years ago. I wish I hadn't.
One more thing. This is a book that I ordered through my library. They didn't have it and, at my request, they bought it. So nice of them. Now I don't want to give it back. I make keep it a little longer. I may have to buy the damn thing.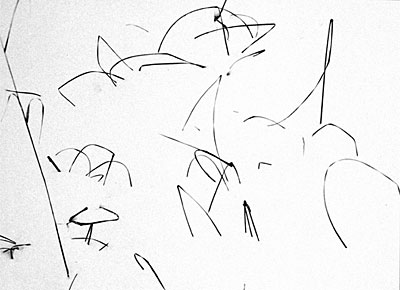 [more]
remember afghanistan?
Afghanistan: The Beginning of the End?

Let's talk about Afghanistan a bit more. Via Steve Gilliard I see reports that indicate not just an uprising by the Taliban, but that various of the tribes are also starting to attack the Coalition.

There are a lot of misconceptions about Afghanistan. The US didn't defeat Afghanistan when it invaded, what it did was bribe the various tribal leaders to rise against the Taliban, and provide sufficient air support to make it impossible for the Taliban to stand against them. Without that air support, odds are the Taliban would have crushed such an uprising, they were, simply, better more coordinated soldiers than the tribes, taken as a whole.

Since then the peace has been maintained through systematic bribery, letting the Warlords grow opium (something the Taliban had put a stop to - with extreme prejudice), and in general by letting the tribes and warlords do their thing without much interference.

The Afghanistan "government" is a joke, and always has been. It doesn't do more than control the capital, and sometimes not even that.

The route to victory in Afghanistan - a lasting victory, was economic. Roads, jobs, infrastructure in general - flooding the country with money and opportunity, so that for most people times got better... a lot better.

That wasn't done, and it looks like it may now be too late for it to be done. Throughout history the Afghanis have been willing to tolerate foreign invaders for only so long. It looks like that "so long" is about up. I'm not sure what the trigger was, though I suspect it was misguided drug war policies, where idiot commanders thought they really should destroy opiuim fields rather than smile and look the other way.


[more]
Mobs run riot in city seized by fury over US convoy collision
| | | |
| --- | --- | --- |
| | BLOODY riots flared across the Afghan capital yesterday as thousands marched in protest at the deaths of several passengers in a car involved in a collision with a US military convoy. | |
[more]
thanks to Antiwar.com



Afghan parliament: Prosecute U.S. troops
Bush pledges investigation into deadly accident that sparked anti-U.S. riots
| | | |
| --- | --- | --- |
| | Parliament demanded prosecution of U.S. soldiers involved in a deadly road crash that sparked Kabul's worst unrest since the Taliban's downfall, and President Bush spoke Wednesday with the Afghan leader and pledged a full investigation. | |
[more]
Afghanistan-- the spark of an intifada?
by Helena Cobban
| | | |
| --- | --- | --- |
| | The events in Kabul today looked ominously like the events in Gaza that triggered the Palestinians' First Intifada against Israel at the beginning of December 1987. Today, as back then, a vehicle that was part of the foreign presence in the country apparently went out of control and ended up killing and injuring a number of the indigenous citizens... Today, as then, that lethal event triggered a response from the citizens that revealed a huge amount of pent-up anger and resentment... (Today, as then, the spokesmen for the foreign presence had previously been saying "all is fine and normal" with the general situation... But the eruption of anger gives the lie to that claim.) | |
[more]
Kabul under Curfew after Anti-US, anti-Karzai Riots
14 Dead, over 100 Wounded
50 Killed in US Airstrike
by Juan Cole

The Bush administration is in the midst of "imperial overstretch" on a grand scale. Taking on al-Qaeda and the Taliban, convincing Pakistan to change its policies, and reconstructing Afghanistan would have been a tough enough job. It might not have been possible even with the investment of enormous resources and personnel. Afghanistan is large and rugged and desperately poor. Bad characters are still hiding out in the region, who have proved that they can reach into the United States and hit the Pentagon itself.

Instead of doing the job, Bush ran off to Iraq almost immediately. Even as our brave troops were being killed at Operation Anaconda in Afghanistan in spring of 2002, Centcom commander Tommy Franks was telling a visiting Senator Bob Graham that the US "was no longer engaged in a war in Afghanistan" or words to that effect, and that military and intelligence personnel were being deployed to Iraq. The US troops in Afghanistan would have been shocked and disturbed to discover that in the Centcom commander's mind, they were no longer his priority and no longer even at war! As for money, Iraq has hogged the lion's share. What has been spent on reconstruction in Afghanistan is piddling.

Bush's Iraq imbroglio, or "Bush's Furnace," as history might well call his trillion-dollar purchase, has sucked up money and resources on a vast scale and left US personnel in Central and South Asia to struggle along on the cheap. Afghanistan defeated the British Empire in its heyday twice, and is not an enterprise that can be accomplished without significant resources. Now the chickens are coming home to roost.


[more]
book art
Lurid new covers for The Iliad, Little Women, and other classics.
[more]
thanks to Magpie

Hamas's Next Steps
Finding the road to Palestine
Helena Cobban

On January 25, Palestinians went to the polls and, in an election supported by the United States and judged free and fair by observers, elected members of Hamas, a movement on the U.S. State Department's terrorist-organization list, to 76 of the 132 parliamentary seats.

Six weeks after the election, I sat down separately with two of the key architects of the Hamas victory, Prime Minister–designate Ismail Haniyeh and Foreign Minister–designate Mahmoud Zahar, and with a dozen other Hamas leaders, activists, and supporters in Gaza and the West Bank. A main question in diplomatic circles has been how Hamas will respond to the "three demands" that the United States and its allies have placed on the new Palestinian government: that it recognize Israel's right to exist; that it affirm its commitment to all international agreements concluded by its predecessor, the Fateh Party; and that it renounce violence. President George W. Bush and the leaders of the United Nations, the European Union, and Russia—the so-called Quartet that has sought since 2002 to manage Israeli–Palestinian diplomacy—stressed that they could not work diplomatically with the new Palestinian government if it did not meet these demands. The United States and the EU also threatened to withhold economic aid, and Israel threatened to block its provision.

I interviewed Haniyeh on March 7 in the crowded satellite seat of the Palestinian Legislative Council in Gaza City. (The Gaza journalist Laila el-Haddad came with me and helped with the translation at a couple of points.) When asked about the three demands, Haniyeh answered wearily that the PLO—the Palestinians' longstanding political umbrella organization, which gave birth to the Palestinian Authority in 1993—"already gave answers to those questions. So why do they ask us this over and over again? Anyway, why does the international community always face us with questions and conditions? It's Israel that they need to ask. We ask that the international community demand that Israel recognize the rights of Palestinians and recognize a Palestinian state in all the Palestinian territory occupied in 1967. Then, for sure, we will have a response to this question."


[more]
Surrender vs. the Right to Exist
"The Palestinians Must Pay a Price for Their Choice"
| | | |
| --- | --- | --- |
| | Noting that he had been raised with the deep conviction that the Jewish people would never have to relinquish any part of the "land of our forefathers," Ehud Olmert told Congress in his address to a joint session on May 24, "I believed, and to this day still believe, in our people's eternal and historic right to this entire land." He did then concede that dreams alone cannot bring peace and will not preserve Israel as a "secure democratic Jewish state." But what stands out in this little-noted statement of Jewish attachment to the land is its affirmation of a supreme Jewish right to all of Palestine, never mind who else may live there. In the context of any hope for a just and equitable peace agreement between Israel and the Palestinians, this is a deal-breaker par excellence. | |
[more]
Countdown to Apartheid
Olmert's (and Elie Wiesel's) Roadmap
| | | |
| --- | --- | --- |
| | The Road Map, like international law regarding the end of occupations in general, also insists on a negotiated solution between the parties. Olmert made a great issue of Palestinian terrorism (playing on American sensibilities to this buzz-word), placing pre-conditions on negotiations. Israel is willing to negotiate with the Palestinian Authority, he said, of it renounces terrorism, dismantles the terrorist infrastructure, accepts previous agreements and recognizes the right of Israel to exist (a right Israel has not recognized /vis-à-vis/ the Palestinians). What is not mentioned is Israel's Occupation which, regardless of an end to terror and negotiations, is being institutionalized and made permanent. For neither security nor terrorism are really the issue; Israel's policies of annexation are based on a pro-active claim to the entire country. Virtually no element of the Occupation--the establishment of some 300 settlements, expropriation of most West Bank land, the demolition of 12,000 Palestinian homes, the uprooting of a million olive and fruit trees, the construction of a massive system of highways to link the settlements into Israel proper or the tortuous route of the Barrier deep in Palestinian territory--can be explained by security. Terrorism on /all/ sides is wrong (let it be noted that Israel has killed four times more civilians than the Palestinians have), but to demand that resistance cease while an occupation is being made permanent is unconscionable. | |
[more]
book art
Oken, Lorenz: Oken's allgemeine Naturgeschichte ; Abb. ; Abb. - 1843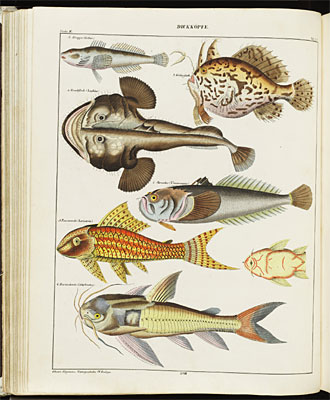 [more]
thanks to The Cartoonist
You can zoom in to these wonderful high resolution scans.
empire
Tomdispatch Interview: Bacevich on the Limits of Imperial Power
The Delusions of Global Hegemony (Part 1)

Tomdispatch: In a Los Angeles Times op-ed, you said the revolt of the retired generals against Secretary of Defense Rumsfeld represented the beginning of a search for a scapegoat for the Iraq War. I wondered whether you also considered it a preemptive strike against the Bush administration's future Iran policy.

Andrew Bacevich: The answer is yes. It's both really. Certainly, it's become incontrovertible that the Iraq War is not going to end happily. Even if we manage to extricate ourselves and some sort of stable Iraq emerges from the present chaos, arguing that the war lived up to the expectations of the Bush administration is going to be very difficult. My own sense is that the officer corps -- and this probably reflects my personal experience to a great degree -- is fixated on Vietnam and still believes the military was hung out to dry there. The officer corps came out of the Vietnam War determined never to repeat that experience and some officers are now angry to discover that the Army is once again stuck in a quagmire. So we are in the early stages of a long argument about who is to be blamed for the Iraq debacle. I think, to some degree, the revolt of the generals reflects an effort on the part of senior military officers to weigh in, to lay out the military's case. And the military's case is: We're not at fault. They are; and, more specifically, he is -- with Rumsfeld being the stand-in for [Vietnam-era Secretary of Defense] Robert McNamara.


[more]
Drifting Down the Path to Perdition (Part 2)

TD: I'd like to turn to the issue of oil wars, energy wars. That seems to be what holds all this incoherent stuff together -- minds focused on a world of energy flows. Recently, I reread [President Jimmy] Carter's 1979 energy speech. Isn't it ironic that he got laughed out of the room for his sweater and for urging a future of alternative fuels on us, while we latched onto his Rapid Deployment Force for the Persian Gulf? As you argue in your book, The New American Militarism, this essentially starts us on what you call "World War IV."

Bacevich: I remember the Carter speech. I was a relatively young man at the time. In general, I have voted for Republicans, although not this Republican in 2004. But I did vote for Carter because I was utterly disenchanted with [President Richard] Nixon and [his National Security Advisor Henry] Kissinger. [President Gerald] Ford seemed weak, incompetent. And I remember being dismayed by the Carter speech because it seemed so out of sync with the American spirit. It wasn't optimistic; it did not promise that we would have more tomorrow than we have today, that the future would be bigger and better. Carter essentially said: If we are serious about freedom, we must really think about what freedom means -- and it ought to mean something more than acquisition and conspicuous consumption. And if we're going to preserve our freedom, we have to start living within our means.

It did not set well with me at the time. Only when I was writing my militarism book did I take another look at the speech and then it knocked me over. I said to myself: This guy got it. I don't know how, but he really got it in two respects. First, he grasped the essence of our national predicament, of being seduced by a false and even demeaning definition of freedom. Second, he understood that cheap oil was the drug that was leading us willy-nilly down this path. The two were directly and intimately linked: a growing dependence on seemingly cheap foreign oil and our inability to recognize what we might call the ongoing cultural crisis of our time.


[more]
movie recommendation


Blow-Up
by Michelangelo Antonioni
In honor of my interest in photography, Zoe rented this. I first saw this when it came out in 1966. I was almost 22 and predisposed to photography before I saw it. It was pretty much a mind blowing film in 1966. The Swinging Sixties in London. Sex, drugs, and rock and roll. And lots of cameras. Nudity was pretty much unknown then and this picture has it. It has a party of dope smokers. And a basement concert of the Yardbirds with Jimmy Page and Jeff Beck. In 1966! This movie was way more cool that I could have comprehended at the time. I've always wanted a big studio since seeing this movie. Anyway, it's still a great movie. I want to see it again. I want to own it. From Amazon:

Genres: Drama, Thriller, Mystery
Tagline: Michelangelo Antonioni's first British film
Plot Synopsis: A photographer who is talented but aimless has photographed violence and pain without feeling any involvement. When he takes pictures of a couple in a park, he finds that he may have discovered a mystery, one that insists on involving him.


[more]
gore

A brief segment in "An Inconvenient Truth" shows Senator Al Gore questioning James Hansen, a climatologist at NASA, during a 1989 hearing. But the movie doesn't give you much context, or tell you what happened to Dr. Hansen later.

And that's a story worth telling, for two reasons. It's a good illustration of the way interest groups can create the appearance of doubt even when the facts are clear and cloud the reputations of people who should be regarded as heroes. And it's a warning for Mr. Gore and others who hope to turn global warming into a real political issue: you're going to have to get tougher, because the other side doesn't play by any known rules.


[more]
thanks to Magpie



Al Gore Takes Cannes by Storm -- Will the Oval Office Be Next?

Over the weekend, I flew from Washington to Cannes. In Washington, the talk was all about 2006. In Cannes, the talk is all about 2008.

That's because even with Tom Hanks, Bruce Willis, Penelope Cruz, Jamie Foxx, and Halle Berry here for the film festival, the hottest star in town is Al Gore.


[more]
SNL: If Al Gore were President
photography
A Conversation with Jay Parkinson

When I saw Jay Parkinson's shots of aspiring models for the first time, I got quite interested in them. To start with, it is quite an interesting project to do since - at least from what I know - there is quite a bit more to the modeling world than those famous fashion models on cat walks. I have no idea how you become a model. Do you make a decision? And how do you decide to become a specialized model, say for hands or bondage or whatever else there is?

But the project is also interesting from the purely photographic perspective. Doing photographic portraits is very tough - if you don't believe it try it; and I somehow thought that shooting portraits of people who want to earn money from getting their portrait taken but who have not much actual experience adds another complication to the whole project, since both the photographer and the model have to worry about the photo.

I talked with Jay about these and other aspects of his work.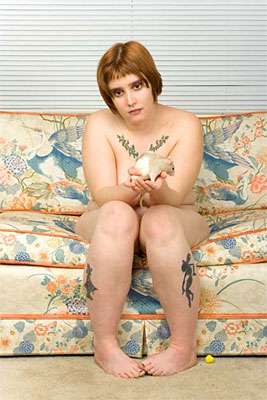 [more]
belize
Under the Blue Mango
by Joe Bageant

Once one becomes aware of that babies die in the third world as an indirect result of our simplest choices such as buying Ziploc plastic bags or bottled water or driving a car, life changes for any approximately moral American. Restlessness sets in, a nagging guilt that only swells with time until finally night thoughts grow so damned anxious that something has to be done. It's been that way with me for a long time. About a year ago I decided to do something more about it than pat myself on the back for recycling the mountain of bottles and unread magazines our household seems to generate. So last fall I vowed to find a decent third world family and put up the money to do something together to better their lives and my own. The issue was so unbearable by spring this year that, by god, I was determined to get it done.

Consequently, I found myself at the Belcove Hotel in Belize City, Belize, that town being the place visitors on discount are most likely to find themselves when flying in or out of the country. The hotel is situated in the gritty core of the city and as good a place as any to stew over the next move. Rooms run as low as twenty US bucks a night and the Belcove is conveniently located by the waters of Haulover Creek, right next to the Blue Marlin bar where a man can drink with Mayan Indians and DEA agents or catch fish right off then deck if he cares to. Most nights at the Belcove you'll find several Americans on its balcony drinking Beliken beer and watching the boats pass under old manpowered turnbridge in the heart of this not-so-gently rotting British colonial town.


[more]
astronomy
Voyager II detects solar system's edge

Voyager II could pass beyond the outermost layer of our solar system, called the "termination shock," sometime within the next year, NASA scientists announced at a media teleconference Tuesday.

The milestone, which comes about a year after Voyager 1's crossing, comes earlier than expected and suggests to scientists that the edge of the shock is about one billion miles closer to the sun in the southern region of the solar system than in the north.


[more]
thanks to DANGEROUSMETA!
The Voyagers were launched in 1977. That was too long ago!
atheism

You believe that the Bible is the literal (or inspired) word of God and that Jesus is the Son of God-and you believe these propositions because you think they are true, not merely because they make you feel good. You may wonder how it is possible for a person like myself to find these sorts of assertions ridiculous. While it is famously difficult for atheists and believers to communicate about these matters, I am confident that I can give you a very clear sense of what it feels like to be an atheist.Consider: every devout Muslim has the same reasons for being a Muslim that you now have for being a Christian. And yet, you know exactly what it is like not to find these reasons compelling. On virtually every page, the Qur'an declares that it is the perfect word of the Creator of the universe. Muslims believe this as fully as you believe the Bible's account of itself. There is a vast literature describing the life of Muhammad that, from the Muslim point of view, proves his unique status as the Prophet of God. While Muhammad did not claim to be divine, he claimed to offer the most perfect revelation of God's will. He also assured his followers that Jesus was not divine (Qur'an 5:71-75; 19:30-38) and that anyone who believed otherwise would spend eternity in hell. Muslims are convinced that Muhammad's pronouncements on these subjects, as on all others, are infallible.

Why don't you find these claims convincing? Why don't you lose any sleep over whether or not you should convert to Islam? Please take a moment to reflect on this. You know exactly what it is like to be an atheist with respect to Islam. Isn't it obvious that Muslims are not being honest in their evaluation of the evidence? Isn't it obvious that anyone who thinks that the Qur'an is the perfect word of the Creator of the universe has not read the book very critically? Isn't it obvious that Muslims have developed a mode of discourse that seeks to preserve dogma, generation after generation, rather than question it? Yes, these things are obvious. Understand that the way you view Islam is precisely the way every Muslim views Christianity. And it is the way I view all religions.


[more]
thanks to J-Walk Blog
more photography equipment adventures
It was a nice weekend. It did some raining so I got some photography projects worked on. First I picked up a lens hood on eBay for the Ricoh Diacord. A cute little Rollei lens hood. Got it for $22.50 which was a really good price. They usually go from between $35 to $40.
I finished up the second roll through the Diacord. I really like shooting with it. I carry it with me all the time. I sent the rolls off to a different lab. I've been sending my stuff off to Panda Lab in Seattle but they don't process C-41 sheet film. A requirement since I want to start shooting 4x5 and 5x7 color film. A comment over at APUG pointed me to one of their sponsors: Praus Photo Lab. Nice web site. The owner is actually a photographer. A good sign. And they do up to 5x7 C-41 and E-6 in addition to black and white. They're in Rochester, NY. Another good sign. I'm most interested in how this works out since I have a box of 10 sheets of 4x5 Kodak Portra 160NC and 5 rolls of the same in 120 on the way.
My Salut-S that I sent off to Arax is due back so I finally got it's back fixed and then put a new seal in the other back. Good timing because the Salut-S arrived today. Zoe had expressed interest in it so I gave it to her. A boyfriend she had too many years ago had a Hasselblad and she always like looking at the world through that big ground glass. Took her first picture with it. I couldn't find her Luna Pro and my Luna Pro has dead batteries and my Weston Master V died and needs rebulding so I estimated the exposure with my calibrated eyeballs. Later I remembered I did have one meter that worked — my Soligor spot meter. I went back and checked the exposure and I had guessed right. I did some shooting with the spot meter this afternoon. I really like using it. Too bad it's as big as my Zorki.
I did some more work on the 4x5 Polaroid. I went up to Blaine's and he helped me get the lens cells out of the shutter but we couldn't get the shutter off the lens board. Must be swollen wood. I thought I would take a look inside and see if there was something obvious as to why the slow speeds didn't work.
I looked. I fiddled. I quickly closed it up. Carol Miller will CLA it for $50. I took off the lens board on the Polaroid to start filing clearance for the lens.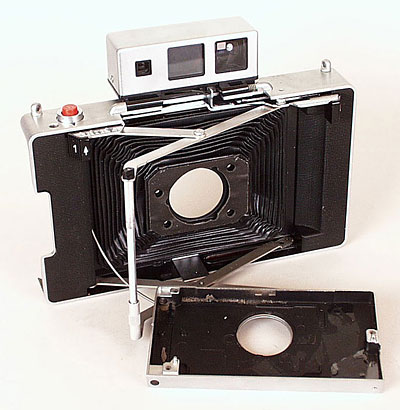 I started a thread at APUG on the 4x5 Polaroid project. A responder pointed out that the original lens wasn't a 127mm lens that I thought but a 114mm lens and the rangefinder wouldn't work. After a night of despair I received an email from someone who did convert one like mine with a 127mm lens and gave me some advice and pointed me to a thread on photo.net that showed pictures. I'm encouraged. But it gets worse. One of the posts on that photo.net thread (scroll down to Daisuke Nakabayashi) mentioned a 4x5 pinhole camera he made with a 4x5 Graflex bag mag. And he linked to pictures.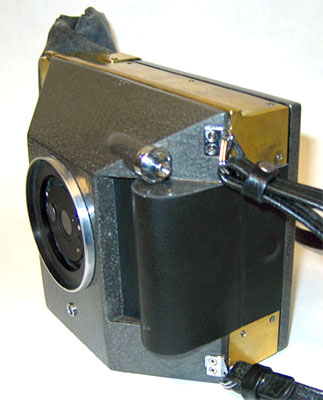 Too cool! Another project! I even have a bag mag (scroll down). It holds 12 sheets of 4x5 sheet film. I even have a shutter I can use for the pinhole that I already have. It's a Compur shutter off a pre-Anniversary Speed Graphic that I haven't used in years. All speeds even work.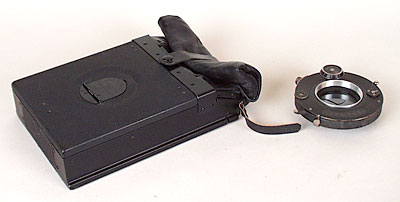 I took the Compur shutter off the board and on the back was scratched: FAV 10/11/37. A little birch plywood to hold the shutter with a .0181 inch dia. pinhole, and a 4.7 focal length, will give an angle of view equivalent to a 26mm lens (on 35mm.) Another project to add on that ever growing list.