Archives
oil
The Coming Saudi Oil Crisis
Challenges in a World of Oil Scarcity
| | | |
| --- | --- | --- |
| | As oil becomes a scarce resource, its use will have to be rationed in one way or another. There are ways to allocate oil use and direct it to its most valuable applications. But achieving such a rational plan will require a carefully orchestrated, global, country-by-country effort. Left unattended, this process could quickly evolve into genuine chaos. The global economy can function after oil supplies peak, but not in the same manner in which we live today. | |
[more]
Chinese Oil Giant in Takeover Bid for U.S. Corporation
| | | |
| --- | --- | --- |
| | One of China's largest state-controlled oil companies made a $18.5 billion unsolicited bid Thursday for Unocal, signaling the first big takeover battle by a Chinese company for an American corporation. | |
[more]

Whether or not CNOOC makes the bid for Unocal, this is a trend of consolidation that will continue.

Yes, some corporations, like Exxon-Mobil are sitting on $48B in cash, thinking about doing the same thing no doubt...buying up more and more oil that is close (Oh, Canada?) and easy to get here. But they're not doing it yet...whereas China is also making inroads with Canada and other potential suppliers. (Canada may well be the oil merchant of the future, remember that. Can anyone say NAFTA?)

Consolidation will be the key in the new oil economy. The large oils have no flexibility in supply, and with little new supply being found, all they can do is buy up smaller corporations.

The catch is that right now, China is winning the race and the US is losing it.

This is the geopolitical instability that peak oil causes. It's real. Get used to it.


[more]
Do we really believe in the free market?
| | | |
| --- | --- | --- |
| | Oil expert urges US government not to interfere with CNOOC's deal. I think that the fate of this deal may indicate a great deal about whether the world will continue to rely on markets to allocate oil supplies (the result if the deal goes through) or whether geo-political considerations will trump markets (the result if the deal is blocked by national security concerns). | |
[more]
| | | |
| --- | --- | --- |
| | I live under what may be the most active volcano in the world -- Kilauea on the Big Island of Hawai'i. While watching lava cascade down its mountain peak, I consider the predicted peak in world oil production and the damage it could do. Its destruction could be far worse on human communities than that of a mighty volcano's eruption, impacting not only a local area but civilization itself. We live today under the volcanic threat of peak oil, yet most people remain in denial about the potential dangers. | |
[more]
clouds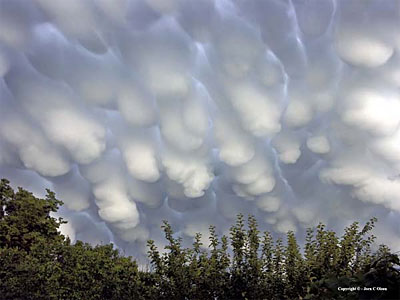 [more]
thanks to The Digital Journalist
nuclear warfare
SPECIAL REPORT: A Great Nuclear-Age Mystery Solved

One of the great mysteries of the Nuclear Age was solved today: What was in the censored, and then lost to the ages, newspaper articles filed by the first reporter to reach Nagasaki following the atomic attack on that city on Aug. 9, 1945?font>

The reporter was George Weller, the distinguished correspondent for the now-defunct Chicago Daily News. His startling dispatches from Nagasaki, which could have affected public opinion on the future of the bomb, never emerged from General Douglas MacArthur's censorship office in Tokyo. Carbon copies were found just two years ago when his son, who talked to E&P from Italy today, discovered them after the reporter's death.


[more]
thanks to PureLandMountain.com
And here are the lost articles...

The atomic bomb may be classified as a weapon capable of being used indiscriminately, but its use in Nagasaki was selective and proper and as merciful as such a gigantic force could be expected to be.

The following conclusions were made by the writer - as the first visitor to inspect the ruins - after an exhaustive, though still incomplete study of this wasteland of war.


[more]
thanks to PureLandMountain.com
digital photography
Joerg, who has a digital camera, has some interesting thoughts on the shortcomings of digital photography...
Thoughts about digital photography

I have been thinking about digital photography for quite a while, and I simply can't help but feel that there are too many unresolved issues, which are brushed aside too lightly. I thought I'd write them down; and given that I started my weblog to keep an inventory of links with comments I thought I might as well write about it here.

You probably don't want to continue reading this if digital photography is simply the greatest thing that ever happened to photography and people who see problems with it are just old-fashioned losers.

There is no doubt that "digital is here to stay"; that's not even the point. So spare me emails that contains sentences like "just accept it" or "get over it" or whatever else you have in store when people aren't behaving as sheepish as you think they should. I have been working with what we like to call modern computer technologies (of which digital photography is a part) long enough to know that while general resistance is usually futile, some resistance will lead to meaningful improvements.


[more]
Joerg also pointed to Bruce Barnbaum's rant...
Thoughts on Digital Photography

There has been a great deal written about digital photography over the past several years. It's time to step back from all the hype for a more grounded assessment. Because this assessment comes from me, a photographer who has done no digital work, it may appear negatively biased. In my defense, I will note that I feel digital approaches are perfectly legitimate, I regularly invite and work with digital practitioners as co-instructors with me on my workshop program, and I have not hesitated to judge digital images as "best in show" when I have been invited to jury exhibits. So while I don't do it myself, I'm not biased against it.

There are two basic points I wish to emphasize in this article. The first is that traditional photography carries a host of powerful tools in its tool chest that are neither diminished nor superseded by the advent of digital. Second, there are problems with digital methods that are ignored or glossed over regularly, and these probems should be recognized and openly discussed along with digital's many attributes.


[more]
psycho corporations and the people who run them
Is Your Boss a Psychopath?
Odds are you've run across one of these characters in your career. They're glib, charming, manipulative, deceitful, ruthless -- and very, very destructive. And there may be lots of them in America's corner offices.

One of the most provocative ideas about business in this decade so far surfaced in a most unlikely place. The forum wasn't the Harvard Business School or one of those $4,000-a-head conferences where Silicon Valley's venture capitalists search for the next big thing. It was a convention of Canadian cops in the far-flung province of Newfoundland. The speaker, a 71-year-old professor emeritus from the University of British Columbia, remains virtually unknown in the business realm. But he's renowned in his own field: criminal psychology. Robert Hare is the creator of the Psychopathy Checklist. The 20-item personality evaluation has exerted enormous influence in its quarter-century history. It's the standard tool for making clinical diagnoses of psychopaths -- the 1% of the general population that isn't burdened by conscience. Psychopaths have a profound lack of empathy. They use other people callously and remorselessly for their own ends. They seduce victims with a hypnotic charm that masks their true nature as pathological liars, master con artists, and heartless manipulators. Easily bored, they crave constant stimulation, so they seek thrills from real-life "games" they can win -- and take pleasure from their power over other people.

On that August day in 2002, Hare gave a talk on psychopathy to about 150 police and law-enforcement officials. He was a legendary figure to that crowd. The FBI and the British justice system have long relied on his advice. He created the P-Scan, a test widely used by police departments to screen new recruits for psychopathy, and his ideas have inspired the testing of firefighters, teachers, and operators of nuclear power plants.

According to the Canadian Press and Toronto Sun reporters who rescued the moment from obscurity, Hare began by talking about Mafia hit men and sex offenders, whose photos were projected on a large screen behind him. But then those images were replaced by pictures of top executives from WorldCom, which had just declared bankruptcy, and Enron, which imploded only months earlier. The securities frauds would eventually lead to long prison sentences for WorldCom CEO Bernard Ebbers and Enron CFO Andrew Fastow.

"These are callous, cold-blooded individuals," Hare said.


[more]
thanks to Bad Attitudes
This isn't news to anyone who's worked in a large corporation.
view finders
View finders aren't something you see much of. It's a rangefinder sort of thing. New rangefinders have lines indicating the view of different focal length lenses but old rangefinders only showed what a normal lens saw. For anything else an external view finder is necessary. I've been using the Soviet built Zeiss copy KMZ Universal Finder which has finders for 28mm, 35mm, 50mm, 85mm, and 135mm lenses. They can be had for $40 to $50 where new finders for a single focal length are between $100 and $200.
The KMZ works pretty well but I've been liking the results from my 35mm Jupiter 12 and have been looking for a dedicated 35mm finder. I found a Swallow 35mm view finder on eBay for under $23. I've never heard of this brand. It's made Japan. It arrived a few days ago.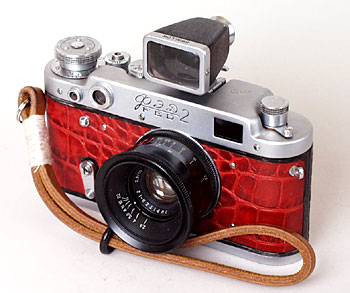 I don't think I've seen a view finder this large. It's like looking through a picture window. It's on a spring and the little lever moves the front up and down for parallax adjustment. The FED is wearing this setup most of the time now.
intelligent design
OPEN LETTER TO KANSAS SCHOOL BOARD

I am writing you with much concern after having read of your hearing to decide whether the alternative theory of Intelligent Design to be taught along with the theory of Evolution. I think we can all agree that it is important for students to hear multiple viewpoints so they can choose for themselves the theory that makes the most sense to them. I am concerned, however, that students will only hear one theory of Intelligent Design.

Let us remember that there are multiple theories of Intelligent Design. I and many others around the world are of the strong belief that the universe was created by a Flying Spaghetti Monster. It was He who created all that we see and all that we feel. We feel strongly that the overwhelming scientific evidence pointing towards evolutionary processes is nothing but a coincidence, put in place by Him.
[...]

P.S. I have included an artistic drawing of Him creating a mountain, trees, and a midget. Remember, we are all His creatures.


[more]
thanks to PureLandMountain.com
salut-s
My Hasselbladski arrived in record time from the Ukraine — less than two weeks. I bought it from Kubanoid who has a 99.6% approval rate and actually leaves eBay feedback before the customer does. That's rare! Everything seems to work fine. I get my first test roll back tuesday morning. If the spacing is even then all is well and it should be since Kubanoid ran a test roll through it.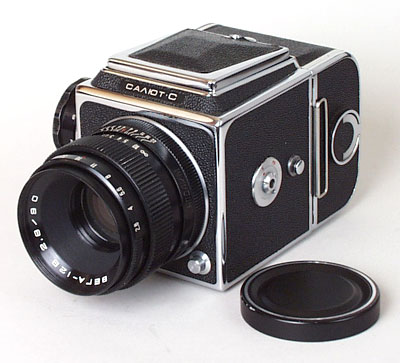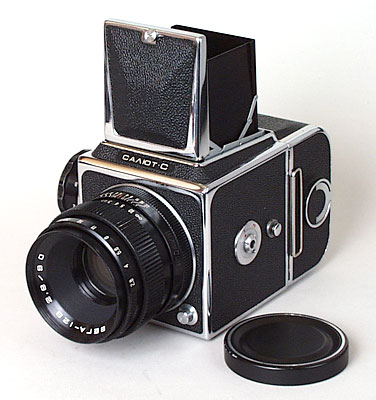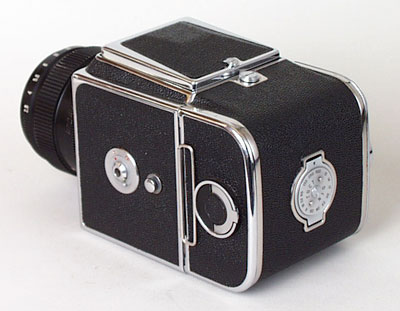 It's a joy to use. A thing of beauty. It's not a stealth camera. Between the mirror (non-return) flying up and the metal focal plane shutter curtains being released it is on the noisy side. Definitely not like the ping of the leaf shutters I'm used too. But I have the Flexaret and Isolette if I need quiet.
here's one of mine
(the picture, not the car)
A 50 year old car taken with a 50 year old camera. This is taken with classic film — Tri-X. This is one of the first rolls trying out Tri-X (after a 30 year hiatus). I really like it. I guess I'm just an old fashioned kind of guy.
update: I've started an image archive index of my images. You can now click on the image above and get a larger version.
iraq
General Update...
by Riverbend
| | | |
| --- | --- | --- |
| | The cousin, his wife S. and their two daughters have been houseguests these last three days. They drove up to the house a couple of days ago with several bags of laundry. "There hasn't been water in our area for three days…" The cousins wife huffed as she dragged along a black plastic bag of dirty clothes. "The water came late last night and disappeared three hours later… what about you?" Our water had not been cut off completely, but it came and went during the day. | |
[more]
Tomgram: Mark Danner on Smoking Signposts to Nowhere

Imagine that the Pentagon Papers or the Watergate scandal had broken out all over the press -- no, not in the New York Times or the Washington Post, but in newspapers in Australia or Canada. And that, facing their own terrible record of reportage, of years of being cowed by the Nixon administration, major American papers had decided that this was not a story worthy of being covered. Imagine that, initially, they dismissed the revelatory documents and information that came out of the heart of administration policy-making; then almost willfully misread them, insisting that evidence of Pentagon planning for escalation in Vietnam or of Nixon administration planning to destroy its opponents was at best ambiguous or even nonexistent; finally, when they found that the documents wouldn't go away, they acknowledged them more formally with a tired ho-hum, a knowing nod on editorial pages or in news stories. Actually, they claimed, these documents didn't add up to much because they had run stories just like this back then themselves. Yawn.

This is, of course, something like the crude pattern that coverage in the American press has followed on the Downing Street memo, then memos.


[more]
| | | |
| --- | --- | --- |
| | This isn't going away. It may be a slow build, but the danger to the Bush administration is that there really is a break in the dam, at this point -- on a wide variety of fronts, previous snippets and stories are being merged together to finally reveal the larger storyline. Bolton, the DSM, ElBaradei, the movement of funds and troops away from the active search for Osama bin Laden in Afghanistan in preparation for the Iraq action, the heightened bombings being carried out against Iraq in the period before the involvement of the U.N. -- rather than a collection of discrete stories, the overall plot is coming together. And it is damning. | |
[more]

In Hitler's bunker, he repeatedly said that Army Group Steiner would rescue Berlin. The fact that Army Group Steiner was a ramshackle group of units and unable to save itself was of no concern to Hitler. In his mind, Army Group Steiner was the solution to the desperate straits of the German Army.

Just as the cowards at Powerline and in the Congress embrace torture, Duncan Hunter's shameful performance last week is among the lowlights in American political history, Theresienstadt-like political theater. When you have old line spooks like Larry Johnson decry torture, they are scared for the US, and people like him, Pat Lang, Tony Cordesman and Ray McGovern are no liberal academics. When Bill Lind rants weekly about the destruction of the US Army, he's no member of Greenpeace. These are all mainstream cconservatives who are deeply afraid of what Bush is doing in Iraq.


[more]
Republican senators challenge Bush's Iraq optimism

President Bush needs to tell Americans the nation faces "a long, hard slog" in
Iraq, a key Republican senator said on Sunday, and another said the White House was "disconnected from reality" in its optimism over the war.


[more]
thanks to Antiwar.com



| | | |
| --- | --- | --- |
| | Iraq is not Vietnam, all right, because there is no way the US can pull out now without severe consequences, namely the loss of our access to all the oil in the Middle East -- where two-thirds of the world's remaining oil is. | |
[more]
aircraft
| | | |
| --- | --- | --- |
| | Charles AA Dellschau produced a body of work from the turn of the past century until his death while he was virtually sealed in an attic in Houston Texas. His work, which took the form of diary pages, was in large part an attempt to record the activities of the Sonora Aero Club, of which he was a member, which was a group of flight enthusiasts who met in the Sonora desert in the mid 1800's. Their mission was to design the very first navigatable aircrafts. | |
[more]
thanks to gmtPlus9
those who want this war should fight it
Someone Else's Child
by Bob Herbert

It has become clearer than ever that Americans do not want to fight George W. Bush's tragically misguided war in Iraq.

You can still find plenty of folks arguing that we have to stay the course, or even raise the stakes by sending more troops to the war zone. But from the very start of this war the loudest of the flag-waving hawks were those who were safely beyond military age themselves and were unwilling to send their own children off to fight.

It's easy to be macho when you have nothing at risk. The hawks want the war to be fought with other people's children, while their own children go safely off to college, or to the mall. The number of influential American officials who have children in uniform in Iraq is minuscule.

Most Americans want no part of Mr. Bush's war, which is why Army recruiters are failing so miserably at meeting their monthly enlistment quotas. Desperate, the Army is lowering its standards, shortening tours, increasing bonuses and violating its own recruitment regulations and ethical guidelines.

Americans do not want to fight this war.


[more]
Overview of OPERATION YELLOW ELEPHANT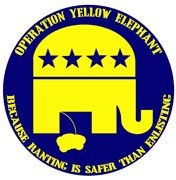 One of the General's readers pointed out that there isn't a good, one stop place to learn everything you need to know about OPERATION YELLOW ELEPHANT. Hopefully, this post will serve that purpose. Check back often for updates.

The objective of OPERATION YELLOW ELEPHANT is to recruit College Republicans and Young Republicans to serve as infantry. They demanded this war and now viciously support it. It's only right that they also experience it.

The 56th College Republican National Convention (June 24-26) and the Young Republican National Convention (July 6-10) are the settings for most of the ops.

The General encourages his readers to take the initiative to create materials and to plan and conduct special operations. Please let him know what you've done and he'll try to post it.


[more]
thanks to daily KOS
This is sublime. Be sure to see the General's readers are doing.
photography
| | | |
| --- | --- | --- |
| | all images created using Sharp GX20 mobile phone | |
[more]
thanks to Conscientious
torture r us

This man is simply a piece of excrement, a piece of waste that needs to be scraped off the sidewalk and eliminated.

-- KVI's John Carlson, discussing Sen. Dick Durbin, on his Seattle-based talk show Thursday

The right is in full froth over Sen. Dick Durbin's remarks comparing the treatment of prisoners at Guantanamo Bay to the way other regimes -- including the Nazis, the Soviets, Pol Pot, and other dictators -- treated their prisoners.

The frenzy is reaching ugly proportions very rapidly. And don't think for a minute that they'll stop with Durbin.

Spin and distortion are, as always, playing a critical role in the brouhaha. The key is that conservatives are deliberately misrepresenting what Durbin said, and twisting his words into a campaign to paint liberals as treasonous vermin worthy of extermination.


[more]
really old things
Fossil Pictures Archive Directory
[more]
thanks to Pharyngula
oil
| | | |
| --- | --- | --- |
| | Libyan Oil Minister Fathi bin Shatwan said Wednesday that news that Iraq's oil exports would flat-line at a low 1.5 million barrels a day for the rest of the year were a shock and made the supply-demand balance far more critical.Iraqi Oil Minister Ibrahim Bahr al-Uloum said early Wednesday that the country's oil exports in the fourth quarter of this year would be virtually unchanged over its current 1.5 million barrels a day.Shatwan told Dow Jones Newswires: "That's an extra 300,000 barrels a day less than we were expecting. It makes the situation even more critical." | |
[more]
Raise Gas Taxes NOW...(or, Justifying Demand Destruction)

That means, by this way of looking at the data, we're not actually at 63% of the 1981 high in 2005 as I discussed in an earlier post.

Instead, with this more valid data, we're at 76% of the 1981 price!

That means the call for alarm should be even greater than it was in my earlier post.

The data tell the story. Find some method of demand destruction. Now.


[more] [more]

Posted by gcoale @ 03:48 PM PST [Link]

optical delusions

55 Optical Illusions & Visual Phenomena
[more]
thanks to The Sunday Morning Photographer
global climate change
New US move to spoil climate accord

Extraordinary efforts by the White House to scupper Britain's attempts to tackle global warming have been revealed in leaked US government documents obtained by The Observer.

These papers - part of the Bush administration's submission to the G8 action plan for Gleneagles next month - show how the United States, over the past two months, has been secretly undermining Tony Blair's proposals to tackle climate change.

The documents obtained by The Observer represent an attempt by the Bush administration to undermine completely the science of climate change and show that the US position has hardened during the G8 negotiations. They also reveal that the White House has withdrawn from a crucial United Nations commitment to stabilise greenhouse gas emissions.


[more]
Fiddling as the planet burns
There is nothing left to debate about climate change. It is happening and each of us must act

The great lie in the climate debate is that there is still a debate worth having. Opponents of change insist that the human factors in global warming are not proven and that we must wait until we have hard evidence before taking drastic action, which is as about as silly as saying there are two equally valid views on the issue of whether paedophilia damages children.

What is so destructive about this stance is that it claims equal weight and equal airtime. The 'balance' in newspaper reports, especially in the United States, is, in fact, a bias against the truth and weakens the case for immediate action against emissions of C0<->2. And while we hum and haw, trying to persuade reluctant sceptics, the permafrost of the Arctic melts, sea levels inch up and the pH levels of oceans gradually drop because of the carbon that is absorbed from the atmosphere.


[more]
a brownie on steroids
One of the denizens of the Rangefinder Forum noticed that I had my Brownie Hawkeye Flash Model listed in my signature. In a moment of generousity, he offered me a similar Brownie bakelite wonder from the same era — a Brownie Bulls-Eye. I accepted and I'm very glad I did. It arrived yesterday. I cleaned it up this morning and it's already to go.
The Hawkeye is a 2 1/4 square format while the Bulls-Eye is the rectangluar 2 1/4x3 1/4 format.
Disassembled for cleaning. Yes, the vise-grip is an essential tool. The lens is in two elements. The front element is the focusing element.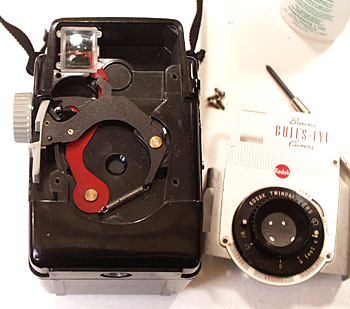 There is a double exposure prevention. The red arm rotates over so that a red lightning bolt appears in the direct view window. When the film is advanced the lightning bolt moves out of the window.
The Twindar lens can be focused from 4 feet to infinity. You guess the distance. There is a detent at 10 feet. The aperture and speed are not adjustable other then there is a B setting..
There are those that think the Bulls-Eye is not as pretty as it's cousin the Hawkeye. Maybe, but it's handsome in it's own way. It has the same side fluting. The flashholders are interchangeable. The larger one on the Hawkeye works on the Bulls-Eye. The Bulls-Eye just looks so inadequate with the small flash. The Bulls-Eye also is blessed with a tripod mount. Unfortunately, it won't take 120 roll film like my Hawkeye will so I'm going to have to roll my own 620. I have a bunch of Ilford FP4 125 that will be perfect. All in all a worthy addition to my collection.