Archives
Peace
One of the most widely known symbols in the world, in Britain it is recognised as standing for nuclear disarmament – and in particular as the logo of the Campaign for Nuclear Disarmament (CND). In the United States and much of the rest of the world it is known more broadly as the peace symbol.
It was designed in 1958 by Gerald Holtom, a professional designer and artist and a graduate of the Royal College of Arts. He showed his preliminary sketches to a small group of people in the Peace News office in North London and to the Direct Action Committee Against Nuclear War, one of several smaller organisations that came together to set up CND.

thanks to plep
Chickens
People in New York cultivate thousands and thousands of dogs and cats to decorate their streets, but are astonishingly illiterate about other animals of the world. Proof of this is the discovery of a chicken (a chicken!) in the back yard of one of the columnists for the New York Times. Immediately, Chicken --- her nom de plume --- became a folk-hero. Articles were written about her (where she came from, how she got there, what she ate for lunch). Photographers with $10,000 cameras arrived to get her picture. Chicken's step-father, William Grimes, the restaurant critic for the New York Times, became a pop personality --- all over a commonplace and fairly dull looking Australorp.
[read more]
From the Late Summer 2002 edition of R A L P H.
Dead Bug
Another one of Briony's bugs. Still some more to go. Check out the large pictures of this and all the other bugs.
Economy
If the story of the current U.S. economy were made into a movie, it would look something like "55 Days at Peking." A ragtag group of ordinary people — America's consumers — is besieged by a rampaging horde, the forces of recession. To everyone's surprise, they have held their ground.
But they can't hold out forever. Will the rescue force — resurgent business investment — get there in time?
[read more]
----------
Is the Big-Business Era Over?
The public sure thinks it should be.
It may be true that the era of big government being over is over, as conservative Christopher Caldwell has argued, done in by President Bush's reluctance to challenge popular spending programs. But it may also be true that the era of big business being over has just begun.
By that, I don't mean that people are ready to storm the barricades and hang the assorted CEOs (though I suppose there might be a hanging-in-effigy here or there). What's happening is much more serious: the loss of a secular faith. Once the public believed that big business, while guilty of occasional excesses, could more or less be trusted, and that its activities were the chief source of social wealth and progress. Because of this, they let the dynamic duo of big business and the market do their thing: If government tried to get in the way, it would just do more harm than good.
That was the era of big business; now it's done. The seemingly endless wave of corporate scandals and the collapsing stock market have convinced the public that big business can't be trusted to regulate itself or to deliver prosperity. It needs help and, realistically, that help has to come from government, the very folks who were supposed to get out of the way.
[read more]
----------
Fundamental Flaws:
Paul O'Neill Doesn't Understand His Job
Fonts


[read more]
thanks to reenhead.com
You are here
The next time you look up into the sky — smile, you're on Candid Camera!
You put in an address and it shows you photo images of that location. This is the south end of Whidbey Island...
Here is a clearer picture of the lake I live on...
And here's my house...
[read more]
thanks to Spitting Image

The Renewed Israeli Occupation
2 million Palestinians under curfew for 42 days!
Inside Ramallah
How Can the World Witness Such Suffering and Yet Do Nothing?
I am writing this letter on a Saturday evening--a day of the week when many people are preparing for a fun evening out with friends and loved ones. As I write, my desk periodically shakes due to the sounds of gunfire and tank shelling. Israeli soldiers are driving through the deserted streets of Ramallah shouting "Mana ata jawaal, Mana ata jawaal" -- you are under curfew. Periodically they catch someone trying to break curfew and either detain them or shoot in the air--like just a moment ago on the street in front of my house. You may not believe this, but I cannot remember what it must be like to have the freedom to do something as simple as taking a walk, let alone enjoy a Saturday night out with friends. I now consider myself lucky if curfew is lifted for a few hours so I can go to my office and meet with my colleagues, then dash to the market to get a few days worth of fruits and vegetables before curfew is slammed down on us once again.
[read more]
For years I wondered how the world could have turned their backs on the Jews in the late 30s when they were being destroyed by the Germans. Now I see the same thing happening again, only it is Jews destroying Palestinians this time. What will you say when your grandchildren ask you about this? Will you say "Gosh, we didn't know."? We are seeing the Warsaw Ghetto replayed.
Photography
There is the joke about how the world used to be in black and white. It's not far from the truth. The image we have of the 30s, 40s, and 50s is largely a black and white image. Cushman's Kodachrome slides remind us that the world at that time was really in color. It's kind of a shock. This is a remarkable site. It promises to be even more remarkable when all his images are up.
Charles W. Cushman:
The Curiosity of a Man, the Pictures of a Lifetime
Indiana University will digitize and present on the World Wide Web 18,000 Kodachrome slides and black and white prints of an amateur photographer named Charles W. Cushman. Mr. Cushman lived from 1896-1972 and spent a good portion of his life photographing his travels in the United States and abroad. His legacy is a remarkable photographic document of American social history in the twentieth century. Where similar bodies of vernacular photography focus on specific subjects or geographic areas, often during narrow periods of time, Charles Cushman's photographs comprise an epic sweep covering a large portion of the United States (and to some extent other countries) over a sixty-year span.
(...)
...Mr. Cushman began using Kodachrome film in 1938, only three years after its introduction on the market. He continued to photograph with it at least until 1967, perhaps as late as 1972, the year of his death. He photographed in color at a time when most professionals and amateurs were shooting in black and white. It is likely that many of his photographs are the only known records of some subjects. In most cases, they are probably the only color record and almost certainly the only color record to be preserved and documented so well.
[read more]
thanks to Spitting Image
Archeology
A great site made even better.
thanks to MetaFilter
This is drug abuse
First, you market the disease... then you push the pills to treat it
Brendan I Koerner on the ugly truth about doctors, PR firms and drug companies
thanks to Cursor
Astronomy
Hubble gets a taste of sun's future
Scientists see clues in star, and it looks like a hamburger
[read more]
Travel
Japan in 24 Days
or
How I Got One Hell of a Sore Butt
This was the day. The start of my solo motorcycle tour of Japan. Like many people before me who had lived and worked in Japan, I was trying to fit in a "big trip" before leaving. After living and working in Tokyo for five years, I had quit my job and was preparing to return to the U.S. It was pretty much now or never. I had been considering this trip for only a few years. In fact, I had been riding a motorcycle for only three years. I had only become interested in two-wheeled transportation in order to become more mobile and to avoid commuting on the packed trains. After taking a number of day trips with my motorcycle-riding friends and talking with people like Katrina, a former coworker who had herself taken a motorcycle trip around Japan before leaving the country, I was ready to go.
My peppy 250cc Honda Spada was loaded up with Katrina's old saddle bags and my tank bag. The saddle bags were packed with gear -- clothes, tent, stove, rain gear, some food and water -- and the tank bag contained my maps and guidebooks. With a kiss and a wave I set off. The time was 10:30, later than I had hoped. I made my way through Tokyo heading north, filling up with gas at Oji and then having lunch at McDonalds in Kawaguchi before hopping on the Tohoku expressway. Since I had already been to most of the prefectures around Tokyo (Chiba, Saitama, Gunma and Tochigi), I figured I would try to put Tokyo behind me and made a beeline for Sendai.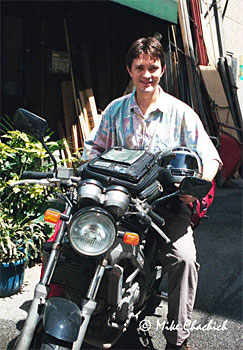 Graphic Arts
Japanese Prints are among the world's most beautiful, complex, and expressive works of art. For more than three centuries Japanese printmakers of exceptional skill and vision have created images of enduring beauty. The colorful and varied tradition of Japanese woodblock printmaking includes 17th-19th century 'Ukiyo-e' ("Pictures of the Floating World"), 20th century 'Shin hanga' ("New prints") and ''Sôsaku hanga' ("Creative prints"), and 'Kindai hanga' (modern or contemporary prints). This website presents illustrated discussions about selected artists and their prints, as well as explorations into various themes in Japanese printmaking.
[read more]
thanks to MetaFilter
War Against Some Terrorists
Former UN weapons inspector Scott Ritter has become the most outspoken opponent the Bush Administration has to its seemingly imminent invasion of Iraq. Ritter, who spent seven years in and out of Iraq, says everything we are being told about Saddam's weapons program is a lie.
(...)
According to Ritter, there is no justification in fact, national security, international law or basic morality to justify this coming war with Iraq. In fact, when asked pointedly what the mid-October scheduling of this conflict has to do with the midterm Congressional elections that will follow a few weeks later, he replied, simply, "Everything."
"This is not about the security of the United States," said this card-carrying Republican while pounding the lectern. "This is about domestic American politics. The national security of the United States of America has been hijacked by a handful of neo-conservatives who are using their position of authority to pursue their own ideologically-driven political ambitions. The day we go to war for that reason is the day we have failed collectively as a nation."
[read more]
thanks to MetaFilter
---------
FBI: Just 200 hard-core Al-Qaeda
Senior FBI officials believe there are now no more than 200 hard-core Al-Qaeda members worldwide.
"Al-Qaeda itself, we know, is less than 200," said an FBI official, referring to those who have sworn allegiance to Osama bin Laden, the alleged mastermind behind the Sept. 11 terrorist attacks.
That figure -- far fewer than recent press reports have suggested are in the U. S. alone -- is based on evidence gathered by the FBI and CIA. It includes Al-Qaeda members who are now in custody at Guantanamo Bay.
"Everyone tries to tie everything into 9-11 and Al-Qaeda," said one of the two FBI officials interviewed Friday on condition of anonymity. "There was a recent report suggesting that Al-Qaeda is about 5,000 strong. It is nowhere near 5,000 strong."
[read more]
thanks to This Modern World
TestingTesting
I just got off the phone with David Ossman of the Firesign Theatre. He lives about a mile down the road from me here on Whidbey Island. He will be coming back on TestingTesting this coming Monday evening, August 5. Aside from being a certified member of the Lunatic Fab Four, he is a very good poet and will be reading his poetry with musical accompaniment from the TestingTesting House Band. All this from my living room. Click on in Monday night, there is no telling what he will do — not to be missed.
Wall Street and White House Crooks
The New Pinch from Pensions
Companies must pour billions into retiree plans after betting on stocks
Amid the wreckage of the worst bear market in at least three decades, hemorrhaging corporate pension plans are rapidly becoming Wall Street's biggest new worry. They have lost hundreds of billions of dollars, and now companies face the end of their long- running holiday from writing checks to the plans. Over the next 18 months or so, companies ranging from General Motors to United Technologies face having to pump billions into their plans to comply with federal laws to protect pensioners.
[read more]
thanks to Ethel the Blog
----------
The Little Guy Takes It On The Chin -- And In The Wallet
bt Arianna Huffington
While visiting friends in Aspen last week, I had a close encounter of the disgraced CEO kind: I spotted Kenny Lay, garbed in a spiffy jogging suit, getting in a little morning cardio not far from one of the two multimillion dollar vacation homes he keeps there. I guess that second-hand shop his wife opened to sell off some of their booty has been doing brisk business.
Truth be told, such scoundrel sightings are not as unusual as they should be. Despite the well-deserved roasting they're currently getting over the media spit, many of the most notorious boardroom bad guys are continuing to live the high-life to which they became accustomed while plundering their companies' coffers.
Even Adelphia's John Rigas, who was forced to do the newly-trendy EPW (Executive Perp Walk) following his arrest, had enough spare change on hand to cover his $10 million bail -- and was back home in plenty of time for a nice family dinner with his indicted sons. You know what they say: the family that eats together, cheats together.
The victims of corporate pillage, meanwhile, are not having it so easy. Faced with scrambled nest eggs, sinking pension plans, shaky health coverage and a gloomy job market, record numbers of average Americans are taking it on the chin -- and in the wallet.
[read more]
----------
thanks to Tom Tomorrow @ This Modern World
---------
Politics Cleared Way for Financial Scandals
by Molly Ivins
And while we are on the subject of what is beyond parody, the aforementioned Wall Street Journal deserves a special salute for its editorial of May 16 encouraging American companies to move to Bermuda on the grounds that it is patriotic to avoid paying taxes.
I'm not making this up: "Why it's patriotic to avoid paying high tax rates" is the subhead of the touching essay on why American corporations, which are already paying less in taxes than the janitors who clean their floors, should flee off- shore. We've often heard that patriotism is the last refuge of a scoundrel, but don't you think that's carrying it a little far?
Hard to know whether to laugh, cry or throw up.
[read more]

In Ahmed's Shoes
by Uri Avnery
Some years ago, Ehud Barak said: "If I were a young Palestinian, I would have joined one of the terrorist organizations." An interesting statement. It proves that Barak was once capable of putting himself into the shoes of somebody else.
It's easier for me. Since I did indeed join one of the terrorist organizations when I was young, I can clearly remember the feelings and thought that caused me to do so. Nowadays, when I want to predict what the Arabs will do tomorrow, I use the same method. I try to enter into the shoes of a young Arab, as an actor enters the persona he is supposed to play. I try to feel what he feels, think what he thinks.
[read more]
----------
Israel's War For Terrorism
by Ran HaCohen
It is high time to reiterate the favourite media question – "Is Arafat Unable, or Rather Unwilling to Stop Terrorism" – but with a different protagonist. Prime Minister Sharon has now been in office for about 15 months. He has been enjoying total and unprecedented freedom, both nationally and internationally, to fight Palestinian terrorism however he likes, using all measures at hand and blatantly ignoring all moral and legal considerations. In spite of that, Palestinian terrorism is alive and killing.
So is Sharon unable – or rather unwilling to stop terrorism? Last week's events in Gaza irrefutably prove that the Israeli leader is not only unwilling to see Palestinian terrorism stopped; Sharon would also do anything to ensure and encourage terrorism against his own people.
[read more]
Cycling
Travelblogging across the USA on bicycles.
Team Bomispir Travel Log's LiveJournal
Day 1 Miles: 93 Santa Monica - Wrightwood
Woke up a bit late for our Pacific Ocean tire-dip missing our desired departure time of 5am by an hour and a half. While filming around the pier a bum yells at me "Don phillm mee mannn" and jumps off his bike and hits my new video camera out of my hand and sends it flying into the street. Luckily it didn't break. A sign?
Timmy checked the water temp for us and we set off around 7am in pursuit of the Atlantic Ocean. Stephen's pedal broke right away so we stopped for breakfast at Denny's, I called Nadine, and then we shaved our heads.
[read more]
thanks to Doc Searls
----------
I lied. Here is another Lance article.
Armstrong among best ever
Four-time Tour champion exemplifies endurance, strength, determination
What Armstrong does is far more difficult than sprinting. This isn't 'go as fast as you can for a short distance,' or even 'ride a bike around a banked track.' It involves time trials — Saturday's was more than 30 miles long; fierce mountain climbs that demand leg strength and stamina that the vast majority of the planet's six billion people can't even imagine; long, long rides through rolling country; the ability to control a bike riding on impossibly skinny tires down mountain switchbacks at speeds that would scare the average motorist; teamwork; strategy; decision-making.
And you do it for three solid weeks with only two days off to rest.
If he's not an athlete and bike racing isn't a sport, then that business between the Israelis and the Palestinians is just a slight difference of opinion.
[read more]
I should be riding my own bicycle tomorrow. I've been off it for over four years now and my waist shows it. Put new tires and tubes on tonight. I have lost the touch. I pinched the front tube twice and the rear tube once. They are holding air now and I will see if I remember how to ride. I still need to find my frame pump.
Food
Grim Reaping
The Industrialization of Agriculture is Killing the Land
Even when city folks notice the dwindling population of rural areas and express concern for the dying small communities scattered across the continent, they remain blind to the real causes and the best solutions. They are blind because they have bought the lie that the industrialization of food production is both inevitable and good and that the only problem is finding new uses for the surplus rural population.
The health of rural communities cannot be considered apart from the health of the land that once supported them and still, for the moment, feeds the rest of us.
That land is being laid waste just as surely as are the small towns that used to thrive on the business of farming. Yet the fields cannot speak up, and so their victimization goes mostly unnoticed.
[read more]
Fishing
No Fly Zone
Slob Fishing, the sport of bums.
I'm approaching the age that Colette delicately described as "agggh! … halfway to 90," so lately I've been looking over my Life List, the catalog of things I want to get done before I start wearing diapers again. No. 1 is Golden Years stuff and thus can wait —"Replenish yourself by taking the time to reread all of (somebody, but first double-check: Have I ever read all of anybody?)." No. 2 may have to be scrapped because the government's Department of Lying About Atlantis continues to ignore my calls and e- mails. Then I come to No. 3, which pulls me into its net: "Learn to catch trout."
That one's challenging, since I bite at fishing. During my first stint living in New Mexico (1994-1996), I caught the fly-fishing bug big-time and made all the usual rookie mistakes. I bought an expensive fly rod that I didn't know how to use and started waving it around like a ratchet- elbowed goofball. One day I borrowed a pair of waders that didn't fit, stepped into a spring-runoff stream that was moving dangerously fast, got knocked down by rapids, got wrapped around a submerged log like a Gumby man, and almost drowned.
[read more]

The Renewed Israeli Occupation
2 million Palestinians under curfew for 39 days!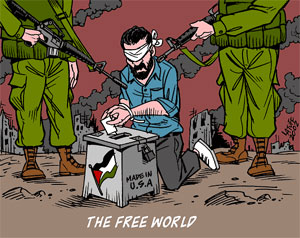 [read more]
----------
----------
If there's smoke, there's no cease-fire
Israel's propaganda machine worked overtime this week and proved its efficacy. The prime minister, the foreign minister, intelligence officers, officials and spokesmen changed overnight from a fight for a cease-fire to a fight against a cease-fire initiative. For many months, they told the entire world that it's a waste of paper to reach a cease-fire with the Palestinian Authority, explaining that Tanzim and Fatah leaders are in control of the street, along with Hamas. They claimed that with one hand, PA Chairman Yasser Arafat signs condemnations of terror and with the other signs fat checks that he shoves into the pockets of the terrorists. Some backed their claims by saying that even Alistair Crooke, the head of the EU security team in the territories whose integrity and professionalism is unassailable, says that there's no value to a cease-fire that doesn't include at least the Tanzim.
But when a unilateral declaration for a cease-fire, an initiative that rose from the deepest of the grassroots of the Tanzim and Fatah, was presented to them, everyone made a mockery of it. They weren't impressed by Arafat and his associates jumping on the bandwagon driven by Fatah's Hussein a Sheikh and his associates, because Arafat et al fear being shoved off the road by the young leadership. After we heard, unceasingly, that everything is under Arafat's thumb, Defense Minister Benjamin Ben-Eliezer announced to the Knesset's Foreign Affairs and Defense Committee that the cease-fire was initiated by local leaders, and that they have no influence over the terrorists.
[read more]
----------
Israel's political and military commanders want the Palestinians, including the parents of the children killed and wounded in Gaza, to believe that nobody took into account the possibility that a ton of explosives dropped from a plane into a crowded residential neighborhood would harm only the bomb's target, no matter how deserving he was.
Those same politicians and generals mock those who believe in the possibility that a few hours before the bombing, a Palestinian declaration for a general cease-fire against Israeli civilians had been finalized. No wonder Israel's propaganda effort is trying so hard to minimize the reports about a dramatic change in the thinking of the Palestinian leadership, the Tanzim, and even the Hamas. If they were to admit the process is serious, in the worst case it would be confirmation of Hosmi Mubarak's conspiracy theory that the bomb was meant to disrupt the cease-fire. In the best case, it would be a slap in the face to the concept that there's nobody to talk with on the Palestinian side about "painful concessions."
[read more]
----------
Let's have a birthday!
thanks to Doc Searls
My birthday is August 24. Here are the famous people born on my birthday.
24 - Aug - 1988 Rupert Grint
24 - Aug - 1965 Marlee Matlin
24 - Aug - 1962 Craig Kilborn
24 - Aug - 1960 Cal Ripken, Jr.
24 - Aug - 1958 Steve Guttenberg
24 - Aug - 1929 Yasser Arafat
24 - Aug - 1912 Durward Kirby
24 - Aug - 1890 Duke Kahanamoku
So, who was born on your birthday?
The War Against Some Drugs
On the morning of July 23, 1999, law enforcement officers fanned out and arrested more than 10 percent of Tulia's tiny African-American population. Also arrested were a handful of whites who had relationships with blacks.
The humiliating roundup was intensely covered by the local media, which had been tipped off in advance. Men and women, bewildered and unkempt, were paraded before TV cameras and featured prominently on the evening news. They were drug traffickers, one and all, said the sheriff, a not particularly bright Tulia bulb named Larry Stewart.
Among the 46 so-called traffickers were a pig farmer, a forklift operator and a number of ordinary young women with children.
If these were major cocaine dealers, as alleged, they were among the oddest in the U.S. None of them had any money to speak of. And when they were arrested, they didn't have any cocaine. No drugs, money or weapons were recovered during the surprise roundup.
[read more]
Globalization
Globalization: Stiglitz's Case
The most pressing economic problem of our time is that so many of what we usually call "developing economies" are, in fact, not developing. It is shocking to most citizens of the industrialized Western democracies to realize that in Uganda, or Ethiopia, or Malawi, neither men nor women can expect to live even to age forty-five. Or that in Sierra Leone 28 percent of all children die before reaching their fifth birthday. Or that in India more than half of all children are malnourished. Or that in Bangladesh just half of the adult men, and fewer than one fourth of adult women, can read and write.
[read more]
Ruins
Cool ruins.
There is an island named Gunkan-jima (warship island) off Kyushu, near Nagasaki. (it's real name is Hashima island) It earned its nick name because it looks like one viewing from afar.
The Mitsubishi corporation opened its coal mine operations in 1895 on this tiny island, which measures about 160 meter in width, 480 meter in length. Half the island was taken up by mining operation, leaving very very small space for living humans.
The peak population of 5300 was marked in the 1960s, and that population density was ten times that of Tokyo at that time. Given limitation and scarceness of space, it makes sense that the first steel-reinforced buildings in japan was built on this island in 1916. It was an apartment complex of 7 stories, and housed 145 families.
The mining operation closed in January 1974, and all inhabitants left the island by april 1974. Approximately 2200 were living on the island then.
All of this makes this island a mystifying and intriguing location for photo-shoot, and there are literally hundreds of photographs of Gunkan-jima available on the internet. Here are just a few that caught my eye:

[read more]
Political Parties
THE COMING DEMOCRATIC DOMINANCE.
Majority Rules
In Rove's mind, September 11 has reinforced the parallel: Bush's war on terrorism is the political equivalent of McKinley's Spanish-American War. As U.S. News & World Report columnist Michael Barone wrote in February, Rove "looks back to William McKinley, who was elected with 51 percent of the vote in 1896 but whose successful war and domestic policies built that up to a solid majority for years ahead." And the current financial scandals are merely a bump along that inevitable road. The scandals, Rove told NBC's Tim Russert on July 13, are a "business problem ... not a political scandal" and will not affect the underlying movement toward a new Republican majority.
Rove is half right. He's correct that we are in a transformational political era that displays marked similarities to 1896. And he is correct that this era will produce a majority party that dominates American politics for years to come. It just won't be the GOP.
[read more]
thanks to Red Rock Eater Digest
Dr. Seuss
The Advertising Artwork of Dr. Seuss
Before Theodore Seuss Geisel found fame as a children's book author, the primary outlet for his creative efforts was magazines. His first steady job after he left Oxford was as a cartoonist for Judge, a New York City publication. In 1927 one of these cartoons opened the way to a more profitable career, as well as greater public exposure, as an advertising illustrator.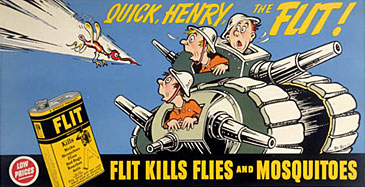 thanks to MorfaBlog
War Against Some Terrorists
Constructive Dissent (Slouching Towards Apocalypse)
As the world slouches towards all-out war in the Middle East, we continue to deny both the potential nuclear component, and its predictably devastating consequences. We read that war is necessary because Iraqis are evil and have mass weapons of destruction, and we're told not to worry our little heads about the accelerated US military build up in Jordan and elsewhere in the region.
But it doesn't take a genius to connect these dots. Under pressure to explain past shady business deals, Bush and Cheney need a military diversion; double prize for them in that removing Saddam Hussein would open up Iraq's rich oilfields (and profits) to their oil crony's Western corporations.
[read more]
Tour de France
Two more articles on the tour. This is it — I promise!
The P-I at the Tour de France: Victory No. 4, and a hot time on the Champs-Elysées
You probably heard that Lance Armstrong won his fourth consecutive Tour de France yesterday.
But did you read that his goal is six Tour victories?
Or that he would like to be remembered as is "the first cancer patient to win the Tour?"
[read more]
----------
Triomphe! Tour de fourth for Armstrong
American rides into history after three weeks of dominance
Three years ago, as Lance Armstrong celebrated his first Tour de France victory with a ride on the Champs-Elysées, he was applauded more for his inspiring comeback from advanced testicular cancer than he was for winning one of the world's most difficult sporting events.
Armstrong won as a dark horse in 1999. His eyes filled with tears as he stood for the Star Spangled Banner.
Oh, how times have changed.
Yesterday, 100,000 fans lined this city's famous avenue and coronated him one of the grandest of champions in the event's 99-year history. Armstrong, riding an as overwhelming favorite, became only the fourth man to win four consecutive Tours and is a good bet to win his fifth in a row next year -- something that's only been done once.
[read more]
Wall Street Crooks
More dominos to fall...
Debt fuels US gas and power bankruptcy fears
thanks to Robot Wisdom

Amid the plethora of ludicrous excuses and buck-passing in the wake of the brutal military operation in which a one-ton bomb was dropped on a residential dwelling, killing 16 civilians, one question has been forgotten: Was the act of the liquidation itself, which everyone has praised to the skies, either legitimate or wise?
This is what happens during the course of the slide down the slippery slope - what was just yesterday still the subject of public debate, at least at some level, has now become self-evident. It is now taken for granted that in the war on terrorism, liquidations are both necessary and permissible; it is taken for granted that the state has the right to execute people without trial almost as often as it pleases, provided those marked for death are terrorists, or individuals whom the state defines as terrorists.
[read more]
----------
Israel, the US and the world: a conflict of perceptions
While much of the world views Israel as militarily aggressive, inside the country the sense of encirclement and threat prevails. This conflict of perceptions helps to fuel Israel's extensive weapons purchase and upgrade projects, reinforcing the country's intimate defence connections with the United States.
Dead Bug
Only one bug tonight, but it's a big one! I'm sure glad we don't run across bugs like this in the Great Northwet — I'd have touble sleeping. Check out the really large pictures.
Tour de France — four in a row!
McEwen wins final stage; Armstrong takes his fourth Tour de France
American Lance Armstrong won his fourth consecutive Tour de France as the race came to a close in Paris on Sunday after the 20th and final stage from Melun to Paris, won in dramatic fashion by Australian Robbie McEwen.
Armstrong, 30, becomes only the fifth rider in the Tour's 99-year history to have won it at least four times, after Jacques Anquetil, Eddy Merckx, Bernard Hinault and Miguel Indurain - all five-time winners.
The U.S. Postal ace finished the three-week race with a 7min 17sec lead over Spaniard Joseba Beloki, second this year after finishing third in 2000 and 2001.
[read more]
Final overall standings
1. Lance Armstrong (USA), USP, at 82:05:12.
2. Joseba Beloki (Spa), ONE, at at 07:17.
3. Raimondas Rumsas (Lit), LAM, at 08:17.
4. Santiago Botero (Col), KEL, at 13:10.
5. Igor Gonzalez Galdeano (Spa), ONE, at 13:54.
6. Jose Azevedo (Por), ONE, at 15:44.
7. Francisco Mancebo (Spa), BAN, at 16:05.
8. Levi Leipheimer (USA), RAB, at 17:11.
9. Roberto Heras (Spa), USP, at 17:12.
10. Carlos Sastre (Spa), CST, at 19:05.
---------
Lance Armstrong joins Tour greats with fourth win
Riders who have won four or more Tours de France:
Jacques Anquetil (Fra): 1957, 1961, 1962, 1963, 1964
Eddy Merckx (Bel): 1969, 1970, 1971, 1972, 1974
Bernard Hinault (Fra): 1978, 1979, 1981, 1982, 1985
Miguel Indurain (Spa): 1991, 1992, 1993, 1994, 1995
Lance Armstrong (USA): 1999, 2000, 2001, 2002
[read more]
----------
j p, at Dumbmonkey, found this nugget of chunky linky Lance A. goodness from 2000.
Tiger Who? Lance Armstrong Is the Real Sports Hero
Americans have always ignored cycling and the Tour de France. This year, says TIME.com's Jessica Reaves, it's time to tune in
If anyone deserves to be on the front page of every major newspaper and sports magazine, it's Armstrong. He has a very strong case to make America's Greatest Sports Figure. This guy powers himself up mountains using only his quadriceps and a bicycle. Most Americans would get winded driving these peaks, for Pete's sake. But instead of following Armstrong and his teammates over the cragged peaks of Europe, we're treated to ad nauseam stories about Tiger Woods, whose accomplishments are myriad, to be sure, but whose claim to greatness lies more with skill and mental determination rather than those combined with true athletic prowess.
[read more]
Click back in next year to see if Lance can make it 5 in a row — and maybe the year after for 6?
Graphic Arts
Know Your Place! Shut Your Face!
This site has the greatest collection of political posters. He is having bandwidth problems so check it out in the morning. He plans to rehost it, which will solve the bandwith issues. Works of art.
[read more]
It's All In The Family
HOW YOU HELP THE PRESIDENT HELP HIS BROTHER.
He Ain't Heavy
Intimate treasures, a sex shop in the resort town of Fort Walton Beach, is housed in a pink-and-blue, virtually windowless concrete building--just the kind of faux-cheery structure one finds in commercial strips throughout the Sun Belt. According to its website, the store specializes in sensual lingerie, erotic games, massage oils, and "videos, videos, videos." A few years ago a sales clerk at the store was charged with two counts of obscenity for selling allegedly beyond-the-pale pornography to undercover cops. Intimate Treasures is, in short, not the sort of place one associates with government largesse--particularly not from a Republican administration that pledged to restore "honor and dignity" to the White House. Yet last September 19 the sex shop received a low-interest, 25-year loan for $410,250, guaranteed by George W. Bush's Small Business Administration (SBA). Why? Perhaps because whatever its failings, Intimate Treasures possesses one attribute that makes it a highly attractive destination for federal dollars: It's located in Florida.
thanks to Tapped
Pachinko
I was a teenager living in Japan in the late 50s. I loved the sound of the old mechanical pachinko games. Someday I'll get one of those old ones.
thanks to consumptive.org
----------
Pachinko - Japan's National Pastime
Every morning the same scene repeats itself from big cities to small villages all across Japan: men, and an occasional woman, lining up for the 10 AM opening of their favorite pachinko parlor. The early birds have much to gain, because if they get to one of the good machines they can earn the equivalent of an entire day's salary, and sometimes a lot more.
[read more]
War Against Some Terrorists
Britons left in jail amid fears that Saudi Arabia could fall to al-Qaeda
Saudi Arabia is teetering on the brink of collapse, fuelling Foreign Office fears of an extremist takeover of one of the West's key allies in the war on terror.
Anti-government demonstrations have swept the desert kingdom in the past months in protest at the pro-American stance of the de facto ruler, Prince Abdullah.

At the same time, Whitehall officials are concerned that Abdullah could face a palace coup from elements within the royal family sympathetic to al-Qaeda.

Saudi sources said the Pentagon had recently sponsored a secret conference to look at options if the royal family fell.
[read more]
BBBBBBBBBeeeeeeeeeeeeeeeeeetttttttthhhhhhhhh-
ooooooooovvvvvvvvveeeeeeeeennnnnnnnn
9 Beet Stretch consists of Ludwig van Beethoven's 9th Symphoney stretched out to 24 hours, leading it closer to eternity than ever
[read more]
thanks to MetaFilter
Big Business Is Out To Get You
It was probably expecting too much to think that Congress's stand-up attitude to big business would last until the weekend. A little more than a day after passing tough corporate-governance legislation, lawmakers rushed to approve an ill-advised overhaul of the nation's bankruptcy laws long sought by credit card companies and other creditors. The House seemed on the verge of approving the bill early this morning, and the Senate is expected to vote on it next week.

[read more]
thanks to DANGEROUSMETA!
Computer Security
The ULTIMATELY Secure Firewall
(Adaptive Packet Destructive Filter)
thanks to Dumbmonkey