Archives
photography
A side of Italy not seen in the travel posters.
more war
Is the Middle East on the Brink of Another War?
"Tuesday's cross-border firefight between Israeli and Lebanese government forces might simply have been a misunderstanding. And the rockets fired from Gaza and the Israeli air strikes on the besieged border territory over the past week could be viewed as periodic blips in business as usual on that front. By the same token, last Friday's unprecedented joint visit to Beirut by the leaders of Saudi Arabia and Syria could be viewed simply as a move to stop the conflict between their Lebanese proxies from turning nasty. And British Prime Minister David Cameron's pleas to Turkey to keep open its communication channels with Israel's leaders are quotidian diplomatic common sense. Viewed in a wider context, however, each of those events could be signs of why many in the Middle East believe that despite the outward calm, the region may be on the brink of another catastrophic war."
war...what is i good for?
The End of (Military) History? The United States, Israel, and the Failure of the Western Way of War
by Andrew Bacevich
" "In watching the flow of events over the past decade or so, it is hard to avoid the feeling that something very fundamental has happened in world history." This sentiment, introducing the essay that made Francis Fukuyama a household name, commands renewed attention today, albeit from a different perspective.
"Developments during the 1980s, above all the winding down of the Cold War, had convinced Fukuyama that the "end of history" was at hand. "The triumph of the West, of the Western idea," he wrote in 1989, "is evident… in the total exhaustion of viable systematic alternatives to Western liberalism."
"Today the West no longer looks quite so triumphant. Yet events during the first decade of the present century have delivered history to another endpoint of sorts. Although Western liberalism may retain considerable appeal, the Western way of war has run its course."
This is written by Andrew Bacevich who is ex-military. He always has something interesting to say.
global climate change
Tomgram: Bill McKibben, A Wilted Senate on a Heating Planet
"Try to fit these facts together:
"* According to the National Oceanic and Atmospheric Administration, the planet has just come through the warmest decade, the warmest 12 months, the warmest six months, and the warmest April, May, and June on record.
"* A "staggering" new study from Canadian researchers has shown that warmer seawater has reduced phytoplankton, the base of the marine food chain, by 40% since 1950.
"* Nine nations have so far set their all-time temperature records in 2010, including Russia (111 degrees), Niger (118), Sudan (121), Saudi Arabia and Iraq (126 apiece), and Pakistan, which also set the new all-time Asia record in May: a hair under 130 degrees. I can turn my oven to 130 degrees.
"* And then, in late July, the U.S. Senate decided to do exactly nothing about climate change. They didn't do less than they could have -- they did nothing, preserving a perfect two-decade bipartisan record of no action. Senate majority leader Harry Reid decided not even to schedule a vote on legislation that would have capped carbon emissions."
afghanistan
There was a term that came out of the Vietnam war that described how well everything went: clusterfuck. The following essay about how well things are going in the war in Afghanistan can be distilled down to one word: clusterfuck.
Tomgram: Ann Jones, In Bed With the U.S. Army
"On the base, I heard incessant talk about COIN, the "new" doctrine resurrected from the disaster of Vietnam in the irrational hope that it will work this time. From my experience at the FOB, however, it's clear enough that the hearts-and-minds part of COIN is already dead in the water, and one widespread practice in the military that's gone unreported by other embedded journalists helps explain why. So here's a TomDispatch exclusive, courtesy of Afghan-American men serving as interpreters for the soldiers. They were embarrassed to the point of agony when mentioning this habit, but desperate to put a stop to it. COIN calls for the military to meet and make friends with village elders, drink tea, plan "development," and captivate their hearts and minds. Several interpreters told me, however, that every meeting includes some young American soldiers whose locker-room-style male bonding features bouts of hilarious farting.
"To Afghan men, nothing is more shameful. A fart is proof that a man cannot control any of his apparatus below the belt. The man who farts is thus not a man at all. He cannot be taken seriously, nor can any of his ideas or promises or plans.
"Blissfully unaware of such things, the Army goes on planning together with its civilian consultants (representatives of the State Department, the U.S. Department of Agriculture, and various independent contractors who make up what's called a Human Terrain Team charged with interpreting local culture and helping to win the locals over to our side). Some speak of "building infrastructure," others of advancing "good governance" or planning "economic development." All talk of "doing good" and "helping" Afghanistan."
photography
Cool hat!
Self Portraits by Kimiko Yoshida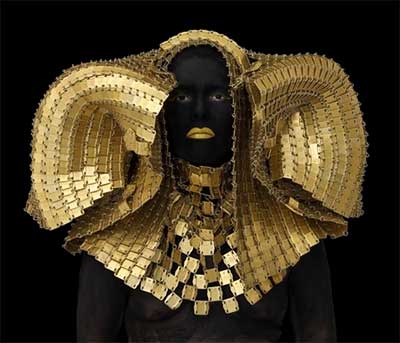 israel/palestine
Israel continues it's slide into intolerance fueled by the hatred of the non-Jew. Not only do they destroy the homes of Palestinians in the West Bank and Gaza they also destroy entire villages of Israeli citizens who are not Jewish.
The "Summer Camp Of Destruction:" Israeli High Schoolers Assist The Razing Of A Bedouin Town
"On July 26, Israeli police demolished 45 buildings in the unrecognized Bedouin village of al-Arakib, razing the entire village to the ground to make way for a Jewish National Fund forest. The destruction was part of a larger project to force the Bedouin community of the Negev away from their ancestral lands and into seven Indian reservation-style communities the Israeli government has constructed for them. The land will then be open for Jewish settlers, including young couples in the army and those who may someday be evacuated from the West Bank after a peace treaty is signed. For now, the Israeli government intends to uproot as many villages as possible and erase them from the map by establishing "facts on the ground" in the form of JNF forests. (See video of of al-Arakib's demolition here).
"One of the most troubling aspects of the destruction of al-Arakib was a report by CNN that the hundreds of Israeli riot police who stormed the village were accompanied by "busloads of cheering civilians." Who were these civilians and why didn't CNN or any outlet investigate further?"

more good news
Skidding Toward Fall
By James "Happy Talk" Kunstler
"This economy has a destination for sure, but it's not in the direction where all eyes are trained in moist hopefulness: that glimmering horizon of longed-for growth. You will not get that kind of growth -- the kind that increases the overall wealth of the organism in question. A few people will make more money than they did before, but overall we are in an epic contraction. More people and organizations will go broke than will thrive. It will seem very unfair.
"The true destination of the US economy is to get smaller and for two reasons mainly: 1.) Capital ("money") is vanishing out of our system steadily and rapidly due to a massive collective failure to repay money owed on loans, mortgages, debts, and assorted obligations. 2.) Access to the primary resource we depend on for powering the economy (oil) is increasingly beyond our control -- even worse, under the control of people who would like us to eat shit and die."

economy
For anyone who thinks things will get better, think again.
Defining Prosperity Down
by Paul Krugman
"I'm starting to have a sick feeling about prospects for American workers — but not, or not entirely, for the reasons you might think.
"Yes, growth is slowing, and the odds are that unemployment will rise, not fall, in the months ahead. That's bad. But what's worse is the growing evidence that our governing elite just doesn't care — that a once-unthinkable level of economic distress is in the process of becoming the new normal."

the party of racism
"Some may not remember, but the Republican Party was founded to oppose slavery. Some may not remember, but for generations Southern conservatives remained Democrats because they wanted nothing to do with the Party of Lincoln. Some may not remember, but those grand Democratic majorities supposedly enjoyed by Presidents Franklin Roosevelt and Lyndon Johnson included many racist conservatives who remained Democrats precisely because they remained racist, and still couldn't forgive even the increasingly conservative Republican Party for what they deemed to have been the sins of its past, such as the Civil War. Some may not remember, but the moderate Republican of the recent past was met and perhaps surpassed by the truly conservative Democrat of that recent past."

photography
These are a remarkable series of photographs where Sergey has taken WWII Soviet war photographs and rephotographed the image at the same spot and then combined the images.
economy
Four Deformations of the Apocalypse
"IF there were such a thing as Chapter 11 for politicians, the Republican push to extend the unaffordable Bush tax cuts would amount to a bankruptcy filing. The nation's public debt — if honestly reckoned to include municipal bonds and the $7 trillion of new deficits baked into the cake through 2015 — will soon reach $18 trillion. That's a Greece-scale 120 percent of gross domestic product, and fairly screams out for austerity and sacrifice. It is therefore unseemly for the Senate minority leader, Mitch McConnell, to insist that the nation's wealthiest taxpayers be spared even a three-percentage-point rate increase.
"More fundamentally, Mr. McConnell's stand puts the lie to the Republican pretense that its new monetarist and supply-side doctrines are rooted in its traditional financial philosophy. Republicans used to believe that prosperity depended upon the regular balancing of accounts — in government, in international trade, on the ledgers of central banks and in the financial affairs of private households and businesses, too. But the new catechism, as practiced by Republican policymakers for decades now, has amounted to little more than money printing and deficit finance — vulgar Keynesianism robed in the ideological vestments of the prosperous classes.
"This approach has not simply made a mockery of traditional party ideals. It has also led to the serial financial bubbles and Wall Street depredations that have crippled our economy. More specifically, the new policy doctrines have caused four great deformations of the national economy, and modern Republicans have turned a blind eye to each one."