Archives
Saturday September 11 2010
9/11
Robert Fisk: Nine years, two wars, hundreds of thousands dead – and nothing learnt
Did 9/11 make us all mad? Our memorial to the innocents who died nine years ago has been a holocaust of fire and blood . . .
"Did 9/11 make us all go mad? How fitting, in a weird, crazed way, that the apotheosis of that firestorm nine years ago should turn out to be a crackpot preacher threatening another firestorm with a Nazi-style book burning of the Koran. Or a would-be mosque two blocks from "ground zero" – as if 9/11 was an onslaught on Jesus-worshipping Christians, rather than on the atheist West.
"But why should we be surprised? Just look at all the other crackpots spawned in the aftermath of those international crimes against humanity: the half-crazed Ahmadinejad, the smarmy post-nuclear Gaddafi, Blair with his crazed right eye and George W Bush with his black prisons and torture and lunatic "war on terror". And that wretched man who lived – or lives still – in an Afghan cave and the hundreds of al-Qa'idas whom he created, and the one-eyed mullah – not to mention all the lunatic cops and intelligence agencies and CIA thugs who failed us all – utterly – on 9/11 because they were too idle or too stupid to identify 19 men who were going to attack the United States. And remember one thing: even if the Rev Terry Jones sticks with his decision to back down, another of our cranks will be ready to take his place.
"Indeed, on this grim ninth anniversary – and heaven spare us next year from the 10th – 9/11 appears to have produced not peace or justice or democracy or human rights, but monsters. They have prowled Iraq – both the Western and the local variety – and slaughtered 100,000 souls, or 500,000, or a million; and who cares? They have killed tens of thousands in Afghanistan; and who cares? And as the sickness has spread across the Middle East and then the globe, they – the air force pilots and the insurgents, the Marines and the suicide bombers, the al-Qa'idas of the Maghreb and of the Khalij and of the Caliphate of Iraq and the special forces and the close air support boys and the throat-cutters – have torn the heads off women and children and the old and the sick and the young and healthy, from the Indus to the Mediterranean, from Bali to the London Tube; quite a memorial to the 2,966 innocents who were killed nine years ago. All in their name, it seems, has been our holocaust of fire and blood, enshrined now in the crazed pastor of Gainesville."
Thursday September 9 2010
make it so
A Week of Proclamations
By Michael Moore
"Last week, President Obama addressed the nation, declaring the war in Iraq to be over and that combat troops were all home. Yesterday, two American soldiers were killed in Iraq -- by an Iraqi government soldier. This followed an attack on Sunday on a U.S. base in Baghdad. It all seemed a bit confusing to me because I always thought that when a President declares something, it's supposed to happen. Now I'm worried about the other proclamations Mr. Obama made this past week:
"Tuesday, August 31:
"Today, I am announcing that combat operations have ceased in Iraq. There will be no more combat. Combat is over. Done. Finished."
"Wednesday, September 1:
"I am here today to declare an end to global warming. Don't ask me how I did it. And there's no reason to look at thermometers or the polar ice caps anymore, because I just told you everything's great. Just send me another Nobel Peace Prize."
"Thursday, September 2:
"Today I am announcing there is no more unemployment in America. Everyone else just got a big raise and fantastic health coverage. And all 37 million outsourced jobs are back. (Don't ask your bosses about the raise tomorrow, they'll just be embarrassed.)"
"Friday, September 3:
"Today I am announcing that mosquitoes and all insects smaller than a centimeter will heretofore go away and stop biting hard working Americans." "
pakistan
The Great Pakistani Deluge Never Happened
Don't Tune In, It's Not Important
By Juan Cole
"The Great Deluge in Pakistan passed almost unnoticed in the United States despite President Obama's repeated assertions that the country is central to American security. Now, with new evacuations and flooding afflicting Sindh Province and the long-term crisis only beginning in Pakistan, it has washed almost completely off American television and out of popular consciousness.
"Don't think we haven't been here before. In the late 1990s, the American mass media could seldom be bothered to report on the growing threat of al-Qaeda. In 2002, it slavishly parroted White House propaganda about Iraq, helping prepare the way for a senseless war. No one yet knows just what kind of long-term instability the Pakistani floods are likely to create, but count on one thing: the implications for the United States are likely to be significant and by the time anyone here pays much attention, it will already be too late.
"Few Americans were shown -- by the media conglomerates of their choice -- the heartbreaking scenes of eight million Pakistanis displaced into tent cities, of the submerging of a string of mid-sized cities (each nearly the size of New Orleans), of vast areas of crops ruined, of infrastructure swept away, damaged, or devastated at an almost unimaginable level, of futures destroyed, and opportunistic Taliban bombings continuing. The boiling disgust of the Pakistani public with the incompetence, insouciance, and cupidity of their corrupt ruling class is little appreciated.
"The likely tie-in of these floods (of a sort no one in Pakistan had ever experienced) with global warming was seldom mentioned. Unlike, say, BBC Radio, corporate television did not tell the small stories -- of, for instance, the female sharecropper who typically has no rights to the now-flooded land on which she grew now-ruined crops thanks to a loan from an estate-owner, and who is now penniless, deeply in debt, and perhaps permanently excluded from the land. That one of the biggest stories of the past decade could have been mostly blown off by television news and studiously ignored by the American public is a further demonstration that there is something profoundly wrong with corporate news-for-profit. (The print press was better at covering with the crisis, as was publically-supported radio, including the BBC and National Public Radio.)"
military r us
Will Our Generals Ever Shut Up?
The Military's Media Megaphone and the U.S. Global Military Presence
"To grasp the changing nature of military influence domestically, consider the military's relationship to the media. Its media megaphone offers a measure of the reach and influence of that behemoth, what kinds of pressures it can apply in support of its own version of foreign policy, and just how, under its weight, the relationship between the civilian and military high commands is changing.
"It's true that, in June, the president relieved Afghan War commander General Stanley McChrystal of duty after his war-frustrated associates drank and mouthed off about administration officials in an inanely derogatory manner in his presence -- and the presence of a Rolling Stone magazine reporter. ("Biden?... Did you say: Bite Me?") But think of that as the exception that proves the rule.
"It's seldom noted that less obvious but more serious -- and egregious -- breaches of civilian/military protocol are becoming the norm, and increasingly no one blinks or acts. To take just a few recent examples, in late August commandant of the Marine Corps General James Conway, due to retire this fall, publicly attacked the president's "conditions-based" July 2011 drawdown date in Afghanistan, saying, "In some ways, we think right now it is probably giving our enemy sustenance."
"Or consider that, while the Obama administration has moved fiercely against government and military leaking of every sort, when it came to the strategic leaking (assumedly by someone in, or close to, the military) of the "McChrystal plan" for Afghanistan in the fall of 2009, nothing at all happened even though the president was backed into a policy-making corner. And yet, as Andrew Bacevich pointed out, "The McChrystal leaker provid[ed] Osama bin Laden and the Taliban leadership a detailed blueprint of exactly how the United States and its allies were going to prosecute their war."
"Meanwhile, Chairman of the Joint Chiefs of Staff Admiral Mike Mullen, on a three-day cross-country "tour" of Midwestern business venues (grandiloquently labeled "Conversations with the Country"), attacked the national debt as "the most significant threat to our national security." Anodyne as this might sound, with election 2010 approaching, the national debt couldn't be a more political issue.
"There should be, but no longer is, something startling about all this. Generals and admirals now mouth off regularly on a wide range of policy issues, appealing to the American public both directly and via deferential (sometimes fawning) reporters, pundits, and commentators. They and their underlings clearly leak news repeatedly for tactical advantage in policy-making situations. They organize what are essentially political-style barnstorming campaigns for what once would have been "foreign policy" positions, and increasingly this is just the way the game is played."

america the beautiful
more flying pigs
I have pictures of my grandkids flying pigs posted.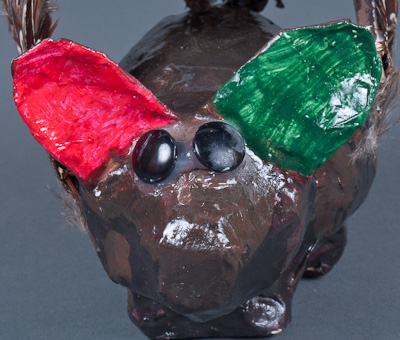 Evan's (age 6) flying pig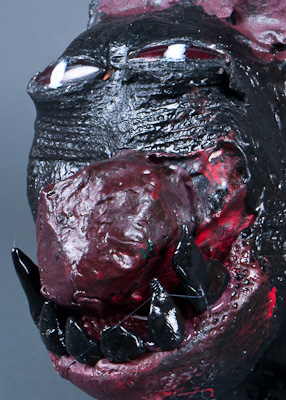 Mike's (age 10) dragon flying pig

Robyn's (age 11) camouflaged flying pig
even more happy labor day!
Happy Fuckin' Labor Day!
by Michael Moore
"Dear Rahm Emanuel:
"Happy Fuckin' Labor Day! I read this week that — according to a new book by Steven Rattner, your administration's former "Car Czar" — during White House meetings about how to save the tens of thousands of jobs that would be lost if GM and Chrysler collapsed, your response was, "Fuck the UAW!"
"Now, I can't believe you actually said that. Maybe Rattner got confused because you drop a lot of F-bombs, or maybe your assistant was trying to order lunch and you said (to Rattner) "Fuck you" and then to your assistant "A&W, no fries."
"Or maybe you did mean Fuck the UAW. If so, let me give you a little fucking lesson (a lesson I happen to know because my fucking uncle was in the sit-down strike that founded the fucking UAW).
"Before there were unions, there was no middle class. Working people didn't get to send their kids to college, few were able to own their own fucking home, nobody could take a fucking day off for a funeral or a sick day or they might lose their fucking job.
"Then working people organized themselves into unions. The bosses and the companies fucking hated that. In fact, they were often overheard to say, "Fuck the UAW!!!" That's because the UAW had beaten one of the world's biggest industrial corporations when they won their battle on February 11, 1937, 44 days after they'd taken over the GM factories in Flint. Inspired by their victory, workers struck almost every other fucking industry, and union after union was born. Had World War II not begun and had FDR not died, there would have been an economic revolution that would have given everyone — everyone — a fucking decent life.
"Nonetheless labor unions did create a middle class for the majority (even companies that didn't have unions were forced to pay at or near union wages in order to attract a workforce) and that middle class built a great country and a good life. You see, Rahm, when people earn a fucking good wage, they spend it on stuff, which then creates more good paying jobs, and then the middle class grows fucking big. Did you know that back when I was a kid if you had a parent making a union wage, only one parent had to work?! And they were home by 3 or 4pm, 5:30 at the latest! We had dinner together! Dad had four weeks paid vacation. We all had free health and dental care. And anyone with decent grades went to college and it didn't fucking bankrupt them. (And if you ever used the F-word, the nuns would straighten you out in ways that even you couldn't bear to hear about).
"Then a Republican fired all the air traffic controllers, a Democrat gave us NAFTA and millions of jobs were moved overseas (hey, didn't you work in that White House, too? "Fuck the UAW, baby!"). Unions got scared and beaten down, a frat boy became president and, like a drunk out of control, spent all our fucking money and our children's money, too. Fuck."
happy labor day!
The Great Jobs Depression Worsens, and the Choice Ahead Grows Starker
"The Great Jobs Depression continues to worsen.
"The Labor Department reports this morning that companies created ony 67,000 new jobs in August. That's down from the 107,000 they created in July. And because the government laid off temporary Census workers, the economy as a whole lost 54,000 jobs.
"To put this into perspective, we need 125,000 net new jobs a month just to keep up with the growth of the population and the potential workforce.
"Think of it this way. The number of Americans willing and able to work but who cannot find a job hasn't stopped growing since the start of 2008. All told, about 22 million Americans are now jobless. Add in those who are working part-time who'd rather be working full time, and we're up to 25 million."



Why the Big Lie About the Job Crisis?
"The August unemployment numbers are ugly, yet again. Nearly 30 million Americans are still jobless or forced into part-time jobs. The Bureau of Labor Statistics official unemployment rate is 9.6%. It's borader and more telling jobless rate (U6) of 16.7% confirms that we're stuck in our own version of the Great Depression. We'll need more than 22 million new jobs to bring us back to full-employment. Happy Labor Day.
"To get out of this quagmire we'll have to face up to two fundamental facts:
"1. We really are in the midst of a horrific jobs crisis. All the happy talk about the economy being on the road to recovery is just plain old denial. We'll never find jobs for all the people who desperately need them until we recognize that this employment crisis poses a clear and present danger to our republic. Modern capitalist societies require full employment. When we don't have it for long periods of time, chaos ensues. What's missing in Washington is a sense of urgency. Denial is dangerous -- and an insult to the unemployed."