war r us
" "War is peace" was one of the memorable slogans on the facade of the Ministry of Truth, Minitrue in "Newspeak," the language invented by George Orwell in 1948 for his dystopian novel 1984. Some 60 years later, a quarter-century after Orwell's imagined future bit the dust, the phrase is, in a number of ways, eerily applicable to the United States.
"Last week, for instance, a New York Times front-page story by Eric Schmitt and David Sanger was headlined "Obama Is Facing Doubts in Party on Afghanistan, Troop Buildup at Issue." It offered a modern version of journalistic Newspeak.
" "Doubts," of course, imply dissent, and in fact just the week before there had been a major break in Washington's ranks, though not among Democrats. The conservative columnist George Will wrote a piece offering blunt advice to the Obama administration, summed up in its headline: "Time to Get Out of Afghanistan." In our age of political and audience fragmentation and polarization, think of this as the Afghan version of Vietnam's Cronkite moment.
"The Times report on those Democratic doubts, on the other hand, represented a more typical Washington moment. Ignored, for instance, was Wisconsin Senator Russ Feingold's end-of-August call for the president to develop an Afghan withdrawal timetable. The focus of the piece was instead an upcoming speech by Michigan Senator Carl Levin, chairman of the Armed Services Committee. He was, Schmitt and Sanger reported, planning to push back against well-placed leaks (in the Times, among other places) indicating that war commander General Stanley McChrystal was urging the president to commit 15,000 to 45,000 more American troops to the Afghan War.
"Here, according to the two reporters, was the gist of Levin's message about what everyone agrees is a "deteriorating" U.S. position: "[H]e was against sending more American combat troops to Afghanistan until the United States speeded up the training and equipping of more Afghan security forces."
"Think of this as the line in the sand within the Democratic Party, and be assured that the debates within the halls of power over McChrystal's troop requests and Levin's proposal are likely to be fierce this fall. Thought about for a moment, however, both positions can be summed up with the same word: More.
"The essence of this "debate" comes down to: More of them versus more of us (and keep in mind that more of them -- an expanded training program for the Afghan National Army -- actually means more of "us" in the form of extra trainers and advisors). In other words, however contentious the disputes in Washington, however dismally the public now views the war, however much the president's war coalition might threaten to crack open, the only choices will be between more and more.
"No alternatives are likely to get a real hearing. Few alternative policy proposals even exist because alternatives that don't fit with "more" have ceased to be part of Washington's war culture. No serious thought, effort, or investment goes into them. Clearly referring to Will's column, one of the unnamed "senior officials" who swarm through our major newspapers made the administration's position clear, saying sardonically, according to the Washington Post, "I don't anticipate that the briefing books for the [administration] principals on these debates over the next weeks and months will be filled with submissions from opinion columnists... I do anticipate they will be filled with vigorous discussion... of how successful we've been to date." "
music
Watch the feet of Barbara Dennerlein on this video. She plays a Hammond B3 organ and plays her own bass lines. Amazing stuff. This is just her and a drummer.
the end of what is left of democracy
Why is it that a comedy show is the only show that covers something like this. The Supreme Court is going to rule on how much corporations are people which would let them give as much money to political campaigns as they want. It goes back to a bogus 19th century Supreme Court ruling saying that corporations are people. These are both a must watch.
And be sure to read the comments on this from Hullabaloo:
Only A Comic Can Inquire Into Such Madness
"The Colbert Report last night featured one of the most subversive and brutally honest half-hours of television in recent memory. It's a sad commentary that it takes a comedy program to provide more news and information on one of the most critical subjects in American politics that anywhere else in our broken media and political landscape, but I'll take this argument wherever I can get it. Colbert spent two full segments of his show focusing on the Citizens United Supreme Court case, which could - and probably will - lead to deregulating the entire campaign finance process, allowing corporations to give unlimited money to any candidate of their choosing. This severe step backwards with enormous implications has been barely discussed in any traditional media setting, but Colbert went after it vigorously, discussing the consequences and even the flawed legal rationale, a true third rail of American politics, corporate personhood. Colbert explained that the 1886 case (Santa Clara v. Southern Pacific Railroad) that conferred 14th Amendment equal protection rights onto corporations wasn't even in the original ruling. But when the Chief Justice made an off-hand comment that the Court wouldn't hear an argument on whether the 14th Amendment applied to these corporations (saying, "We are all of the opinion that it does"), the court reporter wrote it into the ruling opinion, and the precedent has held ever since. And that reporter of the Supreme Court didn't only have ties to the railroad barons, he used to run one.
"These are subjects you just never hear about in the American media, precisely because the American media is owned by giant multinational corporations, who benefit from the corporate personhood rule and would stand to benefit more from deregulating elections so they could use their "speech" to buy candidates and fund their own with unlimited resources. And despite being on a Viacom-owned network, Colbert says, skewering the immorality and psychopathology of the corporation, "Corporations are legally people... they do everything people do, except breathe, die, and go to jail for dumping 1.3 million pounds of PCBs into the Hudson River." "
astronomy
The Hubble Space Telscope has been tweaked and is making better images than ever.
Tuesday September 15 2009
economy
It's been a year since Lehman Brothers went under. The underlying problems have not been dealt with and situation is worse.
Reality Receding
By James Howard Kunstler
"Now that everybody in the USA, from the janitors in their man-caves to the president addressing congress, has declared the "recession" over, is exactly the moment when what's left of the so-called economy is most likely to implode. If there were still shoeshine boys on Wall Street, they'd be starting their own hedge funds now, and CNBC's Larry Kudlow would be toasting them in the Grill Room of The Four Seasons. What we've seen in the vaunted rally for the last six months is the triumph of wishing over facts, combined with the most arrant market manipulation by floundering banks backstopped by a panicked government -- all pounding sand down a rat-hole of hopeless non-performing debt, while pretending that the machinery of capital finance still grinds on.
"Despite what a few elderly Mr. Naturals may say about abolishing "capitalism," we're not going to have an advanced economy without a coherent banking system, and by advanced economy I mean one in which the lights stay on. By coherent I mean a system that is able to deploy accumulated wealth for productive purposes, in the service of continuing civilization. (And, yes, I know that the followers of Daniel Quinn are not so sure that civilization is worth the trouble, but unless you support the killing-off of about six billion humans right away, things on Earth are not favorably disposed just now for a return to hunting-and-gathering.)
"I would hasten to cut through the fog of despair to reassert -- for the thousandth time -- that a true American perestroika is possible, if the public could overcome the plague of cognitive dissonance sweeping the land and form a consensus for action that comports with reality's agenda. But that is looking less and less likely. Instead, what we see is a rush into delusion, seasoned with grievance and gall. Spectacles like last weekend's march on Washington don't happen for no reason, of course. From where I sit, the uproar can be attributed to comprehensively bad American leadership, a crisis in authority and legitimacy that has left a functional vacuum in every executive office throughout the land -- from the White House to the state houses, to the lairs of the CEOs, to the towers of the deans and department chairs, to the glitzy sets of the nightly news deliverers, to the makeshift quarters of the NGO chiefs. In former times, clueless and impotent leaders stuck their heads in the sand. Nowadays, with pandemic narcissism abroad in the land, the heads are more usually inserted into the aperture that leads into the large bowel...."
Stiglitz Says Banking Problems Are Now Bigger Than Pre-Lehman
"Joseph Stiglitz, the Nobel Prize- winning economist, said the U.S. has failed to fix the underlying problems of its banking system after the credit crunch and the collapse of Lehman Brothers Holdings Inc.
" "In the U.S. and many other countries, the too-big-to-fail banks have become even bigger," Stiglitz said in an interview today in Paris. "The problems are worse than they were in 2007 before the crisis." "
Priceless: How The Federal Reserve Bought The Economics Profession
"The Federal Reserve, through its extensive network of consultants, visiting scholars, alumni and staff economists, so thoroughly dominates the field of economics that real criticism of the central bank has become a career liability for members of the profession, an investigation by the Huffington Post has found.
"This dominance helps explain how, even after the Fed failed to foresee the greatest economic collapse since the Great Depression, the central bank has largely escaped criticism from academic economists. In the Fed's thrall, the economists missed it, too.
" "The Fed has a lock on the economics world," says Joshua Rosner, a Wall Street analyst who correctly called the meltdown. "There is no room for other views, which I guess is why economists got it so wrong." "
misc
Friday and Monday were landmarks for gordy's camera straps. I shipped 177 camera straps. 112 of them were for a new reseller customer in Macau. They went out Friday. It was a busy week and weekend for Kim (my faithful helper) and I trying to keep up. Strap orders are back to normal. But that could change. I have two more resellers (one in Singapore and one in San Francisco) that I am negotiating with.

a mom and her boy's
Weekend before last my brother Mark was in town. We haven't seen him for 6 years and all the kids haven't been together much longer than that. We got together with my Mom for a group picture. My sister Madelane couldn't make it down. Zoe took this wonderful picture. From the left: Your Humble Servant, Mark, Roger, and Terry. That short one would be our Mom. She had a heart attack a couple of weeks ago and the tests showed a degenerative heart condition. Not good but Mom was in great spirits and a good time was had by all. The sons and Zoe retired to the local International House of Pancakes for a late lunch/early dinner and the general merriment continued, particularly when Zoe dumped the butter in Roger's lap.
My son-in-law William has been in Afghanistan. He sent some pictures.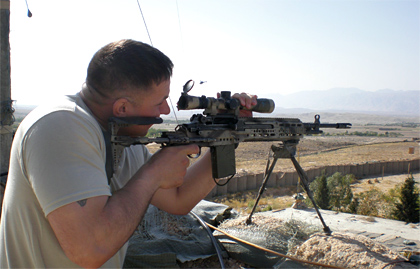 William looking out the front gate of his base through an M14 sniper rifle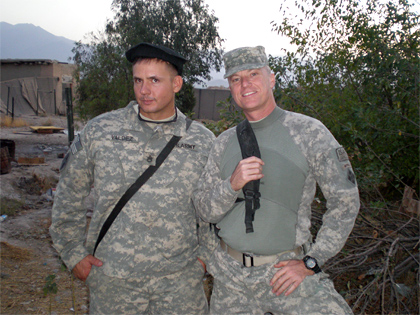 William and the LEP (Law Enforcment Professional) going to
an iftar (what Afghans call dinner when its Ramadan) and
William is wearing an Afghani hat called a pakhool (phonetic)
He is going to send pictures handing out pencils and notebooks to the kids. The kids go crazy over pencils and paper. We are going to send a bunch his way.