Archives
Let me extend Benny Morris's logic (G2, October 3) in arguing that if the ethnic cleansing of the Palestinians in 1948 had been complete, there might have been peace today in the Middle East. If the Nazi programme for the final solution of the Jewish problem had been complete, for sure there would be peace today in Palestine.
Prof Baruch Kimmerling
Hebrew University, Jerusalem
Facism
Talking to Your Kids About Fascism
I have two wonderful, beautiful teenage kids. We talk pretty frankly about those things all parents need to chat with their children about: drugs and sex, personal safety and all. Lately I've felt it necessary to talk with them aboutwell, you know, the f-word. Fascism. Not at the dinner table, where my lovely wife would much prefer to confine the conversation to classical music or the new car. But to them one-on-one, quietly, in their rooms, with the music turned down. [read more]
America's Cup
Victory Challenge Serves Notice While OneWorld Pulls Away
The Swedish team drew blood from Stars & Stripes and Prada earned its first point on Day Three.
The OneWorld Challenge from Seattle continued its early run, becoming the only team to post three wins in the first three days of racing by beating the GBR Challenge who lost their second race of the Louis Vuitton Cup. Wight Lightning also became the first boat to pick up a penalty when it collided with OneWorld shortly before the start. [read more]
Wet work on the bow of OneWorld.
Tomorrow is a bye for OneWorld, while the other eight race. OneWorld races Dennis Connor's Stars and Strips next.
Music
A SEARCH FOR GLENN GOULD
Chapter IV from B. W. Powe's The Solitary Outlaw
When Glenn Gould died, October 14, 1982, his reviews, conversations, and polemics were scattered in magazines and journals. I myself had kept track of his writings through a clippings file. These pieces were in no particular order and were disconnected in the styles and voices Gould used to lure or offend. Even in this format, his literary work had a vital and mysterious air that made me hunger to put the gatherings into an intelligible whole. [read more]
thanks to wood s lot
--------
I first discovered this site about five years ago. Now I have rediscovered it. Yes, McGuinn is that Byrd guy. He was giving music away, on the web, in 1995.
The purpose of this page is to use the medium of the World Wide Web to continue the tradition of the folk process, that is the telling of stories, and singing of songs, passed on from one generation to another by word of mouth.
In this electronic era, such a process is in danger of being overwhelmed by the commercial mass media. This page and others on the 'net are working to preserve the folk songs that have chronicled our global heritage for centuries.
In the Folk Den there will be a "new" folk song uploaded every month as a "Global Community Service." [read more]
thanks to MetaFilter
American Empire
The president's real goal in Iraq
This war, should it come, is intended to mark the official emergence of the United States as a full-fledged global empire, seizing sole responsibility and authority as planetary policeman. It would be the culmination of a plan 10 years or more in the making, carried out by those who believe the United States must seize the opportunity for global domination, even if it means becoming the "American imperialists" that our enemies always claimed we were. [read more]
thanks to Cursor
----------
Leaders craft Iraq resolution
Wide backing seen for Bush
President Bush and top congressional leaders yesterday agreed on a revised resolution that would allow the use of military force against Iraq, a compromise that appeared headed for congressional approval next week, despite continuing criticism from some lawmakers that Bush would have too much leeway to wage a preventive war. [read more]
thanks to JOHO the blog
The comments on this travesty by our congressional "leadership", in JOHO the blog, say it better than I could...
According to the "compromise" the Congress has worked out with the Bush adminstration "limiting" Bush's ability to wage war against Iraq, "The president would also be required to inform Congress in advance of a military strike or no later than 48 hours after the attack," reports the Boston Globe.
Two days after Bush has started bombing Bhagdad he's going to have to mention it to Congress? Wow, that's strict! Maybe he can just write a letter to the editor in The Washington Post to let them know that he's started a war.
At least this opens up a new alternative power source: attach generators to the Founding Fathers as they spin in their graves. [read more]
----------
Byrd Asks Senate to Deny Bush Blank Check
In one of his most impassioned speeches during his 50 years in Congress, Sen. Robert C. Byrd, D-W.Va., pleaded with fellow senators on Thursday not to issue a "blank check" to President George W. Bush.
"The president is using the Oval Office as a bully pulpit to sound the call to arms. But it is from Capitol Hill that such orders must flow. The people, through their elected representatives, must make that decision," Byrd said.
Quoting Roman historian Titus Livius, Byrd called Bush "blind and improvident....
"As sure as the sun rises in the east, we are embarking on a course of action with regard to Iraq that, in its haste, is both blind and improvident. We are rushing into war without fully discussing why, without thoroughly considering the consequences, or without making any attempt to explore what steps we might take to avert conflict." [read more]
Byrd has been here before. He voted for the Gulf of Tonkin Resolution and he isn't going to make that mistake again. Here we go again.
----------
Robert Fisk: Nato used the same old trick when it made Milosevic an offer he could only refuse
It's the same old trap. Nato used exactly the same trick to ensure that it could have a war with Slobodan Milosevic. Now the Americans are demanding the same of Saddam Hussein – buried well down in their list of demands, of course. Tell your enemy that you're going to need his roads and airspace – with your troops on the highways – and you destroy his sovereignty. That's what Nato demanded of Serbia in 1999. That's what the new UN resolution touted by Messrs Bush and Blair demands of Saddam Hussein. It's a declaration of war. [read more]
----------
From their perch in Washington, President Bush and his advisers seem to have convinced themselves that an invasion will proceed easily because many Iraqis will dance in the streets to welcome American troops. That looks like a potentially catastrophic misreading of Iraq [read more]
Ethnobotany
One River : Explorations and Discoveries in the Amazon Rain Forest
Richard Evans Schultes was arguably this century's foremost botanist. He was the father of ethnobotany, the study of indigenous peoples' knowledge and use of plants. He inadvertently inspired the 1960's drug culture with his scholarly writings on natural hallucinogens. When Japanese troops overran the world's rubber supply in Southeast Asia, Schultes, through his research on wild rubber trees in the Amazon, found himself central to the Allied war effort. Davis, one of Schultes's most devoted students, recounts the stories of his voyages along hundreds of miles of forested rivers, his near-fatal encounters with rapids and disease, his collaboration with Amazon shamans, and his dealings with people from the unsavoury to the sublime -- including a Nazi sympathiser, a heroically faithful native assistant, and the cult figures Timothy Leary and William Burroughs. [read more]
thanks to abuddhas memes
Bugs
This site aims to help you really see insects for the miniature marvels they represent and to understand how intertwined our cultures have become with these alien creatures.
[read more]
thanks to Spitting Image
Economy
My Economic Plan
By PAUL KRUGMAN
Although other news has been drowned out by the barking of the dogs of war, something ominous is happening on the economic front. It's not dramatic, but month by month the numbers keep coming in worse than expected. Let's put politics completely aside for once, and review where we are and what should be done.
The key point is that this isn't your father's recession — it's your grandfather's recession. That is, it isn't your standard postwar recession, engineered by the Federal Reserve to fight inflation, and easily reversed when the Fed loosens the reins. It's a classic overinvestment slump, of a kind that was normal before World War II. And such slumps have always been hard to fight simply by cutting interest rates. [read more]
Comics
The Big Chickenhawk
George W. Bush Military Record — and Recent Behavior (1980, 1990, and 2000) Pertaining to Military Records
In these days of guys who never fought in Vietnam advocating a tricky engagement in Iraq, it is interesting to see what George W. Bush did in the military, how he misrepresented it, and what's been done recently to make sure no one notices. Mr. Bush, whose permission to fly was revoked by the military (he was suspended, assigned to a disciplinary unit and not allowed to fly military assignments again) liked to portray himself to voters as a "fighter pilot." But his embellishments didn't stop there: [read more]
thanks to BookNotes
America's Cup
The second day of racing in the Louis Vuitton Cup brought real drama to the contest with upset results in two matches overturning the form books. Pre-regatta favourites, Alinghi of Switzerland, fell to OneWorld Challenge in a cliffhanger and the defending champions, Prada, were handily beaten by Team Dennis Conner. [read more]
OneWorld Challenge (foreground) and Alinghi
I will be posting on the America's Cup. The America's Cup doesn't start until February 15 of next year, but the racing for the challenger has begun. There are 9 boats competing for the Louis Vuitton Cup, which determines the challenger for the Kiwi boat. There will be two round robins, where each boat will race all the other boats in match races. Each round robin will have 9 days of racing. Then the top 8 boats will go into the quarter-finals, then four boats to the semi-finals, and two boats to the finals. (See the race schedule.) Each win in the round robins scores a point which determines placement in the quarter finals.
My interest is in OneWorld Challenge, which is a Seattle boat. If they should win this America's Cup, the next America's Cup would be sailed in my back yard. It would be either Admiralty Inlet, which borders on Whidbey Island (where I live), or the Strait of Juan de Fuca. There have been two days of racing and OneWorld has won both her races. (See the race results.) Go OneWorld!
Republican and Democracy seem to be mutually exclusive terms
G.O.P. Asks Supreme Court to Void Ruling on Torricelli
Rebuffed by their own top state court, New Jersey Republicans appealed to the United States Supreme Court today to overturn a ruling that allowed Democrats to replace Senator Robert G. Torricelli's name on the Nov. 5 ballot. [read more]
----------
Talking Points Memo has a couple of good posts on this.
The money quote from the New Jersey Supreme Court ballot case came from Justice Peter G. Verniero, a former Chief Counsel, Chief of Staff and later Supreme Court appointee of former Governor Christie Whitman. "Didn't Mr. Forrester call for Mr. Torricelli to withdraw?" he said in response to a protesting Republican attorney during oral arguments. "Was he expecting to run unopposed?"
That about sums it up. [read more]
----------
Nothing sounds quite so tinny as self-righteous indignation. Until you come to Republican self- righteous indignation. [read more]
----------
Joe Conason has some good comments.
Joe Conason's Journal
New Jersey's crybaby Republicans should try to campaign on the issues.
Running to the justices who put Bush in the White House makes Forrester look like an utter weenie. He should stand up and fight. And he shouldn't be too confident that Rehnquist and company will favor him. They may not want historians to record that this court tried to give Republicans control of the Senate as well as the White House. [read more]
----------
Water
Perils of Capitalism? Think Water Distribution
by Molly Ivins
Hayes worked himself up into a fine lather of indignation because "Moyers spends much of his time pointing out the conflicts-of-interest of those in government and corporate America." Some would call that journalism, but it was not the inanity of the attack on Moyers that stopped me. It was this sentence, which Hayes stuck in to show how far-left he thinks Moyers is: "Moyers used water rights in Bolivia as an illustration of the perils of capitalism."
Gasp! Gosh, how awful! I happened to see that piece, and indeed it was pretty much about the perils of capitalism in relation to the distribution of water. The perils are here, now, and affect every human being on the planet. The situation in Cochabamba, Bolivia, where the American firm Bechtel bought the public water utility and then doubled prices, led to a general strike and transportation stoppage, mass arrests, violence and several deaths. You don't have to assume that a corporation like Enron Corp. might get into the water business: Enron was in the water business. [read more]
Jokes
Revealed: the funniest joke in the world
The world's funniest joke was unveiled by scientists today at the end of the largest study of humour ever undertaken. [read more]

Radical Israeli in u-turn on Palestinians
The radical Israeli historian who did more than any other to force his country to face up to its responsibility for the displacement of hundreds of thousands of Palestinians in the 1948 war now believes the Middle East might be at peace if David Ben-Gurion had expelled all the Palestinians.
In an about-turn that will horrify his former Iiberal allies, Benny Morris argues in the Guardian that "perhaps, had [Ben-Gurion] gone the whole hog, today's Middle East would be a healthier, less violent place, with a Jewish state between Jordan and the Mediterranean and a Palestinian Arab state in Transjordan". He adds: "Perhaps it was the very indecisiveness of the geographic and demographic outcome of 1948 that underlies the persisting tragedy of Palestine." [read more]
This, and Benny's article below, make it clear that Zionism has always argued for the destruction and ethnic cleansing of the Palestinians. I don't see how the Jews can say that Hitler's ethnic cleansing of the Jews was an abomination while the Jew's ethnic cleansing of the Palestinians would make for a better world. There is no difference. Both are unacceptable.
----------
A new exodus for the Middle East?
Rightwing Israelis are talking about 'transfer' - the expulsion of all Arabs. Shocking as it sounds, the idea once had support from British and Arab officials, reveals distinguished Israeli historian Benny Morris. And, continuing our series on the Arab-Israeli conflict, he argues the Middle East might now be at peace if Israel's first leader had driven out all the Palestinians in 1948 [read more]
----------
Israeli Court Sentences Jewish Terrorist to 'Symbolic" Six-Month House Arrest
An Israeli court on Thursday sentenced a prominent Jewish terrorist to merely a six-month house arrest.
The terrorist, Noam Fiderman, was found guilty on several charges, including possessing and providing bombs to other terrorists, conspiring to place bombs in Arab schools in East Jerusalem, throwing steel balls on Arab pedestrians in Hebron, causing severe injuries, vandalizing Arab property, and planning to burn down Arab businesses near the Ibrahimi Mosque in Hebron. (...)
Earlier this month, the former Israeli attorney –General Michale Ben-Yaer admitted that Israel was adopting the system of apartheid in the occupied Palestinian territories. [read more]
----------
Palestinian Indicts Israel at Trial
Marwan Barghouti, a prominent leader of the Palestinian uprising, distributed his own 54-count "indictment" of Israel during his murder trial in an Israeli court Thursday, as scuffles erupted between Palestinian spectators and families of Israeli victims. [read more]
Remember Enron?
Well, apparently the government investigators haven't forgotten.
Case Against Fastow Points Higher
Complaint Seen as Foundation for Prosecution of Top Enron Executives
The criminal complaint filed yesterday against Andrew S. Fastow focuses on his role as the architect of the financial engineering that led to the failure of Enron Corp. But the details of the charges also aim the investigation at other key figures atop the corporate hierarchy [read more]
----------
Charges Against Ex-Enron Official Unveil Some Ugly Truths
The criminal complaint filed today against Enron's former chief financial officer lays bare an ugly truth about what was once the country's seventh-largest corporation. During the years it was celebrated for its ingenuity, Enron was fundamentally mismanaged, entering into absurd business deals that could be hidden from the marketplace only by manipulations the government now says were crimes. [read more]
Of Blogs
About blogs — what Tom says...
Knowledge - real, felt, patient, hard won, unassumable, unmanageable, creative knowledge - is like that man's vine collection, a rich, unique thing, won by one slightly lunatical lover, dizzy from his anomalous glimpses into the secret life of his beloved. [read more]
thanks to wood s lot
Economy
The Roaring Nineties
As the chairman of Bill Clinton's Council of Economic Advisers, and subsequently as the chief economist of the World Bank during the East Asian financial crisis, Joseph Sitglitz was deeply involved in many of the economic-policy debates of the past ten years. What did this experience tell him? That much of what we think we know about the prosperity of the 1990s is wrong. Here is a revised history of the decade, by the winner of the 2001 Nobel Prize in Economics [read more]
----------
Dealing With W
By PAUL KRUGMAN
Americans paid a lot of attention to Japan in the 1980's, when Japanese manufacturers were conquering the world. Remember when airport bookstores were filled with management tomes bearing samurai warriors on their covers? Then Japan's bubble burst, and most Americans concluded that we had nothing to learn from Japan — except how a country can stumble when it lacks adequate business and political leadership. And we, of course, don't have that problem.
Or do we? Jack Welch's gut is starting to look as overrated as those business samurai. And our political leadership doesn't exactly inspire confidence. In fact, lately I've started to have a truly depressing thought: Bad as Japan's policy has been, it's possible that the United States will do even worse. [read more]
A Really Nice Guy
Michael Palin: The nice man cometh
Michael Palin gets a warm smile wherever he goes – and he's gone around the globe and from pole to pole. His transition from the charming Python to the gung-ho English explorer has been seamless, but what does he do when he gets home? And is he ever, ever nasty to anyone?
Michael Palin is a really, really, really, really, really nice man. Everybody says so. Even his wife says so. "Michael," she is reputed to have once said, "if you get any nicer I shall have to leave you." He is, it is also often said, "the nicest living Englishman". Which he would dispute, in fact. Not, it turns out, because he isn't really (x5) nice, but because there are others who are nice, too. "Gary Lineker is very nice. And so is Cliff Richard. I'm not sure I like being singled out for niceness. Terry Jones is also very nice. His wife gets terribly upset when anyone refers to me as nice. She'll call up and say: 'But my husband is perfectly nice, too'." [read more]
----------
With palinstravels.co.uk we've created a way to offer you almost instant access to every corner of Palin's travels. In words and pictures. No bombarding with ads, no spam on toast, just the Palin product, taken apart and put together again, for you to use however you want. Palin's Travels is not just a website, it's a whole new window on the world. [read more]
thanks to wood s lot
Smallpox
THE DEMON IN THE FREEZER
How smallpox, a disease of officially eradicated twenty years ago, became the biggest bioterrorist threat we now face.
THE smallpox virus first became entangled with the human species somewhere between three thousand and twelve thousand years ago -- possibly in Egypt at the time of the Pharaohs. Somewhere on earth at roughly that time, the virus jumped out of an unknown animal into its first human victim, and began to spread. Viruses are parasites that multiply inside the cells of their hosts, and they are the smallest life forms. Smallpox developed a deep affinity for human beings. It is thought to have killed more people than any other infectious disease, including the Black Death of the Middle Ages. It was declared eradicated from the human species in 1979, after a twelve-year effort by a team of doctors and health workers from the World Health Organization. Smallpox now exists only in laboratories.
Smallpox is explosively contagious, and it travels through the air. Virus particles in the mouth become airborne when the host talks. If you inhale a single particle of smallpox, you can come down with the disease. After you've been infected, there is a typical incubation period of ten days. During that time, you feel normal. Then the illness hits with a spike of fever, a backache, and vomiting, and a bit later tiny red spots appear all over the body. The spots turn into blisters, called pustules, and the pustules enlarge, filling with pressurized opalescent pus. The eruption of pustules is sometimes called the splitting of the dermis. The skin doesn't break, but splits horizontally, tearing away from its underlayers. The pustules become hard, bloated sacs the size of peas, encasing the body with pus, and the skin resembles a cobbled stone street. [read more]
thanks to MetaFilter
Drawings
The New York Review of Books is pleased to present this gallery of work by the artist David Levine, whose brilliant caricatures have graced the Review's pages since 1963. (...)
This gallery contains nearly 2,000 illustrations by David Levine, from 1963 to the present. Here you'll find presidents and poets, composers and scientists—from Achebe, Agnew and Albee to Zapata, Zola and Zyuganov.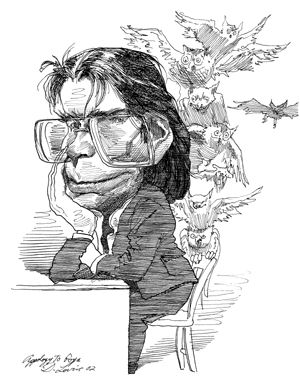 [read more]
thanks to Travellers Diagram
Non-violence
Woman in silent stand against Klan
Supremacist group ends Bowling Green rally moments later
Laquetta Shepard, a diminutive 24-year-old black woman from Louisville with tears in her eyes, stepped into the middle of a group of about five Ku Klux Klan supporters yesterday.
She said nothing.
But the fact that Shepard, a senior at Western Kentucky University, was there with her arms crossed as she stood in silence, brought what was billed as a major Klan rally to a halt 40 minutes earlier than planned. [read more]
thanks to Travellers Diagram

Check out the latest issue of Tikkun...
Seven Pillars of Jewish Denial
I am thinking about American Jews, wondering why so many of us have trouble being critical of Israel. I faced this difficulty myself when I first went to Israel in 1971. I was an ardent Zionist, intending to spend my life on a kibbutz in the Galilee and to become an Israeli citizen. Back home, before leaving, I argued almost daily with my mother, an extreme left wing radical, about the Jews' right to a homeland in our historical and therefore inalienable setting. However, once established on my kibbutz on the Lebanese border, I began to notice things that disrupted my complacency.
[read more]
----------
Loving the Jewish Community Means Supporting Justice
Supporting justice in the current crisis in the Middle East is not easy. The issues are painful for any Jew to face. Criticizing Israel comes at a huge emotional cost for all of us who were raised to love her. And when we do, we meet a wall of denial, hostility, and rage. Yet if we truly love Israel and the Jewish people, we must speak and act against the policies of the Israeli government.
[read more]
----------
Looking Behind Ha'aretz's Liberal Image
by Ran HaCohen
A new Israeli web-site, supported by two major settlers' sites from the West Bank and Gaza Strip, is dedicated to the holy cause of "encouraging and supporting the employment of Jews only". It is already listing dozens of Israeli firms that do not employ "Gentiles". In the first months of the Intifada, Israeli racists initiated a boycott of Arab shops and restaurants; now, employment of Arabs is targeted. Let's keep the inevitable historical analogies for another time; the point I want to make now is, that most of you haven't heard of this web-site. Right?
The site is neither confidential nor is it my discovery: I simply read about it in the Hebrew Ha'aretz a few days ago (24.9.02). But most of you could not. Why? Because this item was left out of Haaretzdaily.com, the English version of Ha'aretz.
Is this a mistake? An exception? No it is not. Ha'aretzdaily.com is not a full translation of the Hebrew paper; it's a selection. It often omits certain items, certain columns, that Ha'aretz does not find "suitable" for foreign eyes, like the report I just mentioned. [read more]
----------
Manufacturing Anti-Semites
by Uri Avnery
The first Israeli victim of Saddam Hussein is a Zionist myth on which we were brought up.
It stated that Israel is a haven for all the Jews in the world. In all the other countries, Jews live in perpetual fear that a cruel persecutor will arise, as happened in Germany. Israel is the safe haven, to which Jews can escape in times of danger. Indeed, this was the purpose of the Founding Fathers when they established the state.
Now Saddam comes along and proves the opposite. All over the world, Jews live in safety, and only in one place on the planet are they threatened by annihilation: Israel. Here the national parks are prepared for mass-graves, here (pathetic) measures against biological and chemical weapons are prepared. Many people are already planning to escape to the communities in the Diaspora. End of a myth. [read more]
----------
Roll Call of 322 Children Killed in the Intifada
In the bloody violence of the Israeli-Palestinian war, the most tragic victims are the very young, now considered 'fair game'
by Robert Fisk
In one of its most shocking reports on the Israeli-Palestinian war, Amnesty International today condemns both sides in the conflict for their "utter disregard" for the lives of children – 250 of them Palestinian and 72 Israeli – who have been killed over the past year.
In a 29-page report containing some of the most painful evidence amassed on child-killing in the occupied territories and Israel, the organization blames Israel for "excessive and disproportionate use of lethal force" and "reckless shooting" in residential areas, and Palestinians for "direct and indiscriminate attacks", including suicide bombings. [read more]
Cars
Taste makers were asked to send in a picture of themselves and the wheels they love.
Wim Wenders, filmmaker, Audi A2
thanks to Travellers Diagram
It's amusing to see what kind of vehicles designers and artists drive and ride. What struck me are two cars that you don't see in this country — the Audi A2 and the Mercedes SmartCar. They're teeny little suckers that get great gas mileage. What a silly thing in the country of giant SUVs.
----------
This is a nice article about a nice car and worth reading. But what struck me was in the middle of the article.
By contrast, the Chevrolet Cavalier, a fairly fuel- efficient car, has been significantly redesigned only once since 1982. Despite a low list price of $14,900, G.M. has for years been forced to offer a rebate on the Cavalier to keep it selling in volume, which it must do to help the company meet government Corporate Average Fuel Economy standards while it continues to sell large volumes of thirsty trucks and sport utility vehicles. During this same period, the Accord has been back to the drawing board for total makeovers six times. (...)
What may ultimately be troublesome for domestic carmakers is their decisions to pour resources into making ever-larger trucks and S.U.V.'s and to acquire foreign companies in lieu of regaining competitiveness in the car market. Mary Anne Keller, a longtime industry analyst, says that as a result of its choices, the American auto industry is in danger of flat-lining.The 1990's were a gift from God to the American auto industry, and they didn't take advantage of it. They should have made vehicles that were competitive. Instead, the American response has been to do what they always did: make it wider, make it faster, make it heavier. It was almost as though they gave up on cars entirely.'' [read more]
thanks to Travellers Diagram
If our upcoming oil grab should backfire in the least, our domestic car companys will have nothing to sell that anyone can afford to drive. It will be the mid-70s all over again with high gas prices and the American car companys will be toast.
He's baaaaack!
[read more — lots more!]
TestingTesting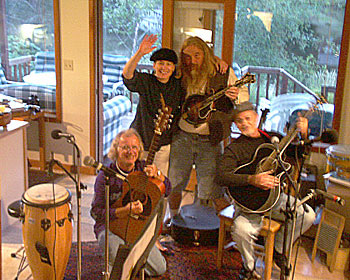 Last night's show with James Bernhard was an evening of blues. I've listened to the whole show about 4 times today. Great show.

TestingTesting
TestingTesting is tonight! We will have the return of Jim Bernhard, with some nice blues and new songs. His show is always good. We will be webcasting from my living room and I hope you will click on in, listen, and enter your comments in our guestbook so that I can read them to the musicians. The do so like it when there is someone out there listening. Send some guestbook applause.
I will be busy getting ready for the show and then archiving it, so the posts will be meager over the next couple of days but I'm sure there is plenty below to amuse and horrify you.
Metaphorically speaking, of course.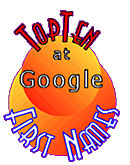 This is a sad day. I am retiring the Top Ten First Names at Google award I had awarded myself. Searching for Gordon used to bring up my weblog anywhere from the 8th to the 12th position. Lately, it has been pretty steady at 9th. Then those bastards at Google apparently changed their ranking algorithm and I've dropped to 47th.
I feel so inadequate.
Warren Zevon
Joseph Deumer, at reading & writing, has a Warren Zevon review...
There's room for you and me . . . Warren Zevon has known from the start that hell is where they play rock & roll. In this, as well as in his romanticism, he resembles the great eighteenth century poet William Blake: "Good is the passive that obeys Reason. Evil is the active springing from Energy."
Hell is only half full
Room for you and me
Looking for a new fool
Who's it gonna be?
It's the dance of Shiva
It's the Debutantes Ball
And everyone will be there
Who's anyone at all
Monkey wash donkey rinse
Going to a party in the center of the earth
Honey, don't you want to go? [Zevon / Aldrich] [read more]
Here is the archive of another Warren Zevon post.
Don't Sweat the Small Stuff
Nikon's Small World Gallery
2002 Competition Prize Winners
[read more]
Comics
America's Cup
The racing starts October 1 for the Louis Vuitton Cup, which determines the challenger to race the Kiwis. I didn't realize it was that close. There will be a Seattle boat!
America's Cup: Seattle's OneWorld crew ready to make a splash
More art with letters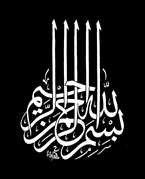 This site is dedicated to the authentic art of Arabic calligraphy and to two prominent calligraphers, Kamel and Mokhtar El Baba.
[read more]
thanks to Monkey Media Report
Monkey Media Report
The wonderful Lettrisme links below are via Todd Morman at Monkey Media Report. Check out his 9.27.02 post on Franklin Graham. You will have to scroll down — he doesn't have permalinks.
He also has a post (9.26.02 — scroll down) on someone I was unfamiliar with — Chucho Valdes and his sometimes band Irakere. Rhapsody has 3 Chucho Valdes albums and three Irakere albums. A *great* jazz pianist. Not many at his level. Check out the links and listen.
TestingTesting
It's been a busy two weeks and the pictures for the last TestingTesting are finally up. Check them out.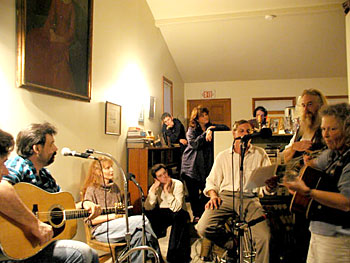 The next TestingTesting is Monday night.
More Lettrisme
The links I posted below on Lettrisme made a big impresion on me.
I am running Windows 2000 but not it's interface. I use Winstep's NextStart and WorkShelf. They're based on the NeXT GUI and work very well for me. They just sit on top of Windows and are skinned. I wanted to change the trash can graphic and started playing around with the Lettrisme idea. I made the full and empty trash cans out of letters. Then I attacked the clock face using numerals, lower case "o"s, and periods. The clock and trash can graphics float on the desktop when you open the program and task launcher dock and can be arranged where you want. Winstep inserts the clock hands and date. You can control their placement relative to the clock graphic as well as the font for the date. Here are a couple of screen shots of the clock and trash can together — one empty and one full. I think I will call this piece Regulator.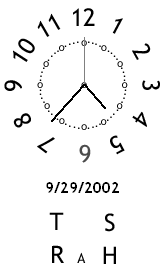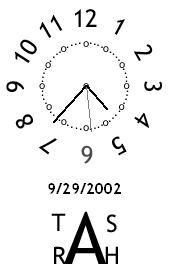 You can waste the good part of a day on things like this.
It's getting late and I'm fading. I have some more juicy links for you but they will just have to wait till later. Hint — they are from the guy that did the mefi post below. With a little imagination you can find them yourself or you can wait. It will be worth it.
And don't forget — Monday night is another TestingTesting. It will be a blues show. More info later.
Nighty night.
Lettrisme
A MetaFilter post...
Is this poetry? How about this, this or this? They're all examples of visual or concrete poetry, which has a long history. The modern version grew out of Lettrisme and helped give birth to the worldwide mail art movement. Two leading visual poets, Uruguayan activist Clemente Padin and Argentinian Edgardo Vigo, both had serious run-ins with dictators during the 1970s. The huge Sackner Archive of Concrete and Visual Poetry puts gem after gem at your fingertips. Another great collection: Brazilian Visual Poetry. [more inside] [read more]
The text above is chock full of links (in the original mefi post) that you must check out. They relate to an art movement I knew nothing about. This stuff is amazing. Those wild and crazy French!
The most immediately striking feature of Lettrisme as a form of visual poetry is its extensive use of calligraphic techniques and the invention not only of fluid letter forms, but of new and ever changing letters themselves. This can move into surprising areas, such as painting directly on cinematic film and then projecting it as a movie. And it can extend into everything from furniture design (see particularly Alain Satié's work elsewhere at this site) to architecture. Lettrisme always carries the individual artist's personal hand, the workman's most basic signature, in all its productions, providing not only a critique of industrial society but suggestions for humanizing it. From its early stages, superimposing letters on various objects, and on other letters, has been important, and the art has at times been called hypergraphie. In many surprising ways, it foreshadowed layering and other computer techniques that hadn't yet been invented, and even characteristics of world wide web graphics.
The End of Print
The above example is from a collection that is one amazing image after another — Sackner Archive of Concrete and Visual Poetry
Economy
Grim Tidings Seen in Measly U.S. Yields
So with Treasury yields hitting fresh historic lows almost every day, more and more bond analysts are concluding that the U.S. economy is in for a far longer spell of poor performance than economists generally assume.
These strategists are even making unsavory comparisons between the United States' current troubles and the decade-long stretch of economic stagnation and eventual deflation that followed Japan's own bursting stock market bubble. [read more]
American Empire
Agency disavows report on Iraq arms
The International Atomic Energy Agency says that a report cited by President Bush as evidence that Iraq in 1998 was "six months away" from developing a nuclear weapon does not exist.
"There's never been a report like that issued from this agency," Mark Gwozdecky, the IAEA's chief spokesman, said yesterday in a telephone interview from the agency's headquarters in Vienna, Austria. [read more]
thanks to BookNotes
----------
Not again
Tomorrow thousands of people will take to the streets of London to protest against an attack on Iraq. Here, the distinguished Indian writer Arundhati Roy argues that it is the demands of global capitalism that are driving us to war
Recently, those who have criticised the actions of the US government (myself included) have been called "anti-American". Anti-Americanism is in the process of being consecrated into an ideology. The term is usually used by the American establishment to discredit and, not falsely - but shall we say inaccurately - define its critics. Once someone is branded anti-American, the chances are that he or she will be judged before they're heard and the argument will be lost in the welter of bruised national pride.
What does the term mean? That you're anti-jazz? Or that you're opposed to free speech? That you don't delight in Toni Morrison or John Updike? That you have a quarrel with giant sequoias? Does it mean you don't admire the hundreds of thousands of American citizens who marched against nuclear weapons, or the thousands of war resisters who forced their government to withdraw from Vietnam? Does it mean that you hate all Americans?
This sly conflation of America's music, literature, the breathtaking physical beauty of the land, the ordinary pleasures of ordinary people with criticism of the US government's foreign policy is a deliberate and extremely effective strategy. It's like a retreating army taking cover in a heavily populated city, hoping that the prospect of hitting civilian targets will deter enemy fire.
There are many Americans who would be mortified to be associated with their government's policies. The most scholarly, scathing, incisive, hilarious critiques of the hypocrisy and the contradictions in US government policy come from American citizens. (Similarly, in India, not hundreds, but millions of us would be ashamed and offended, if we were in any way implicated with the present Indian government's fascist policies.)
To call someone anti-American, indeed, to be anti-American, is not just racist, it's a failure of the imagination. An inability to see the world in terms other than those that the establishment has set out for you: If you don't love us, you hate us. If you're not good, you're evil. If you're not with us, you're with the terrorists. [read more]
----------
get your war on — page fourteen
IMPORTANT NOTE: We recently uncovered these classic "Get Your War On" cartoons in the attic. They were made in the 1980s, when we were young and naive. The drawings, grammar, and typography of these early strips are a little crude, but they offer valuable context for recent exciting news developments!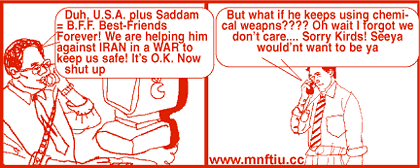 get your war on — page fifteen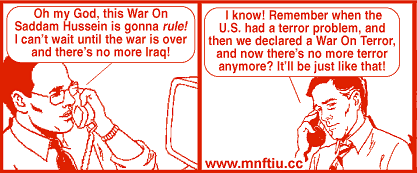 thanks to Robot Wisdom
----------
WAR CRY
By Ted Rall
Making the case for United Nations intervention against the United States, Iranian President Mohammad Khatami told the organization yesterday that military action will be "unavoidable" unless the U.S. agrees to destroy its weapons of mass destruction.
In a much-anticipated speech to a special session of the U.N. General Assembly held in Brussels, Khatami launched a blistering attack against American leader George W. Bush, accusing him of defying U.N. resolutions and using his country's wealth to line the pockets of wealthy cronies at a time when the people of his country make do without such basic social programs as national health insurance. [read more]
WYSINWYG (What You See Is Not What You Get)
I said "No Way!" I copied it into Photoshop and checked the RGB values of square A (107, 107, 107) and square b (107, 107, 107). They are the same, there is no doubt about it — Photoshop wouldn't lie. Anyone want to get into a discussion on reality?
thanks to enthusiasm

Urgent warning by Israeli Academics
The Israeli government may be contemplating crimes against humanity
We, members of Israeli academe, are horrified by US buildup of aggression towards Iraq and by the Israeli political leadership's enthusiastic support for it.
We are deeply worried by indications that the "fog of war" could be exploited by the Israeli government to commit further crimes against the Palestinian people, up to full-fledged ethnic cleansing. [read more]
thanks to American Samizdat
----------
Ariel Sharon's Secret Plan to Remove Palestinians From Israel
Israel's hard-line prime minister, Ariel Sharon, has ordered his defence forces to prepare to drive "hundreds of thousands" of Palestinians on the West Bank over the border into Jordan.
Jordanian intelligence chiefs say the operation will commence on the day the forthcoming United States conflict starts against Iraq.
Sharon believes that will give him "a just excuse" to remove the Palestinians – as they would then pose what he has called "a totally unacceptable threat to the safety of Israel". [read more]
thanks to American Samizdat
----------
Israeli siege of Arafat 'is killing peace hope'
President George Bush has said he wants a "two-state solution", where a Palestinian state is recognised alongside Israel, as part of a final peace agreement. But, in remarks that were scathingly critical of Ariel Sharon's government yesterday, Mr Larsen said the siege had eroded the Palestinian Authority so much that "we're moving in the direction of state destruction and not state- building". [read more]
----------
Cabinet decides to end Muqata siege; IDF to remain in Ramallah
A team of senior cabinet ministers, headed by Prime Minister Ariel Sharon, met Sunday in Jerusalem, and decided to end the siege of Palestinian Authority chairman Yasser Arafat's Ramallah headquarters.
The team, which included Foreign Minister Shimon Peres, Defense Minister Benjamin Ben-Eliezer and Chief of Staff Moshe Ya'alon, announced that the troops currently stationed around the compound will withdraw, but will remain close by to ensure that the wanted terror suspects inside the Muqata do not escape.
Any wanted suspected who leaves the compound will be arrested, but those not appearing on the IDF's list of wanted men will be allowed to leave. [read more]
Who are they kidding? "We're moving back 20 feet! The seige is over!" Maybe I'm missing something. I can't see the difference between the seige and the seige being over.
----------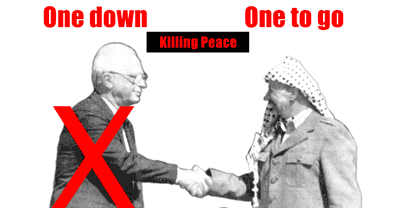 thanks to Gush Shalom
----------
Congress passes Jerusalem bills
The U.S. Congress last week passed proposals that would define Jerusalem as the capital of the state of Israel, increase support for Israel, and impose estriction on aid to Lebanon and the Palestinians. These decisions are incorporated in the State Department's budget law, and require President Bush's authorization.(...)
James Zogby, president of the Arab American Institute, said: "At this most dangerous time in our relations with the Arab world Congress displays a disturbing cavalier attitude, putting American interests in grave danger."
Zogby also said "it will be put us at risk and all because a few sought political advantage." [read more]
Who the fuck gave Congress the power to declare what city is going to be the capital? And those bozos wonder why they hate us.
Smart Mobs
If you want to find out how emerging technologies are going to affect society and individuals, ask Howard Rheingold. A former editor of Whole Earth Review and the founding editor of HotWired, Howard has written a string of astonishingly prescient books about the ways in which technology impacts the way we live. His 1984 book, Tools for Thought, foresaw the personal computer revolution years before most people had even touched a keyboard. In 1991, Virtual Reality introduced the idea of computer-generated worlds to popular culture. In 1993, before the World Wide Web had taken off, Howard wrote The Virtual Community, which looked at the ways in which groups of people interact online.(...)
TF: What are smart mobs?
HLR: Smart mobs are groups of people who use mobile communications and pervasive computing to organize collective actions in new ways. [read more]
thanks to weblogsky
----------
Smart Mobs
A Website and Weblog about Topics and Issues discussed in the book
Smart Mobs: The Next Social Revolution by Howard Rheingold
thanks to Politics in the Zeros
----------
I fell into the computer realm from the typewriter dimension, then plugged my computer into my telephone and got sucked into the net.
Rheingold is an interesting dude. He's one of those people that sees, and participates in, cultural changes when they are in their infancy. He also paints his shoes. I discovered his painted shoe page in 1995. I e-mailed him on shoe painting technique and he responded with encouragement. However, my shoes were a brand new pair of Docs and I couldn't bring myself to paint them. Those Docs are pretty worn out and don't get worn much anymore. Maybe it's time to get out the paint.
Howard's shoes