Archives
iraq
Now we are killing anyone that moves. Iraq has become a free fire zone. This is Vietnam all over again. Only this time I don't think the rest of the world is going to let us get away with it. They can see that we are endangering the entire world. We are behaving like a mad dog, willing to kill anyone that gets in our way. It will not end well — for anyone.
Investigative Journalist Seymour Hersh Spills the Secrets of the Iraq Quagmire and the War on Terror

There was more - rumors of atrocities around Iraq that to Hersh brought back memories of My Lai. In the evening's most emotional moment, Hersh talked about a call he had gotten from a first lieutenant in charge of a unit stationed halfway between Baghdad and the Syrian border. His group was bivouacking outside of town in an agricultural area, and had hired 30 or so Iraqis to guard a local granary. A few weeks passed. They got to know the men they hired, and to like them. Then orders came down from Baghdad that the village would be "cleared." Another platoon from the soldier's company came and executed the Iraqi granary guards. All of them.

"He said they just shot them one by one. And his people, and he, and the villagers of course, went nuts," Hersh said quietly. "He was hysterical, totally hysterical. He went to the company captain, who said, 'No, you don't understand, that's a kill. We got 36 insurgents. Don't you read those stories when the Americans say we had a combat maneuver and 15 insurgents were killed?'

"It's shades of Vietnam again, folks: body counts," Hersh continued. "You know what I told him? I said, 'Fella, you blamed the captain, he knows that you think he committed murder, your troops know that their fellow soldiers committed murder. Shut up. Complete your tour. Just shut up! You're going to get a bullet in the back.' And that's where we are in this war."

The story seemed to leave Hersh sincerely, deeply saddened. While his critics may call him a "muckraker" and unpatriotic, on Friday night it was obvious that Hersh takes the crumbling of America's image, very, very personally.

"My parents were immigrants," Hersh said. "They came here because America meant something...the Statue of Liberty and all that stuff, because America always was this bastion of morality and integrity and a place for a fresh start. And it's right in front of us, not hidden, that they've taken this away from us."


[more]
US military responds to Fallujah video
It's an incident which seems to epitomise the brutal nature of modern urban warfare.
| | | |
| --- | --- | --- |
| | An American fighter pilot using the most advanced and lethal technology to attack a group of Iraqis in a street in Fallujah all caught on the aircraft's own camera and shown on Channel 4 News earlier this week. | |
[more]
The article has stills of this atrocity. The next link has the video.
New 'Liberation Video' Shows Fallujah Bombing Massacre



Scott Ritter: If you had seen what I have seen
The inspection process was rigged to create uncertainty over WMD to bolster the US and UK's case for war



Hans Blix: If you had seen what I have seen
Hans Blix Will President Bush apply the lessons from Iraq to Iran, Libya and North Korea?



Future generations will struggle to escape the legacy of the disaster in Iraq

Can we escape? Can we one day say--both the West and the peoples of the Middle East--"Enough! Let us start again!'' I fear we cannot. Our betrayals and our broken promises--to Jews as well as Arabs--have created a kind of irreversible disease, something that will not go away and cannot and will not be forgiven for generations.

Look, for example, how we egged on Saddam to invade Iran in 1980, how we patronised him for eight terrible years with export credits and guns and aircraft and chemicals for gas. Looking back now, we were doing something else. By supporting Saddam's war, we were helping an entire generation of Iraqis to learn to fight--and die.

I called up my old friend Tony Clifton in Australia this week. He and I reported the 1980-88 Iran-Iraq war from both sides. "Just think,'' he said. "All these millions of Iraqis were taught about how to fight a big army. They used to use their tanks as static positions with just their gun barrels pointing over the earth to stop the Iranians. But they weren't allowed to use their initiative. But now Saddam has gone and all those lieutenants and captains are older and can use their initiative and their fighting abilities against the Americans. I think that's why the resistance in Iraq is so successful.''

I suspect that Clifton is right, and that the eight-year war with Iran which we were so keen on is intimately connected to the current insurgency and the savagery with which it is being conducted by the Iraqi gunmen and suicide killers.

And what of the Americans themselves? I've been re-reading Seymour Hersh's stunning 1970 account of the My Lai massacre in Vietnam. And there's something about the casual attitude to death and cruelty in the way that Medina and Calley did their killings there that I find chillingly familiar.

The Americans have a professional army in Iraq, but it is becoming frighteningly casual about the way it kills women and children in Fallujah, simply denying that its air strikes are killing the innocent, and insists that all 120 dead in their Samarra operation are all insurgents when this cannot possibly be true. What about the latest wedding party carnage, another American "success" against terrorism? Because journalists can scarcely travel in Iraq any more, there is no longer any independent witness to this awful war. What is going on in Ramadi and Hilla and all the other cities where US forces carry out their brutal raids?

Tony Blair still thinks his hideous invasion was not a mistake. He still seems to believe in his own version of The Great War for Civilisation, just as my father once believed in it. And now I wonder what terrors this disaster holds in store for our future generations, who will also ask themselves if they can escape from history.


[more]
movies
Truth Stranger Than 'Strangelove'

"Dr. Strangelove," Stanley Kubrick's 1964 film about nuclear-war plans run amok, is widely heralded as one of the greatest satires in American political or movie history. For its 40th anniversary, Film Forum is screening a new 35 millimeter print for one week, starting on Friday, and Columbia TriStar is releasing a two-disc special-edition DVD next month. One essential point should emerge from all the hoopla: "Strangelove" is far more than a satire. In its own loopy way, the movie is a remarkably fact-based and specific guide to some of the oddest, most secretive chapters of the Cold War.

As countless histories relate, Mr. Kubrick set out to make a serious film based on a grim novel, "Red Alert," by Peter George, a Royal Air Force officer. But the more research he did (reading more than 50 books, talking with a dozen experts), the more lunatic he found the whole subject, so he made a dark comedy instead. The result was wildly iconoclastic: released at the height of the cold war, not long after the Cuban missile crisis, before the escalation in Vietnam, "Dr. Strangelove" dared to suggest - with yucks! - that our top generals might be bonkers and that our well-designed system for preserving the peace was in fact a doomsday machine.

What few people knew, at the time and since, was just how accurate this film was. Its premise, plotline, some of the dialogue, even its wildest characters eerily resembled the policies, debates and military leaders of the day. The audience had almost no way of detecting these similiarities:Nearly everything about the bomb was shrouded in secrecy back then. There was no Freedom of Information Act and little investigative reporting on the subject. It was easy to laugh off "Dr. Strangelove" as a comic book.

But film's weird accuracy is evident in its very first scene, in which a deranged base commander, preposterously named Gen. Jack D. Ripper (played by Sterling Hayden), orders his wing of B-52 bombers - which are on routine airborne alert, circling a "fail-safe point" just outside the Soviet border - to attack their targets inside the U.S.S.R. with multimegaton bombs. Once the pilots receive the order, they can't be diverted unless they receive a coded recall message. And 0nly General Ripper has the code.


[more]
If you've never seen this movie — do. Trust me on this.

Don't Believe a Word
by Uri Avnery

When Ariel Sharon announced his plan for "unilateral disengagement," the media reported that the Peace Now movement was preparing a big public campaign in support. The Prime Minister's office asked them to desist, fearing that such a campaign would cause the extreme right to oppose it.

Peace Now was not the only "leftist" group that waxed enthusiastic about the plan. The chiefs of the Labor Party declared that it was really their own plan and that, therefore, it was their duty to join the government and help Sharon to implement it.

I was one of the very few who immediately raised their voice against the plan. I argued that it was really a right-wing plan for annexing most of the West Bank, burying the peace process and deceiving public opinion in Israel and abroad.

I was certain of this, because I know Sharon. I have been watching the man for 50 years and have written three biographical essays about him. I know what he thinks, and I know how he operates.

Now Dov Weisglass has confirmed everything I said and more. In an interview with Ha'aretz, he stated that the sole aim of the plan was to "freeze" the peace process. The real purpose of the "disengagement" is to block negotiations with the Palestinians for dozens of years and to prevent any discussion about the West Bank, while at the same time extending the Israeli settlements in a way that will put an end to any possibility of a future Palestinian state.


[more]
Israel could become pariah state, warns report

Israel is set on a collision course with the EU and could turn into a pariah state, on a par with South Africa during the apartheid years, if the conflict with the Palestinians is not resolved, Israel's foreign ministry has warned.

In a confidential 10-year forecast obtained by the Associated Press, the ministry's Centre for Political Research said the EU is pushing to become a major global player in the next decade, and that as a result the US, Israel's main ally, could lose international influence. If the 25-member EU overcomes internal divisions and speaks in one voice, its global influence would grow considerably, and be more in line with its powerful economy, analysts wrote. Europe is Israel's major trading partner.


[more]
photography
| | | |
| --- | --- | --- |
| | As economic development takes top priority in China's national policies, the country has changed, and its people have changed even more. Everyone appears full of aspiration and seems satisfied with the achievements of reform and rapid development, which are expressed in the Chinese slogan, "One change a year, one big change in three years, and one unidentifiable transformation in five years." Capitalism has "modernized" our formerly agricultural country. In the last two decades, the economic reform has witnessed significant achievements-for example, being selected to host the 2008 Summer Olympic Games and China's entry into the World Trade Organization, both of which bring it into much closer contact with other countries. This rich contemporary China provides me with a huge resource for artistic inspiration. To sing highly of this new, sweeter-than-honey life of glory, I use theatrical techniques and let the camera narrate true and understandable contemporary stories. | |

Follow me
[more]
thanks to lens culture weblog
middle east
Middle Eastern powder keg
by Helena Cobban

The post I put up here yesterday was not optimally organized. That's one problem of having to work over a very slow internet connection... Anyway, the latter half of it included some observations about the precariousness of the geostrategic situation all the way from Lebanon to Afghanistan that I think are worthy of having their own separate post. So here, lightly re-edited, they are (again).

What I can say, just sitting here with my eyes and ears open and thinking about this complex region of the world, is that the regional situation seems fairly dangerous and potentially explosive. One reason is that all the competing forces are suddenly so deeply intermingled all the way from here to Afghanistan...


[more]
photography
I forgot who turned me on to this. It's a photography magazine with a blog. Worth watching.
lens culture
Photography and Shared Territories
[more]
fascism
David Neiwert's series on the rise of fascism in this country continues. A must read.
The Rise of Pseudo Fascism
Part 4: The Apocalyptic One-Party State

"We don't want to get rid of all liberals. I want to keep a couple, for example, on every major U.S. college campus so that we never forget who these people are."
-- Rush Limbaugh

When confronted with eliminationist fantasies like Limbaugh's, mainstream conservatives are quick to say that it's just intended as humor. (As though suggesting we eliminate about half the country were something to joke about.)

But as Phillip Miller has observed, there's a deeper resonance to these kinds of "jokes":

Or when they say things that are sort of Nazi-like, which many of them do. When Limbaugh says, for example, don't kill all the liberals so we can have some around for display, you can't help but think of the Nazis, where they wanted to kill all the Jews and then have a Jewish Museum that people could go and look at.

And that was Hitler's particular interest.

That's what I thought of right away when I read that. There are a lot of instances where their rhetoric reminds you of Nazi rhetoric.


This is how pseudo-fascism works: It's not real fascism. A real fascist would speak explicitly of rounding up liberals and sending them off to concentration camps. Pseudo-fascists don't; they offer instead a pale imitation that only hints at such action. And then they claim it's just a joke.

The real problem with this is that a lot of other movement conservatives say the same sort of thing -- and no one thinks for a moment they're joking.


[more]
photography
In my search for information on Russian rangefinders I discovered:
There is an active forum on Russian rangefinders as well as other rangefinder types and rangefinderness in general. Good stuff. Another time waster. If you like rangefinders. I do.
environment
Climate fear as carbon levels soar
Scientists bewildered by sharp rise of CO2 in atmosphere for second year running

An unexplained and unprecedented rise in carbon dioxide in the atmosphere two years running has raised fears that the world may be on the brink of runaway global warming.

Scientists are baffled why the quantity of the main greenhouse gas has leapt in a two-year period and are concerned that the Earth's natural systems are no longer able to absorb as much as in the past.


[more]
Arizona's shrinking lake provides a stark warning to America's thirsty west

An unexpected sight greets the holidaymaker out for a gentle cruise on the 186-mile Lake Powell in Arizona. A mile or so upriver from the Glen Canyon dam stand red and green channel markers to guide those on the water. But the signs planted in the riverbank are of little use today: thanks to a drought which is entering its sixth year, the lake's water level has dropped by 40 metres (130ft), leaving the signs on each bank stranded at the top of a cliff.

Steve Ward, who works for a tourism company, steers his motorboat into a bay and points to an island across the sparkling blue water. "Normally we'd go across there to leave the bay," he says, "Right now we can't, because there's land in the way."

That land, like the many newly emerged beaches dotted around the lake, would normally be under 30 metres of water.

Lake Powell, the second largest reservoir in the US, which fills the canyons straddling the border between Utah and Arizona, is an important link in the chain of water supply drawn from the Colorado river. So the falling water levels are not just a story of a tourist attraction facing tough times, but an environmental problem that may have a fundamental impact on life in seven of the states of the western US, notably the thirsty states of California, Nevada, Arizona and New Mexico.


[more]
superman
Christopher Reeve, 'Superman' Star, Dies at 52
| | | |
| --- | --- | --- |
| | Christopher Reeve, the star of the "Superman" movies whose near-fatal riding accident nine years ago turned him into a worldwide advocate for spinal cord research, died Sunday of heart failure, his publicist said. He was 52. | |
[more]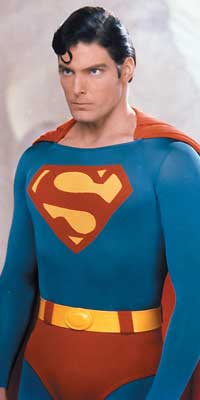 Christopher Reeve played a fake Superman in the movies. Christopher Reeve became a real Superman in his wheelchair. That became the most difficult role in his life and the one that provided inspiration for millions. That is the Superman that will be missed.
iraq

Is there anything at all left of the Bush administration's case for going to war in Iraq or, for that matter, the way it has been fought?

The answer seems increasingly doubtful given what appears to be an accelerating cascade of news, leaks and admissions by senior administration officials over the past several weeks.


[more]

It's not an if, it's a when.

Pentagon officials have indicated that they plan to send as many as 15,000 more troops to Iraq during the first four months of 2005, and President Bush continues to insist that "we will stay the course" until Iraq is stabilized.

Where will the additional troops come from? The Bush administration insists that there will be no draft, but the "backdoor draft" that has kept so many from the Reserve and National Guard on active duty has backfired, as quotas for new enlistments have not been met. So plans are already advanced for fully mobilizing the Reserve and National Guard.


[more]
For Marines, a Frustrating Fight
Some in Iraq Question How and Why War Is Being Waged

Scrawled on the helmet of Lance Cpl. Carlos Perez are the letters FDNY. After the Sept. 11, 2001, attacks on New York, the Pentagon and western Pennsylvania, Perez quit school, left his job as a firefighter in Long Island, N.Y., and joined the U.S. Marine Corps.

"To be honest, I just wanted to take revenge," said Perez, 20.

Now, two months into a seven-month combat tour in Iraq, Perez said he sees little connection between the events of Sept. 11 and the war he is fighting. Instead, he said, he is increasingly disillusioned by a conflict whose origins remain unclear and frustrated by the timidity of U.S. forces against a mostly faceless enemy.


[more]
thanks to daily KOS



A casualty of Bush's war
Veteran of Iraq war commits suicide
| | | |
| --- | --- | --- |
| | JEFFREY LUCEY is not a name that will not soon be forgotten by the more than 100 people who attended a memorial service for him at Holyoke Community College (HCC) in Western Massachusetts. Lucey, a Marine veteran of the Iraq war and a student at the college, committed suicide on June 22. He was 23. | |
[more]
thanks to Bad Attitudes
sculpture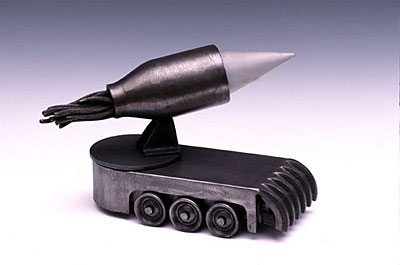 "Missile III "
Steel, Steel Cable, Cast Glass
9.5x16x6
[more]
thanks to J-Walk Blog


"The significance of our disengagement plan is the freezing of the peace process. It supplies the formaldehyde necessary so there is no political process with the Palestinians… effectively this whole package called a Palestinian state has been removed indefinitely from our agenda." Dov Weinglass, Prime Minister Sharon's bureau chief

The Israeli leadership is no longer interested is maintaining the façade that has accompanied 37 years of brutal colonial rule. Weinglass's remarks confirm that Sharon's unilateral "disengagement plan" from Gaza is really a scheme to prevent the establishment of a Palestinian state and to crush all hope of implementing the abortive Road map.

Weinglass's comments reinforce the belief that Israel never seriously entertained the idea of accepting the (internationally agreed upon) 1967 borders or of allowing a Palestinian state to take shape. The ruse of Oslo should now be strikingly apparent. For eight years during the "so-called" negotiations, Israel resisted the objectives of the plan; building more settlements and "Israeli only" roads, while pretending to the world that an honest effort was being made for peace. It was an Oscar winning performance choreographed in great part with friends in the United States.

Weinglass's remarks signal that there's no reason to pretend any longer. Sharon's plan has been tacitly endorsed by the Bush administration (despite Bush promises to assist the Palestinians in achieving statehood) emboldening Israel to continue marauding as they please.

"And all this with ... a presidential blessing," Weinglass beamed, acknowledging the implied support of the Bush administration.


[more]
thanks to Aron's Israel Peace Weblog



No Palestinian State, No Peace for America

Now we know the truth. Neither the Bush administration nor the Israeli government has any intention whatsoever of allowing the Palestinians to establish their own state.

That means, of course, that both have been lying, not only to the Palestinians but to the American people. It also means that there will be no end to the conflict in the Middle East no matter what we do. A peaceful, stable Middle East is an utter impossibility without justice for the Palestinians.


[more]
Days of Penitence
The Israeli Invasion of North Gaza

On Sept. 29th Members of the militant wing of Hamas fired a Qassam rocket across the Gaza border into the Israeli town of Sederot killing two small children. This is not the first time Hamas members have fired rockets into Israel, though it is one of the only times such an act has killed civilians. The Qassam strikes are largely symbolic attempts to send Israel the message that Palestinians will not acquiesce in the decades' old occupation of their land and Israel's long-term designs.

Besides being illegal and immoral since they target innocent civilians- these strikes are strategically stupid: They present Israel with the perfect pretext for carrying out its goals of grabbing more land, appropriating for itself all of the natural resources, and evicting and re-concentrating the indigenous population into isolated, overcrowded and militarily enclosed landed prisons. Sure enough, Israel has once again made cynical use of the terrible deaths of innocents by using them as an excuse to launch "Operation Days of Penitence," an open-ended massive military incursion into the northern Gaza Strip one that has likely been planned for months if not years.

Already, in just over a week, Israeli soldiers have killed nearly 100 people, many of them civilians and more than a quarter of them children. They have demolished the homes of dozens of families, torn up whole streets, wrecked businesses, uprooted trees, forced schools to close, cut off the water and electricity supplies to thousands of people, carried out air raids, extra-judicial killings and shut down the heavily fortified checkpoints within Gaza and along its borders preventing the flow of human and vehicular traffic. They have besieged the desperately overcrowded Jabalia refugee camp, a half square mile of land home to 106,000 people, taken control over the towns of Beit Hanoun and Beit Lahia in north Gaza, and are preventing international emergency aid organizations from distributing food, water and medical supplies. They intend to create a five mile "buffer zone" ostensibly to make the successful launching of Qassam rockets impossible but in effect annexing the northern Gaza Strip (including its illegal Jewish settlements) to Israel before "disengaging" itself from the Gaza Strip the latest euphemism for redeploying the Israeli Occupation Forces in and around Gaza "in exchange" for the annexation of yet more West Bank land to Israel.

In sum, Israel has created this latest humanitarian crisis in order to let an occupied, disinherited, and suffering people know who's boss and it is succeeding handily thanks to the help of its foremost champion. On Tuesday, 5 October 2005 the United States vetoed a United Nations' Security Council Resolution criticizing Israel's latest invasion of Palestinian land. Combined with the greater than usual absence of media coverage of this event, the US veto stops any further knowledge or discussion of the latest Israeli crime against Palestine.


[more]
thanks to Aron's Israel Peace Weblog
photography
[more]
This is from Kevin Bjorke:
The horse whip unfolds the human
| | | |
| --- | --- | --- |
| | The photos themselves are environmental portraits, shot large and detailed and printed luxuriously large by Epson's big machines (the gallery, is, after all, a sales space — one of the printers was parked in a corner). Jiang Jian has travelled through his regional countryside, photographing the poorest of farmers and their families in their homes. They are posed, shown no doubt as they themselves would like to appear, with their favorite goods in their favorite corner of home — the worn Mao figurines, the photos carefully torn from each month of a calendar and pasted to the walls, the newspaper clippings and car racing posters. A bit like some mad combination of Bill Owens Suburbia with Bee's meticulous post-soviet interiors, made possible by the relectless detail of the photos. The scale gives the subjects substance and immediacy — it's not possible to dismiss these people as simply "poor" or "charming" or any other convenient social catchall. Each person demands their own identity, and their environments each tell a detailed and captivating personal story. This is fantastic work and one has to wonder if it will reach a wider audience than the priveleged few in central Beijing, circa 2004. | |
[more]
war against some terrorists
Bombs in Taba, Multan, Baghdad Signal Failure of War on Terror

Three major bombs went off between the Nile and the Indus rivers on Thursday. Do they have anything in common, and what do they tell us about the world that Bush has made?

In Baghdad, guerrillas fired Katyusha rockets into the Sheraton Hotel, frequented by foreign contractors. They don't appear to have killed anyone, but we may be assured that they succeeded in their aim of scaring at least some of the contractors away from investing in the new Iraq.

In Multan, a Pakistani city in southern Punjab with a rich Shiite heritage, an unknown group attacked a gathering of radical Sunni Muslims early on Thursday with a car bomb, killing 40 and wounding dozens.
[...]

At the Egyptian resort town of Taba, car bombs collapsed ten floors of the Hilton Hotel, as well as hitting less upscale backpacker resorts. They killed at least 35 and wounded at least 160.
[...]

If we analyze these violent, destabilizing attacks, one thing becomes abundantly clear: The Bush administration is losing the war on terror. If, 3 years after September 11, Ayman al-Zawahiri can arrange for al-Qaeda to blow up yet another building, this time in Egypt, killing scores, that is a sign of failure. If an al-Qaeda-aligned group like the Army of the Prophet's Companions is permitted by the Pakistani state to gather freely in Multan, to blow up Shiite mosques, and to incur a violent Shiite counter-strike, that is a sign of failure. If radical Sunni groups, or ex-Baathists aligned with them, are able at will to fire Katyusha rockets into the Baghdad Sheraton at a time when the US has militarily occupied Iraq, that is a sign of failure.


[more]
photography
[more]
thanks to Conscientious
oil

In the first U.S. combat operation of the war in Iraq, Navy commandos stormed an offshore oil-loading platform. "Swooping silently out of the Persian Gulf night," an overexcited reporter for the New York Times wrote on March 22, "Navy Seals seized two Iraqi oil terminals in bold raids that ended early this morning, overwhelming lightly-armed Iraqi guards and claiming a bloodless victory in the battle for Iraq's vast oil empire."

A year and a half later, American soldiers are still struggling to maintain control over these vital petroleum facilities -- and the fighting is no longer bloodless. On April 24, two American sailors and a coastguardsman were killed when a boat they sought to intercept, presumably carrying suicide bombers, exploded near the Khor al-Amaya loading platform. Other Americans have come under fire while protecting some of the many installations in Iraq's "oil empire."

Indeed, Iraq has developed into a two-front war: the battles for control over Iraq's cities and the constant struggle to protect its far-flung petroleum infrastructure against sabotage and attack. The first contest has been widely reported in the American press; the second has received far less attention. Yet the fate of Iraq's oil infrastructure could prove no less significant than that of its embattled cities. A failure to prevail in this contest would eliminate the economic basis upon which a stable Iraqi government could someday emerge. "In the grand scheme of things," a senior officer told the New York Times, "there may be no other place where our armed forces are deployed that has a greater strategic importance." In recognition of this, significant numbers of U.S. soldiers have been assigned to oil-security functions.


[more]
$50-plus oil drags on economy
Record prices boost cost of heating oil, unnerve stock markets, and clip GDP growth.
photography
[more]
thanks to Street Photography mailing list
Many nice imges. He is also working on some photo blogging software.
economy
What if this, is as good as it gets?:
This is a boom people, and the economic numbers prove it.

I don't make the rules about business cycles, I just live in them. This is the Bush Boom. The numbers prove it, and this is not good news short term, but it offers the Democrats an unparalleled chance long term.

Let's start from jobless claims. dropping rapidly. And the spot cost of oil climbing rapidly.

What does that spell - hiring plus commodity inflation? That's right, this is the boom. This is where employers are going to be as loose as they like with hiring, where they are going to be crawling all over each other to add positions. In otherwords, we've missed the soft-landing, as Greenback and Burnbanke have decided to say "what the hell, we can always slam on the Breaks after the Louisiana run-off."

The signs of massive fiscal stimulus are everywhere in the economy - which means that the allocated but not spent Iraq money - which adds up to over 20 billion dollars - is right now being released. Cheney admitted that we have tens of billions of dollars of spending authority that has not been used. And you can bet it is being used now to put lipstick on the pig that is the American economy.

Even as late as they have done it has flushed oil prices up - remember oil going up is a trailing, not leading indicator of this stimulus - and demand, both here and in the countries we buy from, spirals upwards. Now if we had a sensible monetary and fiscal regime, this would not have happened.


[more]
photography
The Photography of Mario DiGirolamo
| | | |
| --- | --- | --- |
| | Mario DiGirolamo is a physician and scientist who has pursued his artistic muse with a camera for over 50 years. | |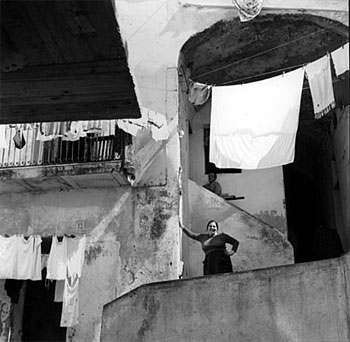 [more]
thanks to LensWork
fascism
Dave Niewert's must read series on our own fascism continues. More to come.
Part 3: The Pseudo-Fascist Campaign

Its whole purpose being the acquisition of raw power through any means necessary, the discrete "conservative movement" and its dealings can at times be extremely disorienting. The proliferation of Newspeak as a political propaganda strategy by the American right, in particular, has created a milieu in which up is down, wrong is right and ignorance is strength.

At times, is seems as if factuality has no real basis. Truth has no objective value; it is instead a mutable thing, readily manipulated through repetition of propaganda talking points.

Think back, if you will, to the 2000 election fiasco in Florida, resulting in the abominable Bush v. Gore ruling (whose continuing significance was recently limned in detail by Jeffrey Rosen of the New Republic). Al Gore, you may remember, chose -- instead of calling for an extralegal statewide manual recount, which would have been the fairest solution -- to follow Florida state law to the letter and filed for recounts in only a handful of given counties.

This led, of course, to Republicans claiming that Gore tried to "steal" the election by "cherry-picking" enough votes in a handful of counties. It's a popular meme that maintains a steady life on the right today.

But if Gore had chosen the other course -- calling for a statewide manual recount in all counties -- Republicans would have just as certainly attacked him for failing to follow the letter of Florida law.

The truth -- that Gore had legitimate reasons for following either course -- had no chance in this case. What mattered was that regardless of his choices, Republicans were prepared to accuse him of trying to "steal" the election.

Then, of course, they proceeded to march forth and steal the election themselves.


[more]
Part 1: The Morphing of the Conservative Movement



Part 2: The Architecture of Fascism
russian commie posters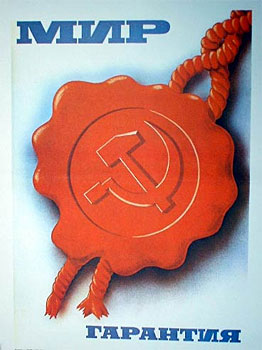 thanks to Coudal Partners
voting
Rivals dig in for legal war over US poll
Parties recruit armies of lawyers amid fears of fraud

The Republican and Democratic parties are massing armies of lawyers to fight for every vote in case next month's US election becomes a repeat of the 2000 debacle in Florida.

The court cases have already started more than three weeks before polling day. The Democrats have taken Florida's Republican secretary of state, Glenda Hood, to court twice this week, accusing her of putting up obstacles to first-time voters.

One issue at stake is a tiny box on the Florida registration form which the potential voter is supposed to tick to confirm that he or she is a US citizen. Democrats say the box is redundant as the voter is also required to sign a statement stating US citizenship. But Ms Hood has told election officials to reject forms on which the box is not ticked.

She was also taken to court yesterday for restricting provisional voting - in which the voter's registration has to be confirmed after the ballot - to the elector's home district.

These are the opening skirmishes in what is likely to be a fierce and prolonged legal battle that will rumble on until the election on November and beyond if the results are close.


[more]
chinese commie posters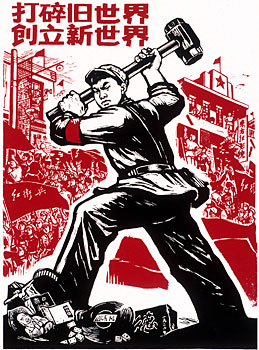 Destroy the Old World; Establish the New World
Unknown artist
1967, Beijing
In this classic example of early Cultural Revolution Red Guard art, among the items the worker is smashing are a crucifix, a Buddha, and classical Chinese texts - all images of imperial dominatio
thanks to plep