Archives
The Rich Have Stolen the Economy
From Offshoring Jobs to Bailing Out Bankers
"Bloomberg reports that Treasury Secretary Timothy Geithner's closest aides earned millions of dollars a year working for Goldman Sachs, Citigroup and other Wall Street firms. Bloomberg adds that none of these aides faced Senate confirmation. Yet, they are overseeing the handout of hundreds of billions of dollars of taxpayer funds to their former employers.
"The gifts of billions of dollars of taxpayers' money provided the banks with an abundance of low cost capital that has boosted the banks' profits, while the taxpayers who provided the capital are increasingly unemployed and homeless.
"JPMorgan Chase announced that it has earned $3.6 billion in the third quarter of this year.
"Goldman Sachs has made so much money during this year of economic crisis that enormous bonuses are in the works. The London Evening Standard reports that Goldman Sachs' "5,500 London staff can look forward to record average payouts of around 500,000 pounds ($800,000) each. Senior executives will get bonuses of several million pounds each with the highest paid as much as 10 million pounds ($16 million)."
"In the event the banksters can't figure out how to enjoy the riches, the Financial Times is offering a new magazine--"How To Spend It."
New York City's retailers are praying for some of it, suffering a 15.3 per cent vacancy rate on Fifth Avenue. Statistician John Williams (shadowstats.com) reports that retail sales adjusted for inflation have declined to the level of 10 years ago: "Virtually 10 years worth of real retail sales growth has been destroyed in the still unfolding depression."
"Meanwhile, occupants of New York City's homeless shelters have reached the all time high of 39,000, 16,000 of whom are children."
Good News on Wall Street Means… What Exactly?
"It's literally amazing to me that our press corps hasn't yet managed to draw a distinction between good news on Wall Street for companies like Goldman, and good news in reality.
"I watched carefully the reporting of the Dow breaking 10,000 the other day and not anywhere did I see a major news organization include a paragraph of the "On the other hand, so fucking what?" sort, one that might point out that unemployment is still at a staggering high, foreclosures are racing along at a terrifying clip, and real people are struggling more than ever. In fact the dichotomy between the economic health of ordinary people and the traditional "market indicators" is not merely a non-story, it is a sort of taboo — unmentionable in major news coverage."
China's Export Drive Moves Into High Gear
"During this decade the global economic and financial dynamic that mattered most was the United States - China relationship. China sold cheap manufactured goods to American consumers desperate to maintain their standard of living in the face of a shrinking job market and declining real wages. Americans borrowed money to pay for the essentials of its lifestyle - college education, premium health care, two or more cars, etc. The Chinese were the major lenders to American consumers, financing the purchases of the goods China was selling.
"What this dynamic was doing was forestalling the inevitable decline in the American standard of living that began when Deng Hsiao Ping first unleashed China's capitalist spirits. The West looked on this development greedily - 800 million new consumers ready to buy Western products! This was a great misconception, because it assumed somehow that China was going to make its way up the economic ladder by making Westerners richer. In fact the reverse began to happen. Hundreds of thousands of entrepreneurial manufacturers arose in China, with access to labor willing to work for pitiful wages and no benefits, and with no governmental regulation on working conditions or environmental degradation. The result has been an economic catastrophe for the West, which has seen its manufacturing sector whittled down, its trade deficits soar, and its debt levels skyrocket.
"The credit crisis that arose in 2007 and 2008 was the end of the line for this financial dynamic, despite every effort of the US to keep the game going. The only way to do this is for the US to turn to the last agency that can still borrow money - the federal government. Last year the US government borrowed or issued debt guaranties for an amount equal to its entire gross national product for 2008. Since obviously no nation can borrow its way to prosperity, this is a last ditch effort at maintaining a First World lifestyle through programs that subsidize car purchasers and housing sales. This game can go on a few more years until China finally chokes on all the US paper it is accumulating, and which is progressively becoming less and less valuable since there are no other buyers.
"There are already signs that the Chinese government has had enough and is buying only as much US paper as can help stabilize the global financial markets."
photography
This is an amazing find.
Vivian Maier - Her Discovered Work
"Some have suggested that I add more information on the story of Vivian's work and such. Here is what I know.
"I acquired Vivian's negatives while at a furniture and antique auction. From what I know, the auction house acquired her belongings from her storage locker that was sold off due to delinquent payments. I didn't know what 'street photography' was when I purchased them.
"It took me days to look through all of her work. It inspired me to pick up photography myself. Little by little, as I progressed as a photographer, I would revisit Vivian's negatives and I would "see" more in her work. I bought her same camera and took to the same streets soon to realize how difficult it was to make images of her caliber. I discovered the eye she had for photography through my own practice. Needless to say, I am attached to her work.
"After some researching, I have only little information about Vivian. I cannot find any relatives or heirs after a diligent search.
"Central Camera (110 yr old camera shop in Chicago) has encountered Vivian from time to time when she would purchase film while out on the Chicago streets. From what they knew of her, they say she was a Jewish Refugee from wartime France who came to the U.S. in the early 1950's (some of her earlier work shows New York where she must have resided for some time). They say she was a very "keep your distance from me" type of person but was also outspoken. She loved foreign films and didn't care much for American films."
John Maloof is putting these photos online and he also has a flickr discussion on what to do with them:
What do I do with this stuff (other than giving it to you)?
oil
Tomgram: Pepe Escobar, Pipelineistan's Ultimate Opera
"Brussels -- Oil and natural gas prices may be relatively low right now, but don't be fooled. The New Great Game of the twenty-first century is always over energy and it's taking place on an immense chessboard called Eurasia. Its squares are defined by the networks of pipelines being laid across the oil heartlands of the planet. Call it Pipelineistan. If, in Asia, the stakes in this game are already impossibly high, the same applies to the "Euro" part of the great Eurasian landmass -- the richest industrial area on the planet. Think of this as the real political thriller of our time.
"The movie of the week in Brussels is: When NATO Meets Pipelineistan. Though you won't find it in any headlines, at virtually every recent NATO summit Washington has been maneuvering to involve reluctant Europeans ever more deeply in the business of protecting Pipelineistan. This is already happening, of course, in Afghanistan, where a promised pipeline from Turkmenistan to Pakistan and India, the TAPI pipeline, has not even been built. And it's about to happen at the borders of Europe, again around pipelines that have not yet been built.
"If you had to put that Euro part of Pipelineistan into a formula, you might do so this way: Nabucco (pushed by the U.S.) versus South Stream (pushed by Russia). Be patient. You'll understand in a moment.
"At the most basic level, it's a matter of the West yet again trying, in the energy sphere, to bypass Russia. For this to happen, however -- and it wouldn't hurt if you opened the nearest atlas for a moment -- Europe desperately needs to get a handle on Central Asian energy resources, which is easy to say but has proven surprisingly hard to do. No wonder the NATO Secretary General's special representative, Robert Simmons, has been logging massive frequent-flyer miles to Central Asia over these last few years.
"Just under the surface of an edgy entente cordiale between the European Union (EU) and Russia lurks the possibility of a no-holds-barred energy war -- Liquid War, as I call it. The EU and the U.S. are pinning their hopes on a prospective 3,300-kilometer-long, $10.7 billion pipeline dubbed Nabucco. Planning for it began way back in 2004 and construction is finally expected to start, if all goes well (and it may not), in 2010. So if you're a NATO optimist, you hope that natural gas from the Caspian Sea, maybe even from Iran (barring the usual American blockade), will begin flowing through it by 2015. The gas will be delivered to Erzurum in Turkey and then transported to Austria via Bulgaria, Romania, and Hungary.
"Why, you might ask, is the pipeline meant to save Europe named for a Verdi opera? Well, Austrian and Turkish energy executives happened to see the opera together in Vienna in 2002 while discussing their energy dilemmas, and the biblical plight of the Jews exiled by King Nabucco (Nebuchadnezzar), a love story set amid a ferocious struggle for freedom and power, swept them away. Still, it's a stretch to turn steel tubes into dramatic characters.
"Of course, the operatic theater here isn't really in the tubing, it's in the politics and strategic implications that surround the pipeline. In Eastern Europe, for instance, Nabucco is seen not as a European economic or energy project, but as a creature of Washington, just like the Baku-Tblisi-Ceyhan (BTC) pipeline from Azerbaijan to Turkey that President Bill Clinton and his crew backed so vigorously in the 1990s and which was finally finished in 2005. For those who have never believed the Cold War is over -- the Eastern Europeans among them -- once again it's the good guys (the West) against the commies... sorry, the Russians... at an energy-rich OK Corral."
photography
republicans
New Report: Conservative Republicans Are Delusional Paranoids
"An eye-opening new report from the Democratic-aligned research organization Democracy Corps suggests that conservative Republicans, the majority of the GOP base, harbor a well-developed, consistent, peculiar worldview about President Obama and his "hidden agenda" for the country. Armed with "facts" from conservative media, these individuals, fully 2/3 of the Republican Party at this point according to Democracy Corps estimates, believe that the President has been installed by powerful interests to enact socialist policies, violate the Constitution and destroy America. Independents and even GOP-leaning moderates exhibit none of these characteristics, making life difficult for GOP leaders who must choose between support inside the party and support in the country.
"The report, which you can access here, is a testament to what was described by Richard Hofstadter in 1964 as the paranoid style in American politics:
" "The self-identifying conservative Republicans who make up the base of the Republican Party stand a world apart from the rest of America, according to focus groups conducted by Democracy Corps. These base Republican voters dislike Barack Obama to be sure – which is not very surprising as base Democrats had few positive things to say about George Bush – but these voters identify themselves as part of a 'mocked' minority with a set of shared beliefs and knowledge, and commitment to oppose Obama that sets them apart from the majority in the country. They believe Obama is ruthlessly advancing a 'secret agenda' to bankrupt the United States and dramatically expand government control to an extent nothing short of socialism. While these voters are disdainful of a Republican Party they view to have failed in its mission, they overwhelmingly view a successful Obama presidency as the destruction of this country's founding principles and are committed to seeing the president fail." "
astronomy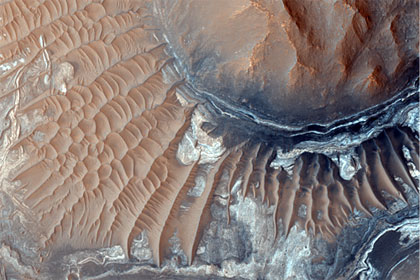 Why do we need another camera around Mars?
HiRISE returns images of the Martian surface with higher resolution than ever seen before from an orbiter. This means we can see extraordinary detail in all kinds of surface features. Scientists all over the world are already using these images to understand many previously-unexplained phenomena on the Red Planet. We might also discover brand new types of features never seen before!
economy
It's so nice to hear the big media pundits claim the recession is over. If only they were living in the same world as the rest of the country.
Capitalism is dying, boy. It's dying of its own internal contradictions.[He was, after all, a Wall Street financier, so I listened carefully.] You think the revolution's gonna take five years. It's gonna take fifty! So keep your head down and hang in for the long haul, because I'll tell you something. The sons of bitches running things don't give a shit about their children or their grandchildren, and they certainly don't give a shit about you! They've paid their dues, and they want to get out with theirs! They're gonna sell off everything that's not nailed down to the highest bidder. Don't get crushed when it topples down. Take care of yourself and your family. If you can make a difference, do it, but there are huge forces at work here, and they have to play themselves out according to their own design, not yours. Watch yourself.

"Wall Street Financier, Morris Cohon, to his son, Peter Coyote---Winter of 1969/1970
"The above passage is from Peter Coyote's excellent memoir, "Sleeping Where I Fall". In the next sentence, Coyote adds,

"As far as I can determine, everything he prophesied has come true.
"The continuing job crisis is hitting young people especially hard—damaging both their future and the economy
"Bright, eager—and unwanted. While unemployment is ravaging just about every part of the global workforce, the most enduring harm is being done to young people who can't grab onto the first rung of the career ladder.
"Affected are a range of young people, from high school dropouts, to college grads, to newly minted lawyers and MBAs across the developed world from Britain to Japan. One indication: In the U.S., the unemployment rate for 16- to 24-year-olds has climbed to more than 18%, from 13% a year ago.
"For people just starting their careers, the damage may be deep and long-lasting, potentially creating a kind of "lost generation." Studies suggest that an extended period of youthful joblessness can significantly depress lifetime income as people get stuck in jobs that are beneath their capabilities, or come to be seen by employers as damaged goods."
Will California become America's first failed state?
Los Angeles, 2009: California may be the eighth largest economy in the world, but its state government is issuing IOUs, unemployment is at its highest in 70 years, and teachers are on hunger strike. So what has gone so catastrophically wrong?
"California has a special place in the American psyche. It is the Golden State: a playground of the rich and famous with perfect weather. It symbolises a lifestyle of sunshine, swimming pools and the Hollywood dream factory.
"But the state that was once held up as the epitome of the boundless opportunities of America has collapsed. From its politics to its economy to its environment and way of life, California is like a patient on life support. At the start of summer the state government was so deeply in debt that it began to issue IOUs instead of wages. Its unemployment rate has soared to more than 12%, the highest figure in 70 years. Desperate to pay off a crippling budget deficit, California is slashing spending in education and healthcare, laying off vast numbers of workers and forcing others to take unpaid leave. In a state made up of sprawling suburbs the collapse of the housing bubble has impoverished millions and kicked tens of thousands of families out of their homes. Its political system is locked in paralysis and the two-term rule of former movie star Arnold Schwarzenegger is seen as a disaster – his approval ratings having sunk to levels that would make George W Bush blush. The crisis is so deep that Professor Kevin Starr, who has written an acclaimed history of the state, recently declared: "California is on the verge of becoming the first failed state in America." "
Waking up to discover the mortgage market was a giant criminal enterprise
"This is a potentially gigantic story. It seems that a court has ruled that about half of the mortgage market has been run as a criminal enterprise for years, which would invalidate any potential forelosure proceedings for about, oh, 60 million mortgages. The court ruled that the electronic transfer system used by the private company MERS — a clearing system for mortgages, similar to a depository, that is used for about half the mortgage market — is fundamentally unreliable, and any mortgage sold and/or transferred through MERS can't be foreclosed upon, at least not in Kansas.
"Coincidentally I'd been working on something related to this all day yesterday. All over the country, lawyers are contesting foreclosures because of similar chain-of-custody issues. I have some material about this coming out in my next Rolling Stone story, so I can't get into this too much, but suffice to say the lenders and the banks were extremely sloppy about their paperwork (at best — there is a fraud angle as well) and jammed up the system with missing and/or mismarked mortgage notes. Since a sale isn't legal unless there's full transfer of the physical note, a lot of the sales of mortgage-backed securities were not entirely legal, since the actual notes were often not transferred.
"Nothing like waking up in the morning and finding out a whole sector of the economy is completely screwed. Are these good times or what?"
Thousands Of Rusting Ship Hulls Are A Fitting Tribute To The Speculative Market Bubble
"The Daily Mail recently made waves with a photo exposing what it called the "ghost fleet of the recession" where hundreds of ships were shown on anchor off the straits of Singapore, doing nothing except rusting: a tribute to the unprecedented collapse in world trade, the bulk of which is seaborne, and the huge amount of excess slack in shipping.
"Zero Hedge decided to probe this idea further, and for that we took advantage of the very useful real time ship tracker functionality provided by vesseltracker.com (any reader who has Google Earth can easily replicate these results using the following data file)."
"As we mark the end of the first year of the financial bailout, the public seems to regard the government's actions with a toxic combination of rage and confusion. People are pissed off but too bewildered to know what to do with that anger. The confusion isn't an accident. The government hasn't exactly been forthcoming about how it's made buckets of money available to the banking sector. When it does disclose some information--such as in July's SIGTARP report from the Treasury or the Federal Reserve's weekly balance sheet--it's in the form of intimidating descriptions, accounting mumbo jumbo and technical reports that do little to illuminate just what the hell is going on.
"What's worse, banks and the establishment press have portrayed TARP as the sum of the banking industry's federal subsidies. An August 30 New York Times article, "As Banks Repay Bailout Money, U.S. Sees a Profit," gives the impression that taxpayers should be happy to have made $4 billion on the deal, as if our checks were in the mail. But when the government became Wall Street's bank, it wasn't just $700 billion of TARP money that flew north to Wall Street. TARP was but a small fraction (roughly 4 percent) of the full $17.5 trillion bailout and subsidization of the financial sector. [See image.] The details of this total bailout are complicated, but the basic mechanisms aren't beyond the average citizen's grasp. We're going to walk you through it.
"Five Easy Pieces: The Tale of Joe and Katie
"There are five ways the Treasury, the Fed and other government entities have propped up the banking sector. In order to understand how each of these works, let's consider how this assistance might have looked had it been directed at a household, rather than a bank, teetering on the edge of bankruptcy. The analogy isn't exact, but considering the bailout in this manner helps make the whole thing a lot clearer.
"Imagine a couple living in a three-bedroom house outside the Twin Cities. Call them Joe and Katie Hazzard. The Hazzards own a small off-track-betting (OTB) business and have some investments and a mortgage on their house. But business is terrible (no one has extra money to make bets); Katie recently lost her job; their investments have hemorrhaged value; and they can't make their mortgage, car or credit card payments. So they ask their local bank for a loan. "No dice," says the bank. "We can't give you money to pay your debts because you're no longer a good credit risk for us." That's more or less what happened to the banks last fall: they couldn't and wouldn't lend to one another."
Job Losses Far More than Expected. U6 Hits 17%
photo books
This interview is timely in regard to my last post on submin cameras and self-made photobooks.
"JE: So, from the eyes of a novice in the Japanese photobook world, how should we look at a Japanese photobook? Is there something we should be looking for? What should we be thinking about while reading your book?
"IV: Well, after you've read through the text that I've written, it shows what aspects you should be paying attention to, what you should be considering while looking at a Japanese photobook. There is a lot of wishy-washy writing about Japanese photography, but there is so much to be said and so much to be understood.
"So, apart from helping the reader learn how to understand Japanese photography books, I want them to know how essential it is to Japanese photography. It's very different from western photography, which has this idea that photographs must exist as a print. Japanese photography, in its ultimate form, is the photobook. Communicating that simple idea, to even a Japanese audience, is the main homework of this project. And you'd be amazed how revolutionary that idea is to people who are well versed in photography in the West.
"Another way of saying it is that… [points to the book proof ] … this is a facsimile, this book is a facsimile of that work. So the books included in this book are not facsimiles, these are originals. That one subtle shift in the way we look at the book is so important.
"It's like an edition in and of itself; the book becomes an original print. No one image is more important than the other and in the photographer's eyes, the prints themselves, which are going to make the book, are useless. They have no value other than the reproduction at the printing plant. So the photographs as a collection don't exist beyond the book. This can be true of non-Japanese photobooks as well but it's taken to an extreme with Japanese photobooks."
I've recently purchased several Japanese photo books and they are quite a different experience than Western photo books. After a lifetime of looking at photography as a single print medium, the idea of photogaphy as a book medium, in the Japanese sense, is very exciting. It opens up all sorts of possibilities. I like possibilities. All sorts.
I must add that I get my Japanese photo books from Japan Exposures. Excellent site. Excellent people.
the middle east clusterfuck
Here are 3 essays from TomDispatch.com that are a must read. We are so screwed.
Ira Chernus, Cold War's Ghost Blocks Mideast Peace
"Damn the Iranians and full speed ahead. That was the U.S. policy in the Middle East. But the waters have proved treacherous, with torpedoes everywhere. Despite an initial hopeful sit-down with Iranian negotiators, this won't be the October the White House wanted on the foreign policy front. By now, Barack Obama was supposed to have announced -- with ruffles and flourishes -- the beginning of Middle East peace talks, leading to a final status agreement by 2012. But something didn't happen.
"Israel didn't heed Obama's demand to stop all settlement expansion in the West Bank. So Obama didn't stick to that demand, settling instead for a temporary freeze after a spate of new building. The Palestinians, buoyed by Obama's initial strong stance on the settlements, refused to negotiate until Israel stopped all construction. Other Arab nations didn't offer Israel nearly as many concessions as the U.S. administration was demanding. Undermined by all that didn't happen, the president had nothing of substance to announce.
"What went wrong? The heart of the problem was not Israel's supposed power over U.S. policy. The U.S. still has plenty of leverage over the Israelis and everyone else in the region. Israeli columnist Nahum Barnea is right: "Everyone depends on America, its money, its military aid, and its moves vis-à-vis Iran."
"But it is precisely those U.S. moves, meant to contain the power of Iran, that are the main stumbling block on the path to a U.S.-brokered two-state solution to the Israeli-Palestinian conflict. The Middle East is a textbook example of the perils of containment."
Are We the Martians of the Twenty-First Century?
"An unremarkable paragraph in a piece in my hometown paper recently caught my eye. It was headlined "White House Believes Karzai Will Be Re-elected," but in mid-report Helene Cooper and Mark Landler of the New York Times turned to Afghan War commander General Stanley McChrystal's "redeployment option." Here's the humdrum paragraph in question: "The redeployment option calls for moving troops from sparsely populated and lawless areas of the countryside to urban areas, including Kandahar and Kabul. Many rural areas 'would be better left to Predators,' said an administration official, referring to drone aircraft."
"In other words, the United States may now be represented in the Afghan countryside, as it already is in the tribal areas on the Pakistani side of the border, mainly by Predators and their even more powerful cousins, Reapers, unmanned aerial vehicles with names straight out of a sci-fi film about implacable aliens. If you happen to be an Afghan villager in some underpopulated part of that country where the U.S. has set up small bases -- two of which were almost overrun recently -- they will be gone and "America" will instead be soaring overhead. We're talking about planes without human beings in them tirelessly scanning the ground with their cameras for up to 22 hours at a stretch. Launched from Afghanistan but flown by pilots thousands of miles away in the American West, they are armed with two to four Hellfire missiles or the equivalent in 500-pound bombs.
"To see Earth from the heavens, that's the classic viewpoint of the superior being or god with the ultimate power of life and death. Zeus, that Greek god of gods, used lightning bolts to strike down humans who offended him. We use missiles and bombs. Zeus had the knowledge of a god. We have "intelligence," often fallible (or score-settling). His weapon of choice destroyed one individual. Ours take out anyone in the vicinity.
"He made his decisions from Mount Olympus; we make ours from places like Creech Air Force Base outside Las Vegas, and Davis-Monthan Air Force Base in Tucson, Arizona. Those about whom we make life-and-death decisions, as they scurry below or carry on as best they can, have -- like any beings faced with the gods -- no recourse or appeal. Seen on screens, they are, to us, distant, grainy figures, hardly larger than ants. This is what implacable means."
William Astore, Apocalypse Then, Afghanistan Now
"It's early in 1965, and President Lyndon B. Johnson faces a critical decision. Should he escalate in Vietnam? Should he say "yes" to the request from U.S. commanders for more troops? Or should he change strategy, downsize the American commitment, even withdraw completely, a decision that would help him focus on his top domestic priority, "The Great Society" he hopes to build?
"We all know what happened. LBJ listened to the generals and foreign policy experts and escalated, with tragic consequences for the United States and calamitous results for the Vietnamese people on the receiving end of American firepower. Drawn deeper and deeper into Vietnam, LBJ would soon lose his way and eventually his will, refusing to run for reelection in 1968.
"President Obama now stands at the edge of a similar precipice. Should he acquiesce to General Stanley A. McChrystal's call for 40,000 to 60,000 or more U.S. troops for Afghanistan? Or should he pursue a new strategy, downsizing our commitment, even withdrawing completely, a decision that would help him focus on national health care, among his other top domestic priorities?
"The die, I fear, is cast. In his "war of necessity," Obama has evidently already ruled out even considering a "reduction" option, no less a withdrawal one, and will likely settle on an "escalate lite" program involving more troops (though not as many as McChrystal has urged), more American trainers for the Afghan army, and even a further escalation of the drone war over the Pakistani borderlands and new special operations actions.
"By failing his first big test as commander-in-chief this way, Obama will likely ensure himself a one-term presidency, and someday be seen as a man like LBJ whose biggest dreams broke upon the shoals of an unwinnable war.
"The Conventional Wisdom: Military Escalation
"To whom, we may ask, is Obama listening as he makes his decision on Afghanistan strategy and troop levels? Not the skeptics, it's safe to assume. Not the free-thinkers, not today's equivalents of Mary McCarthy or Norman Mailer. Instead, he's doubtless listening to the generals and admirals, or the former generals and admirals who now occupy prominent "civilian" positions at the White House and inside the beltway.
"By his actions, Obama has embraced the seemingly sober, conventional wisdom that senior military officers, whether on active duty or retired, have, as they say in the corridors of the Pentagon, "subject matter expertise" when it comes to strategy, war, even foreign policy.
"Don't we know better than this? Don't we know, as Glenn Greenwald recently reminded us, that General McChrystal's strategic review was penned by a "war-loving foreign policy community," in which the usual suspects -- "the Kagans, a Brookings representative, Anthony Cordesman, someone from Rand" -- were rounded up to argue for more troops and more war?
"Don't we know, as Tom Engelhardt recently reminded us, that Obama's "civilian" advisors include "Karl W. Eikenberry, a retired lieutenant general who is the U.S. ambassador to Afghanistan, Douglas Lute, a lieutenant general who is the president's special advisor on Afghanistan and Pakistan (dubbed the "war czar" when he held the same position in the Bush administration), and James Jones, a retired Marine Corps general, who is national security advisor, not to speak of Secretary of Defense Robert Gates, a former director of the Central Intelligence Agency"? Are we surprised, then, that when we "turn crucial war decisions over to the military, [we] functionally turn foreign policy over to them as well"? And that they, in turn, always opt for more troops, more money, and more war?"