Archives
Photography
Welcome to the virtual home of an itinerant photographer. Here you will find pictures of rural houses, urban neighborhoods, Main Streets, and open country. My work has always been about this: my longing for places that are disappearing from America. Please visit again, as new pages and images will be added soon.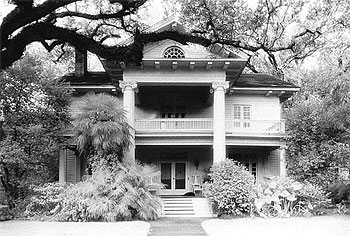 [read more]
thanks to plep
Homeland Security Dept. R.I.P.!
A long running performance just closed in the Senate. It was masquerading as a debate over creating a Department of Homeland Security. The question for the audience is whether to laugh or cry. [read more]
Recycled housing
The Fastest House in the Housing Business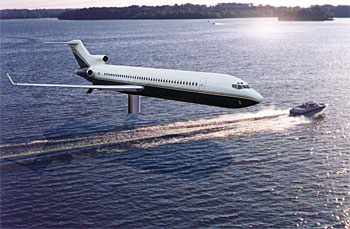 Max Power Aerospace presents the Boeing 727 as a private residence. The 727 is retrofitted to be a home for individuals or families that choose not to live in Suburbia.
This aircraft can serve as a unique vacation home or primary residence. It is secured to a column and the column is secured to your lot or on your submerged property. The basic aircraft remains unchanged from the days when it was flying at .84 mach. [read more]
thanks to Riley Dog
American Empire
THE AMERICAN REPUBLIC IS DEAD. HAIL THE AMERICAN EMPIRE. OR ELSE.
I believe that the American Republic died in the U.S. Senate last Thursday morning and was buried yesterday morning in the East Room of the White House.
Despite a deluge of calls, letters, and e-mails, which Capital Hill staffers admitted ran overwhelmingly against the ludicrously-named "Resolution Authorizing the President to Use Force, if Necessary, to End the Threat to World Peace from Saddam Hussein's Weapons of Mass Destruction," Congress extended to George II the authority to make unlimited and preemptive war against another nation that has neither attacked us nor shown the ability or inclination to do so. [read more]
thanks to wood s lot
----------
Build it, and they will die
What good are all these bombs unless we drop them?
Lately there's been a lot of justified howling over an unprovoked invasion of Iraq. Ditto, in the larger picture, for the recent report to Congress of the White House's new National Security Strategy. But amidst it all, a basic reason for the unprecedented bellicosity of the Bush Administration has largely been overlooked. Why, in the absence of any realistic threat to the United States or its allies, are we poised to invade a country halfway around the world? Why have we officially embarked on a foreign policy that threatens any country, anywhere in the world, that does not embrace our preferred notions of how to tax the rich or protect wetlands? Why do we treat war as our first resort?
Because we can. [read more]
----------
THE bombing of a French oil tanker off Yemen and a foiled attack on a Saudi oil complex has US counter-terrorism officials worried that the Al-Qaeda terror network is targeting petroleum interests in the Middle East. [read more]
thanks to BookNotes
----------
Identify the Enemy!
The Business in Bali
But Al Qaeda is not General Motors or the CIA, with Bin Laden sitting in a cave in Pakistan surrounded by CEOs planning terrorist acts around the globe and supervising operations with logistics, funding, training and recruiting being handled by diverse departments with access to sophisticated intelligence and communications. We have to stop allowing ourselves from being deceived into believing one organization is behind all attacks on "western interests". Comforting it may be but the truth is another. The truth is that millions, if not billions, of people, from Papua New Guinea to Colombia, have well-founded reasons to hate the greedy western imperialism. Some of them will finally get desperate enough to turn that hate into action, as the moral right that is on their side doesn't get them far when the adversary is backed by IMF, WTO, the World Bank, not to mention the Armed Forces of US, UK and a few more. Little does the wellbeing of the Iraqis or the Palestinians, the Indonesians or the Congolese, count when oil, minerals or power is at stake. The people on the receiving side of oppression have a limit. When they have had enough and justice is denied them, no one should be surprised that some of them turn to bombs and guns. Some to kill anyone they connect to the oppressors. Some prepared to die themselves in the process. They may be Moslems, Christians, Hindus or something else, but they are human beings who finally had enough. Don't call them Al Qaeda, call them desperate! [read more]
Free will? I think we should charge for it.
A question of will
The issue of free will has perplexed theologians and philosophers for centuries - now neuroscience enters the age-old debate
Try this: At a moment of your choosing, flick your right wrist. A bit later, whenever you feel like it, flick that wrist again.
Most likely, you'd swear that you, the conscious you, chose to initiate that action, that the flickings of your wrist were manifestations of your will.
But there is powerful evidence from brain research that you would be wrong. That, in fact, the signal that launched your wrist motion went out before you consciously decided to flick.
''But, but, but,'' you'd probably like to argue, ''but it doesn't feel that way!'' [read more]
thanks to boingboing
This reminds me of some Phish lyrices. Maybe Trey had it right after all.
Driver
i'll tell you about the driver who lives inside my head
starts me up and stops me and puts me into bed
he opens up my mouth when it's time for me to talk
fires up my legs when he wants me to walk
keeps my eyes open most of the day
adds to my memory the things that people say
when he makes decisions i dont have to wait
but sometimes it seems he's got to much on his plate
like this morning when i woke up and he dressed me in this shit
that looks a little ragged where he drug me through the dirt
i'm moving through this life and i'm thinking about the next
and hoping when i get there i'll be better dressed
keeps my eyes open for most of the day
adds to my memory the things that people say
when he makes decisions i dont have to wait
i'll tell you about the driver who lives inside my head

Israeli Families Say Peace is Revenge
Editor's Note: In 1994, following the abduction and murder of his 19-year-old son Arik by the terrorist group Hamas, Yitzhak Frankenthal founded the Bereaved Families Forum -- an organization of 190 bereaved Israeli parents, Palestinian and Jews, who lost their children during army service or in an act of terrorism. The organization, also referred to as Parent's Circle, promotes peace and coexistence through educating for tolerance and compromise. The group recently set up a free service to encourage Israelis and Palestinians to talk on the telephone.
AlterNet: What motivated you to found the Bereaved Families Forum? What do you hope to achieve through this organization and its efforts?
Frankenthal: After I lost my son, Arik, I came to understand that he was not murdered because the murderers knew him. He was killed because there is no peace between the Israelis and the Palestinians. This is why we are ready to make reconciliation and not ready to go for revenge. And if we can do it -- when we have lost members of our families -- everyone can and needs to do it. [read more]
----------
Of Occupation and Apartheid
Do I Divest?
The end of apartheid stands as one of the crowning accomplishments of the past century, but we would not have succeeded without the help of international pressure-- in particular the divestment movement of the 1980s. Over the past six months, a similar movement has taken shape, this time aiming at an end to the Israeli occupation. [read more]
----------
Focus / Why are children dying, U.S. wants to know
Among the list of charges against Israel presented by the Americans to Prime Minister Ariel Sharon's entourage in Washington was one relating to the recent killings of numerous Palestinian civilians in the Gaza Strip as a result of excessive fire power used by the Israel Defense Forces.
The list, which was presented prior to yesterday's incident in Rafah, does not stop there. It includes, inter alia, repeated mention of complaints regarding lengthy delays of Palestinian ambulances bearing casualties and patients at IDF checkpoints.
The Americans are stressing that they have no complaints when it comes to legitimate acts of defense, or casualties involving individuals involved in terrorism. They are pointing their fingers at the large number of civilians, including children, who have been killed recently in both air and land- mounted IDF operations in the Strip. [read more]
----------
Despite its richness and long colonial tradition, English cannot keep up with the massive production of IDF Hebrew as it infiltrates our media along with the semi-official jargon emerging from military briefings. The assassination policy has several names, including 'focused interception', but unofficial military jargon prefers something more direct: 'liquidation'. The new language teaches us to distinguish between all sorts of curfews, closures, 'encirclements', and other (illegal) actions and prohibitions on movement. The latest example is the euphemism used by the state in response to an appeal by two Palestinians against expulsion from Nablus to Gaza. Each time their attorney used the word 'expulsion', the state attorney jumped to his feet to demand the 'proper usage', something that can be translated, carefully, as 're-zone-ification'. In Hebrew it might sound better, but no less grotesque. Israel's Supreme Court, famous at Columbia Law School for its progressiveness, accepted the state's position. The expulsions were allowed, and sooner or later the word 're-zone-ification' will become a familiar part of our vocabulary and legal life. Another veil will fall over what happens beyond the hills, ten minutes from my relatively safe home, while there, under the non-reported non-event of a curfew, a nation is incarcerated and preparing for the worst. [read more]
thanks to Ethel the Blog
At least some things are going in the right direction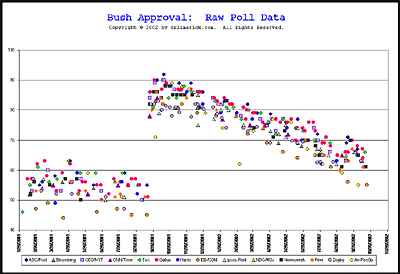 thanks to Politics in the Zeros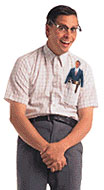 American Democracy
The Pocket President
Putting the President in the pocket of average Americans since 2001.
Now you too can have the President of the United States, George W. Bush, in your pocket!
Just slip The Pocket President into your shirt pocket, jeans or purse, and you'll instantly take your place among America's rich and powerful, knowing that the President is totally in your pocket! [read more]
thanks to MetaFilter
Urination breakthroughs
The Princess and the Pee
THE TIME: 3am Sunday morning.
THE PLACE: A club in a disused factory in Stoke Newington.
THE TOILET: Floor ankle-deep in unidentifed liquid. Cistern lid broken on floor. Water in toilet bowl close to overflowing.
THE OCCASION: The perfect pee.
So. The perfect pee. Hello? How the fuck can any girl experience the perfect pee in these circumstances? Even leaving aside the tideline creeping up the sides of yer sandals: ignoring the loo roll embedding itself on your heel: how can this pee be anything but traumatic?
What's a girl to do? Hover? Or plonk? To hover means clenched thigh musicles and an insufficiently emptied bladder. But plonking yer ass down on the seat means exposing delicate flesh to the fluids of strangers. Ew! And yet, last night, pee nirvana was reached under exactly these conditions. How can this beee? [read more]
thanks to MetaFilter
Microsoft
Rivals: Microsoft is up to old tricks
Without protocols, competing gadgets, software won't work as well on Windows
As Microsoft awaits court approval of its landmark antitrust settlement with the government, the company has angered some competitors by tightly limiting the technical data it promised to release. [read more]
In today's topsy turvy world, It's nice to know that there are some constants in the universe — Microsoft is still screwing everyone and the anti-trust case is still going. It does look like it may be over soon — the anti-trust case, not the screwing of everyone.

Don't let your pumpkin drink to much this Halloween!
The was sent to me by Barb Mundell. Check out her link — she makes great jewelry.
Now we have to buy these albums all over again
Not fade away
The Rolling Stones' Sixties back catalogue is - at last - about to get a major digital re-release. Robert Webb hears how this huge restoration project succeeded, and the surprises it uncovered
Across the table is Steve Rosenthal, the project's archive co-ordinator. With him is the restoration producer, Jody Klein, who's also the son of Allen Klein, the Stones' former manager and president of ABKCO, which now controls the Decca/London years. "In 1986, when the Stones first came out on CD, everyone was very excited because there were no ticks, no hiss, no pops," says Klein. "But we also lost depth and warmth." ABKCO resisted many requests over the years to polish the Stones. "We didn't feel that the incremental developments in technology warranted the public to go out and purchase these discs again." Until today. Cut from the best-quality masters available, rejuvenated by Sony's Direct Stream Digital process and pressed on to new Super Audio Compact Discs, the Stones' Sixties recordings are, once more, warm and deep. (...)
There must have been some eureka moments. Klein rummages in his bag and pulls out a photograph of a canister label headed "Beggar's Banquet". Rosenthal explains: "One of our team discovered this box in a closet. She took it down, dusted it off and we looked at it." The first-generation master for one of their quarry's seminal recordings had been found. Glancing down the handwritten track listing, I see that "Sympathy for the Devil" was originally titled "The Devil is My Name" and there's a nota bene from the engineer insisting that the distorted guitar sound is "not a fault in the recording, but a trademark of the group".
But the real revelation was in the playing, Rosenthal explains. "It sounded incredible, but it was at a different speed to what we were familiar with." They archived it, ticked their list and didn't speak about it for three days. "We just thought about the enormity of what that meant." To verify the discovery, Rosenthal played the tape against singles lifted from the same master. "Singles, as Andrew Oldham would say, were the gold standard in those days." They also ran it alongside the Godard movie One Plus One, which captured the Stones at work on the album. The two matched, proving that, somehow, Beggar's Banquet was pressed at the wrong speed, and no one realised. How detectable will this be to the average Stones fan? "You'll feel the difference," says Klein, with a twinkle. "It just sounds right now." [read more]
Lies — All The Time
The strategy used to sell the Bush tax cut was simply to deny the facts — and to lash out at anyone who tried to point them out. And it's a strategy that, having worked there, is now being applied across the board.
Michael Kinsley recently wrote that "The Bush campaign for war against Iraq has been insulting to American citizens, not just because it has been dishonest, but because it has been unserious. A lie is insulting; an obvious lie is doubly insulting." All I can say is, now he notices? It's been like that all along on economic policy. [read more]
These aren't your father's stamps
Briefly, I began my stamp-drawings while sitting in the dullest classes of my (or anyone's) college career. After writing letters home (as the professor droned on and on) I discovered the clock on the wall had barely budged. Doodling pictures on the envelope kept my sanity through the rest of his lecture. Those stamps depicted images commemorating events in my family or at school, rather dull,
but the spark was struck. [read more]
thanks to LookIt
LookIt is a new blog. LooksPromising.
thanks to follow me here...
Telemarketing
The Direct Marketing sector regards the telephone as one of its most successful tools. Consumers experience telemarketing from a completely different point of view: more than 92% perceive commercial telephone calls as a violation of privacy.
Telemarketers make use of a telescript - a guideline for a telephone conversation. This script creates an imbalance in the conversation between the marketer and the consumer. It is this imbalance, most of all, that makes telemarketing successful. The EGBG Counterscript attempts to redress that balance. [read more]
This is such a great way to fight back!
thanks to enthusiasm
Satire
Get your concentrated satire here. (We need all we can get nowadays.)
Headline satire from around the world. Caution: content may offend. [read more]
What's the fucking point if it doesn't offend?
thanks to LookIt
American Empire
Listen to the American hawks after a few glasses of wine, and you might be seduced into thinking that after overthrowing Saddam Hussein we're going to turn Iraq into a flourishing democracy.
But I'm afraid it's a pipe dream, a marketing ploy to sell a war. [read more]
----------
"I'm not sure which planet they live on"
Hawks in the Bush administration may be making deadly miscalculations on Iraq, says Gen. Anthony Zinni, Bush's Middle East envoy.
President Bush continues to encounter war critics in the unlikeliest of places -- the United States military, for example. Last summer, retired Gen. Brent Scowcroft, who served as national security advisor to Bush's father during the Gulf War, bluntly expressed his doubt about a unilateral war against Iraq. A few weeks later, a trio of four-star generals appeared before Congress to echo that concern. [read more]
----------
I'm an American tired of American lies
by Woody Harrelson
----------
One war that Bush has already lost
After the bombings in Bali, President George W Bush declared his determination to fight the war on terror 'on two fronts', pursuing both Saddam Hussein's Iraq and the al-Qaeda terrorists he blamed for the attacks. But behind Bush's strong words, and despite the fact that Congress has granted him war powers to deal with Iraq, there are increasing doubts about America's ability to see this mission through.
thanks to follow me here...
----------
Democrats Protest Iraq War, Remove Spines, Vote for it Anyway
he House of Representatives on Thursday voted overwhelmingly in favor of a resolution authorizing the President to go to war with Iraq. More significantly, Senate Majority Leader Tom Daschle capitulated on Thursday, agreeing to get on board the Bush plan and to be his bitch.
Considering his ferocious podium battery incident of a few weeks ago, Daschle's sea change left many Democrats scratching their heads. In fact, there may be a simple explanation. For reasons described only as "purely medical," The Senator underwent a spinectomy over the weekend, removing all vertebrae below the next and rendering him unable to stand, walk, or effectively fight the hawkish juggernaut sweeping through both houses of Congress.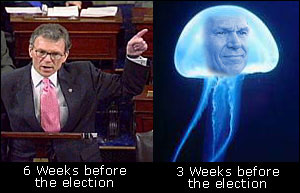 [read more]
thanks to gagpipe
Photography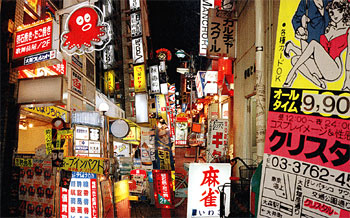 [read more]
thanks to consumptive.org
Movies
"Bowling for Columbine" has set the new all-time opening weekend box office record ($27,000 per screen avg.) for a documentary in the United States! Thank you SO MUCH -- all of you who stood in those enormous lines in Los Angeles and New York trying to get in but couldn't. The unprecedented outpouring of support for this film sent a shock wave through Hollywood. An astounding 18 films opened last Friday in NYC and L.A. -- so, for a documentary to do this well in such a crowded field, it was the last thing anyone expected. And? to break the record set nearly 13 years ago by "Roger & Me" -- it was the only way it should have happened! (From Michael Moore's newsletter) [read more]
The Bowling for Columbine site has clips. Vintage Moore. I can't wait.
thanks to Politics in the Zeros
Economy
Explosion of the homeless
An invisible and growing army of families struggles to find a permanent home
At an hour when most people in the city are snug in their beds asleep, an army of exhausted little children and their mothers are loading into yellow school buses on a desolate corner in the Bronx, clutching pillows, plastic bags and one another as they shuttle in the dark to a city shelter for the night. [read more]
thanks to DANGEROUSMETA!
It's good to see Compassionate Conservatism at work. Glad to see we are teaching those welfare cheaters a thing or two. Fucking Republicans. Sorry — I need to get back on my medication.
----------
Esther Invester
& her search for the truth.
Is is safe to get back in the market? [read more]
thanks to BookNotes
Comics
[read more]
Food
Parents of Sickened Children Ask for Tighter Rules on Food
A priority of the group is to crack down on the cow manure that finds its way into meat products and becomes a source of E. coli illness. Tracing tainted meat and poultry early and obtaining the full cooperation of meatpackers to identify that meat is another goal of the group. What it does not want, members of the group said, is to be faulted for their children's deaths.
"The meat companies let cow manure get in the meat, and then they tell the victims that if we had only cooked it to 160 degrees my child would not have died," Mrs. Kowalcyk said.
Rosemary Mucklow of the National Meat Association said that the industry did not need greater regulations but that consumers needed to be educated.
"The biggest issue is to get the consumer to cook the meat thoroughly," Ms. Mucklow said. "People don't like that. They say you're blaming the consumer. But you wash lettuce and grapes thoroughly." [read more]
This really pisses me off. How can someone tell a parent, who's child has been killed by your product because it had shit in it because your company was too fucking cheap to keep the shit out, that it's all the parent's fault? How low can a person get?
----------
Poop on poultry
The Bush Administration serves up another stinker
by Molly Ivins
Have you had a terrible stomach illness lately? It's quite likely you should blame the Bush administration. I know, that sounds like some demented spoof of left-wing paranoia, but it's actually an especially visceral example of one of life's iron rules -- you can't ignore politics, no matter how much you'd like to.
Unless you have reason to suspect that your nearest and dearest are putting arsenic in your food, your bad stomach was likely caused by tainted meat. It is not hard to connect the dots on this one -- the massive meat recalls of recent months have now culminated in the largest in the nation's history, 27.4 million pounds worth, due to suspected contamination by the killer bacteria Listeria. [read more]
The War Against Democracy
The American Civil Liberties Union yesterday announced a nationwide campaign to recover what it says are civil liberties that the government has "rolled back" since Sept. 11, 2001. [read more]
----------
Armey: Justice 'out of control,' violating rights
House Majority Leader Dick Armey, R-Texas, lashed out at the Justice Department Wednesday for what he called its ''lack of regard for personal civil liberties in America'' while combating terrorism. [read more]
thanks to Politics in the Zeros
----------
Killing the Political Animal:
CIA Psychological Operations and Us
Dysfunctional Bush and his anachronistic cronies are leading us right into a catastrophic Middle Eastern blowout. That much is apparent. But what's not so clear is why we're allowing it to happen.
Analyzing Dubya's psychological challenges is not enough - he's the symptom not the cause, and while the rapidity of societal decline has seemed to accelerate since 2000's farcical US presidential election, the framework for rollback was in place long before. If it hadn't been, citizens quite simply wouldn't have tolerated the rigged results.
But what mechanisms could have been used to facilitate the rollback? How can an unwilling population be trained to blindly accept a new, repressive social order? [read more]
thanks to enthusiasm

Israeli refusenik guards only his principles
Yuval Lotem phoned another defiant old soldier who refuses to serve in the Israeli army just to remind himself what prison felt like. Then the 45-year-old former paratrooper reported to the local barracks, expecting a swift transfer to an army jail. [read more]
----------
Settlers attack reporters left unprotected at Havat Gilad
Dozens of settlers attacked journalists covering yesterday's dismantling of the Havat Gilad outpost. [read more]
----------
Another round to the settlers
Israeli government pulls back from its first attempt to expel Jews from an illegal outpost in the West Bank
The Israeli government backed away from a confrontation with hundreds of angry settlers and abandoned an attempt to close an illegal outpost in the West Bank yesterday. [read more]
Christianity vs Islam
Monkey Media Report has a couple of nice little rants, with great links, regarding the religious right's warped view of both Christianity and Islam.
One more time, for the money Virginia's Family Policy Network is suing the University of North Carolina again. This time it's for - can you believe it? - daring to hold an Islamic Awareness Week. UNC's student-run Daily Tar Heel suggests the school really couldn't ask for better publicity, but the same could probably be said for FPN. The ongoing harassment over legal issues they surely know they can't win is starting to look mighty suspicious. Donations must have really poured in last summer after Limbaugh and O'Reilley jumped on board. ("See? I told you it's better than homosexuals!") [read more]
----------
Christianity is an inherently more noble religion than Islam? Tell it to the Irish The British takeover of Ireland is filled with some of the most bloodthirsty religious lunacy you'll find at any time in human history. Here's how one British historian described Queen Elizabeth I's scorched-earth policy against Irish Catholics during the late 1500s:
The suppression of the native race...was carried on with a ferocity which...has seldom been exceeded in the page of history...[It] was literally a war of extermination...Not only the men, but even the women and children who fell into the hands of the English, were deliberately and systematically butchered...Year after year...all means of human subsistence were destroyed, no quarter was given to prisoners who surrendered, and the whole population was skillfully and steadily starved to death. [read more]
This is October?
The nights are cooling off on Whidbey Island — we've had our first frost. But the days have been positively balmy. Zoe's boat wasn't running well the last time we went out in it (it was a bit overloaded). She wanted to take it out and see how it felt with a light load. The little boat did well. My son, Robby, met us and we had a nice afternoon on the water. It was around 70 degrees and the water was perfect.
The Rainy Day waiting for us
Robby at the helm
It looks like we'll leave the boat in the water for a little longer.
Wednesday October 16 2002
Tonight's Fresh Air, with Terry Gross, was most interesting. It was about the Cuban Missile Crisis, which started 40 years ago today — October 16, 1962.
The cuban missle crisis was one of those times when people remember, years later, exactly what they were doing. I was an 18 year old freshman at the University of Washington, in Seattle. I commuted to the U with friends, from the Eastside. We were sitting in the car of one of my friend's dad — a big 1961 Oldsmobile. It was a kind of pea soup green. The kind of car a doctor would drive. We were facing south, parked in the Montlake parking lot. It was a sunny, crisp, fall afternoon when we heard the news on the car radio. It just kind of focused you knowing that we were very close to nuclear war.
Terry Gross interviewed Arthur Schlesinger, a Special Assistant to President Kennedy, and Peter Kornbluh, from The National Security Archive. Peter Kornbluh is an editor of a book about The Cuban Missile Crisis.
You must listen to it. It's very enlightening in light of the actions of our pResident. A couple of suprises were turned up at the convention from the declassified documentation. (The convention had the Russian and American advisors involved with the crisis and Castro headed the Cuban team.) Firstly, Castro never wanted the missles. He knew they would ony draw unwanted attention. He was also convinced, from the ongoing very aggressive U.S. actions, that the U.S. was planning to invade again. (It was only one year from the failed Bay of Pigs invasion.) It was also clear, from documentation and recorded conversations, that Cuba was not a Soviet client.
It was also interesting the extent Kennedy was willing to go to avoid a nuclear war. The military was ready for a preemptive invasion after a massive air bombardment. But the Air Force couldn't guarantee they would get all the missles. Kennedy went for alternatives. Terry asked interesting questions about the similarities with the present situation, with predictable answers.
Shlesinger is a historian and his comments reflected that background. He felt that it was a "gross act of delusion" for Bush, and his advisors, to think that they could predict the future actions of another coountry and it's leaders. History holds too many surprises. Kornbluh also said the Schlesinger felt that Bush "would flunk human history". McNamara was there too. His comment was that the military, and those advocating invasion, did not think through the consequences of their actions.
Check out the section on The Cuban Missile Crisis, for some documentation, at the The National Security Archive. Amazing and scary.
I will say that, as scary as that time was, today is scarier. Much scarier.
By the way, the hit song at the time was The Monster Mash.
David Weinberger, at JOHO the blog, put up this poem by Ani DiFranco that apparently she's reading at all her concerts now. He printed the entire poem and so will I. It's worth it.
SELF EVIDENT by Ani DiFranco
yes,
us people are just poems
we're 90% metaphor
with a leanness of meaning
approaching hyper-distillation
and once upon a time
we were moonshine
rushing down the throat of a giraffe
yes, rushing down the long hallway
despite what the p.a. announcement says
yes, rushing down the long stairs
with the whiskey of eternity
fermented and distilled
to eighteen minutes
burning down our throats
down the hall
down the stairs
in a building so tall
that it will always be there
yes, it's part of a pair
there on the bow of noah's ark
the most prestigious couple
just kickin back parked
against a perfectly blue sky
on a morning beatific
in its indian summer breeze
on the day that america
fell to its knees
after strutting around for a century
without saying thank you
or please
and the shock was subsonic
and the smoke was deafening
between the setup and the punch line
cuz we were all on time for work that day
we all boarded that plane for to fly
and then while the fires were raging
we all climbed up on the windowsill
and then we all held hands
and jumped into the sky
and every borough looked up when it heard the first blast
and then every dumb action movie was summarily surpassed
and the exodus uptown by foot and motorcar
looked more like war than anything i've seen so far
so far
so far
so fierce and ingenious
a poetic specter so far gone
that every jackass newscaster was struck dumb and stumbling
over 'oh my god' and 'this is unbelievable' and on and on
and i'll tell you what, while we're at it
you can keep the pentagon
keep the propaganda
keep each and every tv
that's been trying to convince me
to participate
in some prep school punk's plan to perpetuate retribution
perpetuate retribution
even as the blue toxic smoke of our lesson in retribution
is still hanging in the air
and there's ash on our shoes
and there's ash in our hair
and there's a fine silt on every mantle
from hell's kitchen to brooklyn
and the streets are full of stories
sudden twists and near misses
and soon every open bar is crammed to the rafters
with tales of narrowly averted disasters
and the whiskey is flowin
like never before
as all over the country
folks just shake their heads
and pour
so here's a toast to all the folks who live in
palestine
afghanistan
iraq
el salvador
here's a toast to the folks living on the pine ridge reservation
under the stone cold gaze of mt. rushmore
here's a toast to all those nurses and doctors
who daily provide women with a choice
who stand down a threat the size of oklahoma city
just to listen to a young woman's voice
here's a toast to all the folks on death row right now
awaiting the executioner's guillotine
who are shackled there with dread and can only escape into their heads
to find peace in the form of a dream
cuz take away our playstations
and we are a third world nation
under the thumb of some blue blood royal son
who stole the oval office and that phony election
i mean
it don't take a weatherman
to look around and see the weather
jeb said he'd deliver florida, folks
and boy did he ever
and we hold these truths to be self evident:
#1 george w. bush is not president
#2 america is not a true democracy
#3 the media is not fooling me
cuz i am a poem heeding hyper-distillation
i've got no room for a lie so verbose
i'm looking out over my whole human family
and i'm raising my glass in a toast
here's to our last drink of fossil fuels
let us vow to get off of this sauce
shoo away the swarms of commuter planes
and find that train ticket we lost
cuz once upon a time the line followed the river
and peeked into all the backyards
and the laundry was waving
the graffiti was teasing us
from brick walls and bridges
we were rolling over ridges
through valleys
under stars
i dream of touring like duke ellington
in my own railroad car
i dream of waiting on the tall blonde wooden benches
in a grand station aglow with grace
and then standing out on the platform
and feeling the air on my face
give back the night its distant whistle
give the darkness back its soul
give the big oil companies the finger finally
and relearn how to rock-n-roll
yes, the lessons are all around us and a change is waiting there
so it's time to pick through the rubble, clean the streets
and clear the air
get our government to pull its big dick out of the sand
of someone else's desert
put it back in its pants
and quit the hypocritical chants of
freedom forever
cuz when one lone phone rang
in two thousand and one
at ten after nine
on nine one one
which is the number we all called
when that lone phone rang right off the wall
right off our desk and down the long hall
down the long stairs
in a building so tall
that the whole world turned
just to watch it fall
and while we're at it
remember the first time around?
the bomb?
the ryder truck?
the parking garage?
the princess that didn't even feel the pea?
remember joking around in our apartment on avenue D?
can you imagine how many paper coffee cups would have to change their design
following a fantastical reversal of the new york skyline?!
it was a joke, of course
it was a joke
at the time
and that was just a few years ago
so let the record show
that the FBI was all over that case
that the plot was obvious and in everybody's face
and scoping that scene
religiously
the CIA
or is it KGB?
committing countless crimes against humanity
with this kind of eventuality
as its excuse
for abuse after expensive abuse
and it didn't have a clue
look, another window to see through
way up here
on the 104th floor
look
another key
another door
10% literal
90% metaphor
3000 some poems disguised as people
on an almost too perfect day
should be more than pawns
in some asshole's passion play
so now it's your job
and it's my job
to make it that way
to make sure they didn't die in vain
sshhhhhh....
baby listen
hear the train?
a work in progress by Ani DiFranco
Copyright 2002 Ani DiFranco
All rights reserved. Used without permission.
Drunk Driving
A Sobering Message to Drunk Drivers
Graphic Texas Ad Campaign Features Disfigured Crash Survivor
Texas leads the nation in alcohol-related traffic fatalities. And like other states, the Texas Department of Transportation has looked for better ways to get out the familiar life-saving message: don't drink and drive.
A new ad campaign, engineered by Sherry Matthews Advocacy Marketing in Austin, may be the most effective effort yet at grabbing the attention of teenagers -- thanks largely to the brave efforts of Jacqueline Saburido.
[read more]
Florida
In Fla., McBride Is Down-Home, Up in the Polls
Democrat Closes on Bush In Battle for Governorship
Bill McBride is accustomed to being the top dog. But now, entering the final stage of his audacious bid for Florida's highest office -- trying to unseat the president's brother and avenge the 2000 recount -- the corporate lawyer-turned-homespun politician wants to be the he-coon.
The what? [read more]
More Duct Tape Forever
Wait a minute. Slow down. Does this mean basements in our colleges are filled to the brim with scientists huddled around Bunsen burners ripping measured lengths of duct tape specifically for purpose of furthering the greater good of mankind through publishable research grants? Fine, groovy, way cool, let me, Citizen Durst, amateur protector of society as we know it, jump in and give it a shot. No matching grants involved, but what the hell, we do accept donations. Hey, as a public service, it's all deductible. [read more]
American Empire
The coup in America
From Afghanistan to Israel and Iraq, the calm reason of openDemocracy's international security correspondent has made weekly sense of the 'war on terrorism'. The strength of Paul Rogers' analysis, as this week's Editor's Note confirms, is rooted in an assessment of global dangers that preceded the shock of 9/11. One year on, he registers the profound global concern at the mindset of the new US security elite.
----------
Get Ready for Bleak Life During Wartime
----------
According to recent news stories, the Bush administration may have decided that if the United States ultimately invades Iraq, it will establish a military government under the control of an American military officer who will simultaneously run and redesign the country, on the model of Gen. Douglas MacArthur in Japan after World War II. Whether this turns out to be the policy of the Bush administration, the fact that consideration of such an approach has reached this level warns us that there may be a dangerous intoxication with American power, and a serious loss of judgment as to its limits, among the most senior persons in our government. [read more]
thanks to Blowback
----------
Iraq Is No Stage for MacArthur-Japan Sequel
thanks to SmirkingChimp.com
----------
Pre-emptive strikes by India not acceptable: US
This is typical of the double-standards adopted by the US in its foreign policy, driven as it is exclusively by self-interest. Don't look for consistency, norms, or values whatsoever – it's pure and simple self-centeredness. Where pre-emptive strikes suit them, they are allowed; where they don't, they're not. [read more]
----------
Pretty Blue Angels Of Death
A dazzling air show, a bitter reminder of what hell we are causing elsewhere, free balloons for the kids
Let us now happily observe the Navy's shiny and world-renowned Blue Angels precision flying team roaring over S.F. Bay, shaking the office windows and triggering a million car alarms and inducing coronaries in the elderly and panicking the easily panickable into thinking Armageddon is at hand at last, take me Jesus I am ready, oh wait, damn, it's just Fleet Week. [read more]
----------
Clean lies, dirty wars
As the United States continues to ponder war with Iraq, a military scientist and writer now living in Reno recalls the truths she learned during a trip to post-Desert Storm Iraq.
Lifecasting Sculpture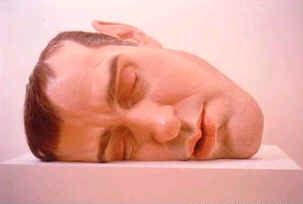 Ron Mueck
Eventually Mueck concluded that photography pretty much destroys the physical "presence" of the original object, and so he turned to fine art and sculpture. In the early 1990s, still in his advertising days, Mueck was commissioned to make something highly realistic, and was wondering what material would do the trick. Latex was the usual, but he wanted something harder, more precise. Luckily, he saw a little architectural decor on the wall of a boutique and inquired as to the nice, pink stuff's nature. Fiberglass resin was the answer, and Mueck has made it his bronze and marble ever since. [read more]
thanks to boingboing
----------
But wait! There's more!
Comics
Global Climate Change
The term global warming, when talking about the changes to the climate by man, is not the right term to use. We are experiencing global warming but we can't know if that trend will continue. What is known is that there will be change and we can't predict what it might be. The better term is global climate change. There are inidications that the current global warming could trigger something very different.
Rumble of a coming ice age
Snap climate change
A remarkable change in the waters of the North Atlantic has thrown what one leading oceanographer is calling a "curve ball" into thinking that the planet will gradually warm due to greenhouse gases in the atmosphere.
Instead, there is a real possibility that global warming may soon trigger the sudden onset of an ice age that could last hundreds of years.
"In just the past year, we have seen ominous signs that we may be headed toward a potentially dangerous threshold," says Dr. Robert Gagosian, president and director of the Woods Hole Oceanographic Institution in Massachusetts. "If we cross it, Earth's climate could switch gears and jump very rapidly -- not gradually -- into a completely different mode of operation. [read more]
thanks to Red Rock Eater Digest

Bracing for a "Catastrophe" in the Middle East
Many Palestinians fear that the policy of "transfer" or forced expulsion of Palestinians may be the pinnacle of Israeli Prime Minister Ariel Sharon's career.
"Transfer" has been anything but a fairy-tale idea, contemplated only by extremist Israeli politicians or religious leaders. It is a concept that has been implemented many times throughout history, going back as early as the expulsion of 750,000 Palestinians and the destruction of their towns and villages (418 to be exact), during the 1948 Arab-Israeli war, also known as the "Palestinian Catastrophe." (...)
Brownfeld narrated an episode, described by Rehavam Ze'evi, the founder of the Israeli right-wing movement. Moledet, and former minister in the Israeli government.
Ze'evi, a young soldier in the Israeli army during "Israel's war of independence", recalled the conquest of the once prominent Palestinian city of Lydda. "When officers of Ze'evi's unit asked their assistant commander, Yitzhak Rabin, what to do with the Arab population of the town they had just conquered, Ze'evi reports that Rabin's answer was: 'expel them.'"
Expulsion was the norm. It was done "smoothly and simply", Ze'evi said. Ze'evi remained a faithful believer in the practice, which he felt should not be stopped at the border of the Gaza Strip and the West Bank. He once said: "We came to conquer the land and settle. If transfer is not ethical, then everything we have done here for 100 years is wrong." [read more]
----------
While the most brutal of measures are being taken against the Palestinian population, the world is being deceived into believing that political reforms can happen in the Israeli-occupied territories of the West Bank, Gaza Strip and East Jerusalem. As the Bush Administration continues to call for regime change in the Palestinian Authority, Israel is silently pursuing a violent strategy of establishing internment camps that imprison Palestinians from all walks of life. With over 12,000 acts of detainment and over 5,000 Palestinian detainees now languishing in Israeli jails, the facade of reform unfolds in a political vacuum. [read more]
Cooking
"I want my dream kitchen to be industrial." —girlfriend
My dream kitchen will be industrial. It will have bright, wide open spaces framed by exposed pipes and a concrete, no-nonsense floor. The counters and door will be made of stainless steel. A drain installed in the center of the floor will allow you to hose down the whole place.
My dream kitchen will be very industrial. You will be able to walk into the fridge. The dishwasher, also stainless steel, will remove the toughest baked-on grit from oversized pans and baking sheets. Smoked-glass windows will stretch from the ceiling to the floor. Everything will be so large that a person could soak comfortably in the sink alongside the carrots and potatoes. [read more]
thanks to MetaFilter
Music
Craig has some good words and links about...
The Dixie Chicks don't need a plug from me. They're going to sell a lot of copies of their new CD Home. They had chart topping success with their last two efforts Fly in 1999 and Wide Open Spaces in 1998, selling more than 10 million copies, each. Even the dry spell resulting from their several year legal fight with Sony couldn't kill all the market momentum behind the Chicks. [read more]
Rhapsody has Wide Open Spaces and Fly. My Amazon Wish List now has Home in it.
----------
Joni Mitchell 'Ashamed' to Be in Music Business
"I just think it's a cesspool," the 58-year-old folk-rock icon said in the latest issue of Rolling Stone magazine.
"I hope it all goes down the crapper. I would never take another deal in the record business, which means I may not record again, or I have to figure out a way to sell over the Net or do something else. But I'll be damned if I'll line their pockets." [read more]
thanks to MetaFilter
----------
It's easy to fail in e-business; what's hard is failing magnificently. The Big Five music-recording companies have been transcendent in this respect. Their combined efforts have gone beyond killing their e- businesses and are close to destroying an entire industry.
Following are 10 rules of e-business failure, a list inspired by the recording industry's imaginative approach. [read more]
thanks to boingboing
Wallace and Gromit are back!
Wallace and Gromit film premičres
Oscar-winning animated duo Wallace and Gromit have returned after a six-year absence in a series of short films - and BBC News Online has exclusive footage.
Maker Aardman Animations has produced 10 one-minute movies featuring Wallace and his canny pet dog Gromit, entitled Cracking Contraptions.
The films launched on Tuesday with the world exclusive premičre of the first short, Soccamatic, on BBC News Online. The film is downloadable and free to view. [read more]
thanks to enthusiasm
A Movie That Matters
Michael Moore Asks Big Questions
Michael Moore is the documentary filmmaker that movie critics hate to love. The Los Angeles Times calls his new movie, "scattershot," "haphazard" and "all over the map." The New York Times accuses him of "slippery logic, tendentious grandstanding and outright demagoguery." And yet, with almost no exceptions, the critics heartily recommend "Bowling for Columbine."
If you're comparing Moore's work to a sepia-toned Ken Burns opus, it's easy to see where the criticism comes from. "Bowling for Columbine" aims for the gut, throws big ideas into the ring and doesn't really grapple with all of them. But it is gripping and powerful; it grabs you by the heartstrings and makes you laugh at your assumptions. And precisely because Moore does not pretend to answer all of the questions he raises, "Bowling for Columbine" is that rarest of beasts: A movie that makes you feel, and then makes you think. [read more]
Taxes
Bush to Get Options on Revamping Tax System
The White House will soon begin reviewing specific options to overhaul the federal tax system, edging into one of the most volatile economic issues, administration officials said today.
After studying the issue for months and promising to make recommendations by the end of the year, Treasury Secretary Paul H. O'Neill told an audience in Iowa today that he intended to deliver options to the White House in a few weeks. Aides said he meant some time after Election Day. [read more]
Why does this make me nervous?
A Halloween Costume Gone Terribly Wrong
This was sent to me by my daughter Katie. I can always count on her for tasteful pictures.
Our Favorite Monopolist
The Ad Microsoft Won't Let You See
Microsoft posted a dumbass "testimonial" from someone (by coincidence, an attractive woman...what are the odds of that?!) who recounts why she switched from the Mac to XP. Everything about this "real life" testimonial is phony, starting with the faux voice: [read more]
The image for the above true life testimonial.
thanks to MetaFilter
American Empire
In case you haven't noticed, the people running Al Qaeda are smart. Saturday's bombing in Bali, presumably carried out by a group connected to Al Qaeda, was monstrously evil. It was also, I'm sorry to say, very clever. And it reinforces the sinking feeling that our leaders, who seem determined to have themselves a conventional war, are playing right into the terrorists' hands. [read more]
----------
Terrorists once more fired at American troops here in Kuwait on Monday, although no one was injured this time. As with last week's attack, in which two Kuwaiti men shot one American marine to death and wounded another, we don't know whether the shooting was sponsored by Al Qaeda or was a purely home-grown affair.
But there's no doubt that even in Kuwait, where Yankees have the best possible claim on Arab gratitude, a significant minority of men and women regard us as worms. Some Kuwaitis are even hailing the terrorists who killed the American soldier as martyrs. [read more]
----------
Bush's Road to War on Iraq Leads to Rome's Empire, and Its Downfall
For the Bush administration, the road of public policy leads to Rome. That's nothing new in U.S. history. Americans of the 19th century often pointed to the Roman republic as the model for our own rights and freedoms.
But President Bush would have us emulate the Roman empire, creating world order by giving orders around the world. [read more]
thanks to Politics in the Zeros
----------
Now that Congress has droned through a week of largely desultory debate to authorize the use of force against Iraq, how will it be exercised? That is properly a military secret, unknown even to members of Congress. More questionable, it is also unknown to senior military officers. [read more]
thanks to Politics in the Zeros
The First Jet Airliner
The de Havilland Comet took to the air six years before the Boeing 707 flew. I was poking around Paine Field a number of years ago. I drove around a building and there was one of the most beautiful airplanes that ever flew, a Comet. It was a sad sight sitting on flat tires. It's good that it's being restored...
1950s-era Comet being restored to former glory
---------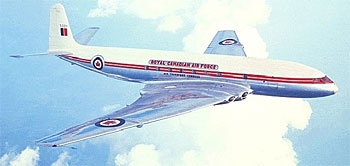 [read more]
Really Good Ideas
It's a chocolate bar that's designed by Terence Conran, weighs anything you put on top of it and can heat a small house.
It's a series of randomly-generated product ideas! It raises questions about the nature of prior art in patenting issues and is occasionally amusing! [read more]
thanks to JOHO the blog
Wall Street and White House Crooks
Choice of SEC Aide Sends Mixed Signals
I would argue that the arrival of the White House operative doesn't mean Harvey Pitt is in trouble. It means all the investors who count on the SEC to oversee the securities markets are.
When a White House spin doctor joins the staff of a supposedly independent regulatory agency, you can bet she's not there to help the watchdogs do a better job. [read more]
Art
The Museum of Neon Art
In the late 1970s the neon sign industry had been dying for 25 years. Many colors of glass were out of production, new tube benders were not being trained, and wrecking balls across the country were felling historic neon signs at an alarming rate. At the same time a few artists had begun working in neon and other electric media to create fine art that wary museum and gallery curators were afraid to exhibit. In 1981 neon artist Lili Lakich with the help of Richard Jenkins, who restored theater marquees, founded the Museum of Neon Art. Their purpose was to provide a permanent exhibition space for artists to show and the public to see electric fine art and to preserve for future generations the artifacts of American culture that the beautifully designed commerical neon signs and marquees are. [read more]
thanks to plep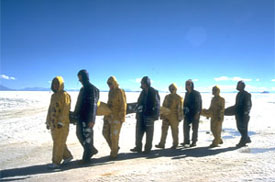 Lucy Orta
NEXUS ARCHITECTURE
Nexus Architecture/Collective Wear is one of the most emblematic designs of Lucy Orta's ongoing projects. More symbolic than potentially "useful", Collective Wear is made up of outfits that superficially resemble space-suits - or those white, head-to-toe costumes worn by Greenpeace activists during anti-nuclear protests. They are linked together by detachable "umbilical" structures and can be worn, hypothetically, by hundreds or thousands of people joined together in a row (up till now 30 people have been linked together in South Africa, the U.S.A., Mexico, Bolivia and elsewhere). [read more]
thanks to Riley Dog

A Jewish Demographic State
by Uri Avnery
It sounds like a bad joke, but it really happened: A rabbi went from Israel to Peru, converted a group of Native Americans to Judaism, brought them to this country and put them in a settlement, on land taken away from its Palestinian owners. There they receive, as all settlers do, generous government subsidies, paid for with money taken away from thousands of Israelis living below the poverty line. There they can live happily ever after (unless they leave the settlement in an unarmored car, in which case they may be ambushed by the original Palestinian owners.)
What causes a state to bring total strangers from another hemisphere in order to displace the native people, who gave lived there for many centuries, at the price of an eternal bloody conflict? The answer touches the foundations of Israel. [read more]
----------
Israeli Tribes: Once Lost
and Now Found?
Searching for the Lost Tribes of Israel in India and Afghanistan
----------
Journal axes gene research on Jews and Palestinians
A keynote research paper showing that Middle Eastern Jews and Palestinians are genetically almost identical has been pulled from a leading journal. [read more]
----------
I personally draw a positive conclusion from this research. As an American-Jew, I have long struggled with the contradictions and problems of Zionism and the unjust policies of the State of Israel towards Palestinians. For those brave enough to seize this research in the right spirit, there is a solution in it for the problems of the Middle East. Simply stated, European Jews, Middle Eastern Jews, and Palestinians are brothers and sisters and share a common Canaanite ancestry. There were a small number of voices amongst the early Zionists who were against the creation of a separate Jewish state in the region. They lost out to the bigger faction lead David Ben-Gurion, who suffered from the disease of European colonialism. Ben-Gurion and those in his camp saw the natives of the region as an obstacle to be eliminated. I believe Jews around the world need to take pride not in Israel as a modern colonialist State but in the entire region Palestine as the homeland of Canaanite and Israelite culture that we are descended from. European Jews are simply Europeanized Canaanites, Palestinians, whether Muslim, Christian or Jewish were simple Arabacized Canaanites. Even modern genetic research is proving that we come from the same ancestry. [read more]
----------
Zionist Ideology, the Non-Jews and the State of Israel
Israel Shahak once remarked that for at least the last 200 years, Jews have demanded equal rights in every country in which they've lived – with the remarkable exception of Israel, the Jewish state. Israel has always founded its institutions on the denial of equality to non-Jews. From the beginning, a good half a century before 1948 when the state of Israel was established, Zionist ideology has held strict opposition to equality for non-Jews as a fundamental principle. [read more]
----------
The survey that the Coordinator of Government Activities in the Territories presented to the cabinet Sunday makes disturbing and depressing reading for anyone who cares about Israel's welfare - and not just for those who care about the Palestinians' well-being and rights. Major General Amos Gilad paints a chilling portrait of Palestinian society, whose three million people, after two years of intifada, are wallowing in a hopeless midden of poverty, unemployment and economic dependency. Everything there is collapsing and decaying; only hatred for Israel is rising. [read more]
----------
There is no difference between an "illegal outpost" and a "legal settlement": the question of the settlements' legality should not even be on the public agenda. The only thing that differentiates a "legal" settlement from an "illegal" outpost is a piece of paper, usually in the form of retroactive "laundering" of the outpost by the defense establishment. Yesterday's outposts are today's settlements and both are a disaster. [read more]
Duct Tape Forever
Yet Another Use for Duct Tape: Wart Removal
Duct tape, already legendary for its many uses, can also be deployed to get rid of warts, U.S. Army researchers said on Monday. [read more]
thanks to Politics in the Zeros
Comics
This Modern World
After Irag--where next? Now you can have a chance to decide--on Fox's latest reality show:
AMERICAN INVASION
Tom the Dancing Bug
The bare-nuckled of justice of Judge Scalia
America's Cup
Round 1 is complete for the Challenger's Cup and OneWorld is the only undefeated boat. The teams take the next week off from racing, and work like sons of bitches to make their boats and teams faster. Racing resumes on the 22.
OneWorld finishes opening round undefeated
Two gear failures on the final day prove costly for the French and the Swedes.
OneWorld Challenge continued their relentless march through the opening round of the Louis Vuitton Cup, defeating Oracle BMW Racing in their closing match to emerge as the only unbeaten team in the fleet. [read more]
----------
OneWorld of Seattle finished the first round of the America's Cup challenger series unbeaten, defeating Oracle of San Francisco by 40 seconds in a makeup race yesterday. [read more]
----------
OneWorld serious contender for the Louis Vuitton Cup
OneWorld have just completed an outstanding run through Round Robin 1 of the 20th Louis Vuitton Cup and are proving to be a serious contender for the Cup and maybe even the winner to go up against defenders Team New Zealand next February. Throughout this first round robin series, OneWorld have accomplished extremely comfortable finishes, and their boat looks fast. [read more]
----------
A red-headed, freckle-faced boy runs around the OneWorld spectator boat on race days giving a running commentary of his big brother's performance. [read more]
----------
This page has details of the physical dimensions of the America's Cup class boats. There is also a link in this page to a pdf file of the class rule (51 pages.)
[read more]
Whales
Fellow Whidbey Islander Laurie Keith sent me this link.
Spread of Active Sonar Threatens Whales
The U.S. Navy wants to flood the world's oceans and coastal waters with sonar technology that deafens -- and kills -- whales and other marine mammals.
Around the globe, nations are testing and beginning to deploy "active sonar" technology, which uses extremely loud sound to detect submarines. The problem? Active sonar can injure and even kill marine mammals. It has been conclusively linked to the deaths of seven whales in the Bahamas in March 2000, and is thought to have caused a 1996 mass stranding of beaked whales on the west coast of Greece.
The U.S. Navy has led the push toward use of active sonar. In full knowledge of the disastrous effects that active sonar's intense noise may have on whale populations all over the world, the Navy has also conducted testing in complete secrecy and has consistently evaded and violated environmental law. [read more]
This story also has links on who to write to.
Fairy Tales
The Minikin Incarnadine Cowl-Titivated Gamine,
or Little Red Riding Hood
One particular chronological interval, the materfamilias impelled her to convey a dosser, replete with alible pabulum and potations, to her matrilineal predecessor, forasmuch as, through her valetudinarian state, the somatic condition of the aforementioned octogenarian was compromised to the point of her being enervated and impuissant. Ergo, her being was delimited to the supine position. The vinaceous-bedaubed scion acquiesced extempore, and forthwith embarked on her entrustment. [read more]
thanks to DANGEROUSMETA!
Snipers
Talking Points Memo has a disturbing post on snipers. Check out his links.
Copyrights
This one of those things that can appear very dry but is of utmost importance to those that create. Creation does not happen in a vaccum. Everything we create, whether it is a painting, a pop song, or a blog, is built on what others before us have done — it is based on what is in the public domain. The corporations have been trying to eliminate the public domain. Larry Lessig is on the forefront of reclaiming that public domain. Last week he took his case to the United States Supreme Court. This is his take on what happened.
So there's an extraordinary (and extraordinarily interesting) range of reporting about the argument before the Court. As I was on the front line, let me add a bit more. My hope in doing this is to put this in a bit of context, and to highlight at least what we should be looking for. (EV predicts a 6-3 victory, which is significant, because he and I have a bet, and he took the other side.)
Aaron reports Brewster's statement to him that "it was a dance for which I don't know the steps." That's close. I think the better analogy for someone viewing an oral argument for the first time is the first time you see a cricket match. There are some moves you are certain you know are bad (a swing and a miss); but there's lots that plays into something you can't quite get till you know the context of the game. Here, then, the context of the game, as well as the moves from last Wednesday. [read more]
thanks to JOHO the blog
Linky Goodness
I once had a supervisor that gave me the secret of dealing with supervisors. He called it Dipping the Duck. "When you dip a duck in water, and pull him out, the water just runs off his back. He doesn't get wet. If you want to get him wet, you have to dip him over and over again." Now, I'm sure, he was speaking metaphorically and never harmed any ducks in proving this theory. The theory does work with supervisors and just about everything else. (Supervisors have been harmed in my application of this theory.) Alas, it also applies to me.
j p, the inestimable d'monquis and purveyor of linky goodness, has a web page that is a firmament of blogs. I know that I have seen the link before, and have been there before, but it is only now that I have been dipped enough times to get wet and have discovered and understood the wonderfullness of:
autreblog
[Disclosure: The fact that this blog happens to be a small star in j p's firmament in no way affects my judgement as to the worthiness of autreblog. (It's the little orange one centered and towards the top.)]
Health Care
If it weren't for the steady beat of war drums, health care would be front and center in this fall's political debate. And war or no war, politicians will not be able to avoid it much longer. As John Breaux of Louisiana, long one of the most conservative Senate Democrats, recently told the press, "The system is collapsing around us." [read more]
Lula!
I recently posted a link to a right-wing article critical of Lula, the current favorite in the election runoff in Brazil scheduled for Oct. 27. I posted a caustic comment, with the article, that may have been misconstrued as support of the article's position. Nothing could be further from the truth. I received the following from R P Diehl, with a link to an article about Lula and democracy in Brazil.
As a Brazilian, all I can say is: the guy who wrote that stuff in the first place, C. Menges, sure is delirious.
Lula is a true democratic leader, and the world will soon be acknowledging that.
If having good relations with Castro is a crime, well, the US should arrest Jimmy Carter, who has just won the Nobel Prize exactly for things like that.
Mr Menge sure isn´t a fool. His involvement in the infamous Iran-Contras affair, is enough to tell about his beliefs. He deserves no credit at all.
Time will prove Lula to be the best thing ever happened to Brazil - and also for America - both South and North.
THIS is Democracy - not Mr Menge´s distorted 50´s-like view, but the REAL stuff. Lula is the result of free elections in a free country. 180 million people said so last Sunday.
One can´t say that of Mr Bush´s electoral 'victory' 2 yrs ago.
Lula's a leader Brazilians can get excited about
BY Jesse Jackson
In the United States, the media often call him a ''leftist.'' But Lula is an experienced labor leader, accustomed to negotiating with business and finding common ground. His victory will elevate not a revolutionary, but a new democratic hero. Given his roots, and his long struggle for inclusion, fairness and democracy in Brazil, it is no stretch to put him in the same freedom fighter category as Dr. Martin Luther King, Nelson Mandela and Lech Walesa. [read more]
My fear is that America's leaders will show their true feelings about democracy when they try to subvert Lula's election.
American Empire
Marine, Army staffs ordered to Kuwait
The Pentagon has issued orders to the Army's V Corps and 1st Marine Expeditionary Force to deploy headquarters staffs to Kuwait, marking the first nonroutine dispatch of conventional ground forces to the Persian Gulf region in anticipation of possible military action against Iraq, defense officials said yesterday. [read more]
----------
Rumsfeld Orders War Plans Redone for Faster Action
Defense Secretary Donald H. Rumsfeld said today that he had ordered the military's regional commanders to rewrite all of their war plans to capitalize on precision weapons, better intelligence and speedier deployment. That way, he said, the military could begin combat operations on less notice and with far fewer troops than thought possible — or even wise — before the Sept. 11 attacks. [read more]
----------
This has always been a place where people say the opposite of what they mean. But last week, the capital soared to ominous new Orwellian heights. [read more]
----------
Proceed With Caution
James Fallows argues that before getting ourselves into a war with Iraq, we must think long and hard about its possible consequences
----------
Green Berets move into Colombia's oil fields
The War Against Democracy
The Lynne Stewart Case
When Representing an Accused Terrorist Can Mean the Lawyer Risks Jail, Too
As every lawyer knows, client confidentiality is the very foundation of the attorney-client relationship. Attorney Lynne Stewart certainly believed that to be true, but her principles and zealous representation have landed her a four-count criminal indictment for aiding and abetting terrorism.
Without warning, Stewart was taken out of her home and arrested. Attorney General Ashcroft then staged a press conference within hours of her arrest. The same night, he appeared on David Letterman's show, to assure viewers (and potential jurors, it seems) that the "terrorist" lawyer was guilty as charged.
The basis for the prosecution? Communications Stewart made with and about her client, a convicted terrorist for whom she was court-appointed counsel for his trial and whom she continued to represent in post-conviction [read more]
Hippie Crack and Pluralism
The Nitrous Oxide Philosopher
Do drugs make religious experience possible? They did for James and for other philosopher-mystics of his day. James's experiments with psychoactive drugs raise difficult questions about belief and its conditions
He has short hair and a long brown beard. He is wearing a three-piece suit. One imagines him slumped over his desk, giggling helplessly. Pushed to one side is an apparatus out of a junior-high science experiment: a beaker containing some ammonium nitrate, a few inches of tubing, a cloth bag. Under one hand is a piece of paper, on which he has written, "That sounds like nonsense but it is pure on sense!" He giggles a little more. The writing trails away. He holds his forehead in both hands. He is stoned. He is William James, the American psychologist and philosopher. And for the first time he feels that he is understanding religious mysticism. [read more]
thanks to MetaFilter
The MetaFilter post has other nitrous links.
Economics
Bush League Economics
Can't anybody here play this game?
Surveying the 1962 New York Mets, perhaps the most woeful assemblage of talent ever to take the field, legendary manager Casey Stengel plaintively asked, "Can't anybody here play this game?"
I'm beginning to wonder the same about the Bush economic team. [read more]
America's Cup
Too much wind yesterday to complete Round 1. They will try to get it all in today but the weather looks to be the same as yesterday.
Heavy Squalls Force Cancellation of Racing
Squalls of up to 45 knots on the Hauraki Gulf forced the three pairs of yachts scheduled to race today off the course and back to their compounds.
[read more]
----------
Race a memorable first for 17th man
Skipper Peter Gilmour greeted me with a firm handshake, and quickly showed me the ropes. Namely, the halyards and lines to avoid.
"We've already lost one finger on this boat," he pointed out, matter-of-factly, tapping on a block. Say no more, captain.
With the start rapidly approaching, crewman Brian Ledbetter of Seattle popped back to offer some valuable advice. He outlined a 3-by-4-foot area where, essentially, nothing can kill you, and you can't screw anything up. At the start, he said, get in it, crouch on all fours like an animal, and hang on. [read more]
----------
Notebook: OneWorld critics way off the mark
A year ago, Seattle's OneWorld Challenge was considered by the sailing establishment to be a longshot — not just to win the Louis Vuitton Cup and advance to the America's Cup finals. To get in the water here at all. [read more]