Archives
paul wellstone 1944-2002
Paul Wellstone, 58, Icon of Liberalism in Senate, Dies
James W. Ziglar, a Republican who was sergeant at arms of the Senate from 1998 to 2001 and who is now commissioner of the Immigration and Naturalization Service, remembered today "the evening when he came back to the Capitol well past midnight to visit with the cleaning staff and tell them how much he appreciated their efforts."
"Most of the staff had never seen a senator and certainly had never had one make such a meaningful effort to express his or her appreciation," Mr. Ziglar said. "That was the measure of the man."
[more]
Like so many others I am in a state of shock over the sudden and tragic death of Paul Wellstone. I can scarcely believe I've just written those words. For every Democrat -- probably as much for those who didn't share his politics as for those who did -- Wellstone was a special treasure: a sort of genuinely progressive, utterly engaged and sincere politician who somehow captured what was essential in the aspirations of his party, even if he supported policies that others didn't. ("I'm from the Democratic party-wing of the Democratic party," he got fond of saying in the late 1990s ...
[more]
We have all lost.
you can run but you can't hide
Scary Google
1. Go to google.com
2. Type in your phone number, in quotation marks
3. When it finds your name and address, click on "Maps"
4. You are here.
thanks to JOHO the blog
music
The Woody Guthrie tradition is being carried on. (I've linked to Billy Bragg before. It was about his Woody Guthrie collaboration with Wilco that resulted in the Mermaid Avenue recordings.)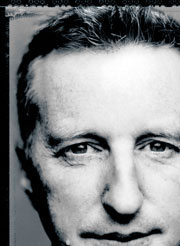 It's all about the union, Jack
Activist musician Billy Bragg invites fans to England's identity crisis
"I don't ever wish to be the inheritor of Woody's legacy," Bragg said. "But I would always recognize that I was part of a tradition - and that tradition would include The Clash, Dylan and Ani DiFranco - in which he was the founding father. I owe him because of that, and the Mermaid Avenue records are a manifestation of that debt."
[more]
thanks to wood s lot
At his concert last week, British folk-punk shit-disturber Billy Bragg tossed CDs into the crowd. They contained an unreleased song: "The price of oil."
"Rip these to mp3, get them on the 'net, get them on file- sharing networks."
[more]
The above link has a download link for The price of oil. You can also use this download link:
the price of oil
4.49MB MP3
Listen to it. Pass it around.
On another note — I've been a fan of Roy Rogers since I saw him at a blues festival about 6 years ago. Not that fake Hollywood cowboy whose real name was Leonard Sly — I mean the real Roy Rogers. Here is a RealAudio interview with some guitar tracks. There are also a couple of bonus tracks with some piano player.
Roy Rogers and Chuck Leavell
Blues Guitarist, Stones Keyboardist Hold Impromptu Jam
After listening to Rogers perform "Swamp Dream," from his latest CD, the all-instrumental Slideways, Edwards, half- kidding, says: "I can attest there was only one guitar there. I think listeners might have imagined an ensemble, but (there was) only one..."
Rogers explains how he arrives at his sound. "I'm a very rhythmic player. I respond to the rhythm in just real important ways as far as approaching what melodically you're going to do, how you're going to improvise. And if that rhythm is blazing, you know, that's when you're feeling fine..."
[more]
thanks to BookNotes
photography
This is absoulutely demented. It's wonderful!
[more]
thanks to Riley Dog
aging
Growing Old Alone
A Visit To Mother
At least twice a year I fly to New York to sit with my mother. She doesn't want help, so all I can offer her is company. Often, she doesn't want that either. Often I plan to spend a week with her and I end up passing most of the time with friends in the city and generally avoiding my caretaking role. This time there can be none of that. She lives in a HUD independent living complex for the elderly and the manager of her home has made it clear that she needs more regular care or she needs to move out. This visit is about getting her a social worker, signing her up for a meals-on-wheels program, and taking her to a doctor. All against her will, and all vaguely beyond her understanding. Her mind, as it was, is gone, and she is simply waiting for her failed understanding of the world around her to fade to black once and for all.
[more]
thanks to wood s lot

The constructive destruction option
David Satterfield, the low-level U.S. envoy sent to Jerusalem about two months ago, took some time off to attend a strategic briefing by Major General Giora Eiland and senior IDF General Staff officers in Tel Aviv. One of the options for resolving the crisis in the territories suggested by the officers was the "constructive destruction" option: laying waste to the Palestinian Authority, reinstating full Israeli control of the kind that existed before the first intifada, and reaching an imposed settlement with obedient canton administrators. Although the generals quickly wiped the constructive destruction option from their slate, echoes of it reached Jerusalem and Washington. (...)
Another Palestinian minister told an Israeli friend this week that an increasing number of Palestinians are convinced that the only choice Sharon has left them is between another naqba (catastrophe) and a return to the days of enlightened occupation. He says the Palestinians will fight to the last bullet. That is the real road map.
[more]
a travel log
[more]
thanks to Riley Dog
american empire
The Shame of the Politicians
by Daniel Ellsberg
For me, it's as if I'm reliving what was happening in the Pentagon in 1964 and 1965. This time, for awhile, it looked like the Democrats were ready to resist another Gulf of Tonkin (1964) resolution -- which got us into Vietnam -- but in the end they caved. So, now we have Tonkin Gulf II, with key phrases like "as the president determines" and "all necessary measures." That's an absolutely blank check, just like the Tonkin Gulf resolution. Only the place names have changed.
[more]
thanks to BookNotes
As Washington does a soft shoe shuffle to appease its detractors in the United Nations Security Council and agrees to changes in the wording of the proposed new Iraq resolution, American President George W. Bush considers an Israeli proposal to destroy Iraqi missiles in Iraq's western desert.
[more]
Qatar Coup Plot May Thwart U.S. War Plans
A foiled coup plot in Qatar raises questions about the ability of the government in Doha to survive, and with that, about U.S. access to the massive al-Udeid air base. If Qatar is forced to rethink and limit its cooperation with the U.S. military, it could remove a key component of Washington's war plan for Iraq.
[more]
thanks to Cursor
Two battalions of US Marine Jungle Expeditionary Forces have recently received deployment orders for insertion into Colombia this coming February, 2003.
According to reliable sources, the battalions, which with support will total roughly 1,100 men, will rotate in and out of southern Colombia, with orders to eliminate all high officers of the FARC (Revolutionary Armed Forces of Colombia), scattering those who escape to the remote corners of the Amazon. The FARC hierarchy has been the subject of intensive US intelligence scrutiny for several years. The offensive will mean that the US is fighting wars on three fronts simultaneously: Afghanistan, Iraq and Colombia.
[more]
thanks to Politics in the Zeros
a democracy falling
The Imminent Death of American Democracy...
Starting in Missouri
Two hundred years of American democracy could definitively end November 5, starting in Missouri.
No matter what happens in the overall election, the race for the US Senate seat from Missouri will determine who controls the Congress on November 6.
Should incumbent Democrat Jean Carnahan lose, the Republicans will immediately take control of the US Senate. They could then use a lame duck session to destroy the last vestiges of the American system of checks and balances. They are confident this will happen, and are spending millions to make sure it does.
[more]
Right now the administration is playing the war card, inventing facts as necessary, and trying to use the remnants of Mr. Bush's post-Sept. 11 popularity to gain control of all three branches of government. But then what? There is, after all, no indication that Mr. Bush ever intends to move to the center.
So the administration's inner circle must think that full control of the government can be used to lock in a permanent political advantage, even though the more the public learns about their policies, the less it likes them. The big question is whether the press, which is beginning to find its voice, will lose it again in the face of one-party government.
[more]
a democracy rising
Sunday's runoff election in Brazil is democracy in action. It will also cause serious heartburn in the White House. That will be good.
Olé, Olé, Olá, Lula! Lula!
Brazil: Notes on a Democracy Rising
Now it's October 6. I'm back in the U.S., but it's election day in Brazil. A huge day in the history of this hemisphere. Brazil is pretty good at voting; they could teach us a lot. They have multiple parties, free TV time, voting with party symbols, and they vote on Sundays. Much of the voting takes place in schools, but they use every classroom, not just the gym; and different neighborhoods vote in separate classrooms, which speeds up the process considerably.
Brazil also has "mandatory" voting, which means that turnout is high. In 2000, 280 million Americans cast about 105 million votes. In 2002, 175 million Brazilians cast 94 million votes. In a country with more than 100 million fewer people, and in a serious multiple-party race (the fourth- place finisher gets more than 10 million votes), Lula carries 25 out of 28 states, takes more than 46 percent nationwide and collects 39 million votes, almost as many as George W. Bush got.
And they seem to have counted them all.
[more]
Lula Takes Huge Lead Into Last Days of Brazil Race
Brazil's presidential hopeful Luiz Inacio Lula da Silva on Friday held a rock-solid lead that was expected to weather a final television debate against rival Jose Serra and carry him to victory in Sunday's election.
[more]
thanks to Politics in the Zeros
the hurrieder i go, the behinder i get
It's off to the airport today to deliver a friend to her flight. I have some tasty links but no time to get them up this morning. Will be catching up this afternoon and evening.

bring democracy back
Regime Change Begins At Home Poster
If everyone who's worried about Bush's plans votes on November 5, we can engage in a little "regime change" of our own. The good news is that a majority of the people in this country are concerned. But that doesn't matter unless they voice that concern at the polls.
If enough of us download these, print 'em up, and stick them on our car or in our windows, we can begin to create a culture of engagement and patriotic dissent. We'll amplify our voices. We'll help to elect the candidates who can help us out of this mess. And we'll help to fire the ones that are on board for Bush's endless war.
[more]
thanks to BookNotes
white house crooks
The following was a letter to the editor published in our local Whidbey News-Times, written by Al Williams. The letter was concerned with the war against Irag but the first paragraph related an interesting experience with a company that used to be run by our vice-president.
For the past 20 years I have had a trucking business that has taken me all over the country. Some years ago I delivered in the oil fields of Utah and Wyoming where employees of the Halliburton Oil Exploration Company laughingly told me that what they were doing was as "crooked as hell" They said that their CEO, a former Secretary of Defense (if I remember right) of the Reagan Administration had lobbied Congress so that they would be reimbursed for dry well holes. They went on to say that oil exploration had become such an exact science that they knew with near pinpoint accuracy where the oil was, would drill just short of it, declare a dry hole, get paid taxpayer bucks for it, and move on only to return later to finish the job and reap the benefits.
culture jamming
lula!
Lula's Rules
Brazil could undo Bush's trade scheme.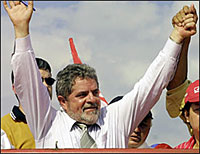 Just when it was looking as if the Bush administration would stamp its economic model on the entire Western Hemisphere, a credible challenge has emerged. South America's largest and most self-reliant economy is very likely to elect a popular moderate leftist. Luiz Inacio Lula da Silva of the Workers Party in Brazil has campaigned vigorously against President George W. Bush's proposed Free Trade Area of the Americas (FTAA). First imagined by Ronald Reagan, it would essentially extend the North American Free Trade Agreement from the Arctic Circle to Tierra del Fuego. With a crucial negotiating session co-chaired by the United States and Brazil in Quito, Ecuador, set for just after Brazil's Oct. 27 runoff elections, and negotiations scheduled to continue until January 2005, the FTAA will not be the cakewalk the United States wants.
[more]
The FTAA is good for American Corporations and screws everyone else. Hopefully Lula can hold his ground.
war against some drugs
Pot Luck
Following a raid in Santa Cruz, medical marijuana supporters trot out an unlikely argument: states' rights.
Early in the morning of Sept. 5, Drug Enforcement Administration officials raided a small farm near Santa Cruz, Calif., that had provided marijuana for sick and dying patients under California's 1996 medical-marijuana law, Proposition 215. According to the DEA, the 100 to 200 plants seized at the farm confirmed that large-scale production, distribution and sale of marijuana was taking place, a charge that owners Valerie and Michael Corral deny. The Corrals -- who lead the Wo/men's Association for Medical Marijuana (WAMM) and helped craft a 1992 local ordinance in Santa Cruz that foreshadowed Proposition 215 -- were arrested following the raid and later released without being charged.
The incident has set off a bitter feud between law-enforcement officials in California and the Department of Justice in Washington. Moreover, it's placed some California liberals in the unusual position of defending states' rights against federal authority. Indeed, the most recent California episode is more than a rehashing of the age-old confrontation that pits Reefer Madness conservatives against pot-loving hippies. At its core is a debate about the federal government's right to veto the judgment of local law enforcement and override a state law approved by 56 percent of voters. Though the U.S. Supreme Court ruled on the issue of medical marijuana as recently as May 2001 -- finding 8-to-0 in United States v. Oakland Cannabis Buyers Club that medical use is an unacceptable defense in federal trials for distribution -- the courts have yet to contend with the more controversial issue of states' rights and federal jurisdiction raised by the California law (and similar legislation in seven other states).
[more]
put his own words in his mouth
thanks to boingboing
patriotic posters
Here are some new patriotic posters. Just the thing for putting up at your local community bulletin board. Put them up all over town!
YellowTimes.org encourages these images be reproduced, reprinted, or broadcast provided that any such reproduction must identify the original creator, Jim Kirwan, and source, http://www.YellowTimes.org. Internet web links to Yellow Times are appreciated.
[more]
thanks to wood s lot
Here are some other patriotic poster sites that I have linked to but are worth going to again.
A Message from the Ministry of Homeland Security

'I couldn't believe I was doing this'
Last year Rami Kaplan was a loyal commander in the Israeli army. Now he is going to court to prove that the occupation of the Palestinian territories is illegal. Here he tells Jonathan Steele how the destruction of an orange grove led him to lay down his gun
It was in Gaza that Major Rami Kaplan, a 29-year-old "veteran" of Israel's prestigious Armoured Corps, began to feel that he had had enough. He was increasingly uneasy about the orders he was given, and the next time he was called up for his annual reserve duty, he said no. Now, after a month in a military prison, he has gone on the attack. Along with seven other refuseniks, he is taking an unprecedented petition to Israel's supreme court. Their case is not that they have a right to conscientious objection. They are going further. They claim that Israel's occupation of Palestinian territories on the West Bank and Gaza is illegal, and that as soldiers they have a duty not to take part in an illegal enterprise.
This marks another leap forward in the story of the refuseniks, who first came to public notice earlier this year when some 200 reserve officers signed an open letter explaining their case. The number of signatories has now reached 491.
[more]
Around 150 people were forced to leave their homes in the West Bank village of Khirbat Yanoun. They packed some of their belongings and hastily rushed away in six rusty trucks, which hauled them away from the northern West Bank town.
If you are confused regarding the timing of this scenario, don't be. Although a typical scene if compared to the expulsion of the Palestinian people from their homeland in Palestine in 1948, the above story has took place on 19, Oct 2002. The tragedy is that the incident at Khirbat Yanoun might be the first step in the renewal of the infamous expulsion policy.
[more]
chemistry
Try singing along to this.
[more]
thanks to MetaFilter
it's just a matter of life and death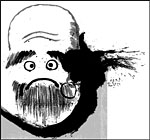 The Question of
Life and Death
John Daido Loori was a monk at the Los Angeles Zen Center. One day he said to Maezumi Roshi: "I have resolved the question of life and death."
Maezumi: "Are you sure?"
Loori: "Yes."
Maezumi: "Are you really sure?"
Loori: "Absolutely."
[more]
thanks to j p at Dumbmonkey
comics
america's cup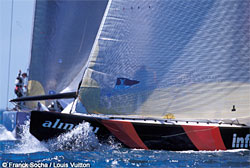 The challenger's cup isn't just to determine the fastest boat to take on the Kiwis. It's also a development series which gives the challengers opportunities to improve. Apparently it's working for Prada since they have now won three in a row. Two of the American boats, Stars and Stripes and Oracle BMW, seem to be struggling, while the Swedish boat and the British boat are doing better. The two top boats, the Swiss Alinghi and the Seattle OneWorld, are very even. Alinghi caught a wind shift on the first leg and that was the margin of victory. Each boat now has just one loss — to each other. The two round robins will determine the matchups for the best of 7 quarter finals and will drop one boat from the field. That dubious honor will likely fall to the French Le Defi or the Italian Mascalzone Latino.
Alinghi Beats OneWorld, Prada Wins Third in a Row
Oracle also picks up a win with new helmsman Chris Dickson...
The weather spoiled the sailors on the Hauraki Gulf for the first time in a long while with a solid 8-13 knot north-northeast breeze and bright early summer sunshine caressing the boats around the race course.
[more]
Wednesday October 23 2002
a new macintosh!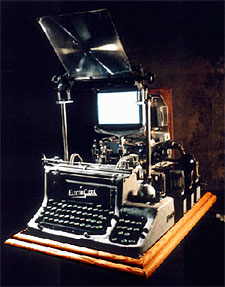 The ElectriClerk
Most of the computer keys are in roughly the same place as the corresponding typewriter keys, so connecting them was a fairly straightforward process. But a 1923 Underwood typewriter has no "enter" key, no "option" key, etc., so some connections were harder to make. The silver rod running along the top of the typewriter runs from the chrome return lever on the left to a cam on the right, which rotates and pushes down on another rod which is connected to the computer "return" key hidden beneath the console.
[more]
thanks to boingboing
music
Cootie's Jazz is the place to discover jazz through its 101 most representative records.
The music is alive because those who love it disagree about its best moments. And because adventurous contemporary musicians are making great records. So sample the selection and have your say.
[more]
thanks to wood s lot
hey buddy! wan't some gas?
Got oil?
Dubya's got an oil mustache
Turning the letter of the Federal Clean Air act against its clear intent, Department of Justice lawyers lined up on behalf of the administration's friends in the hydrocarbon-loving auto- manufacturing industry and argued that as long as California's cars are in compliance with the lax Federal standard, the state cannot impose a tougher one. For those keeping score, the Bush administration is in favor of states' rights when the states want to weaken federal safety standards of any kind, and against states' rights when the states want stronger measures.
[more]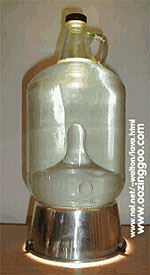 lava lampness
If you're a going to attempt to make your own lamp, we have all the formulas here. First I should say that the experience can be fun but it is not neccessarily cheap. As a matter of fact, just buying a new lamp is probably cheaper. On the other hand, the obsessively inquisitive won't sleep until they crack the code!
[more]
thanks to boingboing
Not only do they have recipes for a variety of goos but you can order real lava lamps.
women's rights
Attention, girls!
Sex ed, Bush Administration style
by Molly Ivins
The latest in a long line of anti-woman decisions by the Bush administration is, for once, getting some attention -- in part because of the sheer cheapness of the move.
[more]
comics
america's cup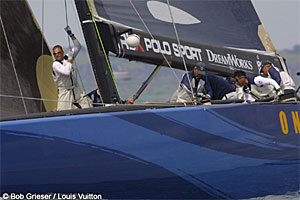 Round Robin 2, of the challenger's cup, started today. OneWorld is still undefeated and Prada gets most improved. The Swedish boat had a bye today. Tomorrow will be the big race of this round robin — OneWorld vs Alinghi. OneWorld won their last meeting by 10 seconds (after going over the start line 8 seconds ahead of Alinghi.)
Prada Wins Two Races, Jumps Into Third Place
In early racing on Wednesday, Prada's Luna Rossa beat Mascalzone Latino to claim Italian bragging rights and finally close out Round Robin One. The defending Louis Vuitton Cup champions then went on to win their afternoon match and leapfrogged up the leader board.
[more]
wall street crooks
Business as Usual
by Paul Krugman
The mood among business lobbyists, according to a jubilant official at the Heritage Foundation, is one of "optimism, bordering on giddiness." They expect the elections on Nov. 5 to put Republicans in control of all three branches of government, and have their wish lists ready. "It's the domestic equivalent of planning for postwar Iraq," says the official.
[more]
bowling for columbine
Last week, your nation's capital was a bit more surreal than usual.
First and foremost, there is the sniper.
And just when the sniper arrives in the neighborhood, here comes Michael Moore with his much awaited critique of violence in America -- Bowling for Columbine.
We have three words of advice: go see it.
[more]

The hidden threat of the outposts
The entire settlement enterprise began 35 years ago with an incident similar to this week's - an illegal settlement, which the government then retroactively legalized at the urging of several misguided intellectuals. The battle over Havat Gilad is reminiscent of that beginning, which has since, together with Palestinian terror, pushed the state into a political and spiritual blind alley. Ten years after 1967, there were still only 31 settlements with 4,400 inhabitants. Now there are more than 120 "legal" settlements with almost 50 times as many settlers. There are also some 90 illegal outposts containing 700 to 1,000 zealots obsessed with rocks. The battle against the removal of these outposts has become one of the most dangerous of all the settlement tactics. The threat they constitute is far greater than one weekend's rioting.
[more]
Israeli retaliation targets olive harvest and waterholes
"If they apply this thing, that means most of the Palestinian farmers in the north of the West Bank and the Jordan valley will not be able to pump water for their fields. Some of those wells are also used for drinking," he said. "If it is allowed to go on, most of the land in the north will be under threat of desertification and then people will have to leave. That's what the Israelis want, of course."
[more]
Excuse Me?
Israel's Justification for Killing Palestinians
According to an Israeli journalist, a check by Israeli army intelligence three weeks into the intifada revealed that "the IDF had shot, in the first few days of the Intifada, about 700,000 different shells and bullets in the West Bank and 300,000 more in Gaza. All together about a million shells and bullets. Someone in the Central Region Command later termed the project 'a bullet for every child.' An astronomic number that provides evidence as to what happened on the ground . The IDF had been preparing for this Intifada for years, and when it broke out, it unloaded its prolonged frustration on the Palestinians . In the [Israeli] political as well as military systems there is a view that it was perhaps the IDF destructive reaction and the blow the Palestinians took in the first weeks that made the situation deteriorate and escalated it . In the beginning of October, the balance was 75 Palestinians dead with only four Israeli victims." ["The Intifada's Second Anniversary," by Ben Kaspit, Maariv, September 6, 2002]
During the first month of the intifada, through the end of October 2000, 117 Palestinian civilians were killed, including 32 kids under the age of 18 (18 under the age of 16). The killing of these 117 Palestinians was not inadvertent, and it was not a response to Palestinian terrorism. Except for the horrible lynching of two Israeli soldiers (whose perpetrators were arrested and were not among the Palestinians killed during this first month), there was no Palestinian terrorism in this period.
[more]
resource wars
Western Consumer Demand Fuels Resource Wars in Poor Nations
Consumer demand in Western industrialized countries for sophisticated electronic equipment and luxury goods earned at least US$12 billion last year for rebels groups, rapacious governments, and warlords in resource-rich developing nations around the world, according to a new report released by the Worldwatch Institute in Washington, D.C. Thursday.
The 91-page report, 'The Anatomy of Resource Wars,' found that local conflicts over control of diamonds, tropical hardwoods, and other minerals like coltan, which is used in the production of cell phones and other electronic equipment, have killed or uprooted more than 20 million people, most of them in Africa, over the past decade.
"From Colombia to Angola to Afghanistan, people are dying every day because consumer societies import and use materials irrespective of where they originate," according the author, Michael Renner.
"If you purchase a cell phone, you may very well be paying to keep the war going in the Democratic Republic of the Congo (DRC), where rival armies fight for control over deposits of coltan, a commodity that just over a decade ago had little commercial value, but is now vital for the one billion plus cell phones in use today."
[more]
A copy of this report is available from the Sustainable Africa web site at this page (it's a pdf file.) Or you can download it directly from this link.
thanks to also not found in nature
mammoths and saber-tooth tigers
I just loved the whole idea of mammoths and saber-tooth tigers (not really tigers), when I was a kid.
This virtual exhibition of mammoths and other animals, and plants of the ice ages is based on an exhibition held at the Swedish Museum of Natural History, Stockholm, from May 11 to September 18, 1994. The material from the Russian tundra exhibited was made available by the Zoological Institute, St. Petersburg, Russia and the Zoological Museum, Kiev, Ukraine. Other items shown were from the collections of the Swedish Museum of Natural History.
[more]
I had the opportunity/misfortune to live in LA during the mid-eighties. One of the coolest things I saw (and there were some really cool things) was the La Brea Tar Pits. I was fascinated with them as a kid and it was a treat to see the amazing museum built around the amazing things that fell into that tar pit.
The Page Museum is located at the Rancho La Brea Tar Pits in the heart of Los Angeles. Rancho La Brea is one of the world's most famous fossil localities, recognized for having the largest and most diverse assemblage of extinct Ice Age plants and animals in the world. Visitors can learn about Los Angeles as it was between 10,000 and 40,000 years ago, during the last Ice Age, when animals such as saber-toothed cats and mammoths roamed the Los Angeles Basin. Through windows at the Page Museum Laboratory, visitors can watch bones being cleaned and repaired. Outside the Museum, in Hancock Park, life-size replicas of several extinct mammals are featured.
[more]
If you find yourself in LA, don't miss this.
Books
The Classics According To Kenneth Rexroth
Kenneth Rexroth (1905-1982) was a poet and essayist, an influence on the spread of Beat poetry (though not a Beat himself), and a student of languages. His translations of Chinese and Japanese poetry make many beautiful poems accessible to those of us who only know English.
In a series of short essays, he reviewed the classics of world literature from his perspective, which valued art for its involvement with living human beings. In 1985 and 1989, New Directions published 101 of these essays in two paperback volumes, titled Classics Revisited (NDP621, ISBN 0-8112-0988-1) and More Classics Revisited (NDP668, ISBN 0-8112-1083-9). They can be hard to find. Amazon.com claims to have them.
[more]
Classics Revisited - Introduction
by Kenneth Rexroth
Life may not be optimistic, but it certainly is comic, and the greatest literature presents man wearing the two conventional masks: the grinning and the weeping faces that decorate theater prosceniums. What is the face behind the double mask? Just a human face - yours or mine. That is the irony of it all - the irony that distinguishes great literature: it is all so ordinary.
[more]
thanks to follow me here...
American Empire
The Push for War
Anatol Lieven considers what the US Administration hopes to gain
Twice now in the past decade, the overwhelming military and economic dominance of the US has given it the chance to lead the rest of the world by example and consensus. It could have adopted (and to a very limited degree under Clinton did adopt) a strategy in which this dominance would be softened and legitimised by economic and ecological generosity and responsibility, by geopolitical restraint, and by 'a decent respect to the opinion of mankind', as the US Declaration of Independence has it. The first occasion was the collapse of the Soviet superpower enemy and of Communism as an ideology. The second was the threat displayed by al-Qaida. Both chances have been lost - the first in part, the second it seems conclusively. What we see now is the tragedy of a great country, with noble impulses, successful institutions, magnificent historical achievements and immense energies, which has become a menace to itself and to mankind.
[more]
White House Spins Out on an Axis of Evil
Trade, aid, tourism and pirated Hollywood movies are the proven weapons of mass destruction against totalitarianism, much more effective than sanctions and war, which only enshrine dictators and terrorists as the protectors of a people or nation's virtue. Inviting it to the table is still the best weapon for stuffing a mouse that roars.
[more]
Lessons of nation-building
What can our occupation of post-World War II Japan teach us about Iraq?
THE FOCUS ON Japan stems partly from the difficulties of stabilizing post-Taliban Afghanistan. A heavy American hand in Iraq, it's hoped, might prevent the sort of in-fighting and power-jockeying that has beset President Hamid Karzai and his countrymen. Yet if officials are looking to post-World War II Japan for pointers on running the Saddam-less pit of postwar Iraq, they should study not just the similarities between the two situations but also the signal differences.
[more]
West Overestimates al-Qaida's Reach
Osama bin Laden has become the modern version, the evil twin, of the Scarlet Pimpernel, Baroness Orczy's rescuer of French aristocrats from the guillotine. Lately, not a bomb explodes without it being blamed on bin Laden's al-Qaida organization. In recent weeks, Washington has accused al-Qaida of an attack on a French tanker, the killing of a U.S. Marine in Kuwait and the frightful bombing of a Bali discotheque.
Given these alarms, one would imagine al-Qaida to be a vast, octopoid organization whose tentacles span five continents. But this view, heavily promoted by the Bush administration and the U.S. media, is as wrong as George Bush's claim that terrorists are "on the run."
[more]
This morning I started finishing up some loose ends on the site changes and ended up tackling the fonts and the entry layouts. That was a pandora's box! I changed the time stamp/permalink/comments location and cleaned up a myriad of details. Now I think I'm done. It all seems to be working and it should be more readable.
Now to catch up on some blogs. Have we invaded Iraq yet?
Photography
Some new old Egglestons!
About the Photographs
When William Eggleston began the series that he would later name, somewhat misleadingly, ''Los Alamos,'' he was a young photographer known only to insiders and fellow artists, and he had worked only in black and white. In 1965, he decided to experiment with color, photographing scenes in his home city of Memphis. Nine years later, he had traveled throughout the American South and had taken more than 2,000 pictures for the series -- improbably beautiful images of the shards of everyday life, in a striking, unexpected color palette.
But despite the strength of the images and support from his fellow artists, most of the series was never displayed or published.
[more]
They that go down to the sea in ships, that do business in great waters; These see the works of the LORD, and his wonders in the deep. For he commandeth, and raiseth the stormy wind, which lifteth up the waves thereof. They mount up to the heaven, they go down again to the depths: their soul is melted because of trouble. They reel to and fro, and stagger like a drunken man, and are at their wits' end. Then they cry unto the LORD in their trouble, and he bringeth them out of their distresses. He maketh the storm a calm, so that the waves thereof are still. Then are they glad because they be quiet; so he bringeth them unto their desired haven.
Psalms, 107:23-30, KJV
[more]
Comics
Elections
Republicans Planning for Full Control Of Congress
Accelerated Tax Cuts, Tort Reform on the Agenda
White House officials and Republicans on Capitol Hill are so optimistic about winning control of both chambers of Congress in next month's elections that they have begun mapping how they would use their new power, including the possibility of speeding up tax cuts that were to take effect gradually.
[more]
THE PARTY OF FISCAL IRRESPONSIBILITY
Republican Deficits and Republican Lies
Whenever a friend, acquaintance, colleague, co-worker, or even a perfect stranger tells me he is a Republican and quickly follows that admission by adding, "I'm a liberal on social issues, but I'm a conservative on fiscal and economic policy," I laugh. Well, actually I laugh, but I cry a little too.
[more]
It turns out that baseball and art were made for each other
162 Instructions for Drawings
(created in Accordance to the events of Baseball Games)
Each system is designed to create one drawing for the corresponding game.
According to the system, the specific events that transpire during a baseball game (pitches, ground outs, strike outs, hit batters, etc.) will determine the drawing activity.
Each drawing will be created pitch by pitch. When the baseball game is over the drawing is complete.
[more]
thanks to Riley Dog
Class Warfare
Excellent piece by Paul Krugman.
For Richer
By PAUL KRUGMAN
Daily experience confirmed the sense of a fairly equal society. The economic disparities you were conscious of were quite muted. Highly educated professionals -- middle managers, college teachers, even lawyers -- often claimed that they earned less than unionized blue-collar workers. Those considered very well off lived in split-levels, had a housecleaner come in once a week and took summer vacations in Europe. But they sent their kids to public schools and drove themselves to work, just like everyone else.
But that was long ago. The middle-class America of my youth was another country.
[more]
Tom Tomorrow adds some valuable to comments to the above.
Struggling with the inexplicable
…or, um, does it have anything to do with the fact that this time period coincides exactly with the rise and fall of organized labor?
[more]
The Dry Drunk
Addiction, Brain Damage and the President
"Dry Drunk" Syndrome and George W. Bush
Dry drunk is a slang term used by members and supporters of Alcoholics Anonymous and substance abuse counselors to describe the recovering alcoholic who is no longer drinking, one who is dry, but whose thinking is clouded. Such an individual is said to be dry but not truly sober. Such an individual tends to go to extremes. (...)
First, in this essay, we will look at the characteristics of the so-called "dry drunk;" then we will see if they apply to this individual, our president; and then we will review his drinking history for the record. What is the dry drunk syndrome?
[more]
The two recent, brilliantly insightful and brave pieces on George W. Bush's relationship to alcohol, Dry Drunk by Alan Bisbort in American Politics Journal (1) and Addiction, Brain Damage and the President, "Dry Drunk" Syndrome and George W. Bush by Katherine van Wormer in Counterpunch (2) are the most incisive, analytical explanations of his irrational behavior yet in print. They also provide a basis upon which we must argue for a debate on his mental competence to govern. An ambiguous proviso: Those of us in recovery hold that only an alcoholic can diagnose him/herself. It is too complex a disease to do otherwise, being three fold in nature as we see it. That is physical, mental and spiritual.
[more]
Dry Drunk
Is Bush making a cry for help?
Alcoholics Anonymous has a name for someone who is a drunk in every way except for the actual imbibing of spirits. They call that person a "dry drunk." This is not a judgmental term, nor should this be a judgmental topic in America, where there are, by even the most conservative estimates, 10 million adult alcoholics, and very few families that have not been touched, in one way or another, by this national scourge. This same scourge has, by his own admission, also touched the life of our Commander in Chief.
[more]
thanks to BookNotes
Matters of Scale
Number of species of Hawaiian birds called honeycreepers that have gone extinct...28
Number of species of honeycreepers not yet known to be threatened with extinction...3
Number of communications towers in Kansas with which bird collisions on a single cloudy night in 1998 resulted in the death of 5,000 to 10,000 lapland longspurs...1
Number of towers more than twice the height of the Kansas tower (which was 420 feet high) expected to be erected in the United States by TV stations converting to the digital format...1,000
[more]
Matrimony
Playing around with the site design has put me behind. There are lots of links to share but reality is calling. Here is a little tidbit to hold you over: Doonesbury .
The redesign seems to be working — at least down a couple of levels. More tweaking later. The changes were mostly colors and trying to get everything looking like it belonged in the same site. I'll attack the fonts and lower levels some other day. Links later. It's time to crash.
The earliest pages of this site date back to 1996. This site has evolved and grown much like the Winchester Mystery House. It started out as a couple of pages and now wanders all over the place. I'm going through another spasm of trying to bring it all together into a piece. Things may be wierd for a while. Wish me luck.