Archives
iraq/iran
"Iraqi Premier Nuri al-Maliki hit Tehran this Monday. He was duly received by Supreme Leader Ayatollah Ali Khamenei and talked extensively to President Mahmud Ahmadinejad, still beaming after his rock-star tour of Lebanon last week.
"Maliki visited the holy city of Qom, described Iran-Iraq relations as "strategic" and called for even deeper Iran-Iraq cooperation. A good time was had by all - but certainly not the Armageddon-warning brigade in Washington.
"Now let's shine some light over the broader context. Take this antiwar.com headline; "White House demands Maliki oust [Shi'ite cleric Muqtada al-]Sadr from coalition." Anyone repressing uncontrollable rolls of laughter wins a sheesh kebab.
"All through these interminable seven months since the Iraq elections on March 7, the Barack Obama administration said it would "not interfere" in internal Iraqi politics. Even the ghosts of the whores of Babylon knew Washington wanted its own favored, slightly pro-Western "coalition" in power - a Maliki-Iyad Allawi "cohabitation", as the French put it, with that Arab version of Tony Soprano, former Central Intelligence Agency asset and former "butcher of Fallujah" Allawi as prime minister. (See The new Saddam, without a moustache Asia Times Online, July 16, 2004.)
Now it turns out Washington is involved in - guess what? - a whole lot of interfering. Maliki is set to actually remain in power - thanks to support by the Sadrist bloc. Allawi's Iraqiya List had slightly more seats (91) than Maliki's list (89), but not enough to form a government. At the same time, the Sadrists became predominant over the Supreme Iraqi Islamic Council and the Iraqi National Alliance (10% of the 325 contested seats). Even said ghosts of the whores of Babylon also knew that after the elections the real kingmaker in Iraq would continue to be Muqtada."
biology
New Imaging Technology Shows Animal Insides, Python Digesting a Rat
"Science is inherently cool, but gross science is even better.
"Using a combination of computer tomography (CT) and magnetic resonance imaging (MRI), scientists Kasper Hansen and Henrik Lauridsen of Aarhus University in Denmark were able to visualize the entire internal organ structures and vascular systems (aka "guts") of a Burmese Python digesting a rat."
war r us
Robert Fisk: The shaming of America
Our writer delivers a searing dispatch after the WikiLeaks revelations that expose in detail the brutality of the war in Iraq - and the astonishing, disgraceful deceit of the US
"As usual, the Arabs knew. They knew all about the mass torture, the promiscuous shooting of civilians, the outrageous use of air power against family homes, the vicious American and British mercenaries, the cemeteries of the innocent dead. All of Iraq knew. Because they were the victims.
"Only we could pretend we did not know. Only we in the West could counter every claim, every allegation against the Americans or British with some worthy general – the ghastly US military spokesman Mark Kimmitt and the awful chairman of the Joint Chiefs, Peter Pace, come to mind – to ring-fence us with lies. Find a man who'd been tortured and you'd be told it was terrorist propaganda; discover a house full of children killed by an American air strike and that, too, would be terrorist propaganda, or "collateral damage", or a simple phrase: "We have nothing on that."
"Of course, we all knew they always did have something. And yesterday's ocean of military memos proves it yet again. Al-Jazeera has gone to extraordinary lengths to track down the actual Iraqi families whose men and women are recorded as being wasted at US checkpoints – I've identified one because I reported it in 2004, the bullet-smashed car, the two dead journalists, even the name of the local US captain – and it was The Independent on Sunday that first alerted the world to the hordes of indisciplined gunmen being flown to Baghdad to protect diplomats and generals. These mercenaries, who murdered their way around the cities of Iraq, abused me when I told them I was writing about them way back in 2003."
photography
My own photography seems to progress at a snail's pace between family life and making camera straps. To get from snapping the shutter to looking at a print involves a lot of steps. A lot of things to put in place.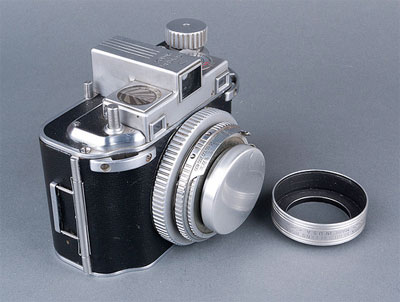 This is my new 1946 Kodak Medalist II. One of Kodak's finest moments. I had it converted to 120 roll film since I hoped to be using it a lot and I didn't want to screw around with re-rolling 120 onto 620 spools. It's been fun to use but I wasn't totally sure what the results would be. I have 3 rolls shot but I've only scanned two frames (scanned on an Epson V700 with Vuescan and ColorPerfect). I've been tweaking the images and learning Photoshop Lightroom 3 at the same time. I reached the point where I needed to print them. This weekend I fired up my HP B9180 and Don's Epson 3800 and made prints. Another learning process figuring out printing from Lightroom 3. My HP will only print up to 13"x19" paper while Don's 3800 will print 17"x22" paper. I printed smaller prints on my HP and then fired up the 3800 to print 13"x20" prints. That was the final test. The results made all my work worthwhile. The Medalist lens is SHARP and the big prints are beautiful. I'm stoked! Now to scan the rest of the negatives. Larger versions of the 2 photos below are at: Kodak Medalist II. When you click on the thumbnail you will get a larger version. Above the upper right corner of the photo will be a magnifying glass with a plus sign. That makes it bigger.