Archives
Saturday November 11 2006
hilarity
Too much seriousness below. You might want to stock up on some hilarity before proceeding.
thanks to Pharyngula
iraq
When All Else Fails...
Riverbend

… Execute the dictator. It's that simple. When American troops are being killed by the dozen, when the country you are occupying is threatening to break up into smaller countries, when you have militias and death squads roaming the streets and you've put a group of Mullahs in power- execute the dictator.

Everyone expected this verdict from the very first day of the trial. There was a brief interlude when, with the first judge, it was thought that it might actually be a coherent trial where Iraqis could hear explanations and see what happened. That was soon over with the prosecution's first false witness. Events that followed were so ridiculous; it's difficult to believe them even now.

The sound would suddenly disappear when the defense or one of the defendants got up to speak. We would hear the witnesses but no one could see them- hidden behind a curtain, their voices were changed. People who were supposed to have been dead in the Dujail incident were found to be very alive.

Judge after judge was brought in because the ones in court were seen as too fair. They didn't instantly condemn the defendants (even if only for the sake of the media). The piece de resistance was the final judge they brought in. His reputation vies only that of Chalabi- a well-known thief and murderer who ran away to Iran to escape not political condemnation, but his father's wrath after he stole from the restaurant his father ran.

So we all knew the outcome upfront (Maliki was on television 24 hours before the verdict telling people not to 'rejoice too much'). I think what surprises me right now is the utter stupidity of the current Iraqi government. The timing is ridiculous- immediately before the congressional elections? How very convenient for Bush. Iraq, today, is at its very worst since the invasion and the beginning occupation. April 2003 is looking like a honeymoon month today. Is it really the time to execute Saddam?


[more]
A Guilty Verdict on America, as Well
Justice and Hypocrisy
by Robert Fisk

So America's one-time ally has been sentenced to death for war crimes he committed when he was Washington's best friend in the Arab world. America knew all about his atrocities and even supplied the gas--along with the British, of course--yet there we were yesterday declaring it to be, in the White House's words, another "great day for Iraq". That's what Tony Blair announced when Saddam Hussein was pulled from his hole in the ground on 13 December 2003. And now we're going to string him up, and it's another great day.

Of course, it couldn't happen to a better man. Nor a worse. It couldn't be a more just verdict--nor a more hypocritical one. It's difficult to think of a more suitable monster for the gallows, preferably dispatched by his executioner, the equally monstrous hangman of Abu Ghraib prison, Abu Widad, who would strike his victims on the head with an axe if they dared to condemn the leader of the Iraqi Socialist Baath Party before he hanged them. But Abu Widad was himself hanged at Abu Ghraib in
1985 after accepting a bribe to put a reprieved prisoner to death instead of the condemned man.

But we can't mention Abu Ghraib these days because we have followed Saddam's trail of shame into the very same institution. And so by hanging this awful man, we hope--don't we?--to look better than him, to remind Iraqis that life is better now than it was under Saddam.

Only so ghastly is the hell-disaster that we have inflicted upon Iraq that we cannot even say that. Life is now worse. Or rather, death is now visited upon even more Iraqis than Saddam was able to inflict on his Shias and Kurds and--yes, in Fallujah of all places--his Sunnis, too. So we cannot even claim moral superiority. For if Saddam's immorality and wickedness are to be the yardstick against which all our iniquities are judged, what does that say about us? We only sexually abused prisoners and killed a few of them and murdered some suspects and carried out a few rapes and illegally invaded a country which cost Iraq a mere 600,000 lives ("more or less", as George Bush Jnr said when he claimed the figure to be only 30,000). Saddam was much worse. We can't be put on trial. We can't be hanged.


[more]
The ISG farce, Part 2
by Pat Lang

I haven't changed my mind about the likelihood of a major change in American policy in Iraq. The "decider" ain't got it in him. What do people think he is going to "decide?" To withdraw from Iraq? If he does that, then he will be seen for all time as a failed president. He knows that. Is he going to accept giving Syria and Iran a direct stake in the outcome in Iraq? His position on Iran is public and well known. More failure on his part will be perceived if he lets the Persians play the role that they want. Syria? Hah!! Hah!! Hah!!

What we should hope for is that he has no more compunction about abandoning his "game face" vis a vis the "evildoers" than he has announced with regard to the Democrats whom he was denouncing as akin to traitors a week ago.

Most amazing of all is the "newsy" hysteria being generated by the 24/7 broadcast media over the ISG/SECDEF business. In recent years it has become evident that the cable news outfits have become generators of mass hysteria. They bring in their tub thumping anchors, their "experts," their favorite print news people, their favorite congress people and among themselves conduct an orgy of mutual intellectual masturbarion that starts with rumor and quickly becomes self sustaining.

The Baker/ISG thing is just the latest, and will not be the last example. The same press people were deeply complicit in building war hysteria before we entered Iraq. These are the same folks who now eagerly agree with each other that "no one" could have known.


[more]
book recommendation


Chasing Ghosts:
A Soldier's Fight for America from Baghdad to Washington
by Paul Rieckhoff
I had just started reading this when Zoe grabbed it and read it. It was at the time our son-in-law, William, was leaving for his second tour in Iraq. It's an eyewitness acount of the early stages of the occupation and what it is like on the ground in a war zone. It's also one man's disillusionment with the war and his efforts to bring the truth to America. He was a founder of Iraq and Afghanistan Veterans of America. From Amazon:
| | | |
| --- | --- | --- |
| | Lieutenant Rieckhoff and his 38-man infantry platoon spent 10 months in one of the most volatile areas of Baghdad, trying to maintain order, protect civilians, track down insurgents, and protect themselves from snipers and bombers. It quickly became clear that the American mission in Iraq had vague strategy, flawed tactics, and overchallenged, underequipped soldiers. Rieckhoff made it back alive, determined to tell the truth about what was happening and demand accountability from elected officials. Although Rieckhoff does not emphasize it, it comes through clearly that Iraq War veterans are held in declining respect, evidenced by the problems they have getting help with war-related injuries, especially psychological ones. Iraq has been a rich man's war and a poor man's fight, with the Iraqi people barely visible in the American media. Moreover, Rieckhoff's experiences showed him that censorship and bias abound even in these days of "on-the-spot" reporting, distorting what anyone following the war through the general media can learn. A most commendable eyewitness report on Iraq. | |
[more]
Iraq and Afghanistan Veterans of America
| | | |
| --- | --- | --- |
| | Founded in June 2004, Iraq and Afghanistan Veterans of America is the nation's first and largest group dedicated to the Troops and Veterans of the wars in Iraq and Afghanistan, and the civilian supporters of those Troops and Veterans. | |
[more]
palestine
Listen to Maj. Gen. Stern
By Gideon Levy

A bloodbath is taking place in Beit Hanun, the Israel Defense Forces runs rampant and kills at least 37 people in four days - and Israeli public opinion yawns with indifference. A brigade commander tells his soldiers, who killed 12 people in one day: "You've won 12:0," and the soldiers grin broadly. This is the moral nadir we have reached, following a long slide down a slippery slope: Human life has become cheap.

Proof of this came at the end of the week from the big mouth of Major General Elazar Stern, the head of the IDF Personnel Directorate, who occasionally says true things. "The IDF's excessive sensitivity to human life led to some of the failures in the Lebanon war - and this should not happen," Stern told Channel 7. Stern should be praised for these forthright words: Those who embark with unbearable lightness on a futile war of choice cannot allow themselves the luxury of showing sensitivity for the lives of their soldiers. In war, soldiers not only kill, but are also killed. This should have been stated in advance.

But the general's remarks are also tainted with hypocrisy: Those who over a few months kill more than 1,000 Lebanese and 300 Palestinians for dubious reasons do not have the right to speak about sensitivity to human life. The fact that the public protest against the war did not take off demonstrates that after having lost all sensitivity for the lives of others, we are also gradually losing sensitivity for the lives of our children who are killed in vain. The contempt for human life starts with the lives of Arabs and ends with the lives of Jews.


[more]
A brutal taste of the future
The assault on Beit Hanoun is a terrifying example of what lies in store for Palestinians

The initiation of Avigdor Lieberman - widely regarded as an outright racist - into Ehud Olmert's Israeli government seems to have already brought a taste of things to come. For the past week, the Gaza Strip city of Beit Hanoun has been made a ground zero by the Israeli army. By yesterday, more than 260 Palestinians lay dead and injured, with 53 fatalities - women, children and ambulance drivers among them.

The Israeli army had vowed to end the firing of home-made rockets towards southern Israel. Many Palestinians disagree with the use of these makeshift rockets, but regard Israeli offensives as flagrantly disproportionate. Beit Hanoun was left with no men between the ages of 16 and 45 in the wake of a massive forced round-up by the Israeli army last Thursday night amid helicopter gunfire, tanks and artillery shelling. Women and children in the city sent urgent calls for help through Gaza's radio stations. To these jobless women, losing their men meant breakdown in their households.

On Friday morning, scores of women marched through Beit Hanoun in a spontaneous rush to aid friends and loved ones after hearing their pleas. Unarmed, they were shot at by Israeli soldiers from their tanks; two women were left dead and others severely injured. These women were said to have been heading to a mosque to free armed men who took refuge there. Television footage and interviews with witnesses show these women posed no military threat, but they were treated as such by the Israeli army without warning.


[more]
The Women of Beit Hanoun
Who Was Perpetrating the Terror?
| | | |
| --- | --- | --- |
| | For many of the women who left their homes at sunrise and walked for an hour or more to the scene of terror their only hope was that their actions might save some lives and the world might be woken up to the reality of their tragedy. Instead, their actions have been used to further vilify their loved ones who had spent a night holed up inside a house of worship that was being systematically bulldozed from outside. Walls were crushed and the ceiling caved in. The women outside were looking for one glimpse of their husbands and sons. The Israeli forces opened fire and women were among the dead. | |
[more]
How Gaza Offends Us All
Nightmare in Beit Hanoun
| | | |
| --- | --- | --- |
| | An opened jaw with yellowed teeth gaped out of its bloodied shroud. The rest of the head parts were wrapped in a plastic bag placed atop the jaw and nostrils, as if to be close to the place to which it once belonged. The bag was red from the pieces that were stuffed inside it. Below the jaw was a human neck slit open midway down: a fleshy, wet wound smiling pink and oozing out from the browned skin around it, the neck that was still linked to the body below it. Above him, in the upper freezer of the morgue lay a dead woman, her red hennaed hair visible for the first time to strange men around her. More red plastic wrapped around an otherwise absent chin. She was dead for demonstrating outside a mosque in Beit Hanoun, northern Gaza where more than 60 men sheltered during the artillery onslaught by Israeli tanks and cannons. | |
[more]
The Accident At Beit Hanun And The Logic Of Unilateralism

Israel's policy is to imprison the Palestinian people in a series of encircled "homelands", while annexing the Palestinian land and water resources to Israel. As Soffer implies, this is not a "solution" to the problem that any Palestinian can willingly accept but, grossly outgunned as they are, what exactly are the Palestinians going to do about it, except send their crappy homemade rockets over the wall? And when they do that, Israel has an answer: it will use its overwhelming firepower to simply bomb the confined Palestinians into submission. Apparently, when enough of their women and children are dead, the Palestinians are supposed to accept whatever unilateral solution Israel imposes on them. That is the logic of Israeli unilateralism; that is the logic of the wall. You have to be utterly insane and delusional to think that this will ever bring Israel security, but apparently those qualities are no longer disqualifiers for holding office in Israel.

And that is why this morning's killings in Beit Hanun are not an accident, but an "accident". Of course the individual tank gunners who fired the fatal barrage didn't mean to kill those particular Palestinians, and in that sense it is an accident. But inasmuch as it is Israeli policy to cage the Palestinians and bomb them into submission, this is not an accident, it is policy. It is the natural outcome of an Israeli government mentality that still thinks military might will allow it to impose unilaterally a solution on the Palestinians, and save it from having to negotiate with them as equals. And, most damningly of all, it is the natural outcome of an Israeli government mentality that finds it less distasteful to blow up innocent people in Gaza than to finally get out of the Occupied Territories and allow Palestinians their independence.


[more]
book recommendation


When the Rivers Run Dry:
Water--The Defining Crisis of the Twenty-First Century
by Fred Pearce
You think running out of oil is going to be a problem? Try running out of water. From Amazon:
| | | |
| --- | --- | --- |
| | From the Amazon to the Nile, the Congo to the Colorado, the rivers of the world are running dry. Forget oil: nations have gone to war over water rights and access in the past, and may be forced to do so again as the availability and purity of this vital resource continues to decline. Unlike fossil fuels, water is considered a renewable resource, an erroneous belief that has contributed to its abuse and misuse by superpowers and Third World countries alike. Yet as aquifers are tapped to extinction, rivers dammed to depletion, and wetlands converted to deserts, societies continue to employ the profligate water management techniques that created the current dire situations. Former New Science news editor Pearce cogently presents the alarming ways in which this ecological emergency is affecting population centers, human health, food production, wildlife habitats, and species viability. Having crisscrossed the globe to research the economic, scientific, cultural, and political causes and ramifications of this underpublicized tragedy, Pearce's powerful imagery, penetrating analyses, and passionate advocacy make this required reading for environmental proponents and civic leaders everywhere. | |

Our list of things to worry about – global warming, oil shortages, bird flu, terrorism, etc. – seems to grow every year. Why do you say water is the "defining crisis of the twenty-first century?"

Oh, there are plenty of things to worry about. Most of them arise from Homo sapiens having to work out how to live together in ever greater numbers on the one planet. Right now we seem to be good at finding technical and organizational fixes (none of the above are really insuperable problems), but rather poor at finding ways of making them happen. In truth, I'd put water up there with global warming at top of the agenda. Many climate scientists think that our big problems with global warming will come less from the warming itself and more from the big changes in hydrology that it causes – droughts and floods, dried out soils and ecosystems, empty rivers, and maybe the worst, the sheer unpredictability of where and when we will have water.

But water also defines quite well our problems in moving from a world of apparently plentiful resources – a world in which if we screw up we can move on – to a world of finite resources, where we have to manage carefully to get by. We still often see water as an essentially free and unlimited resource. But it isn't. The public policy response to water shortages is still to build a new dam or sink a new well, with little regard for the thought that there may be no more water in the river to be captured, or underground to be pumped.

Apart from the air we breathe, water is the most basic, most urgent, need that we all have. We can survive for a while without food, but not without water. We can survive forever without oil – but not without water. Water has no substitute. The good news, though, is that it is a constantly renewed resource. The natural water cycle of evaporation and rainfall constantly cleans and recycles it. We will never "run out" of water in the way we might run out of oil. So the trick, as we find local and sometimes regional reserves running out, is to realise that fact, and to manage our use of water in a way that meshes with the natural cycle.


[more]
china
Beijing has a Geopolitics, Too

A red carpet is rolled out in China for 48 African heads of state turning up in Beijing to sign business deals and celebrate a relationship founded on mutual profit and disinterest in one another's domestic political arrangements. Thousands of miles away in Washington, the Bush Administration wonders (or, ought to be wondering) why it has been defeated in the diplomatic battle to isolate North Korea (it will rejoin talks with its nuclear capability now an established fact, and with the promise that the U.S. will discuss Pyongyang's concerns over financial sanctions) — and is about to suffer the same fate over Iran, where the prospects for sanctions continue to dim. The connection between Beijing's Africa fest and the U.S. diplomatic setbacks is not chaos theory, it's the most under-reported story on the international front by a media caught up believing that the messy scuffles in Iraq and Afghanistan are somehow the defining battles of our age: Of far more profound consequence, as we are beginning to see, is the fact that China has its own foreign policy that involves the projection of power, mostly soft, well beyond its borders. It's a geopolitics quite different from that of the United States, often at odds with it, and it offers nations in the global south choices that simply didn't exist a decade ago. Remember, back then there was only one place you could borrow money, and the West wasn't exactly in a hurry to buy your iron ore, copper, manganese and coal, or to extract your oil if that was going to cost it more than $20 a barrel.

Today, China is doing a whopping $50 billion in annual trade with Africa, investing all over the continent and offering those countries a model of international engagement quite different from one in which participation required reciting the catechisms of the IMF and backing the U.S. whenever the chips were down at the UN.

Although Washington seems mostly unaware of the dynamic — continuing to talk quaintly about "keeping the Chinese on board" for various U.S. projects to squeeze U.S. enemies as if China were still a provincial power whose only foreign policy concern was Taiwan — China's geopolitics represents the fruition of the French foreign policy dream of a new "multipolarity" in the global system to contain and counter the influence of the U.S. "hyperpower." The old assumption that China prioritizes its economic relationship with the U.S. remains true, but there are other priorities now, as well, ranging from competition for resources (particularly energy) to altering the geopolitical landscape away from the domination of international affairs by Washington and its often coercive policies.


[more]
book recommendation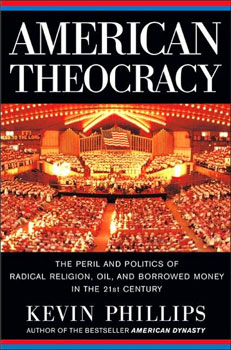 American Theocracy:
The Peril and Politics of Radical Religion, Oil, and Borrowed Money in the 21stCentury
by Kevin Phillips
This book is mistitled. It's about three, not one, threats to American supremacy: oil, fundamentalism, and debt. The first section on oil looks at how our government is being run by and for oil interests and how we are running out of oil. The second section on fundamentalism isn't quite as scary since the recent elections but there are still causes for concern. After all, those people are still there. The third section is on debt, both national and personal and this is the section with most cause for concern. Phillips raised some of the debt issues in Wealth and Democracy. Here he consolidates and updates his arguments on debt. It's not encouraging. Here is a real review at The New York Review of Books:
| | | |
| --- | --- | --- |
| | In Kevin Phillips's view, the Bush energy policy is a prime example of America's failure to confront its most difficult challenges. Phillips, once a member of the Nixon administration, has written a timely book that argues that America is very different from the independent and omnipotent nation portrayed by President Bush and his administration. Dependency on oil is one of three major tendencies that will seriously undermine America's future, he writes, the other two being the influence of radical religion and the growing reliance on debt to support the economy. For Phillips, these constitute "the three major perils to the United States of the twenty-first century," and he offers little hope that the US will avoid the consequences. Since he wrote his widely read The Emerging Republican Majority in 1969, Phillips has published several books lamenting how poorly the Republicans have handled their responsibilities. American Theocracy is his most pessimistic work to date. | |
delusions
Signs that real estate bubble has popped
by Joe Bageant

I've come to the conclusion that people cannot see what is coming or indeed has already happened because they are isolated inside their homes with their goods and services. They have no reason to believe the world outside can and does affect them. Conditioning and physical environment will dominate reason every time, not to mention that it will absorb all mental and physical energies just dealing with day to day life with such materially focused lives. "Busy, busy, busy ... gotta pay the cable bill, get the car washed, haul the kids to to the swimming meet, mail the NetFlix disc back ..."

The average American honestly has no observable reason to doubt the world as it is presented to them through consumer conditioning and media. In that sense it is a spell. A state of consciousness.

"After all, the economy has never collapsed before, has it?" they ask themselves. "The stores are always stocked aren't they?" "I can just put this on the credit card until I get my tax refund. If it gets real bad I can refinance again."

And most of all, television advertising portrays an America where everything is OK. People have no idea how neurologically defenseless they are against the images television injects at the brain stem, and how it instantly becomes an operative reality, even though the conscious self says, "Yes, I know those are just actors and that is just an advertisement."

Unfortunately, the spell can only be broken by a dramatic change in physical environment and conditions. I suspect losing one's home and its attending spell inducing goods and services and being out on the street will do the trick.

On the other hand, I've watched people have to move back in with their parents, and ya know what? The spell continues!

Larger economic and political forces present themselves to captive consumers in much the same fashion that our human motions do to goldfish in a bowl. They can never be physically touched, and therefore are never exactly real. Sometimes they scare you, but always they have fed you. But ultimately, the consumer state goldlfish have absolutely no concept of anything beyond the few quarts of environment they are allowed by capitalism's sharks. And never will.


[more]
In Arizona, 'For Sale' Is a Sign of the Times

Until recently, this fast-growing area was a paradise on earth for home builders. Fulton Homes' developments, for example, were so popular last year that it was able to raise prices on its new homes by $1,000 to $10,000 almost every week.

"People were standing in line for lotteries," recalled Douglas S. Fulton, president of the company, one of the largest private builders in the Phoenix area. And they were "camping overnight begging to be the next number in the next lot in the next house."

No more.

Today, it is the company's sales agents that do most of the waiting. Not only are there few new customers to talk to, but many buyers who put down a deposit are not even bothering to come back for the walk-through.

"All of a sudden, they just don't show up," Mr. Fulton said, noting that such cancellations often mean the buyers forfeit as much as 5 percent of the price. The reason? The prospective buyers got cold feet or simply could not sell their old home.


[more]
photography
Paul Butzi's Musings on Photography is another blog that has become a must read.


Taking the photos that are there

I can remember my first photographic visit to the Washington State coast. It was just after I'd started using a 4x5 camera, and as I drove from my home to the coast, in my mind I was seeing lots of wonderful photos of rugged coastline with clear, beautiful weather and Ansel Adams style big, photogenic clouds decorating the sky.

But when I got there, I found that the weather was overcast and the light was flat, and instead of the clear view of things, I was confronted with mist, fog, and rain. I took some photos, sure, but there was a keen disappointment that the weather was just not cooperating. In the end, I headed home, feeling that I'd gotten my butt whupped by the weather.

My first night home, I had a very vivid dream. In the dream, I was back on the coast with my camera, in a little grove of twisted trees that I'd ignored completely when I'd been there. The grove of trees was filled with fog, and I was finding beautiful compositions of the fog and trees, one after another. In my dream, I was capturing all the wonderful photos that had been there but which I'd ignored completely because they just weren't the photos I expected or wanted.

Since then, I've been back to the coast countless times. Each time, I try to make a conscious effort to let go of my expectations, and just work on capturing the photos that are actually there in front of me. The beach is changing constantly; it's never the same from visit to visit. Weather is upredictable and changes rapidly. The only constant is that with each visit my understanding of how the place works improves, and although each visit is essentially a visit to a new, fresh spot, the underlying structure and process of the beach are the same. Ironically, the conditions which seem to be most productive for me are the ones I felt stymied by that first visit.


[more]
In addition to giving thoughtful insights to photography, he has been photographing in his neighborhood around Carnation, which is to the east of Seattle. Kind of a similar thing that I want to do around Whidbey Island. His recent pictures are of some of the flooding east of Seattle.
sdg
(photographs from the Snoqualmie Valley)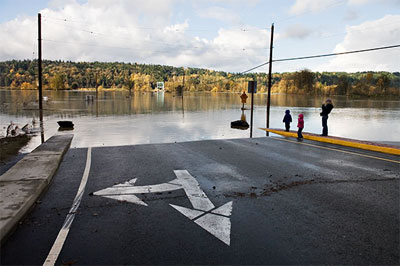 [more]
And be sure to check out his many useful articles.
His prints are reasonably priced, too.
economy
Bush's Chernobyl Economy
Hard Times on the Way

In the next few months, a financial crisis will arise somewhere in the world which will jolt the American economy and trigger a swift and precipitous decline in the value of the dollar.

This is not speculation; it will happen and there is nothing that the Bush administration can do to stop it.

All of the traditional supports for the dollar have been removed by the shrinking economy, a massive $800 billion account deficit, dramatic increases in the money supply, and the reckless manipulation of interest rates.

Now, the noose is tightening. Our foreign trade partners can see that we are drowning in red ink and are refusing to buy back our debt in the form of US Treasuries. This is a death sentence for the dollar. It means that in a matter of months the once-mighty greenback will crash through the floor and free-fall through open space.


[more]
photography
alec soth — blog has become a must read for me. While Alec Soth is an amazing photographer, he writes about photography and other photographers in his blog.

Until last week I wasn't familiar with Stephen DiRado. A couple of folks had mentioned his name in regards to the discussion of underrated photographers. I looked up his website and was bowled over. While I don't claim to have an encyclopedic knowledge of the medium, it is inconceivable that work of this quality and consistency hadn't penetrated my consciousness sooner. Had I just spaced out or is Stephen DiRado the most underrated photographer in America? Within fifteen minutes of seeing his website I emailed Stephen in hopes of answering this and other questions regarding his remarkable work. Stephen responded with the same generosity of spirit that you can see in his pictures.

Alec Soth: My first question is about this issue of being underrated. Do you see yourself, your work, as being underappreciated in art and photographic circles?

Stephen DiRado: In my twenties I had the good fortune to show in a number of New England museums and galleries. People in the business of art appreciated my work, added with a few museum acquisitions, all helped gain me access to start new projects. Over the years however my primary concern has been the making of work rather than the marketing of it; this partially due to the manner in which it has evolved into very long term, ongoing, series, and partially due to my kind of obsessive commitment to my practice. From one perspective, I'd acknowledge having fallen off the circuit of what might be described in curatorial terms as "successful". Thanks however to a few loyal collectors, as well as support from grants and fellowships, and my income from teaching, I have been able to continue producing new work without the constant chasing of gallery shows. In short I have been protective of my work and show infrequently. I will however be having a forthcoming exhibition of my JUMP series this winter at the DeCordova Museum. A project 6 years in the making that I feel with confidence is finished and ready for prime time.


[more]
[more]
elections
Winning control of the both Houses of congress is a lot more than getting the better offices. It's about controlling the agenda, which bills get introduced and which bills get to the floor for voting. It's also about being able to conduct Congressional investigations and stopping egregious Supreme and Federal Court nominations. But the office thing can be cool.
Rangel's itching to evict Cheney

Harlem's newly powerful Rep. Charles Rangel wants to stick it to his White House nemesis Vice President Cheney - by taking over his spacious House office.

At the same time, the veteran congressman offered a limp olive branch to the vice president yesterday, saying he regretted publicly calling him an SOB last week.

"I take back saying that publicly. I should have reserved that for him when we were together privately," said Rangel. "Believe me, he would have understood."

Rangel (D-Harlem), poised to become the next chairman of the important House Ways and Means Committee, spoke of the need for bipartisanship with the Republicans, even as he continued his feud with Cheney.

"Mr. Cheney enjoys an office on the second floor on the House of Representatives that historically has been designated as the Ways and Means chairman," Rangel mused. "And, I've talked with [future Speaker of the House] Nancy Pelosi ... and I'm trying to find some way to be gentle as I restore the dignity of that office to the chair."

The White House declined to comment.


[more]
This is a good article on Rangel but it's a New York Times regional edition and they don't provide a permalink so it might go away soon.
The Man of the Hour and Chairman-to-Be

Representative Charles B. Rangel's Town Car was doing the late-afternoon creep down Fifth Avenue yesterday, ferrying him from a conference call in his Harlem office (87 political reporters on the line at once) to a live television appearance at the Fox News studios in Midtown, when he glanced at his phone list.

These were the calls congratulating him on his impending ascension, with the previous night's Democratic takeover of the House of Representatives, to chairman of the powerful Ways and Means Committee. These were calls he had to return, more than 100 since 9 a.m. But there was one particular well-wisher he was eager to get on the line: Treasury Secretary Henry M. Paulson Jr.

"Mr. Secretary, I been using your name all over the press saying I'm looking forward to sitting down with you," Mr. Rangel said into his cellphone. "Finding out what your priorities are and how we can work together."

There was a silence while Mr. Paulson got in a few words. Mr. Rangel thanked him and hung up. Then he launched into his best imitation of a buttoned-up treasury secretary by way of Wall Street.

" 'We had a bad night last night, but I couldn't think of anybody I'd rather have as chairman of Ways and Means than you,' " Mr. Rangel said. Then, in his own voice, he added, "He already told me that before."

Mr. Rangel, 76, has been waiting for this moment a long time. In 1970, he defeated the long-serving Adam Clayton Powell Jr. and went to Washington to represent Harlem. Four years later, he got a seat on Ways and Means, which writes tax policy and oversees some of the federal government's largest entitlement programs. It was not an easy appointment to get, he recalled.


[more]
The President's designs on the lame duck Congressional session

When we last left the Republican Senate, in the week before they adjourned, they were so busy legalizing torture and indefinite detentions that they ran out of time to also give the President the power to eavesdrop on Americans in secret. The House had hastily passed Heather Wilson's version of the "Terrorist Surveillance Act," but the Senate had no time to vote on it prior to adjournment. As a result, warrantless eavesdropping continues to be criminal in this country (even though the President continues to engage in it).

For that reason, enactment of a warrantless eavesdropping bill remains a top priority for the President -- probably even more important to him now than even before the election -- because such a bill would not only gives him legal authority to eavesdrop with no judicial oversight, but it also would help protect himself against the legal consequences of having repeatedly broken the law. It is worth remembering that a federal court has already ruled his eavesdropping program to be both unconstitutional and in violation of the criminal law, and another judge, the highly respected District Court Judge Gerard Lynch of the Southern District of New York, is likely to issue a ruling soon on the same issues in the absence of Congressional legislation legalizing the program.

It seems highly unlikely that Harry Reid and Nancy Pelosi will have as one of their priorities the enactment of a bill to legalize Bush's eavesdropping program. For the new 110th Congress, a long-overdue investigation of warrantless eavesdropping seems far more likely than legalization of it, to put it mildly. For that reason, the President made clear in a Rose Garden speech today that he wants Congressional action taken on that bill during the lame duck session, to convene before Democrats take over in January:


[more]
Let the games begin.
personal stuff
Lost nephews
Josh is the son of my late brother Michael. Josh, and his mom Ollie, had moved to New Hampshire years ago and we haven't been in close contact, although Ollie does read this blog on occasion (Hi Ollie!). I heard that, a couple of years ago, Josh had joined the military (Air Force, I think) and was studying Arabic. I hadn't heard more about him until yesterday when I received an email from "Joshua" with the subject matter "Afghanistan."

Hey Uncle Gordy,

I am going to be working intel over in Afghanistan for a year starting in December. Since I have been
following your website for the last several years I will try to relay any information (at least personal
experiences) I come across. Expect my first update sometime in January.

Cheers,

Your nephew Josh.


It was great hearing from Josh. Maybe not so great finding out that I will now have two relatives in harms way — one son-in-law and a nephew. I will be posting communiqués from Josh, my man in Afghanistan. Take care Josh.
Gerry
Zoe hasn't been feeling well so we are behind in visiting her mom, Gerry, who has Alzheimer's. It's been very frustrating not having her close by where we could visit her as often as we want. She is 2 1/2 hours away in Tacoma. So Zoe starts writing 9 page letters to the staff trying to fill them in on her concerns and Gerry's history. I talked to Brian, the social worker, today and they are working on answering her letter. He said they have never had support from a famly like this. They will be doing several of the things we have been asking for such as getting her new dentures and talking to her regular doctors. Check out Zoe's post for more details. Hopefully we will make it down this weekend.
Scanner
My scanner, with the non-working lamp is on it's way back to New York and it's replacement is between here and Chicago and will arrive Tuesday. I can hardly wait. I have a pile of new negatives to scan and some old ones to rescan.
it's over
I just watched Allen concede the Virginia Senate race to Webb. No recount. Burns conceded Montana earlier. The Democrats control both houses of Congress. Whoo boy!
Wednesday November 8 2006
election
Who would have believed that the Democrats would take over the House and the Senate and clean up in the State races? Webb isn't the elected Senator from Virginia yet but he is leading and some conservatives are calling for Allen not ask for a recount. And them Rumsfeld resigns! And his replacement is one of Daddy's boys. Rumsfeld and Cheney were attached at the hip. Is this the end of Cheney's reign? This is going to be much more entertaining than I thought. Is this the end of the war? There is a lot between now and bringing the troops home but the dam has broken. Now we need to keep their feet to the fire. Throw on some more wood!
What does it Mean for Iraq?
by Juan Cole

The fourth popular revolution of the twenty-first century (after the Ukraine, Lebanon and Kyrgyzstan) swept America on Tuesday, as voters engaged in the moral equivalent of storming the Bastille. The United States of America has roundly repudiated the Bush Administration and Republican Party dominance of all three branches of the Federal government and its dominance of many state offices, as well. Corruption and war drove this slap in the face to the Old Regime crafted by Newt Gingrich and Traitor Rove.

The Democrats have control of the House of Representatives as I write early Wednesday morning, with a gain of perhaps as much as 30 seats. They don't appear to have lost any seats. Indeed, Democratic incumbents won in other sorts of contests, as well-- governors, state legislators, etc. The mood of the electorate was not to punish incumbents. It was to throw out the rascals.

I think the Democrats will take the Senate. CNN is calling 2 Senate races too close to call, but Webb announced that he had won in Virginia, and his margin later that night went on up to 11,000. That might be enough to forestall a recount. Montana will determine the outcome.

Bill Bennett opined that the Democrats had actually not done that well, since the party out of power often picks up 35 seats in the second midterm of a two-term president. Bennett, as usual, is being dishonest. In fact, this was not an ordinary election but rather came at the end of 14 years of low blows and dirty tricks. The Republicans had tried very hard to have a permanent majority, using ruses such as state gerrymandering (e.g. Texas) and convincing Republican House members who were thinking of retiring to serve one more term so as not to risk having the open seat go to the Dems. Tom Delay's K-Street Project even envisioned depriving the Democrats forever of big lobbying money. The impeachment of Clinton was a cynical misuse of the Republican majority aimed at permanently wounding the Democrats. The Dems did not impeach Reagan for stealing Pentagon weapons, selling them to Khomeini, and using the black money to fund death squads in Central America! The deployment of a Republican Supreme Court to gain the White House in 2000 was typical of the new end run around popular sovereignty perfected by the party hacks in Washington. Given the giant berms the Republicans had built against any Democratic rebound, and the viciousness with which raptors like Delay, Weldon, Rove and Abramoff went for the soft underbelly of the democratic system, it is an irridescent miracle that the Democrats have taken the House.

In my view the real significance of the Democratic victory is four-fold.


[more]

The wave -- and make no mistake, it's a global one -- has just crashed on our shores, soaking our imperial masters. It's a sight for sore eyes.

It's been a long time since we've seen an election like midterm 2006. After all, it's a truism of our politics that Americans are almost never driven to the polls by foreign-policy issues, no less by a single one that dominates everything else, no less by a catastrophic war (and the presidential approval ratings that go with it). This strange phenomenon has been building since the moment, in May 2003, that George W. Bush stood under that White-House-prepared "Mission Accomplished" banner on the USS Abraham Lincoln and declared "major combat operations have ended."

That "Top Gun" stunt -- when a cocky President helped pilot an S-3B Viking sub reconnaissance Naval jet onto a carrier deck and emerged into the golden glow of "magic hour light" (as his handlers then called it) -- was meant to give him the necessary victory photos to launch his 2004 presidential reelection campaign. As it turned out, that moment was but the first "milestone" on the path to Iraqi, and finally electoral, hell. Within mere months, those photos would prove useless for anyone but liberal bloggers. By now, they seem like artifacts from another age. On the way to the present "precipice" (or are we already over the edge?), there have been other memorable "milestones" -- from the President's July 2003 petulant "bring 'em on" taunt to Iraq's then forming insurgency to the Vice President's June 2005 "last throes" gaffe. All such statements have, by now, turned to dust in American mouths.

In the context of the history of great imperial powers, how remarkably quickly this has happened. An American President, ruling the last superpower on this or any other planet, and his party have been driven willy-nilly into global and domestic retreat a mere three-plus years after launching the invasion of their dreams, the one that was meant to start them on the path to controlling the planet -- and by one of the more ragtag minority rebellions imaginable. I'm speaking here, of course, of the Sunni insurgency in Iraq, of perhaps 15,000 relatively lightly armed rebels whose main weapons have been the roadside bomb and the sniper's bullet. What a grim, bizarre spectacle it's been.


[more]
scannerus interruptus
I unpacked, and unpacked, and unpacked and finally got the scanner set up. I did one film scan and the upper lamp stopped working. Nothing. AAAARRRRRGGGGGHHHHHH!!!!! The frustrating thing was that one scan was great! I want more! Zoe ordered the scanner from J&R, through Amazon. I called them up and they said to call tech support at Epson to make sure there wasn't something they could figure out over the phone and, if they deemed it defective, to call back and they would replace it. I called Epson and I had already done everything that could be done. The bottom line was that the overhead lamp should be working and it wasn't. They offered to fix it under warranty but that would have meant paying for shipping. J&R will be emailing me a UPS return label and the shipping will be paid by them and no additional shipping on the new unit.
It was all pretty hassle free but I want it now! To add insult to injury, I received 4 rolls of 120 negatives back from Praus in Rochester, NY. I'm pretty sure I mailed the film USPS Priority on Wednesday, my credit card was billed on Friday, and the processed negatives (2 C-41 and 2 Tri-X) arrived in my mailbox today. That's pretty fast. Three of the rolls were done with the Metz flashgun. The negatives look great and I want to see the scans but I'm going to wait until the new scanner comes in. It's just that much better than my old one and I don't want to scan everything twice.
And don't forget to vote!
scanner update
It's here! Excuse me while I figure this sucker out.

iraq

The U.S. strategy for suppressing the militias of Baghdad has failed disastrously. The reasons are far-reaching.

The price of adopting an unsuccessful confrontation policy with the militias of Baghdad has been very high for the United States. American troop casualties for October soared to very high levels. Political and strategic tensions and distrust between the U.S. government and the Iraqi government of Prime Minister Nouri al-Maliki are worse than they have been in the half a year since Maliki took office. The militias are stronger and more credible than ever. And the Bush administration has been forced to make an urgent reassessment of its Iraq strategy when it never expected to have to do so at this time.


[more]

Sunni insurgents have cut the roads linking the city to the rest of Iraq. The country is being partitioned as militiamen fight bloody battles for control of towns and villages north and south of the capital.

As American and British political leaders argue over responsibility for the crisis in Iraq, the country has taken another lurch towards disintegration.

Well-armed Sunni tribes now largely surround Baghdad and are fighting Shia militias to complete the encirclement.

The Sunni insurgents seem to be following a plan to control all the approaches to Baghdad. They have long held the highway leading west to the Jordanian border and east into Diyala province. Now they seem to be systematically taking over routes leading north and south.


[more]
"The Sword that Cuts the Arteries of the Infidels"
| | | |
| --- | --- | --- |
| | "The Sword that Cuts the Arteries of the Infidels," referring to supply lines and apostate forces which support American and Shi'ite forces, is the title given to a fifty-two minute video presentation recently issued by Ansar al-Sunnah, one of the primary insurgency groups in Iraq. The video bears a resemblance to another of the group's past releases, "Path of Glory ," in which two men identified as Husam al-Shamri and Mohammed Abu Hajer, a member of Ansar al-Sunnah's military office, sit and discuss the attacks which unfold and provide clarification for the group's purpose in these actions. Abu Hajer explains that the supply lines of the enemies are like the beating heart in the body, and the enemy cannot function without supplies. To cut off the supplies then, is like "stopping the heart beat of the enemy". | |
[more]
Chandrasekaran Interview, Part II
by Juan Cole
| | | |
| --- | --- | --- |
| | This is the second part of my interview with Rajiv Chandrasekaran of the Washington Post, concerning his book, Imperial Life in the Emerald City: Inside Iraq's Green Zone. The book is a must-read for anyone interested in how we got to where we are in Iraq. | |
[more]
Losing the Home Front (Part 1)
Fiasco Then, Fiasco Now (Part 2)
administration and Iraq. Part 1 was Losing the Home Front. One of the sections below is devoted to Riverbend, the pseudonymous "girl blogger" of Baghdad. For it, I read the collection of her blog entries that the Feminist Press at CUNY published in 2005, Baghdad Burning, Girl Blog from Iraq, and then the newest volume, Baghdad Burning II, More Girl Blog from Iraq, just now being published. These represent an unparalleled record of the American war on, and occupation of, Iraq (and Riverbend writes like an angel). The two volumes are simply the best contemporary account we are likely to have any time soon of the hell into which we've plunged that country. I can't recommend them too highly. Tom]



Military Charts Movement of Conflict in Iraq Toward Chaos
| | | |
| --- | --- | --- |
| | A classified briefing prepared two weeks ago by the United States Central Command portrays Iraq as edging toward chaos, in a chart that the military is using as a barometer of civil conflict. | |
[more]
Breaking Faith
by Steve Gilliard

Ever since World War II, soldiers and Marines have followed a simple creed: leave no man behind. In combat units, it's a matter of faith. No one is left on the battle field. During Vietnam, Marines would take casualities to rescue their wounded. It got so bad that commanders had to order units not to get killed rescuing the wounded.

You don't leave people behind. It's simple, it's taught reflexisively. American soldiers do not each other behind. It is a matter of faith.

You may not have a wife or a job when you get home. You may not get home in one piece. But you know one thing as you suit up for another day in the sandbox, they will not leave you behind. No matter what they have to do, they will bring you home, alive or dead. It it understood, it is a compact.

Not any longer.


[more]
photography
I've been fascinated with square format and flash. It's something that strikes a chord with me and I want to explore with color film. Hence, the FlashMaster™. Although I've been thinking of putting my currently little used Mamiya Universal on the Metz. Medium format with a leaf shutter flash synched at all speeds. The big Mamiya rangefinder has a 6x9 back for those rectangular shots. Anyway, here is some 6x6 black and white with flash.
Four Questions for Rosalind Solomon

Q: Photography's entered an age of speed, ubiquity and automatism thanks to digital cameras. In looking at your work, the consistency of technique is startling. Can you talk a bit about how you settled on the camera you use (30 years ago) and why you've stuck with 6×6, black and white?

The medium format camera satisfies me. It can be transported easily and is mechanically sound. My challenge is not format or color, but deepening my perception and range of ideas. I am interested in making expressive pictures. Black and white pictures work for me as poetry and metaphor in a way that color does not. I have tried color and I have tried digital. Neither gives me the sense of depth that I feel with black and white. Good images come slowly. 6 X 6 film is my "page".


[more]
the photographs of Rosalind Solomon
[more]
afghanistan
Taliban plan to fight through winter to throttle Kabul
Militia fighters are operating just an hour's drive from the capital's suburbs, confident of undermining Western support for the war

The Taliban are planning a major winter offensive combining their diverse factions in a push on the Afghan capital, Kabul, intelligence analysts and sources among the militia have revealed.

The thrust will involve a concerted attempt to take control of surrounding provinces, a bid to cut the key commercial highway linking the capital with the eastern city of Jalalabad, and operations designed to tie down British and other Nato troops in the south.

Last week Nato, with a force of 40,000 in the country including around 5,000 from Britain, said it had killed 48 more Taliban in areas thought to have been 'cleared'. 'They have major attacks planned all the way through to the spring and are quite happy for their enemy to know it,' a Pakistan-based source close to the militia told The Observer. 'There will be no winter pause.' The Taliban's fugitive leader, Mullah Omar, yesterday rejected overtures for peace talks from President Hamid Karzai and said it intended to try him in an Islamic court for the 'massacre' of Afghan civilians.

Since their resurgence earlier this year the Taliban have made steady progress towards Kabul from their heartland in the south-east around Kandahar, establishing a presence in Ghazni province an hour's drive from the suburbs. They do not expect to capture the capital but aim to continue destabilising the increasingly fragile Karzai government and influence Western public opinion to force a withdrawal of troops. 'The aim is clear,' said the source. 'Force the international representatives of the crusader Zionist alliance out, and finish with their puppet government.'


[more]
photography
Leave your sound on for this!
American Color
Constantine Manos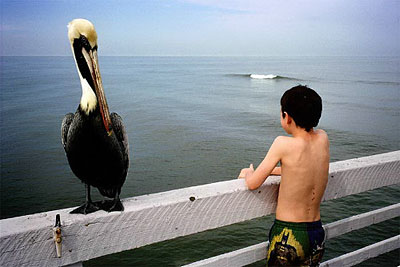 [more]
thanks to The Online Photographer



After watching, click on the M8 link.
israel
Israel's Minister of Strategic Threats
Lieberman Steps Out of the Shadows

The furore that briefly flared this week at the decision of Israel's Prime Minister, Ehud Olmert, to invite Avigdor Lieberman and his Yisrael Beiteinu party into the government coalition is revealing, but not in quite the way many observers assume.

Lieberman, a Russian immigrant, is every bit the populist and racist politician he is portrayed as being. Like many of his fellow politicians, he harbours a strong desire to see the Palestinians of the occupied territories expelled, ideally to neighbouring Arab states or Europe. Lieberman, however, is more outspoken than most in publicly advocating for this position.

Where he is seen as overstepping the mark is in arguing that the state should strip up to a quarter of a million Palestinians living inside Israel of their citizenship and seal them and their homes into the Palestinian ghettoes being created inside the West Bank (presumably in preparation for the moment when they will all be expelled to Jordan). He believes any remaining Arab citizens should be required to sign a loyalty oath to Israel as a "Jewish and democratic state" -- loyalty to a democratic state alone will not suffice. Any who refuse will be physically expelled from Israel.

And, as a coup de grace, he has recently demanded the execution for treason of any Arab parliamentarian who talks to the Palestinian leadership in the occupied territories or commemorates Nakba Day, which marks the expulsion and permanent dispossession of the Palestinian people in 1948. That would include every elected representative of Israel's Arab population.

These are Lieberman's official positions. Apparently unofficially he wants even worse measures taken against Palestinians, both inside Israel and in the occupied territories. In May 2004, for example, he told a crowd of his supporters, in Russian, that 90 per cent of the country's Arab citizens should be expelled. "They have no place here. They can take their bundles and get lost." His speech could have had second billing with one by Adolf Hitler at a Nuremberg Rally.


[more]
Israel's scandalous siege of Gaza

Israel has killed 2,300 Gazans over the past six years, including 300 in the four months since an Israeli soldier, Corporal Gilad Shalit, was captured in a cross-border raid by Palestinian fighters on June 25. The wounded can be counted in the tens of thousands. Most of the casualties are civilians, many of them children.

The killing continues on a daily basis - by tank and sniper fire, by air and sea bombardment, and by undercover teams in civilian clothes sent into Arab territory to ambush and murder, an Israeli specialty perfected over the past several decades.

How long will the "international community" allow the slaughter to continue? The cruel repression of the occupied territories, and of Gaza in particular, is one of the most scandalous in the world today. It is the blackest stain on Israel's patchy record as a would-be democratic state.


[more]
Breaking the Silence: Fmr. Israeli Soldier Tours U.S. to Expose Abuse of Palestinians by Israeli Military

JUAN GONZALEZ: I'd like to ask you about all of these thousands of Palestinian prisoners. From your perspective, as someone who's obviously had to participate in the capturing and imprisonment of some of these Palestinian civilians, what is this doing to Palestinian society, to have so many people locked up for such a long period of time under Israeli control?

YEHUDA SHAUL: I have no idea. I'm not a Palestinian. Just, you know, looking from the outside, seems like breaking all the family structure. I don't know, just trying to think of, you know, all the people that we arrested, bumping in the middle of the night through the windows, through the doors, through the roofs, waking up the family, taking people. No one knows when they're going to get back, why they were taken. You know, this is -- just, you know, almost every night in the Occupied Territories, you do an arrest operation. Every night you come back with what we saw in the pictures before, or you see now, of handcuffed, blindfolded Palestinians, who are just, you know, were now arrested, waiting to be taken to interrogations at the secret services.

But also, there's another kind of Palestinians, as you see now in the picture, and that's kind of what we call in Hebrew, or I will translate it, what we called "dry outs," or if I would professionally translate it, "detainees." And these are Palestinians, you know, when you stand in the checkpoint and you ask from all the Palestinians to stand in a very nice one line, and suddenly one of them starts screaming or leaves the line, so you must educate him, right? They must know who's the boss. So you detain the man aside. You took him, handcuff, blindfold -- five, six, seven hours, it could be more, it could be less. Or you call a Palestinian in the checkpoint, you ask from him his ID. He smiles too much. You must educate them.

And all the system is built on fear. It's built of just oppressing, I don't know, of not being able to treat Palestinians as equal human beings to you, because the job is to do things that you don't do to equal human beings, you know, to bump in the middle of the night to a family from the roof and wake up all the family, separate men from women and just search all the house. It's something that you don't do to an equal human being to you. It's something that I never done in Israel, but in the Occupied Territories, as a combat soldier, as an occupier, that's my daily job, 24/7, house after house.


[more]
Mystery of Israel's secret uranium bomb
Alarm over radioactive legacy left by attack on Lebanon

Did Israel use a secret new uranium-based weapon in southern Lebanon this summer in the 34-day assault that cost more than 1,300 Lebanese lives, most of them civilians?

We know that the Israelis used American "bunker-buster" bombs on Hizbollah's Beirut headquarters. We know that they drenched southern Lebanon with cluster bombs in the last 72 hours of the war, leaving tens of thousands of bomblets which are still killing Lebanese civilians every week. And we now know - after it first categorically denied using such munitions - that the Israeli army also used phosphorous bombs, weapons which are supposed to be restricted under the third protocol of the Geneva Conventions, which neither Israel nor the United States have signed.

But scientific evidence gathered from at least two bomb craters in Khiam and At-Tiri, the scene of fierce fighting between Hizbollah guerrillas and Israeli troops last July and August, suggests that uranium-based munitions may now also be included in Israel's weapons inventory - and were used against targets in Lebanon. According to Dr Chris Busby, the British Scientific Secretary of the European Committee on Radiation Risk, two soil samples thrown up by Israeli heavy or guided bombs showed "elevated radiation signatures". Both have been forwarded for further examination to the Harwell laboratory in Oxfordshire for mass spectrometry - used by the Ministry of Defence - which has confirmed the concentration of uranium isotopes in the samples.


[more]
photography

In the 1930s Harvard Business School colleagues Donald Davenport and Frank Ayres contacted leading businesses and requested photographs for classroom instruction—images Davenport hoped would "reveal the courage, industry and intelligence required of the American working man." They amassed more than 2,100 photographs, from strangely beautiful views of men operating Midvale Steel's 9,000-ton hydraulic press to women assembling tiny, delicate parts of Philco radios. Now students, and America's aspiring corporate managers, had visual data to study "the human factor," the interaction of worker and machine.

But the pictures were more than documentary records. They were the work of artists such as Margaret Bourke-White, Lewis Hine, and others, who produced highly stylized images meant to instill confidence in corporate America. Created in the years between the world wars, the Industrial Life Photograph Collection reveals the colliding—and sometimes competing—messages of art and industry, education and public relations, humanity and modernization.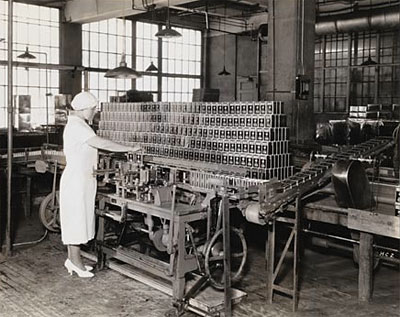 Filling and labeling cocoa cans
ca. 1934 • Hershey Chocolate Corporation • Photographer unknown
[more]
thanks to plep
home $weet home
There is Always Treasure in Rome
By Joe Bageant

A friend in the mortgage business tells me he gets calls every day from people who want their house repossessed -- people want to walk away from those monster-bellums in which they have zero equity, thanks to the interest only and zero down loans the industry pushed in an effort to blow up the housing balloon for all it's worth. "Hell, I tell 'em to sit tight, stay there, because we are six months behind in repos and besides, we may be able to sell them on a negative amortization loan. Let 'em pay what they can and we refi the difference. In other words, their debt just gets bigger as they pay, but they stay in their houses and their kids stay in the same schools."

Now that's a pretty scary economic picture to anyone with the sense god gave a soggy animal cracker. Right? Not to most sellers I know. Despite that this town has more for sale signs popping up like weeds, everyone is still going to make money on their home when they sell it. Including my own household. Here's a conversation slice from around my own kitchen table: "We paid $120,000 for this house eight years ago. I don't think $395,000 is unreasonable. The people who make enough to buy this house are all over toward Washington, DC and they want to live out here." Or "The Fed did not raise interest rates last week, so more people will be buying now." And "If we don't sell it, we can remodel instead." And I think to myself, "If Sisyphus had a wife, she would be looking for a bigger rock."

It's no wonder we can sustain our magical thinking until the very last minute of undeniable truth. We get lots of support in our delusion. Commuting to work I recently heard NPR's marketplace reporter tell listeners, "It's not necessarily a collapse, it's more of an impasse, a stalemate. Neither sellers nor buyers are budging from their original positions. Things will eventually loosen up." Sometimes a car radio can be an instrument of torture for the driver. So, if you saw a red faced old man pounding the steering wheel and cussing, it was probably me.


[more]
photography
These are too much fun!
[more]
More at his site:
reporting the everyday
michael hugh's photography
all thanks to Heading East

honey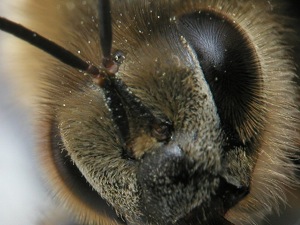 To sequence the human genome, scientists established a network of laboratories, equipped with robots that could analyze DNA day and night. Once they began to finish up the human genome a few years ago, they began to wonder what species to sequence next. With millions of species to choose from, they could only pick a handful that would give the biggest bang for the buck. Squabbling ensued, with different coalitions of scientists lobbied for different species. Some argued successfully for medically important species, such as the mosquito that carries malaria. Others made the case for chimpanzees, to help them pinpoint that genes that make us uniquely human. And in 2002, a team of scientists made the case for the humble honeybee.

Why spend millions on the honeybee? For one thing, honeybees are commercially valuable. They make honey, and they pollinate crops. But the honeybee lobby also argued that there were much deeper reasons to sequence its genome. Honeybees lives in societies that rival our own in size and complexity. A single hive may contain as many as 80,000 bees, which together build the hive, gather food, and feed the next generation of bees. They gather nectar from flowers, and they find flowers by merging many sources of information including the position of the sun and the subtle nuances of a flower's scent. When they come back to their hive, they waggle out a dance to indicate where other honeybees can find the flowers. They manage all this with only a million neurons in their head--a thousandth the number we have.

Only some of the bees in a hive search for food. Each hive is divided up into castes, such as foragers, sterile female worker bees who tend to the larvae, male drones who mate with the queen, and the queen herself. These different kinds of honeybees might well seem like they belong to different species. The queen lives ten times longer than her workers, churning out 2,000 eggs a day. Yet the genetic information for building all of these bees is stored in the same genome. Each bee's fate is determined as it develops. All bee larvae are initially fed a substance called royal jelly, secreted from the heads of the workers. It's a rich source of vitamins and other nutrients. It also influences how a bee develops. After three days, almost all the larvae get switched to a diet of honey. Only the queens in the making continue to get the royal jelly. Sequencing the honeybee genome could allow scientists to begin to piece together the way genes can help give rise to a complex animal society.


[more]
then and now
Julius Caesar had Gaul; Bush just has gall
by Terry Jones

In 59BC, Julius Caesar declared he was so shocked by the incursions of the dangerous Helvetii tribe into Gaul, and the suffering of the Gaulish peoples, that he had himself appointed 'protector of the Gauls'. By the time he'd finished protecting them, a million Gauls were dead, another million enslaved and Julius Caesar owned most of Gaul. Now I'm not suggesting there is any similarity between George W Bush's protection of the Iraqi people and Caesar's protection of the Gauls.

For a start, Julius Caesar, as we all know, was bald, whereas George W Bush has a fine head of hair.

In any case, George W Bush is not personally making huge amounts of money out of it. The money-making is all left in the capable hands of companies like CACI International, Blackwater Security and Haliburton.

It's true that Vice-President Dick Cheney's stock options in his old company, Haliburton, went up from $241,498 in 2004 to $8m in 2005 - that's an increase of 3,281 per cent.

But then Dick Cheney is bald.

The point I'm trying to make is that there is absolutely no comparison to be made between Julius Caesar's invasion of Gaul in 58-50BC and George Bush's invasion of Iraq.

I mean, Julius Caesar had the nerve to pretend that the Roman state was being threatened by what was going on in Gaul. He claimed he had to carry out a pre-emptive strike against the Helvetii in the interests of homeland security. In reality, his motives were political. He desperately needed a military victory to boost his standing in Rome and give him the necessary popular base to seize power.


[more]
photography
Joel Meyerowitz is one of the photographers who showed me the way to color with his book Cape Light originally published in 1979. It's 8x10 work but he was originally a 35mm street photographer. I had seen some of his 35mm black and white but here is some of his 35mm color street photography.
[more]
elections
thanks to Pharyngula




What happens if we win, if we beat their last minute dirty-tricks, cheating, and lawyers?

Even if we gain a Lieberman-proof majority in both houses we haven't beat Bushism. The Republicans in both houses will engage in a scorched earth retreat on every point. They will block investigations. They will obstruct legislation. Most of all, they will engage in one of the most sophisticated propaganda campaigns this country has ever seen.

We will not pull the troops out of Iraq, because Bush will still run the Pentagon. Any reduction in the budget or attempt to lower or troop level, beyond what Gerorge Bush and his mouth-pieces want, will be met with accusations of not supporting the troops and cries that each new death is a result of that lack of support. Naturally, all further failures in Iraq and the greater Middle East will be blamed on Democrats not letting the genius of Bush, Cheny, and Rumsfeld have their way.
[...]

My prediction for this election is that the best hope of liberal Democrats like myself will be that we slow the damage of the Bush administration. Turing the tide and restoring the moral greatness of America will be generation long effort, if it is possible to accomplish it at all.

No sports metaphor really suffices any more. At worst, the game has been destroyed and we should stop watching. At best, we might slow any further damage and start setting the conditions under which the game might be worth watching again someday. Is it any wonder that I just want this election to hurry up and be over?


[more]
The Next Wave
by Billmon

Tsunamis, they say, can be deceptive. Out in the deep ocean, travelling at 400 to 500 mph, they may appear on the surface to be nothing more than just a large swell -- like the wake of a large ship. While sensors can estimate the wave's size and power, it's true destructive force doesn't become visible until it reaches shallower water and all that energy is compressed and forced towards the surface. Then it hits, at which point the last place you want to be is on the beach.

With four days left until the election, the political wave is nearing the shore. And at this point it looks like a Republican killer. Greenberg Quinlan Rosner, which has been polling in GOP swing districts, has completed its final pre-election survey, and is forecasting a 1994-style blow out:

The named Democratic vote for Congress has moved up from a 3-point lead to 7-point margin since Sunday, with the named Democrat for the first time moving over 50 percent (51 to 44 percent). For the first time, the Democratic candidate is ahead on average in the bottom tier of least competitive races.
[...]


Even leaving aside the tremendous ill will and cravings for revenge this style has created among the Democrats, I have a very hard time seeing the Rovian White House completely reinventing itself and taking a consensual, compromising approach towards a Congress it can no longer treat like domestic servants. Dick Cheney would probably shoot someone first.

We can only hope Lind's "Okhrana" isn't reading the tea leaves correctly. War with Iran would be a special kind of disaster. But there are plenty of other places in the world where Shrub and company could cause trouble, plenty of other crises they could use or create to demonstrate their continued relevance.

Which is why if the Dems do win on Tuesday, and win big, they better get the celebrating out of the way fast, and start thinking about how they're going to handle a very angry, very rejected but still very powerful president with points to prove and scores to settle. Because if he goes critical on them (and us) the next big wave could wash us all out to sea.


[more]
photography
Incredible toy photography!
[more]
thanks to Joe Reifer - Words
update
I will see if I can get a few links up. Zoe was up very late working on a letter to Western State Hospital on her mother's care and is still asleep. We plan on going down to Western State Hospital later today to visit Gerry. I'm behind on work and Friday night a tooth started hurting pretty bad, although it's doing much better now. Yesterday morning I drove up to just outside of Anacortes and met Ken and Yuko coming back from settting up a show on Orcas Island. A nice breakfast was had by all. Last night I made a squash souffle to take down to Gerry. No additional information on the scanner. It was last seen in Hodgkins,Il, at 10:14 P.M on the first. It's probably sitting in a truck at the Seattle UPS teminal waiting to be unloaded early tomorrow morning. From there it will be loaded on a truck for the 1 hour drive to Everett where it will be loaded onto a delivery truck to show up at my door between 11 and noon on Monday. At least that is the plan. And this is where I live.
Update to the update Zoe woke up not feeling well so we will go down Tuesday.