Archives
our current civil war
The Political and the Personal
How is any kind of normative political discourse possible in this environment? How is it possible to be civil to people who constantly are placing you under assault? How can there be dialogue when the normative rules of give and take and fair play have not only been flushed down the drain, but chopped into bits and swept out with the tide? Do the advocates of civility place any onus on the nonstop verbal abuse, and absolutely ruthless, win-at-all-costs politics emanating from the conservative quadrant? And do they really expect liberals to refuse to defend themselves, when even doing so gets them accused of further incivility?
I'll believe conservatives are serious about civil, adult dialogue when they step back and give liberals some breathing room. When "civil" conservatives seriously confront the violent and vicious rhetoric coming from their own quarters; when they do away with suggesting that their political opponents are somehow disloyal Americans; and when they finally acknowledge that people's concerns about the legitimacy of the process by which Bush obtained office are not only well grounded but driven more by patriotic feeling than partisan rancor -- then, perhaps, they can expect to start seeing some civility in return.
But until then, they should not expect liberals to take the evisceration of their lives, both political and personal, lying down. The Culture Wars that they have been recklessly pursuing are slowly growing into a genuine and significant rift in American society. And it cannot be healed until both sides are willing.
It grieves me to see old friendships and relationships actually damaged by this war. But it was not a fight I or other liberals chose. It was thrust upon us. And until that aggression comes to a stop, I will not stop fighting back. Civilly, of course, but with all the blunt force and passion I can muster.
Because, yes, it is political -- but it's also become personal.
[more]
photography
A couple of days ago I linked to a Minor White festival at wood s lot. As part of the process of writing that post, I discovered a page on the gallery where I had purchased my Minor White print. The page was part of this excellent resource site for art photographers. Dan Fear ran the Silver Image gallery for 20 years. He has put what he learned into this site. Any photographer that has any interest in selling their prints will find this site to be quite valuable. Thanks, Dan!
An Arts Resource for artists interested in Selling Fine Art.
Primarily for photographers selling fine art photography other artists will also benefit from this site.
Included are useful articles like "Portfolio Guidelines" and "Where to Exhibit Your Art"
You'll find information on creating web sites, artist reference books, sample business forms,
art organizations, plus many other links and resources to help in your art career.
[more]
iraq — vietnam on internet time
The last few days I've had to give up the keyboard and blog for something less glamorous- the bucket and mop.
It started about 3 days ago. I was out on the driveway, struggling with the garden hose and trying to cunningly arrange it to give a maximum trickle of water. My mother was standing at the door, chatting lightly with Umm Maha, from across the street- a stocky, healthy woman in her late forties.
Umm Maha had made us 'kilaycha'- a special Eid desert (and the recipe is a bit too complicated to post). Kilaycha are like… not exactly cookies or bars but something like dry, sweet dumplings. They are, basically, a sort of baked dough filled with either nuts, sesame seeds and sugar, dates or just flat and plain, almost like Christmas cookies- but less brittle and sweet. Every house either makes them or buys them for Eid- they are almost as necessary as lentil soup.
I was vaguely listening to the conversation. They were discussing the blackouts and how they were affecting the water flow in some areas (like ours). My mother was mentioning how she was thawing out the freezer because the intermittent electricity was turning everything to mush and Umm Maha suddenly looked awed, "But isn't your freezer clean? Haven't you began with the Eid cleaning?!" I froze as I heard the words and peered around at my mother. She was looking uncomfortable- no we hadn't started with the 'Eid cleaning', but how do you say that to the Martha Stewart of Baghdad?
[more]
Iraq: Three from one doesn't add up
Iraq is "artificially and fatefully made whole from three distinct ethnic and sectarian communities", says Leslie Gelb in his November 25 New York Time article. Gelb - a former editor and columnist for the Times and president emeritus of the Council on Foreign Relations - advocates dismembering Iraq into three parts, a Kurdish north, a Sunni center and a Shi'ite south, in what he calls the "Three State Solution".
[...]
Gelb's proposal is the singularly least democratic suggestion offered to solve the Iraq crisis to date. Moreover, no neighboring country would accept the idea of dividing Iraq. How many small, artificial and unviable countries (like Jordan and the Gulf countries) does the West wish to create in repetition of its post-Ottoman errors? Unlike Yugoslavia, Iraq's different groups have no history of separate existence and they have no history of mutual slaughter. It is true that Iraq was to a certain extent an invention. But all states begin as an imagined idea. A state succeeds if its people believe in it. Iraqis believe in Iraq. If anything, the American occupation is only uniting Iraqis in resentment of the foreigners and non-Muslims who rule them, and increasing their desire to be "free, independent and democratic" as the graffiti says on walls throughout the country. These are the "ambitions" of the Sunnis that Gelb demonizes, just as they are the ambitions of the Shi'ites and Kurds. Iraqis believe in Baghdad, an extremely diverse capital city, where Shi'ites, Sunnis and Kurds live together and even intermarry.
Gelb, like all conscientious observers, is seeking a just solution for the debacle that poor planning (as well as poor justification) caused in Iraq. The solution is to build a strong united Iraq. This can be done by empowering the IGC, by establishing a constitution that protects against dictatorship and the domination of the country by one group, by returning sovereignty to Iraqis as soon as possible, and by avoiding the imposition of Washington based ideologies that are disconnected from the reality of Iraq.
[more]
Sistani's Fatwa trumped Bremer
Rajiv Chandrasekharan has a wonderful article in the Washington Post on the way Grand Ayatollah Ali Sistani's fatwa of June 28 stymied US civil administrator Paul Bremer.
[...]
Anyway, Bremer's hope that he could have people like Bahr al-Ulum overrule Sistani would be like hoping a bishop could overrule the Pope. Even 5 bishops could not. And then Bremer's hope that he could put pressure on Sistani to change his mind was also in vain. A jurisprudent is bound by his juridical reasoning as long as he doesn't see new evidence or come up with a new argument. It would be seen as completely corrupt to change a ruling merely on pragmatic grounds, and at the behest of the Americans or of more junior jurists! A Grand Ayatollah gives, rather than taking, marching orders.
[more]
How Cleric Trumped U.S. Plan for Iraq
Ayatollah's Call for Vote Forced Occupation Leader to Rewrite Transition Strategy
By Rajiv Chandrasekaran
The unraveling of the Bush administration's script for political transition in Iraq began with a fatwa.
The religious edict, handed down in June by Grand Ayatollah Ali Sistani, Iraq's most influential Shiite Muslim cleric, called for general elections to select the drafters of a new constitution. He dismissed U.S. plans to appoint the authors as "fundamentally unacceptable."
His pronouncement, underestimated at first by the Bush administration, doomed an elaborate transition plan crafted by U.S. administrator L. Paul Bremer that would have kept Iraq under occupation until a constitution was written, according to American and Iraqi officials involved in the process. While Bremer feared that electing a constitutional assembly would take too long and be too disruptive, there was a strong desire on his own handpicked Governing Council to obey Sistani's order.
With no way to get around the fatwa, and with escalating American casualties creating pressure on President Bush for an earlier end to the occupation, Bremer recently dumped his original plan in favor of an arrangement that would bestow sovereignty on a provisional government before a constitution is drafted.
[more]
Orchards and American Integrity
Some Arabs in the Middle East, and their business partners, benefit from oil and natural gas. For the vast remainder, local economies, lives and traditions are intertwined with the earth and the weather, growing grain and fruit, making wine and raising sheep and goats.
Americans understand what this means, even if most of us don't live that life. We mythologize our small farms, and our major political parties stampede to publicly worship that holy ground. Great twentieth century American novels from Steinbeck to Jane Smiley to David Guterson use themes of farming, of trying to create living order from wasted chaos, of old orchards. In the midst of the dust, dirt, frustration, hard times, debt, bad weather, and accidents that is farming in any country, we find something mystical and spiritual, and beloved.
This perspective is shared by many Americans here and by American soldiers deployed overseas. When U.S. forces recently bulldozed an orchard in Dhuluaya, Iraq, about fifty miles north of Baghdad, in collective retribution for U.S. inability to find terrorists in the farms, "one American soldier broke down and cried."
Make that two.
[more]
thanks to Yolanda Flanagan
cross stich art
[more]
thanks to Whole Wheat Radio
institutional corruption
The stock market boom of the 1990s, the proliferation of 401(k) plans and the mass use of mutual funds so greatly increased the number of Americans who own equities that a new demographic term was born: the investor class.
The emerging accounts of thievery in the world of mutual funds confirm, for me at least, something I have suspected since the go-go 1980s -- the existence of an economic predator class.
I believe there is now a professional, well-trained elite, supported by large institutions, that is adept and willing to use corrupt practices to accumulate wealth. Despite assurances from game-theorists and anthropologists that the criminal cadre in the species remains a constant percentage over time, I believe today's mainstream, sanitized, and institutionally sanctioned financial crime rackets are being run by a new breed of crook. There have always been scandals and crooks in the history of American money, but our predator class is a distinct creation of the late 20th century.
I believe there is no way the counter-class made up of regulators, watchdogs and do-gooders and hack columnists can match wits with the predator class. Today's piles of money are so huge, great fortunes can be amassed by swiping the tiniest of slices in the wiliest of ways long before picked pockets are discovered.
[more]
thanks to thoughts on the eve of the apocalypse
the hazards of early air travel
This is a tragic early experience with high altitude sickness. How were they to know?
It was now April the 15th, and the lofty flight was embarked upon by M. Gaston Tissandier, accompanied by MM. Croce-Spinelli and Sivel. Under competent advice, provision for respiration on emergency was provided in three small balloons, filled with a mixture of air and oxygen, and fitted with indiarubber hose pipes, which would allow the mixture, when inhaled, to pass first through a wash bottle containing aromatic fluid […]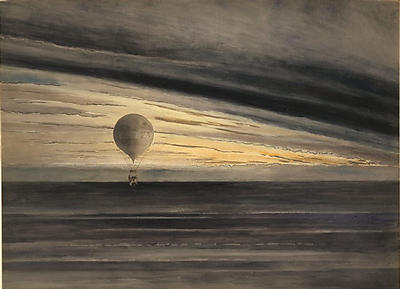 Ascending at 11:30 under a warm sun, the balloon had by 13:00 reached an altitude of 16,000 feet, when the external air was at freezing point, the gas high in the balloon being 72 degrees, and at the centre 66 degrees. Ere this height had been fully reached, however, the voyagers had begun to breathe oxygen. At 11:57, an hour previously, Spinelli had written in his notebook, 'Slight pain in the ears--somewhat oppressed--it is the gas.' At 23,000 feet Sivel wrote in his notebook, 'I am inhaling oxygen--the effect is excellent,' after which he proceeded to urge the balloon higher by a discharge of ballast. The rest of the terrible narrative has now to be taken from the notes of M. Tissandier, […] one of the most thrilling narratives in aeronautical records…
[more]

UN, int'l agencies warn of halting operations in territories
The heads of UN and international agencies operating in the territories recently warned Israel that they may stop their activity in the territories unless Israel alters its closure policy.
In a sharp letter to the Israeli authorities, the agencies' directors say that Israel's recent security measures in the West Bank and Gaza strip are making it impossible to provide humanitarian relief, and that many agencies find this unacceptable.
"Severalo rganizations indicated that they are now are seriously considering whether they should continue to work at all under these circumstances," the directors say. They complain that despite numerous meetings with the military authorities, the relief agencies are subject to unpredictable and sudden changes on the ground, whose purpose is often obscure and rarely explained.
[more]
photography
THE PHOTOGRAPHIC ARTISTRY OF GEORGE HURRELL
In 1929 at the age of 25 artist turned photographer, George Hurrell, irreparably changed the way cinema studios and the movie going public perceived many of the greatest stars of the '30s and '40s. His highly stylized, sensual studio portraits of the great and soon to be great stars became the epitome of Hollywood glamour and mystery for a Depression weary movie going public.
The incredibly dramatic use of light in his portraits not only created a new, exciting look in movie tableaus, but actually influenced the way movie sets were lit for the next two decades. His ingenious use of a boom to place a light above his subject's head highlighting the hair was quickly adopted by all the major studios and remains to this day an important lighting implement in cinema, video and still photography.
[more]
thanks to The J-Walk Weblog
labor
Meanwhile, another pillar of the Euro-corporate community, the Danish security company Group 4 Falck, is taking a similar tack with the thousands of security guards it employs here since it purchased Wackenhut Corp. in May 2002. In Denmark, Group 4 Falck's security guards receive 111 hours of training and make between $16 and $19 an hour. In the United States its guards receive as little as one hour's training, and pull down an hourly wage of about $8. In suburban Chicago, where the Service Employees International Union recently won family health insurance for guards at 30 companies, Group 4 Falck refused to sign the contract and informed its employees that if they wanted to maintain their company health insurance they'd have to leave the union.
So it's come to this: When European employers look to the United States, they see roughly the same thing that U.S. employers see when they look to China: millions of low-wage workers who have all but lost the right to organize and a government intent on keeping things just the way they are.
The erosion of worker power and the growth of employer supremacy here have transformed the bottom half of the U.S. workforce into a vast exploitable mass worthy of a colonial backwater.
Something to chew on as we give thanks for the marvel that once was America.
[more]
thanks to Altercation
magazine cover art
Field & Stream Classic Cover Gallery
[more]
thanks to The J-Walk Weblog
slippery slope to a military dictatorship
Mission Creep Hits Home
American armed forces are assuming major new domestic policing and surveillance roles.
Preoccupied with the war in Iraq and still traumatized by Sept. 11, 2001, the American public has paid little attention to some of what is being done inside the United States in the name of anti-terrorism. Under the banner of "homeland security," the military and intelligence communities are implementing far-reaching changes that blur the lines between terrorism and other kinds of crises and will break down long-established barriers to military action and surveillance within the U.S.
"We must start thinking differently," says Air Force Gen. Ralph E. "Ed" Eberhart, the newly installed commander of Northern Command, the military's homeland security arm. Before 9/11, he says, the military and intelligence systems were focused on "the away game" and not properly focused on "the home game." "Home," of course, is the United States.
Eberhart's Colorado-based command is charged with enhancing homeland security in two ways: by improving the military's capability to defend the country's borders, coasts and airspace — unquestionably within the military's long-established mission — and by providing "military assistance to civil authorities" when authorized by the secretary of Defense or the president.
That too may sound unexceptionable: The military has long had mechanisms to respond to a request for help from state governors. New after 9/11 are more aggressive preparations and the presumption that local government will not be able to carry the new homeland security load. Being the military, moreover, contingency planners approach preparing by assuming the worst. All of this is a major — and potentially dangerous — departure from past policy
[more]
"What Country Is This?"
Hogtied and Abused at Fort Benning
On Sunday, November 23, I took part in a nonviolent civil disobedience action at Fort Benning, GA, to protest the U.S. Army´s School of the Americas (SOA, now called the Western Hemisphere Institute for Security Cooperation -- WHISC)
Shortly after more than two dozen of us entered Fort Benning and were arrested, US Military Police took us to a warehouse on the base for "processing." I was directed to a station for an initial search, where a woman soldier began shouting at me to look straight ahead and spread my legs. I turned to ask her why she was shouting at me and was ordered to keep my mouth shut, look straight ahead, and spread my legs wider. She then began an aggressive body search. When ordered to raise one leg a second time, I temporarily lost my balance while still being roughly searched and, in my view, 'womanhandled.' I decided that I shouldn't go along with this dehumanizing action any longer. When I lowered my arms and said, quietly, "I'm sorry, but I can't any longer cooperate with this," I was instantly pushed to the floor. Five soldiers squatted around me, one of them referring to me with an expletive (this f_ _ _ er) and began to cuff my wrists and ankles and then bind my wrists and ankles together. Then one soldier leaned on me, with his or her knee in my back. Unable to get a full breath, I gasped and moaned, "I can't breathe." I repeated this many times and then began begging for help. When I said, "Please, I've had four lung collapses before," the pressure on my back eased. Four soldiers then carried me, hogtied, to the next processing station for interrogation and propped me in a kneeling position. The soldier standing to my left, who had been assigned to "escort" me, gently told me that soon the ankle and wrist cuffs, which were very tight, would be cut off. He politely let me know that he would have to move my hair, which was hanging in front of my face, so that my picture could be taken. I told him I'd appreciate that.
[more]
album art
The Greatest Albums Covers That Never Were
100 of the world's most celebrated artists chose there favorite musicians and created...

Kurt Vonnegut
[more]
thanks to Incoming Signals
What happens when pit bulls attack little poodle dogs
The battle over a Medicare prescription drug benefit proves that Republicans are ruthless and determined and that Democrats are divided and hapless. Republicans have changed the rules in Washington, but some Democrats still pretend to be living in the good old days.
And so there was much bitterness among Democrats as the Republicans' Medicare drug bulldozer rolled inexorably forward with critical help from two Democratic senators. A majority of Democrats believe the bill was a bad deal -- it gave President Bush a political victory without demanding enough in return. "It's a combination of political stupidity and substantive gutlessness," said one influential Democratic congressional aide.
What Democrats failed to understand, Sen. Hillary Rodham Clinton (D-N.Y.) said in an interview yesterday morning, is that Republicans "are on an ideological march. They have no intention of playing fair. They want what they want when they want it." And they get it.
If anyone doubted the rules had changed, House Republican leaders ended all illusions in the early hours of Saturday morning by holding open a 15-minute roll call vote for an unprecedented two hours and 51 minutes. At the end of the normal time for voting, Republican leaders faced defeat on the drug bill by a two-vote margin. Eventually, two Republicans were hammered into switching their votes.
[more]
thanks to BuzzFlash
turntable madness
I've mentioned this site before that I found in my search for turntable stuff. Check out their high-end turntables. Some expensive mechanical sculpture.
[more]
humans
A study that compared humans with other species concluded there are 1,000 times too many humans to be sustainable.
The study, published in the current Proceedings B (Biological Sciences) by the Royal Society, used a statistical device known as "confidence limits" to measure what the sustainable norm should be for species populations. Other factors, such as carbon dioxide production, energy use, biomass consumption, and geographical range were taken into consideration.
"Our study found that when we compare ourselves to otherwise similar species, usually other mammals of our same body size, for example, we are abnormal and the situation is unsustainable," said Charles Fowler, co-author of the paper and a lead researcher at the National Marine Mammal Laboratory, a division of the National Oceanic and Atmospheric Administration.
[more]
thanks to Undernews
books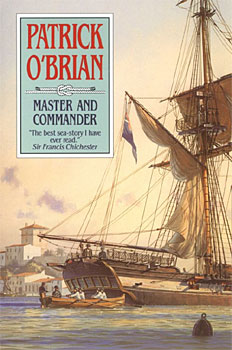 I'm sure I will see the movie Master and Commander but here is a better deal — read the book! Or, more accurately — read the books. One plus for the movie is that it caused Master and Commander (the book) to be at Costco with Russel Crowe's image on it. This is a series that I have been interested in reading for some time so I took advantage of the book's availability and now only have 19 more volumes to go. Most excellent! Go ahead, see the movie but don't see that as a substitute for reading the books.
reference this!
refdesk.com
The Single Best Source For Facts
Refdesk indexes and reviews quality, credible, and current information-based sites and assists readers in navigating these sites.
[more]
thanks to Politics in the Zeros
poster art
Horror Movie Poster/Video Sleeve Pictures
[more]
thanks to New World Disorder
Thursday November 27 2003
i ate too much!
It's always fun to get together with the family. There was an added suprise this year when an old friend of the family showed up from California. (It was good to see you again Natasha!) We all ate too much. A good time was had by all.
And here are the rest of the additions to the blog roll. In the not just about one thing blogs category we have Incoming Signals. Under international news asia I've added the excellent Asia Times. news gatherers now has Information Clearing House. And magazines photography now links to iN-PUBLiC, VRMAG, and zone zero.
That brings the blog roll up to date. I'll try to keep it that way.
more blogs for the blog roll
The bread is out of the oven and I'm waiting for Jenny to pick me up. Mmmmm, I love the smell of bread right out of the oven. Almost as much as eating bread right out of the oven. Here are the rest of the blogs and entries for the blog roll. For life blogs there is the best blog on Iraq: Burning Baghdad. For book blogs we have Craig's BookLab II. Oops, Jenny's here. Gotta go. More later.

eye-candy blogs
I'm baking bread this morning — my contribution to the family gathering this afternoon. In between bread risings I thought I would update the eye-candy blogs in the blog roll. For your visual enjoyment I present: cipango, Conscientious, Coudal Partners, esthet, Everlasting Blort, Giornale Nuovo, fellow Whole Wheat Radio listener J-Walk at The J-Walk blog, and The Cartoonist. Expect visual stimulation.

Wednesday November 26 2003
thanksgiving
Happy Thinksgiving! May you eat too much! My offering for this Thanksgiving is a piece that John James Audubon wrote, in the early 1800s, about the real turkeys. (No! Not the ones in the White House.)
THE WILD TURKEY.
Meleagris Gallopavo, Linn.
The great size and beauty of the Wild Turkey, its value as a delicate and highly prized article of food, and the circumstance of its being the origin of the domestic race now generally dispersed over both continents, render it one of the most interesting of the birds indigenous to the United States of America.
[...]
The Turkey is irregularly migratory, as well as irregularly gregarious. With reference to the first of these circumstances, I have to state, that whenever the mast* of one portion of the country happens greatly to exceed that of another, the Turkeys are insensibly led toward that spot, by gradually meeting in their haunts with more fruit the nearer they advance towards the place where it is most plentiful. In this manner flock follows after flock, until one district is entirely deserted, while another is, as it were, overflowed by them. But as these migrations are irregular, and extend over a vast expanse of country, it is necessary that I should describe the manner in which they take place.
[*In America the term mast is not confined to the fruit of the beech, but is used as a general name for all kinds of forest fruits, including even grapes and berries.]
About the beginning of October, when scarcely any of the seeds and fruits have yet fallen from the trees, these birds assemble in flocks, and gradually move towards the rich bottom lands of the Ohio and Mississippi. The males, or, as they are more commonly called, the gobblers, associate in parties of from ten to a hundred, and search for food apart from the females; while the latter are seen either advancing singly, each with its brood of young, then about two-thirds grown, or in connexion with other families, forming parties often amounting to seventy or eighty individuals, all intent on shunning the old cocks, which, even when the young birds have attained this size, will fight with, and often destroy them by repeated blows on the head. Old and young, however, all move in the same course, and on foot, unless their progress be interrupted by a river, or the hunter's dog force them to take wing. When they come upon a river, they betake themselves to the highest eminences, and there often remain a whole day, or sometimes two, as if for the purpose of consultation. During this time, the males are heard gobbling, calling, and making much ado, and are seen strutting about, as if to raise their courage to a pitch befitting the emergency. Even the females and young assume something of the same pompous demeanour, spread out their tails, and run round each other, purring loudly, and performing extravagant leaps. At length, when the weather appears settled, and all around is quiet, the whole party mounts to the tops of the highest trees, whence, at a signal, consisting of a single cluck, given by a leader, the flock takes flight for the opposite shore. The old and fat birds easily get over, even should the river be a mile in breadth; but the younger and less robust frequently fall into the water,—not to be drowned, however, as might be imagined. They bring their wings close to their body, spread out their tail as a support, stretch forward their neck, and, striking out their legs with great vigour, proceed rapidly towards the shore; on approaching which, should they find it too steep for landing, they cease their exertions for a few moments, float down the stream until they come to an accessible part, and by a violent effort generally extricate themselves from the water. It is remarkable, that immediately after thus crossing a large stream, they ramble about for some time, as if bewildered. In this state, they fall an easy prey to the hunter.
[more]

new political blogs
The blog roll is all hunky-dory now. Here are the first new blogs to be added to the blog roll, a collection of fine political blogs: :: Out2Lunch :: (Our Man in South Africa), Jerome Doolittle at Bad Attitudes, Hesoid at Counterspin Central, Juan Cole's excellent blog on Iraq at Juan Cole * Informed Comment *, our fiddling CrowGirl at Magpie (I must see if she wants to be on TestingTesting), Wampum and Dwight Meridith (Progressive Politics, Indian Issues, and Autism Advocacy) at Wampum, and last, only due to the unfortunate placement of W in the alphabet, is Billmon at Whiskey Bar. Check them all out.
changes
My blog roll has been getting more out of date for some time. Some I don't read any more, many have moved, and there are many that should be there but are not. One of the latter is Bad Attitudes, which so kindly mentioned me today. (Welcome to those coming in from Bad Attitudes.) I have reached a lull in work and life today so I am cleaning up the blog roll. Hopefully that won't break things for long. I will clean up and reorganize the current list and then I will start adding and noting the new sites. Some really cool sites will be added so stay tuned.
environment
Read this. It's long. It's depressing. What more could you ask for?
Crimes Against Nature
Bush is sabotaging the laws that have protected America's environment for more than thirty years
by Robert F. Kennedy, Jr.
George W. Bush will go down in history as America's worst environmental president. In a ferocious three-year attack, the Bush administration has initiated more than 200 major rollbacks of America's environmental laws, weakening the protection of our country's air, water, public lands and wildlife. Cloaked in meticulously crafted language designed to deceive the public, the administration intends to eliminate the nation's most important environmental laws by the end of the year. Under the guidance of Republican pollster Frank Luntz, the Bush White House has actively hidden its anti-environmental program behind deceptive rhetoric, telegenic spokespeople, secrecy and the intimidation of scientists and bureaucrats. The Bush attack was not entirely unexpected. George W. Bush had the grimmest environmental record of any governor during his tenure in Texas. Texas became number one in air and water pollution and in the release of toxic chemicals. In his six years in Austin, he championed a short-term pollution-based prosperity, which enriched his political contributors and corporate cronies by lowering the quality of life for everyone else. Now President Bush is set to do the same to America. After three years, his policies are already bearing fruit, diminishing standards of living for millions of Americans.
[more]
thanks to thoughts on the eve of the apocalypse
photography
'Morning and Melancholia' - Photographs by Laura Letinsky
[more]
thanks to Pretty Serendipities
fascism — here it comes!
It seems only fitting that this headline should appear in the right-wing Newsmax:
Gen. Franks Doubts Constitution Will Survive WMD Attack
Might this just set up the pretext for something many of us suspect has been coming since Sept. 11? Nothing like sending up the meme as a trial balloon first.
[more]
Here is the Newsmax article...
Gen. Franks Doubts Constitution Will Survive WMD Attack
Gen. Tommy Franks says that if the United States is hit with a weapon of mass destruction that inflicts large casualties, the Constitution will likely be discarded in favor of a military form of government.
[more]
Franks broaches Military Dictatorship
Friends, the Republic is in real danger. It is not the UN black helicopters that threaten it, but elements of the United States officer corps. That is, if their thinking is in any way exemplified by Tommy Franks. Franks has speculated that in the wake of a major WMD attack, the US will scrap its constitution and adopt a military government. I can't imagine a more fascist, irresponsible thing for him to say. (I am not saying he advocates such a step. I am saying that for such a high-ranking former officer to even speak of this matter is the most irresponsible thing I have ever seen. The responsible thing for him to have done was to urge planning for civilian government under such emergency conditions.)
[more]
So — what are the odds the 2004 Presidential elections get cancelled?

photography
MyOwnSelf.com
Dismal Sanctuary of Asya Schween
I'm Asya Schween. 22. Immersed in incarnadine-hued twilight of my mind. Alone. I read no poetry but mathematical manuscripts and the Holy Bible.
I'm a good girl. I will perish.
Ta-ta.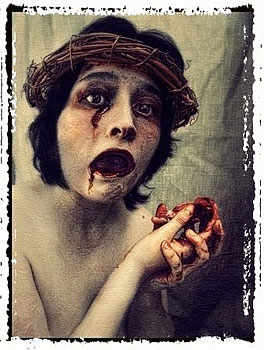 [more]
thanks to cipango
[more]
thanks to cipango
here we go again!
This is getting to be more and more like the late 60s and early 70s. That's not a good thing.
F.B.I. Scrutinizes Antiwar Rallies
The Federal Bureau of Investigation has collected extensive information on the tactics, training and organization of antiwar demonstrators and has advised local law enforcement officials to report any suspicious activity at protests to its counterterrorism squads, according to interviews and a confidential bureau memorandum.
[more]
FTAA Protesters Describe Security as Police State
At the tail end of a 20-foot green dragon, Julie Gouldener began Miami's largest anti-globalization march Thursday skipping up Biscayne Boulevard. Two hours later, she stood against a wall sobbing, the welt from a rubber bullet's impact rising on her forehead.

Miami riot police fire on protesters during a Free Trade Area of
the Americas protest Thursday, Nov. 20, 2003, in downtown Miami
[more]
Protestors seemed to skirmish with heavily armored Miami police outside the Riande Hotel Thursday morning, but nothing is at it seems this week. These "anarchists" were undercover police officers whose mission was to provoke a confrontation.
The crowd predictably panicked, television cameras moved in, the police lines parted, and I watched through a nearby hotel window as two undercover officers disguised as "anarchists," thinking they were invisible, hugged each other. They excitedly pulled tasers and other weapons out of their camouflage cargo pants, and slipped away in an unmarked police van.
[more]
The police force continued operating with the brains and appetite of a carnivorous shark today as city officials kept demonstrating "the Miami model" of suppression even as protestors and trade ministers were leaving the city in droves.
At a Friday afternoon press conference, Thea Lee, the chief international economist of the AFL-CIO, spoke of feeling terrified Thursday as police fired pepper gas and plastic bullets at peaceful marchers. Other labor leaders, including AFL-CIO president John Sweeney expressed "outrage" over the police blocking of a permitted gathering, and cited specific abuses such as a union retiree being denied necessary medication after an arbitrary arrest.
[more]
How much longer until demonstrators die? Who will write the sequel to "Four Dead in Ohio"?
photography
The line between truth and illusion in photography is one that has been frequently crossed by practitioners since the invention of the medium. Sometimes that line was crossed deliberately through the use of simple techniques like double exposing the film in order to place the same individual in two different parts of the picture (a popular technique for professionals and amateurs at the end of the nineteenth century). Other times the breach of the truth was dictated by the limitations of the materials needed to produce a picture. For example, no clouds ever appeared in a sky made with orthochromatic film, and until the 1930s rarely was a scene rendered in color, which is the most obvious breach of truth in a long list of possibilities associated with the medium. With so many opportunities to bend reality, it was inevitable that practitioners from advertising photographers to artists would exploit this characteristic of the medium.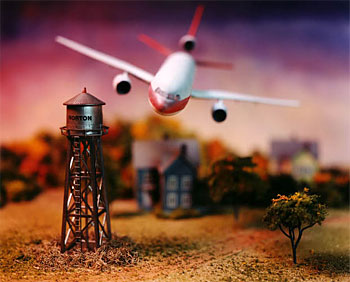 [more]

This is a must read. I linked to an article that mentioned this article. This is the original complete article from the Israeli paper Yedioth Ahronoth. In it they interviewed 4 ex-heads of Shin Bet, the Israel Security Service. They have no illusions about what Israel is doing to the Palestinians.
We are Seriously Concerned About the Fate of the State of Israel
When the meeting is almost over, we ask Avraham Shalom (Bendor) if he thinks we are on the brink of an abyss. We are on our way, he says, because all the steps that we have taken are steps that are contrary to the aspiration for peace. If we do not turn away from this path, of adhering to the entire Land of Israel, and if we do not also begin to understand the other side, dammit, we will not get anywhere. We must, once and for all, admit that there is an other side, that it has feelings and that it is suffering, and that we are behaving disgracefully. Yes, there is no other word for it. Disgracefully.
What do you mean disgracefully, we ask, disgracefully at the roadblocks?
All of it, says Shalom, all of it.
What is disgraceful, we ask, do we behave disgracefully in the refugee camps?
Everything, everything, Shalom says. It is all disgraceful. We debase the Palestinian man individual to all and sundry. And nobody can take this. We too would not take it if it were done to us. And neither do they take it, why should they suffer? And we are incapable of taking even a small step to correct this. Shimon Peres once tried to take this small step, he at least talked about it when I was GSS director, and then nothing was done.
[more]
Twilight Zone / `I punched an Arab in the face'
by Gideon Levy
Staff Sergeant (res.) Liran Ron Furer cannot just routinely get on with his life anymore. He is haunted by images from his three years of military service in Gaza and the thought that this could be a syndrome afflicting everyone who serves at checkpoints gives him no respite. On the verge of completing his studies in the design program at the Bezalel Academy of Art and Design, he decided to drop everything and devote all his time to the book he wanted to write. The major publishers he brought it to declined to publish it. The publisher that finally accepted it (Gevanim) says that the Steimatzky bookstore chain refuses to distribute it. But Furer is determined to bring his book to the public's attention.
"You can adopt the most hard-line political positions, but no parent would agree to his son becoming a thief, a criminal or a violent person," says Furer. "The problem is that it's never presented this way. The boy himself doesn't portray himself this way to his family when he returns from the territories. On the contrary - he is received as a hero, as someone who is doing the important work of being a soldier. No one can be indifferent to the fact that there are many families in which, in a certain sense, there are already two generations of criminals. The father went through it and now the son is going through it and no one talks about it around the dinner table."
Furer is certain that what happened to him is not at all unique. Here he was - a creative, sensitive graduate of the Thelma Yellin High School of the Arts, who became an animal at the checkpoint, a violent sadist who beat up Palestinians because they didn't show him the proper courtesy, who shot out tires of cars because their owners were playing the radio too loud, who abused a retarded teenage boy lying handcuffed on the floor of the Jeep, just because he had to take his anger out somehow. "Checkpoint Syndrome" (also the title of his book), gradually transforms every soldier into an animal, he maintains, regardless of whatever values he brings with him from home. No one can escape its taint. In a place where nearly everything is permissible and violence is perceived as normative behavior, each soldier tests his own limits of violence impulsiveness on his victims - the Palestinians.
[more]
The above is from Aron Trauring's excellent site. Aron was also in the IDF and recounts his experiences here, here, and here. They are must reading.
The occupation corrupts from above
The lie we were told about the Air Force's bombing of the Nusseirat refugee camp has very long tentacles. These tentacles start from the very highest echelons and do not skip over any sector of Israeli society. Their roots are planted deep in the territories, fed by the poison of the occupation.
Without lies, it would be impossible to talk about peace with the Palestinians for 36 years while at the same time seizing more and more Palestinian land. Without lies, it would be impossible to claim that there is no partner for the road map, while at the same time injecting more and more money into outposts that the road map calls for dismantling. Without lies, it would be impossible to promise "painful concessions" in exchange for peace, while at the same time terming people who concluded such an agreement "traitors."
[more]
Religious right relishing Road Map's collapse
Fundamentalist leaders want Bush to add Palestinians to list of targets for war against terrorism
In the coming maelstrom that lies ahead, in the coming judgment that's going to burst in cyclonic fury over this world, and this planet, America's only hope -- listen to me, White House, listen to me, State Department, listen to me, Pentagon, listen to me, Mr. President -- America's only hope is not GNP, it's not scientific achievement, it's not an education at Harvard or Yale, but it's America holding on to that little, tiny state of Israel and saying, "We will stand with you," because God said, "They that bless Israel I will bless, and they that curse Israel, I will curse."
-- Rev. Jimmy Lee Swaggart, March, 1985
[more]
Ariel Sharon reminds me these days of Chance the Gardener, the star of the movie "Being There," based on Jerzy Kosinski's book. Chance's world revolves around images from the world of gardening: "Seeds are sown in autumn;" "flowers blossom in spring;" "leaves turn yellow in the fall;" "when winter is over and summer comes, the
trees will bear fruit."
The Washington political scene, including the president himself, is convinced that lurking behind Chance's simple words are incomparably profound political insights and multiple meanings that will solve the problems of the world. He utters a word and everyone thinks he might mean this or might mean that. Altogether, an out-and-out genius.
[more]
Which kind of binational state?
And there's a fourth model, which can be called "undeclared binationalism." It's a unitary state controlled by one dominant national group, which leaves the other national group disenfranchised and subject to laws "for natives only," which for the purposes of respectability and international law are known as laws of "belligerent occupation." The convenience of this model of binationalism is that it can be applied over a long period of time, meanwhile debating the threat of the "one state" and the advantages of the "two states," without doing a thing. That's the situation nowadays. But the process is apparently inevitable. Israel and the Palestinians are sinking together into the mud of the "one state." The question is no longer whether it will be binational, but which model to choose.
[more]
tom tomorrow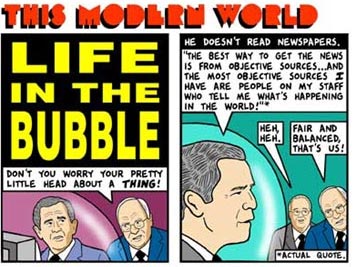 [more]
iraq — vietnam on internet time
The Iraq dossier
Headlines only hint at problems and challenges plaguing American occupation of Iraq
by Geov Parrish
On May 1, a little over six months ago, President Bush made his now-infamous flight suited appearance on the deck of the Abraham Lincoln, delivering the message that the war was over and the mission accomplished.
Now, six months later, as London lies transformed into "fortress London" to shield Bush from the wrath of the citizens of his only major ally in Iraq, most Americans know that Bush's May Day proclamation was, at best, premature. Bush himself has scrambled to "clarify" that, no, he only meant "major combat operations," and, well, of course other missions remain. Most Americans also know that despite White House protestations to the contrary, Iraq's occupation hasn't exactly gone according to plan.
[more]
Mr. President, oil isn't worth dying for
Bush just announced - shades of Richard Nixon - that the Iraq war would be "Iraqized." A facade of political power will be handed over to an Iraqi government. But U.S. troops will stay on for years for "security." What happens if the "independent" Iraqi regime tells U.S. forces to leave? A speedy regime change, no doubt.
The Pentagon plans to build three major bases in Iraq from which to police the central Mideast and guard America's new imperial oil lifeline from Central Asia, down through Afghanistan, to the West.
Anyone who remembers Vietnam, which Iraq increasingly recalls, knows "Iraqization" won't work. Meanwhile, Iraq's Shia majority remains quiet only because it fears Saddam Hussein may return. Ironically, if the U.S. hunts down and murders Saddam, the Shia will rise up and demand an Islamic republic - just what the White House seeks to avoid.
Any free vote in Iraq will produce the same result. Maybe that's why Saddam has not yet been found. So take Bush's calls for Arab democracy with much salt. The only truly free vote held in the Arab world - most of which is controlled by the U.S. - brought to power in Algeria a moderate Islamic government. It was promptly overthrown by the army, with backing from the U.S. and France.
[more]
thanks to Information Clearing House
Iraq Now
Oh Good, Then the War's Over?
Great news!! The Iraqis will be running their own country by June 2004. Once again, the mission will be accomplished. It must be time to celebrate. George Bush can be elected president and continue his holy mission to make the world a safer place. Yay! As the saying goes, if you believe this, then there's a bridge I know of that's for sale.
This latest pronouncement from the Bush administration regarding the situation in Iraq is not only insulting to Americans, it illustrates to the world that the US continues to operate on the assumption that the Iraqi people are either stupid or naive. If the US policy isn't based on this assumption, then why the hell does it continue to insult their intelligence? After all, even a cursory glance of history shows that the US is extremely unlikely (like it ain't gonna' happen) to allow a truly independent Iraq to exist any time soon. Those headlines about Iraqi transfer of power are just one more strand in the web of deception that Washington has spun to maintain its war over there.
[more]
minor white
I don't hear about Minor White much. That's a shame. Get on over to wood s lot for a Minor White festival. (Scroll down to 11.24.2003.) Here is one of the links...
Minor White, American, b. 1908 - d. 1976
Minor White had an extremely influential impact on the medium of photography, in both the constructing of its history and the formulating of a picture making methodology. He was an Editor of Aperture Magazine from 1952 to 1975. An important teacher at the San Francisco Art Institute, Rochester Institute of Technology, the Massachusetts Institute of Technology, and numerous workshops throughout the country. As an Artist, White produced important sequences and bodies of photographs that investigate the mediums potential for metaphor and the creation and combination of syntax. Monographs on Minor White included; Rites and Passages, Mirrors Messages Manifestations, and The Eye That Shapes. The photographs of Minor White are among all the major collections of photography, including the Museum of Modern Art, the Center for Creative Photography, and the J. Paul Getty Museum.
[more]
One of my treasures is a Minor White print, Ritual Rocks. I bought it in 1974 for $100. That was a good price then. I bought it opening night of the Minor White Show at the Silver Image in Tacoma, the only photography gallery in the Puget Sound area at that time. It later moved to Seattle and went out of business in the early 90s.
Boy, is the Internet an amazing place! I wrote the above photograph and then Googled for "silver image gallery" and lo and behold. Dan Fear has a page up with all the shows he had from when he opened August 10, 1973 until he closed May 8, 1993. Amazing. Opening night of the Minor White show was May 13, 1975. I remember a lot of those shows in the 70s. I have prints from five of them. I will link to Dan's website next time. It's good.
Now, go on over to wood s lot for more Minor White.
photography
A Journey Through Bodie Ghost Town
[more]
thanks to The J-Walk Weblog
iraq
We also placed emphasis throughout this operation on countering the rocket and mortar attackers that had some success against us in the previous weeks in the Green Zone. And I think you'll see that we've made some progress in that regard.
Gen. Martin Dempsey
Press Briefing
November 20, 2003
Insurgents deploying rocket-launcher-equipped donkey carts attacked symbolically important and well-fortified buildings in Baghdad Friday, just hours after a top U.S. commander proclaimed progress in the military's newly aggressive high-tech counter-insurgency operation.
Washington Post
Rockets Hit 2 Baghdad Hotels, Oil Ministry
November 21, 2003
[more]
Donkey Carts Latest Weapon
Rockets fired from donkey carts hit hotels, oil ministry in Baghdad
[more]
Donkeys and Guerillas...
Ok, todays blog is going to look like something straight out of The Onion.
Upon turning on their televisions, Baghdadis realized that two prominent hotels and the Ministry of Oil had recently been attacked. The two hotels assailed with missiles were the Sheraton and Palestine Hotel, both situated in a busy, commercial locale in the Iraqi capital. The hotels are home to the reporters and journalists of many major news networks, including the CNN, as well as foreign contractors. While there seem to be no casualties in either of the hotels, or the Ministry, witnesses confirmed there were injuries.
The assailants? Donkeys. Yes, donkeys were found in various locations in Baghdad, leading colorful carts with missile launchers and missiles camouflaged with hay. The donkeys, looking guilty and morose, were promptly taken into custody for questioning and were not available for a statement.
[more]
They've been bombing houses in Tikrit and other areas! Unbelievable… I'm so angry it makes me want to break something!!!! What the hell is going on?! What do the Americans think Tikrit is?! Some sort of city of monsters or beasts? The people there are simple people. Most of them make a living off of their land and their livestock- the rest are teachers, professors and merchants- they have lives and families… Tikrit is nothing more than a bunch of low buildings and a palace that was as inaccessible to the Tikritis as it was to everyone else!
[more]
Cordesman: Attacks on Americans will continue "until the day the US leaves"
War critics astonished as US hawk admits invasion was illegal
I've got a feeling we're only a few months -- maybe just a few weeks -- away from adopting the Israeli policy of demolishing the houses of suspected terrorists and kicking their families out into the street.
Whiskey Bar
Showing Them We've Got Teeth
November 7, 2003
I should have said "a few days":
U.S. blasts Iraqi homes of suspects
In a tactic reminiscent of Israeli crackdowns in the West Bank and Gaza, the U.S. military has begun destroying the homes of suspected guerrilla fighters in Iraq's Sunni Triangle, evacuating women and children, then leveling their houses with heavy weaponry.
[more]
U.S. Seeks Advice From Israel on Iraq
As the occupation grows bloodier, officials draw on an ally's experience with insurgents.
I don't see how drawing on the experience of a failing country is really a good idea.
Fear Grows Among Iraqis in U.S. Employ
Several American Allies Killed in Mosul
Operation Iron Hammer: Make noise, kill cows
If the U.S. wants to capture or kill Iraqi insurgents, local residents ask, why is it providing advance notice of its attacks?

Hamza, an Iraqi farmer, holds a shell from
a U.S. helicopter gunship raid that, he claims, killed three of his cows.
[more]
photography
[more]
thanks to Conscientious
Turkey: 'Sow war and reap terror'
During 1992-95, the Pentagon helped with the movement of thousands of mujahideen and other Islamic elements from Central Asia, even some Turks, into Europe to fight alongside Bosnian Muslims against the Serbs.
"It was very important in the rise of mujahideen forces and in the emergence of current cross-border Islamic terrorist groups who think nothing of moving from state to state in the search of outlets for their jihadi mission. In moving to Bosnia, Islamic fighters were transported from the caves of Afghanistan and the Middle East into Europe; from an outdated battleground of the Cold War to the major world conflict of the day; from being yesterday's men to fighting alongside the West's favored side in the clash of the Balkans. If Western intervention in Afghanistan created the mujahideen, Western intervention in Bosnia appears to have globalized it."
[more]
Oh, the tangled webs we weave... Shortly after 9-11, I was listening to a Seattle talk-show host who had been in Bosnia. His interpreter was a Muslim who had taken money from bin Laden to fight the Serbs. He had his interpreter on the phone from Bosnia talking about that — and the mujahideen.
photography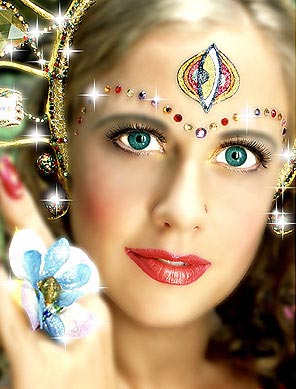 [more]
thanks to Conscientious

Israeli Army Engaged in Fight Over Its Soul
Doubts, Criticism of Tactics Increasingly Coming From Within
The hunt for suspected militants sent Sgt. Lirom Hakkak bashing his way through a wall into a Palestinian family's threadbare living room, his slender frame sweating under nearly 35 pounds of body armor and combat gear, his M-16 rifle ready.
He noticed the grandmother first, her creased face so blanched with terror that she appeared on the verge of collapse. A middle-aged couple huddled close by, trembling.
"They could be my parents," Hakkak, the 22-year-old son of an Israeli poet, recalled thinking. In that split second of recognition, he said, "you really feel disgusting. You see these people and you know the majority of them are innocent and you're taking away their rights. You also know you must do it."
With the Israel Defense Forces in the fourth year of battle with the Palestinians, the most dominant institution in Israeli society is also embroiled in a struggle over its own character, according to dozens of interviews with soldiers, officers, reservists and some of the nation's preeminent military analysts.
[more]
It's not an easy thing to say that the prime minister is at a crossroads, fast approaching his last stop. It's no lightheaded matter to say that the prime minister, wildly applauded at the opening of the General Assembly of the United Jewish Communities of North America now in session in Jerusalem, has failed in his job of leading the country.
[more]
Background / Preaching the end of Palestine
The ad was sponsored by the unapologetically maximalist Ariel Center for Policy Research, whose logo includes a unpartitioned map of Israel, the West Bank and Gaza forming an integral part of a Star of David.
The ads preach the end of the concept of an independent Palestine in the territories, in favor of a resolute Israeli assertion of sovereignty.
A recent policy paper of the center, based on the principle of "peace without negotiation," concludes that, "It therefore is incumbent upon Israel to refuse any political negotiations with the Arab world generally and the Palestinians specifically, thereby denying them this tool for weakening Israel without truly recognizing her national existence.
[more]
Bitter harvest in West Bank's olive groves
Jewish settlers wreck fruit of centuries of toil to force out Palestinian villagers
Abdula Yusuf is too afraid to climb the rocky terraces beyond his village and see the damage for himself. "They'll kill me," he said, waving a hand at the container homes on the top of a neighbouring hill. "If they can do that thing to trees as old as the Roman times, they will not hesitate to do it to me."
[more]
Internalizing defeat: How Zionism planned to "finish the job" and why the right of return is so important
The New York Times is willing occasionally to publish letters to the editor that speak about the Israeli occupation of the West Bank and Gaza. But editors meticulously screen out any discussion of the refugees, Israel's apartheid laws, Israel's racist laws such as land ownership laws, or the so-called "Jewish law of return." If occasionally mentioned, these core issues are briefly glossed at using the unique art of "doublspeak." Thus we hear that Israel (and Dr. Sari Nusseibah) want Palestinian refugees not to be repatriated because they form a "demographic threat." The NY Times thus refuses to even acknowledge the 4th Geneva Convention or the Universal Declaration of Human Rights but may be willing to discuss "excessive use of force". This strategy is common in the corporate owned media in the US but has also now infected some people who otherwise advocate human rights in places as diverse as Rwanda, China, and Southern USA. .The strategy is a clever approach designed to shift the dialogue and to obfuscate reality to make it possible to relegate Palestinians to Bantustans/Ghettos with the main purpose of Palestinian government being to guarratee the colonizer's security and "resettle" Palestinian refugees outside their lands and homes. Basically it is a strategy to legitimize a theft of people's lands and properties.
[more]
Storm warnings
As Israel's image reaches new lows worldwide, Jews from abroad - including many of those converging on Jerusalem this month - say their lives are being disrupted by growing anti-Semitism and fears for the future.
The rhetoric of the perpetual victim is not a sufficient answer for the question of the timing. Why all of a sudden have all the anti-Semites, or haters of Israel, raised their heads and begun chanting hate slogans? Enough of our whining, "The whole world is against us."
After all, every country first takes care of its national interests and no other country has to be included among the fans of the Zionist effort. The time has come to look at the facts and admit the simple but bitter truth - Israel has lost its legitimacy in the eyes of the world and we are guilty for what has happened. This generalization is a bit harsh for me, so I will be more precise - not all of us, but our government. Even though I am absolutely certain that each one of its ministers really wants what is best for the country, the government is mistaken and is bringing calamity upon us.
[more]
Israelis leave their land, forced out by a battered economy and years of violence
Jean Max emigrated from Britain to Israel in 1970 as a committed Zionist. Her three children were born and grew up in Israel. But since they reached adulthood, all three have left for new lives in the United States.
And Ms Max, now divorced, is planning to follow them. Her American visa has arrived, she is going to Boston, where her daughter lives, to look for work. If she finds it, she is leaving Israel after 33 years.
Ms Max and her family are part of a growing phenomenon that has the Israeli political establishment worried. New figures from the Immigration and Absorption Ministry stunned the establishment. Those figures show 760,000 Israeli citizens now live abroad. The ministry says its figures are an informal estimate, based on research by Israeli embassies around the world.
[more]
photography
If any of my children should read this — you might find this to be of interest. (That means you, Jenny, Katie, and Robby!) My dad was living in New York City at this time. He was 18 when the picture below was taken. Two years after the picture below was taken, he joined the Horse Cavalry. Six years after the picture below was taken, he met my mom while guarding an airfield in Bangor, Maine. A little over eight years after the picture below was taken, he was a pilot in a B-25 skip-bombing in the Pacific with a son that he wouldn't see for another year — me.
Berenice Abbott: CHANGING NEW YORK 1935-1938
American master photographer Berenice Abbott (1898-1991) is probably best known for Changing New York, her 1935-1938 Federal Art Project documentation of the city's rapidly changing built environment. Abbott became interested in photographing New York in 1929 when, as a fashionable portrait photographer, she visited the city after a nearly a decade in Paris and saw that the nineteenth century city she had once called home was becoming almost overnight a leading metropolis. Allied intellectually with modernist European photography, she was nonetheless eager for a new arena in which to exploit her developing aesthetic. Re- established in New York, her solid international reputation as a classical portraitist generated commercial assignments from Fortune and elsewhere, and in 1932 she took up an 8 x 10 inch view camera, destined to become her standard equipment for nearly the rest of her career.

A & P (Great Atlantic & Pacific Tea Co.)
246 Third Avenue.
Mar. 16, 1936.