Archives
economy
The Perfect Economic Storm: Revisted
| | | |
| --- | --- | --- |
| | Early this year I wrote "The Perfect Economic Storm", in which I suggested that an economic meltdown of epic proportions was likely in 2005. I picked three main reasons - an oil shock (which is now occuring), the housing bubble bursting (which is looking likely) and a currency meltdown (likewise). But really, as usual I was tripped up by the second rule of Bush: Not only is it worse than you think, it's worse than you can possibly imagine. Which means even this post probably isn't pessimistic enough. Nonetheless, let's take a quick run through the US economy's prospects for 2005 | |
[more]
photography
I've posted about Berenice Abbott's pictures of New York in the 1930s before. Now someone has retaken those pictures in today's New York. Here is Joerg Colberg's review...
Review: New York Changing by Douglas Levere

In the late 1930's, Berenice Abbott set out to document the changes New York City was going through at that time. I have the feeling that back then people were saying the same things that people are saying now: It was all nicer in the past. Well, was it?

About sixty years later, Douglas Levere went out to re-record New York City, finding the spots that Berenice Abbott had taken photos at, using the same equipment, and trying to get as close as possible to achieving the same look-and-feel of the photos as possible. The result of this process have now been published as New York Changing (Princeton Architectural Press); and they are nothing but impressive.


[more]
New York Changing
REVISITING BERENICE ABBOTT'S NEW YORK
By DOUGLAS LEVERE

BREVOORT HOTEL WITH MARK TWAIN HOUSE, MANHATTAN, 1935
Fifth Avenue between East 8th and 9th Streets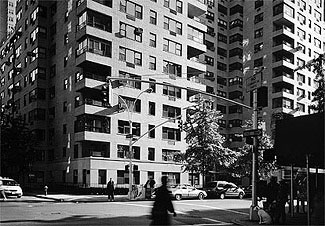 BREVOORT APARTMENTS, MANHATTAN, 1998
Fifth Avenue between East 8th and 9th Streets
[more]
What is really amazing about these new photographs is that he not only reproduced the location and lens but also the lighting, which means that he had to figure out not only the time of day but also the the day of the year to get the same lighting. Amazing. I did my own retake of Berenice Abbott this Spring when I visited my Grandfathers old studio. This picture was looking down the street my Grandfather's studio was on. His studio was across from the Unadilla Apartments.

THREE-DECKER HOUSES: WEST 11TH STREET, BETWEEN SIXTH AND SEVENTH AVENUES
FEBRUARY 3, 1937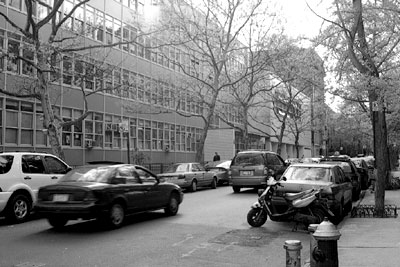 April 28, 2004
iraq
Testimonies from Fallujah
by Helena Cobban

Terrible, searing testimonies now coming out from inside Fallujah. If you can only read one, I suggest this one from a Russian (or, Turko-Russian?) doctor who'd been working in one of the city's hospitals. (Not clear which.)

Look especially at the references he makes to the results of the extreme water shortage inside the city:

Together with Americans the flies invaded the city. They are millions. The whole city seems to be under their power. The flies cover the corpses. The older is corpse, the more flies are upon it. First they cover a corpse as by some strange rash. Then they begin to swarm upon it, and then a gray moving shroud covers the corpse. Flies swarm upon some ruins as gray monstrous shadows. The stench is awful.

The flies are everywhere. In the hospital wards, operating rooms, canteen. You find them even where they cannot be. In the "humanitarian" plastic bottle with warm plastic-stinking water. The bottle is almost full, simply someone opened it for a second and made a gulp, but this black spot is already floating there...

It is a general crisis with water. There are simply no clean sources. The local residents fetch water from the river, muddy, gray and dead. You can buy anything for water now. The sewage system is broken, the water supply is broken, and electricity is absent in the city.

I am afraid to imagine what will happen in two weeks. Hepatitis will take toll of thousands. They say already that people at the outskirts are in fever with the symptoms of typhus. But one cannot verify it. They prohibited moving in the city...


[more]
U.S. Troop Level In Iraq To Grow
| | | |
| --- | --- | --- |
| | The Pentagon said yesterday that it will boost the number of U.S. troops in Iraq to about 150,000, the highest level since the U.S. occupation began 19 months ago. | |
[more]
thanks to Antiwar.com



Iraq Elections: Negroponte Optimistic; Shiites Enthusiastic for Reasons that would not Please Negroponte
by Juan Cole



Insurgency broken? Far from it

A senior American commander made the mistake of telling reporters that the military offensive that eventually captured a largely depopulated and destroyed Fallujah had "broken the back of the insurgency" across Iraq.

It did not, of course. It could not.


[more]
Twin Attacks in Iraq Kill at Least 30
| | | |
| --- | --- | --- |
| | Iraqi insurgents staged nearly simultaneous attacks Friday morning on police stations at opposite ends of Baghdad, killing at least 30 people, freeing dozens of prisoners and emptying a police arsenal in a demonstration of the militants' strength in the heart of the country. | |
[more]
thanks to Eschaton



Maybe Iraq is like Algeria
by Steve Gilliard



Here are four entries from Dahr Jamail's Iraq Dispatches. Dahr Jamail is required reading. His is a view from the street. Sor rare.
This time last year…
by Dahr Jamail

I'm in need of a haircut, so I ask Abu Talat if he thinks it would be safe to get one here, risking the time on the street required to do so.

Smiling, he says, "Yes Dahr, it may be possible, but we must make sure we have confidence in the barber so you get a haircut, and not a head cut!"

His jokes provide him with great amusement…but I've begun enjoying them myself, in a sick sort of way.


[more]
"We are living a disaster."
by Dahr Jamail

Back at my hotel I indulge my daily ritual of asking the owner if I have hot water yet. The cold showers are getting old now that the temperature has dropped and it remains chilly.

This morning I was awakened by the usual 7am gun battles nearby. They usually coincide with the morning mortar ritual of blasts hitting the so-called green zone.

Now as I type this evening, a huge explosion rattles my walls. A gun battle with heavy automatic weapons kicks off down the street, and the usual wailing sirens of ambulances and Iraqi Police begin blaring across the city-streaming in this direction.


[more]

I am reminded of what occurred in Lidice, Czechoslovakia during World War II. Similar to what the US military has done to Fallujah, the German Nazis leveled Lidice as payback collective punishment for the death of a high ranking member of the German security administration, Reinhard Heydrich, who was killed by Czech patriots in 1942.

Last March, four mercenaries were brutally killed in Fallujah, which led to the first US siege of the city in April as collective payback for the attack. Mostly for political reasons that siege was ceased, which set the stage for the recent attack on the city.

Similarly, Heydrich was assassinated by Czech patriots who were accused of being aided by the village of Lidice. Thus, Hitler ordered the village to be erased, and all men in the city over the age of 16 were killed.

Musar, a woman at the mosque standing nearby is weeping. "My 5 cousins and uncle are trapped there," she cries, "They are not fighters but the Americans won't let them out. And now the soldiers are coming to our refugee camp and detaining people!"


[more]
The Quiet of Destruction and Death

This past Sunday a small Iraqi Red Crescent aid convoy was allowed into Fallujah at 4:30pm. I interviewed a member of the convoy today. Speaking on condition of anonymity, (so I'll call her Suthir), the first thing she said to me was, "I need another heart and eyes to bear it because my own are not enough to bear what I saw. Nothing justifies what was done to this city. I didn't see a house or mosque that wasn't destroyed."

Suthir paused often to collect herself, but then as usual with those of us who have witnessed atrocities first hand, when she started to talk, she barely stopped to breath.

"There were families with nothing. I met a family with three daughters and two sons. One of their sons, Mustafa who was 16 years old, was killed by American snipers. Then their house was burned. They had nothing to eat. Just rice and cold water-dirty water…they put the rice in the dirty water, let it sit for one or two hours, then they ate the rice. Fatma, the 17 year-old daughter, said she was praying for God to take her soul because she couldn't bear the horrors anymore."

The families' 12 year old boy told Suthir he used to want to be a doctor or a journalist. She paused then added, "He said that now he has no more dreams. He could no longer even sleep."


[more]
"They hate our policies, not our freedom"

This lovely report (big PDF file) was dumped by the administration on the Wednesday before Thanksgiving. While a number of news agencies reported on it, because it happened on the busiest travel day of the year few people probably noticed. Produced by the Defense Science Board, it is utterly damming of the way we are conducting the war on the rest of the world:

'Muslims do not hate our freedom, but rather they hate our policies [the report says]. The overwhelming majority voice their objections to what they see as one-sided support in favor of Israel and against Palestinian rights, and the long-standing, even increasing, support for what Muslims collectively see as tyrannies, most notably Egypt, Saudi Arabia, Jordan, Pakistan and the Gulf states. Thus, when American public diplomacy talks about bringing democracy to Islamic societies, this is seen as no more than self-serving hypocrisy.


[more]
photography
Coincidences brings us some links to an amazing color photographer.
[more]
iran
Credibility Can Only Be Lost Once

Credibility, like virginity, can only be lost once and never recovered. Hence, the problem the Bush administration has in dealing with Iran is that having been so wrong about Iraq, who can believe it now?

I recognize that a majority of Americans shrugged off going to war on false premises. The rest of the world is not so forgiving. The Bush administration's unprofessional, undiplomatic approach to the question of Iran's nuclear intentions sounds too much like the Iraqi dialogue. That dialogue consisted of American officials calling the Iraqis liars and the Iraqis denying they had weapons of mass destruction.

Now we're hearing the same childish dialogue directed at Iran. Iran insists it is not attempting to build nuclear weapons, and the United States replies with name-calling.

It's sad to say, but the Iranian government currently has more credibility than the Bush administration. All credibility was destroyed by the administration's militant insistence that it had "factual evidence" of Iraq's weapons of mass destruction. "We know where they are," Secretary of Defense Donald Rumsfeld said with his smug grin. Everybody from the president and the vice president to the national-security adviser to the secretary of state kept belligerently insisting that those weapons existed and scoffed at everyone who expressed any skepticism. And every one of them was 100 percent wrong.


[more]

Apparently President Bush believes he has been given another four years to subvert and/or replace the half-dozen or so regimes he deems to be either a threat to the "freedom" of its citizens or to our "national security."

Iran is at the top of his list.

How else to explain the concerted effort this week by the neo-crazies and their media sycophants to subvert the International Atomic Energy Agency's director general's report to the IAEA Board of Governors on the status of his two-year go-anywhere, see-anything inspection of Iran's nuclear programs.


[more]
Will Iran Be Next?
Soldiers, spies, and diplomats conduct a classic Pentagon war game—with sobering results

Most of our panelists felt that the case against a U.S. strike was all the more powerful against an Israeli strike. With its much smaller air force and much more limited freedom to use airspace, Israel would probably do even less "helpful" damage to Iranian sites. The hostile reaction—against both Israel and the United States—would be potentially more lethal to both Israel and its strongest backer.

A realistic awareness of these constraints will put the next President in an awkward position. In the end, according to our panelists, he should understand that he cannot prudently order an attack on Iran. But his chances of negotiating his way out of the situation will be greater if the Iranians don't know that. He will have to brandish the threat of a possible attack while offering the incentive of economic and diplomatic favors should Iran abandon its plans. "If you say there is no acceptable military option, then you end any possibility that there will be a non-nuclear Iran," David Kay said after the war game. "If the Iranians believe they will not suffer any harm, they will go right ahead." Hammes agreed: "The threat is always an important part of the negotiating process. But you want to fool the enemy, not fool yourself. You can't delude yourself into thinking you can do something you can't." Is it therefore irresponsible to say in public, as our participants did and we do here, that the United States has no military solution to the Iran problem? Hammes said no. Iran could not be sure that an American President, seeing what he considered to be clear provocation, would not strike. "You can never assume that just because a government knows something is unviable, it won't go ahead and do it. The Iraqis knew it was not viable to invade Iran, but they still did it. History shows that countries make very serious mistakes."

So this is how the war game turned out: with a finding that the next American President must, through bluff and patience, change the actions of a government whose motives he does not understand well, and over which his influence is limited. "After all this effort, I am left with two simple sentences for policymakers," Sam Gardiner said of his exercise. "You have no military solution for the issues of Iran. And you have to make diplomacy work."


[more]
thanks to Cursor



Tomgram: Dilip Hiro on the geopolitics of the Iranian bomb

Imagine a pious Muslim faced with a ban on fabricating a certain kind of weapon. He is committed to obeying unquestioningly the fatwas of his religious leader and yet discovers that producing such a weapon, or threatening to do so, is a strong lever for gaining benefits from a powerful group living in the neighborhood. Replace "a pious Muslim" with "Iran," and "a powerful group" with the 25-member European Union (EU), and the above sentences aptly sum up the current Iranian-EU relationship.

Enriched by millions of daily encounters in bazaars, Iranians are adept at bargaining and confident in the knowledge, acquired over centuries, that skillful bargaining and brinkmanship go hand in hand. This is what just happened in Paris between the officials of Iran and the the EU troika -- France, Germany and the United Kingdom. The subject was Tehran's nuclear program; the occasion, the run-up to the finalization of an International Atomic Energy Agency (IAEA) report for its 35-strong board of governors on November 15. The Iranians dragged out the bargaining until the last minute before initialing a deal subject to the approval of the Supreme National Security Council (SNSC) in Tehran.

It was a deal that was meant to prepare the way for further negotiations. Iran has agreed to suspend its uranium enrichment and reprocessing programs until a "grand bargain" is reached in which the EU guarantees nuclear, political, and trade concessions in return for Tehran's indefinite suspension of the same programs. Though negotiated by the troika, the agreement's ownership lies with the European Union as a whole. To the undisguised relish of the Iranians, this deal killed the Bush administration's pet plan to refer the Iranian case to the United Nations Security Council for censure or the possible imposition of sanctions for its alleged breaches of the IAEA nuclear protocol.


[more]
slugology
| | | |
| --- | --- | --- |
| | On the Sea Slug Forum you can ask questions, post information and find out more about nudibranchs, bubble-shells, sea hares and other sea slugs. This site aims to generate more interest in these fascinating animals by sharing information with a worldwide audience. The Forum is a useful tool for anyone with an interest in sea slugs from scientists and students to divers and aquarists. | |
[more]

Israel shocked by image of soldiers forcing violinist to play at roadblock

Of all the revelations that have rocked the Israeli army over the past week, perhaps none disturbed the public so much as the video footage of soldiers forcing a Palestinian man to play his violin.

The incident was not as shocking as the recording of an Israeli officer pumping the body of a 13-year-old girl full of bullets and then saying he would have shot her even if she had been three years old.

Nor was it as nauseating as the pictures in an Israeli newspaper of ultra-orthodox soldiers mocking Palestinian corpses by impaling a man's head on a pole and sticking a cigarette in his mouth.

But the matter of the violin touched on something deeper about the way Israelis see themselves, and their conflict with the Palestinians.


[more]
thanks to Steve Gilliard's News Blog



Henry Siegman in the New York Review of Books

Amid the unwarranted outbreak of optimism about the Palestinian-Israeli conflict in the wake of Yasser Arafat's death, Henry Siegman's essay in the New York Review of Books on Ariel Sharon's true plans comes as a breath of fresh air.

Sharon is giving lip service to things like the road map and the eventual goal of a Palestinian state, but his real goal is to permanently forestall such a state. The end game for him is the division of the West Bank Palestinians into three Bantustans completely surrounded by Israeli forces or settlements, and the maintainance of Gaza as a permanent slum that advertises Palestinians as wretched and dangerous. Sharon is dedicated to annexing probably 45% of the West Bank, which would not leave enough territory for a viable Palestinian state, anyway.

The horrible implications for the state of Israel is its descent into a permanent Apartheid state. If the Palestinians don't have a state, they will remain stateless. The rump "Palestinian Authority" will not be able to keep internal order any better in the future than it has recently. The Israeli army will inevitably keep being drawn into re-occupying Palestinians.


[more]
Middle East upheaval as Sharon provokes crisis
Jailed Palestinian reverses decision not to challenge for Arafat succession

The Israeli and Palestinian leaderships were in upheaval last night as Ariel Sharon's government faced collapse after the prime minister broke with his main coalition partner, and a popular Palestinian military commander launched a strong challenge from his jail cell to succeed Yasser Arafat in next month's election.

The unexpected decision by Marwan Barghouti, who is serving five life terms in an Israeli prison, to break with the dominant Fatah movement and register as a presidential candidate in the Palestinian election appeared to complicate Mr Sharon's coalition problems.


[more]
thanks to Politics in the Zeros
food
| | | |
| --- | --- | --- |
| | This document provides a simple guide to eating sushi. Its target audience are non-Japanese people who enjoy sushi but aren't familiar with the customs and traditions that make for an outstanding experience. If you enjoy sushi, or if you think you'd like to give sushi a try, this document is for you. | |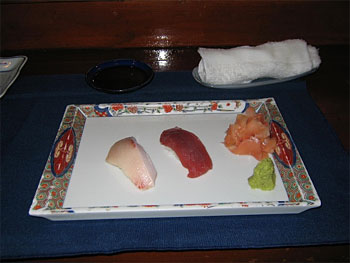 Nigiri: hamachi (yellow tail) and maguro (tuna).
[more]
thanks to J-Walk Blog
Yummmmm!
election 2004
Saudis, Enron money helped pay for US rigged election

According to informed sources in Washington and Houston, the Bush campaign spent some $29 million to pay polling place operatives around the country to rig the election for Bush. The operatives were posing as Homeland Security and FBI agents but were actually technicians familiar with Diebold, Sequoia, ES&S, Triad, Unilect, and Danaher Controls voting machines. These technicians reportedly hacked the systems to skew the results in favor of Bush.

The leak about the money and the rigged election apparently came from technicians who were promised to be paid a certain amount for their work but the Bush campaign interlocutors reneged and some of the technicians are revealing the nature of the vote rigging program.

There have been media reports from around the country concerning the locking down of precincts while votes were being tallied. In one unprecedented action in Warren County, Ohio, election officials locked down the facility where votes were being counted. The officials said this was in response to a Level 10 high-threat terrorist warning being issued by the Department of Homeland Security and the FBI for Warren County. George Bush won 72 percent of the vote in Warren County, much larger than his percentage of victory statewide.

The money to rig the election in favor of Bush reportedly came from an entity called Five Star Trust, largely based in Houston but a worldwide entity that is directly tied to the Saudi Royal Family. Five Star Trust was termed "a well-protected vehicle" that has been used to support both Bush and Osama bin Laden in the US and around the world.


[more]
thanks to Politics in the Zeros



Voters to challenge US election

George Bush's victory in the US presidential election will be challenged in Ohio's supreme court today, when a group of Democratic voters will allege widespread fraud.

President Bush clinched re-election by winning the state of Ohio on November 2 by a margin of 136,000 votes over the Democratic candidate, John Kerry. Despite claims of fraud and technical glitches, Senator Kerry decided that they were not big enough to affect the result and conceded the election on November 3.

However, Cliff Arnebeck, a lawyer representing a group of voters challenging the Ohio result, claimed new analysis of various anomalies suggested it was rigged.

"We'll be calling for a reversal of the result based on evidence developed in the course of litigation," Mr Arnebeck told The Guardian yesterday. "Exit polling and substantial irregularities excluded votes that should have been counted. There is evidence that votes cast for one candidate were moved to the column of the other candidate."


[more]
square is hip
or two lenses are better than one
A recent thread at Rangefinder Forum was about twin lens reflexes. It's not a camera type that you see much anymore. It was a professional camera format in the 50s and into the 60s. I bought a cheap Chinese TLR around 1990 and used it until I got the Mamiya Universal. It was really cheap.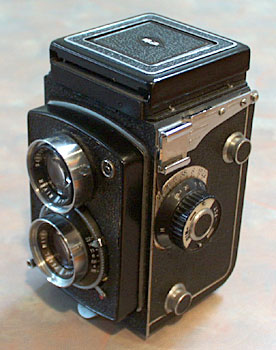 But it was really fun to shoot. And it shoots square — 2 1/4 x 2 1/4. For the negative size it's very compact and light. I brought it down of the display shelf of dead cameras and cleaned it up. I took to to Thanksgiving with my family and ran a roll through it. It's a great camera for taking pictures of people! The square format seems to lend itself to taking people pictures.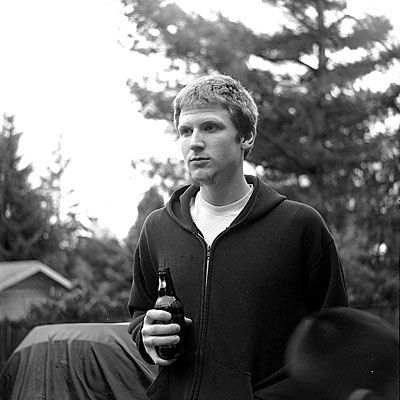 Cameron
It also wants to have black and white film in it. Yes, it shoots color very well but I like the black and white images from this camera. Now I have to set up to develop my own black and white film.
I also need to get a better TLR. The Pearl River really is cheap and the lens isn't that sharp. The Rolleiflexes were the standard and are expensive but some people feel the Minolta Autocord was better and it can be had for *much* less. There is a very nice one on eBay if someone should want to get me an early Christmas present. It's immaculate (with an interesting story) but good autocords go for around $110 to $120 and careful bidding will get a good user for $80. As a point of reference, a digital camera that will get this quality will set you back around $22,000.
military industrial complex
Our government has been captured by the Military Industrial Complex. We, the taxpayer, only exist to fill their corporate coffers. They, however, provide nothing but death and destruction. This is a must read.
Lockheed and the Future of Warfare

LOCKHEED MARTIN doesn't run the United States. But it does help run a breathtakingly big part of it.

Over the last decade, Lockheed, the nation's largest military contractor, has built a formidable information-technology empire that now stretches from the Pentagon to the post office. It sorts your mail and totals your taxes. It cuts Social Security checks and counts the United States census. It runs space flights and monitors air traffic. To make all that happen, Lockheed writes more computer code than Microsoft.

Of course, Lockheed, based in Bethesda, Md., is best known for its weapons, which are the heart of America's arsenal. It builds most of the nation's warplanes. It creates rockets for nuclear missiles, sensors for spy satellites and scores of other military and intelligence systems. The Pentagon and the Central Intelligence Agency might have difficulty functioning without the contractor's expertise.

But in the post-9/11 world, Lockheed has become more than just the biggest corporate cog in what Dwight D. Eisenhower called the military-industrial complex. It is increasingly putting its stamp on the nation's military policies, too.


[more]
The NY Times article refers to Eisenhower's speech. This was his farewell speech as he ended his presidency. Here it is. Read it and weep.
Military-Industrial Complex Speech, Dwight D. Eisenhower, 1961

Until the latest of our world conflicts, the United States had no armaments industry. American makers of plowshares could, with time and as required, make swords as well. But now we can no longer risk emergency improvisation of national defense; we have been compelled to create a permanent armaments industry of vast proportions. Added to this, three and a half million men and women are directly engaged in the defense establishment. We annually spend on military security more than the net income of all United States corporations.

This conjunction of an immense military establishment and a large arms industry is new in the American experience. The total influence -- economic, political, even spiritual -- is felt in every city, every State house, every office of the Federal government. We recognize the imperative need for this development. Yet we must not fail to comprehend its grave implications. Our toil, resources and livelihood are all involved; so is the very structure of our society.

n the councils of government, we must guard against the acquisition of unwarranted influence, whether sought or unsought, by the militaryindustrial complex. The potential for the disastrous rise of misplaced power exists and will persist.

We must never let the weight of this combination endanger our liberties or democratic processes. We should take nothing for granted. Only an alert and knowledgeable citizenry can compel the proper meshing of the huge industrial and military machinery of defense with our peaceful methods and goals, so that security and liberty may prosper together.
[...]

We pray that peoples of all faiths, all races, all nations, may have their great human needs satisfied; that those now denied opportunity shall come to enjoy it to the full; that all who yearn for freedom may experience its spiritual blessings; that those who have freedom will understand, also, its heavy responsibilities; that all who are insensitive to the needs of others will learn charity; that the scourges of poverty, disease and ignorance will be made to disappear from the earth, and that, in the goodness of time, all peoples will come to live together in a peace guaranteed by the binding force of mutual respect and love.


[more]
And to think that Eisenhower was a Republican.
photography
Debbie Fleming Caffery
Photographs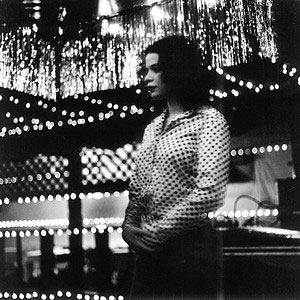 [more]
thanks to coincidences
Notice that most of her portraits are square.
ukraine
US campaign behind the turmoil in Kiev

With their websites and stickers, their pranks and slogans aimed at banishing widespread fear of a corrupt regime, the democracy guerrillas of the Ukrainian Pora youth movement have already notched up a famous victory - whatever the outcome of the dangerous stand-off in Kiev.

Ukraine, traditionally passive in its politics, has been mobilised by the young democracy activists and will never be the same again.

But while the gains of the orange-bedecked "chestnut revolution" are Ukraine's, the campaign is an American creation, a sophisticated and brilliantly conceived exercise in western branding and mass marketing that, in four countries in four years, has been used to try to salvage rigged elections and topple unsavoury regimes.

Funded and organised by the US government, deploying US consultancies, pollsters, diplomats, the two big American parties and US non-government organisations, the campaign was first used in Europe in Belgrade in 2000 to beat Slobodan Milosevic at the ballot box.


[more]
We meddle in everyone else's affairs and they wonder why they hate us.
commie cameras
Here is a group portrait of my commie cameras and their "new" lenses.
They are getting closer to being users. Well, at least two of them are. The Zorki 6 on the left has shutter problems. I think it will be my learner camera and I will be taking it apart and putting in new shutter curtains. However, the lens on it just arrived and it is a mint 50mm f2 Jupiter 8. The FED 2 in the middle has 35mm f2.8 that also just arrived and is very nice. The FED 2 on the right has the collapsible Industar 50 that came some time ago. All three lenses are mint or near mint. The FEDs need rangefinder adjustment and then I will be able to stop working on these cameras for awhile and actually take pictures. I'm looking forward to that.
update
I should have mentioned that the collapsible Industar-50 was made in the mid 1960s and the black Jupiter 8 and Jupiter were probably made in the 1980s. They are based on designs that predate WWII. The Jupiters are clones of Zeiss lenses and the Industar-50 is a clone of the Leitz Elmar 3.5.