Archives
shit!
Somehow I just deleted a folder on my web server that has all the images that I've posted to this blog in the last year or two. I think I'd better stop now. I will be on the phone to my ISP first thing in the morning to see if they can do a restore.

economy
Spirit of the Season
by Jim Kunstler

The clowns in charge of things understandably feel that they have to do something -- or pretend to -- in the face of what is shaping up to be not just a credit "crunch," but a potentially lethal illness in the credit system per se -- that is, in the very process of trading in paper that claims to represent faith in the future creation of wealth. That process underlies all of modern finance. Investments, currencies, economies, and nations hang in the balance.

President Bush, seeming very much the clown-in-chief, led the way last week by proposing a mortgage crisis bail-out that would appear to have no chance whatsoever of working as advertised. He called it, arrestingly, the Hope Now Alliance. It blithely assumed that those "servicing" mortgages -- that is, collecting the monthly payments -- have the ability to suspend scheduled upward re-sets of adjustable mortgages for five years for certain select homeowner payees -- so that theoretically said homeowners could avoid foreclosure.

What might have worked in 1934, when the originators of mortgages were local banks that also "serviced" them (i.e. collected the monthly payments) is unlikely to avail today since the mortgages have been sold off in bunches to pension funds, hedge funds, money markets, and foreign investment funds -- none of which have an interest or the ability to renegotiate loans with millions of schlemiels from Cleveland to Denver to Fresno -- while the companies "servicing" these contacts are mere errand boys, with no say over the terms of anything they collect on.


[more]
update
This week has been spent catching up from last Sunday night. Sunday was spent cooking and preparing for another visit to see Zoe's mom, Gerry. She's an Alzheimer's patient at Western State Hospital. We left at 4:30 to catch the ferry for the usual 2 1/2 hour drive. It was longer with stop and go traffic from south of Seattle to Tukwilla due to a pretty big accident. We got down to the hospital and parked at the main entrance. As we did an ambulance drove by in front of us to the abmulance entrance where they stopped and unloaded the gurney. We both thought the same thing. Zoe said "Say it isn't for Gerry." I dutifully said it wasn't. We headed upstairs. As the nurse opened the door to the ward to let us in she said "Great timing!" We walked down the hall and around the corner to see Gerry being strapped down on the Gurney. She had fallen and hit her head on the wall putting a dent in the wall. She seemed OK and was vocally resisting. One of the nurses drove over to the Emergency Room to be with her and we followed. The three of us kept her calmed down. Xrays showed no broken bones and the CT scan of her head showed that she was fine. She was actually in pretty good spirits. I brought in some of the snacks we had brought down for Gerry. We followed the ambulance back and got her settled in. We made it to the last ferry back to the Island. The 1 o'clock (in the morning) boat. I slept most of Monday.
I've been working on lens boards for the Burke & James Press. I have the Schneider APO-Symmar 210mm/f5.6 Don lent me mounted. It's a thing of beauty. It's about the longest lens I can mount on this camera. The picture shows it focused at infinity. I can get about 12 inches of bellows extension which will focus this lens to about 2 to 3 feet. 210mm is a little long. It's equivalent to a 59mm lens on a 35mm camera. I'm almost finished mounting my 150mm/f9 Konica Hexanon process lens. It's equivalent to a 42mm lens. It's not only wider but, being a process lens, is meant for close-up work at 1:1. It's in a barrel meaning it has no shutter so I've also almost finished a mount for the Packard Shutter. Pictures later. Then to mount both Wollensak 90mm lenses (25mm equivalent). The Schneider 210 and the Konica Hexanon 150 are modern Plasmat designs (6 elements in 4 groups.) The Wollensaks are from the 1940s or 1950s are are probably 4 element Tessars.
The camera came with a simple leather strap Vern had made. I took the strap I had made for my Burke & James 5x7 Commercial View and put it on the Press. Fits fine.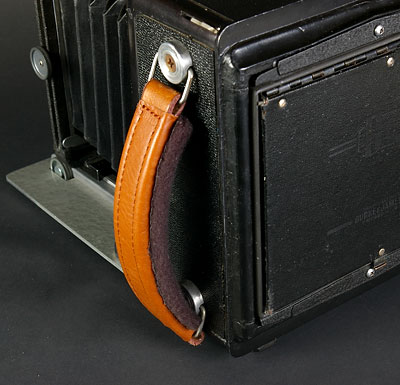 I folded some polar fleece into three layers and contact cemented it on the inside. Comfy! Too busy to do any shooting with it yet. Hopefully next week.
pakistan

The rather silly media narrative in which Washington supposedly suddenly faces a dilemma between backing the decrepit dictatorship of General Musharraf, or the Jeanne D'Arc pretensions (Winnie Mandela may be a closer analogy) of the kleptocratic Benazir Bhutto, has mercifully been laid to rest. That narrative's connection to reality has always been somewhat tenuous, and the visit last weekend of Deputy U.S. Secretary of State John Negroponte — the man you send when there's fixing to be done among unsavory clients in the troubled provinces, as his track record in Central America reminds us — made clear that business will continue as usual in the U.S.-Pakistan relationship, notwithstanding some ritual scolding of Musharraf for the limits he sets on civilian participation in government.

The absurdity of the dictatorship vs. democracy-and-rule of law script was laid bare earlier this week when Musharraf's hand-picked Supreme Court struck down most of the challenges to his reelection as president. Was that a setback for democracy and the rule of law? Perhaps. But it was a setback that fit with the U.S. design for getting Musharraf reelected, and then having him share power with Benazir Bhutto in order to broaden the base of the "war on terror" in Pakistan. (And let's not forget that if Musharraf hadn't gotten rid of the independent judiciary, Benazir herself would still be facing corruption charges.)


[more]
The Proliferation Game
How the World Helped Pakistan Build Its Bomb

Globalization, what a concept. You can get a burger prepared your way practically anywhere in the world. The Nike Swoosh appears at elite athletic venues across the United States and on the skinny frames of t-shirted children playing in the streets of Calcutta. For those interested in buying an American automobile -- a word of warning -- it is not so unusual to find more "American content" in a Japanese car than one built by Detroit's Big Three.

So don't kid yourself about the Pakistani bomb. From burgers to bombs, globalization has had an impact. Pakistan's nuclear arsenal -- as many as 120 weapons -- is no more Pakistani than your television set is Japanese. Or is that American? It was a concept developed in one country and, for the most part, built in another. Its creation was an example of globalization before the term was even coined.

A Proliferation Chain Reaction

So where to begin? Some argue that Pakistan started down the nuclear road under President Dwight D. Eisenhower's 1953 Atoms for Peace program, billed as a humanitarian gesture aimed at sharing the peaceful potential of atomic energy with the world. But Atoms for Peace was a misnomer -- a plan to divert growing domestic and international concern over radioactive fallout from America's nuclear tests. It would prove to be a White House public relations campaign to dwarf all others.

In fact, Atoms for Peace educated thousands of scientists from around the world in nuclear science and then dispatched them home, where many later pursued secret weapons programs. Among them were Israelis, South Africans, Pakistanis, and Indians. Homi Sethna, chairman of the Indian Atomic Energy Commission, spelled out the program's impact after his country tested its first nuclear device in 1974. "I can say with confidence," he wrote, "that the initial [Atoms for Peace program] cooperation agreement itself has been the bedrock on which our nuclear program has been built."

If you think that India's program, in turn, did not inspire Pakistan's, think again.


[more]
instant photography
| | | |
| --- | --- | --- |
| | POLANOID was invented because the magic of Polaroid pictures, the thrilling Edwin Land story and the charme and touch of Polaroid cameras hit us like a sledge hammer. | |
[more]
In the 1970s I couldn't afford an SX-70 but when the first non-folding Polaroid came out that used SX-70 film, a Pronto!, I bought one. I don't know where it went. It was a fun camera. Maybe I stopped using it because I couldn't get copies of the picture. Now I can scan them. I'm having SX-70 urges. Anyone have an SX-70 they want to donate?
the bomb
Tomdispatch Interview: Jonathan Schell, The Bomb in the Mind

Tomdispatch: So, take us on a little tour of our world in terms of nuclear weapons.

Jonathan Schell: The way I think of it, in the Cold War, the nuclear age was in a sort of adolescence. Just a two-power or, at most, a five- or six-sided affair. Now, it's in its prime. We already have nine nuclear powers, with lots of aspirers to the club waiting in the wings. The nuclear weapon is fulfilling its destiny, which was known from the very beginning of the nuclear age: to be available to all who wanted it, whether or not they choose to actually build the thing.

In a certain sense, we're just beginning to face the nuclear danger in its inescapable, quintessential form. At key moments in the nuclear age, the public has suddenly gotten very worked up about its peril. Now, if I am not mistaken, could be another such moment. Everybody who has ever marched or spoken up against nuclear weapons should dust off their hiking boots and get back in the fray.

TD: Once upon a time, of course, we would have said that the Cold War superpower stand-off with tens of thousands of such weapons was its quintessential form.

Schell: But that was not correct. The Cold War was in fact a temporary two-power disguise for a threat that was essentially universal in double sense: Number one, it could destroy everybody; number two, over the long run, anybody was going to be able to acquire it. There's still a ways to go, but we've already reached the verge at which it's imaginable that a mere terrorist group could get its hands on the bomb technology, or even on a ready-made bomb.

That's part of the universalization that was written into the bomb's genetic code. Once a terrorist group has such a weapon, deterrence -- a relic of the Cold War -- is no longer operable. So this supposed solution, which seemed to work, after a fashion, for more than four decades, is now essentially out the window and we're in the market for another solution, which must be geared to this matured form of danger in which the weaponry can pop up anywhere.


[more]
speed bump
This is in German but you'll get the idea of how best to deal with those pesky residential speeders.
thanks to Neatorama

economy
Straight Talk on the Mortgage Mess from an Insider

The Government and the market are trying to boil this down to a 'sub-prime' thing, especially with all constant talk of 'resets'. But sub-prime loans were only a small piece of the mortgage mess. And sub-prime loans are not the only ones with resets. What we are experiencing should be called 'The Mortgage Meltdown' because many different exotic loan types are imploding currently belonging to what lenders considered 'qualified' or 'prime' borrowers. This will continue to worsen over the next few of years. When 'prime' loans begin to explode to a degree large enough to catch national attention, the ratings agencies will jump on board and we will have 'Round 2′. It is not that far away.

Since 2003, when lending first started becoming extremely lax, a small percentage of the loans were true sub-prime fixed or arms. But sub-prime is what is being focused upon to draw attention away from the fact the lenders and Wall Street banks made all loans too easy to attain for everyone. They can explain away the reason sub-prime loans are imploding due to the weakness of the borrower.

How will they explain foreclosures in wealthy cities across the nation involving borrowers with 750 scores when their loan adjusts higher or terms change overnight because they reached their maximum negative potential on a neg-am Pay Option ARM for instance?


[more]
thanks to The Agonist
hunka hunka burning glass
Don's lens arrived and it is a beauty. That's a picture of another Schneider Apo-Symmar 210/5.6. Don's is currently mounted on a Cambo lens board but otherwise it looks the same. I made a new lens board for it to fit my Burke & James Press. I'm waiting for some lens spanners to arrive to undo the retaining ring and remount it. This is the first modern view camera lens I've had to use. It's a sharp one. I just hope Don doesn't need it back for a while. On the antique camera front I have the Graflex 4x5 SLR almost ready to go. I had planned on replacing the mirror thinking it was a very dirty front surface mirror. I took off the ground glass to get at the mirror then went running to Google to see how best to remove it. It was then I discovered what I should have noticed - it's not a front surface mirror. So I cleaned the mirror glass and ground glass up and it's ready to go. There is still a little schmutz left on the lens, a Carl Zeiss Jenna Tessar 210/3.5, around the edges. I need to clean it with some cold cream and it will be ready to load film. I'm running out of excuses to not take pictures. (On a 4x5 camera a 210mm lens is equivalent to a 59mm lens on a 35mm camera.)