photography
The Internet is amazing. Before I bought my Agfa Isolette II, I googled for information on these cameras. One of the sites I found was of a photographer who used old cameras, one of which was a beautiful Agfa Isolette II
That picture was one of the reasons I decided on an Isolette II. As I've been working on my Isolette, I've often returned to the page with pictures of that camera as inspiration. This photographer also used FEDs and Zorkis from the former Soviet Union. Hmmmm. Great minds run in the same sewers. It seems he also has a 5x7 Burke and James, like I do. He was googling for B&J information and ran across my site. Thursday I received an email from him. He lives in eastern Washington, about 3 or 4 hours from Whidbey Island. Not only that but, at the end of May, he is having a show here on Whidbey Island at the Bayview Cash Store. What a small world. His name is Ken Smith.
Ken Smith
Fine Art Photography
[more]
Some wonderful images. Be sure to check out his page on vintage cameras. A nice collection and he articulates many of the same feelings I have on using these old cameras in conjuction with the latest technology of digital imagery.

So I questioned: If I shot images with cameras made 50 or more years old, but printed the images using the newest digital printers, would the end result transcend all questions of process, and in effect, leave the issues of equipment - traditional or digital - so interwoven that the image in the frame on the wall would finally stand alone, either succeeding or failing measured by how it affected the viewer aesthetically?

It was in this philosophical quest that my interest in vintage cameras began. After visiting websites like the one of Matt Denton's, I began the daily perusals on eBay, learned to repair what I bought, and finally, started using these relics to make images. In the process I have renewed something I had lost over the years. When using the latest highly-engineered ergonomic cameras and lenses with built-in light meters and their multi-coated optics....something of the mystery has been sacrificed to reliability. The old cameras gave back that awe and mystery making me feel more a part of the total process.


[more]
He even has a Brownie Hawkeye Flash Model! What exquisite taste. Ken's wife also has some wonderful pictures.
Yuko Ishii
Fine Art and Wildlife Photography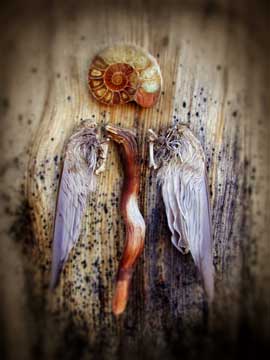 [more]
Check out both of them. Ken and I have exchanged several emails. I read his first email right after coming up from working on my Isolette shutter. I had cleaned it out and it appeared to work but when it dried the iris sometimes wouldn't close correctly. I had soaked it again but somehow something got wrong and the shutter isn't working at all. This was very depressing and I shared my despair with Ken. He suggested I soak it again since the lighter fluid soak will fee up the crud but often it just moves it to another place. I did but there is something else wrong. Something is out of place. I'll take a printout of the picture of the shutter, when it was still working, and see it I can identify anything that is different.
It turns out that Ken has more vintage cameras than on his site, such as some Kievs and a Salyut. Oh! I must resist...I must resist. And he has discovered that the Russians built some nice large format lenses. They are barrel lenses. He picked up a new coated 300mm lense for $38 plus 9 shipping. He also recommended Sergey as an excellent eBay dealer for FSU stuff and a place to get Russian large format lenses. Check out Sergey's "Other Lens."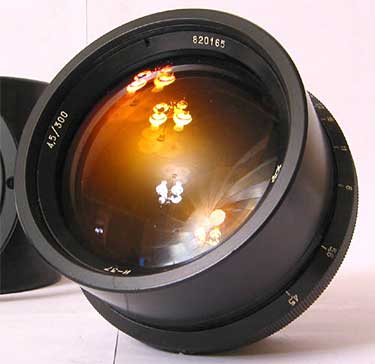 But wait! There's more!
Ken also sent me a link that shows a Russian view camera that uses glass plates that these Russian barrel lenses were used on. They were built up until 1987.
Experiences with the Russian FK 18×24 cm Large Format Camera
[more]
And...
Sergey has some for sale.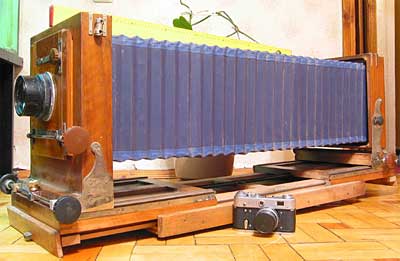 My head is going to explode.