Archives
give us this day our daily photograph
Green wall with Victorian accessory
Another 17mm shot.
fountain pens
I've really been enjoying both my fountain pens. I thought the Hero 329 (fine nib) would replace the Rotring 700 (broad nib). I find there are times when a broad nib is appropriate and I'm using the Rotring, too.
| | | |
| --- | --- | --- |
| | As computers become more and more prevalent, writing has come to mean typing on a keyboard. But there is a man, known as the God of Fountain Pens by pen aficionados, who still continues to handcraft pens nibs even now. PingMag MAKE went to meet him, to find out about a lifetime pursuing the perfect writing instrument. | |
[more]
economy
"It's All Downhill From Here, Folks"
The Bush Bust of '08

On January 14, 2008 the FDIC web site began posting the rules for reimbursing depositors in the event of a bank failure. The Federal Deposit Insurance Corporation (FDIC) is required to "determine the total insured amount for each depositor....as of the day of the failure" and return their money as quickly as possible. The agency is "modernizing its current business processes and procedures for determining deposit insurance coverage in the event of a failure of one of the largest insured depository institutions."

The implication is clear, the FDIC has begun the "death watch" on the many banks which are currently drowning in their own red ink. The problem for the FDIC is that it has never supervised a bank failure which exceeded 175,000 accounts. So the impending financial tsunami is likely to be a crash-course in crisis management. Today some of the larger banks have more than 50 million depositors, which will make the FDIC's job nearly impossible.

Good luck.

It's worth noting that, due to a rule change by Congress in 1991, the FDIC is now required to use "the least costly transaction when dealing with a troubled bank. The FDIC won't reimburse uninsured depositors if it means increasing the loss to the deposit insurance fund....As a result, uninsured depositors are protected only if a bank acquiring the failed bank will pay more for all of the deposits than it would for insured deposits only." (MarketWatch)

Great. That's reassuring. And there's more, too. FDIC Chairman Shiela Bair warned that "as of Sept. 30, there were 65 institutions with assets of $18.5 billion on its list of "problem" institutions;" although she wouldn't give names.

So, what does it all mean?

It means there's going to be an unprecedented wave of bank closures in the US and that people who want to hold on to their life savings are going have to be extra vigilant as the situation continues to deteriorate. And it is deteriorating very quickly.


[more]
The Demise of the American Middle Class
| | | |
| --- | --- | --- |
| | American as well as all western white and blue collar workers will soon realize that they will either have to decrease their wage demands to conform with "global standards" or chose jobs in the service sector. These global standard wages are now being set by worker in India and China, where average hourly wages are about 65 cents and one dollar respectively. The high paying jobs created in Mexico under NAFTA, the whopping $3.50 per hour ones, are moving to China because even this princely wage level is much too generous according to U.S. businessmen. So currently unemployed workers and anyone laid off in the future better get their applications into McD and Wal-Mart in a hurry because these will be the premier jobs of the future. But, if American workers are willing to accept these "global standard wages" (adjusted for product transportation costs), no more than $3.00 per hour, perhaps they can get work here in the U.S., but only if their employers believe these wages will be maintained in the future. Unfortunately no one an live on $3.00 per hour in the U.S. unless he doesn't mind living on a subsistence level, without car or medical coverage (even if minimum wage laws were waived to allow them to do so). | |
[more]
Sales of New Homes Fell by 26% in 2007

The housing industry, caught in a maelstrom of sinking demand, rising foreclosures, and bulging inventories, is in its worst slump in decades, a growing body of economic evidence shows.

Sales of new homes fell last year by 26 percent, the steepest drop since records began in 1963, the Commerce Department said on Monday.

Last week, the National Association of Realtors reported that sales of previously owned single-family homes, a large portion of the overall housing market, suffered their biggest annual drop in 25 years. And the median price of those homes fell for the first time in at least four decades, and possibly since the Great Depression.


[more]

Homeowners whose homes are losing value as their mortgage resets to much higher levels increasingly feel no need to tough it out. Instead, they just mail the keys back and walk away. This happens enough that it's called 'jingle mail.'

There have been so many foreclosures in Cleveland that parts of it now resemble a ghost town. When block after block of residential areas become empty, then businesses in the area suffer too. Tax revenue for the municipality drops, causing budget shortfalls. And so on.

In theory, when home prices drop enough, then speculators will move in, buying at the bottom. But if entire blocks are ravaged and no businesses are nearby, prices will have to drop way down indeed to attract the vultures.

It took parts of the South Bronx decades to come back.

Or will it be like the Anasazi in Temecula?


[more]

Almost two thousand years ago the Anasazi people lived in the Four Corners area of the southwestern U.S. Somewhere near 490 A.D. they established permanent settlements in that arid region, steadily developing a culture, and even a viable economy. And then, almost 1,000 years later, in what is still something of a mystery, the Anasazi disappeared.

Some people think it was struggles with warring neighboring tribes that caused their disappearance. While that is possible, it seems increasingly likely the cause was an over-large settlement and a change in climate. The Anasazi established themselves in that desert region during a period of peak rainfall, and that precipitation decreased significantly over the next few hundred years. As a result, by that argument, the Anasazi steadily moved away, leaving the old and the infirm behind with the hillside caves and potteries.

I got to thinking about the Anasazi while driving from San Diego to Palm Desert today. North of San Diego, a little southeast of Los Angeles, there is a city called Temecula. It has grown incredibly over the last 20 years, largely with people priced out of the L.A. and Orange County (and even San Diego) markets buying real estate there, and then enduring monstrous commutes.

You have to see it to believe it. Chaparral-clad high-desert hillsides are paint-gunned with subdivisions, most of which look alien, more like they fell from space than growing organically from the existing city of Temecula. Either way, the new subdivisions are endless, especially on the north side of the city, all stretching out in a quilt of home non-biodiversity.

As I rubber-necked at 70 mi/h from freeway overpasses it struck me: These subdivisions are emptying out. They have to be. Foreclosures are forcing every adjustable-rate-mortgage developer-driven subdivision like this in California to empty out, from Stockton to Chula Vista. With that thought in the back of my mind, the typical mid-day emptiness of a modern suburb changed. These developments went from half-built and merely quiet, to progressively abandoned. And I began to feel like John Wesley Powell finding an ancient settlement of puzzling origin.


[more]
give us this day our daily photograph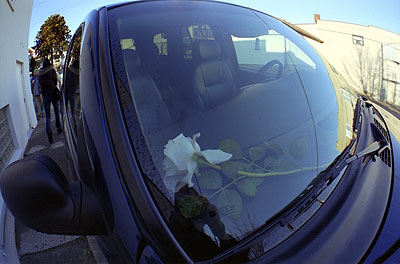 Rose watches world go by
With my sudden explosion of lenses I've decided to shoot a couple of rolls with each lens to get a feel for it. I've never shot anything wider than 28mm until now. These are photos taken with the Asahi Pentax Spotmatic SP with Super-Multi-Coated Fish-Eye-Takumar 17mm/f4. What a great surreal lens!
Wednesday February 6 2008
middle east clusterfuck
Gaza, Iraq, Afghanistan: Bushism in disarray

The past few weeks have not been good ones for the Bush administration's project of establishing firm, pro-western beach-heads in a broad swathe of western Asia from Gaza to Afghanistan. Afghanistan, which since late 2001 has been ruled by the US-installed and heavily US-dependent Hamid Karzai, is probably the country where the situation seems most dire-- for both the pro-Washington political order and the Afghan citizens themselves.

Afghanistan is, by some hard-to-fathom quirk of fate (okay, make that Bushist political necessity), a central part of the mission of the North Atlantic Treaty Organization, despite its great distance from the Atlantic ocean. The BBC's Caroline Wyatt was probably representing the views of many NATO leaders when she wrote yesterday,

Nato's members know they cannot afford to fail now. All sides are aware that stabilising Afghanistan is the mission Nato has staked its reputation on.

That means that the alliance will have to pull together rapidly, for the sake of its own credibility as well as for the future of Afghanistan...


One question: given that Afghanistan is so important to NATO, and given that the Bush administration has pushed so hard with its plan to deploy an ABM system right next to the Russian border in Poland, why would Russia-- or, come to that, China-- feel any urgent desire to help NATO pull its chestnuts out of the Afghan fire as that fire burns on?

(Russia and China are both a lot closer to Afghanistan than the USA or any other NATO country. They have their own strong interests in not seeing the return of the Taleban order there. But short of that, I expect they are both quite happy to see NATO's troops getting ground down there-- and in Iraq, as well.)

And talking of Iraq... all that cock-a-hoop talk we heard from the Bushites a month or two ago, about how the surge was "working" and life in Iraq has been slowly returning to normal, has been shown to be a flash-in-the-pan. The US's own casualty rates rose again in January; and yesterday Iraqi suicide bombers performed two more truly gruesome acts against crowded civilian markets.

And in Gaza, the US-Israeli attempt to besiege Gaza's entire 1.5 million-strong population back into the Stone Age received a notable blow when the Gazans and their Hamas leaders simply walked en masse back to some form of a new, life-saving economic connection with Egypt.


[more]
| | | |
| --- | --- | --- |
| | Four communication cables are cut in four different places this week in the Middle East. The US/Israeli push to re-isolate Gaza continues. Israeli generals order Jews in Israel to prepare WWIII bomb shelters. I put up a Canadian news video showing the hideous abuse of the West Bank Palestinians. Abbas doesn't care, he gets his $US billions. Iran demands we apologize for accusing them of building nuclear bombs. The US Security Council Unaligned nations stop the US/EU/UK resolutions attacking only Iran, not them for being nuclear bombers. And I ask, how can we have guns and butter when deep in debt? The butter is going to vanish anyway. And Ron Paul is the ONLY one left in the race who is anti-WWIII. | |
[more]
Video Israel Doesn't Want You to See
camera equipment
One of my projects last week was organizing my Pentax 35mm SLR gear. Vern had given me a bunch of lenses from an estate of a late friend. They all had problems and would be hard to get any money for them but the problems weren't enough to affect image quality except for a couple of cases. And speaking of cases, Vern let me have one of those.
That was a good thing because, with the lenses he gave me, I had no place put them. It took a few iterations to find a place for everything.
Once I allowed for foam dividers I had to take some lenses out but once I started to make the foam dividers and putting things in place I was able to put almost everything back in. Here is a Flickr set with bigger pictures and notes.
[more]
end of empire
This is a must read.

Turn on the TV today, and you could be forgiven for thinking it's 1999. Democrats and Republicans are bickering about where and how to intervene, whether to do it alone or with allies and what kind of world America should lead. Democrats believe they can hit a reset button, and Republicans believe muscular moralism is the way to go. It's as if the first decade of the 21st century didn't happen — and almost as if history itself doesn't happen. But the distribution of power in the world has fundamentally altered over the two presidential terms of George W. Bush, both because of his policies and, more significant, despite them. Maybe the best way to understand how quickly history happens is to look just a bit ahead.

It is 2016, and the Hillary Clinton or John McCain or Barack Obama administration is nearing the end of its second term. America has pulled out of Iraq but has about 20,000 troops in the independent state of Kurdistan, as well as warships anchored at Bahrain and an Air Force presence in Qatar. Afghanistan is stable; Iran is nuclear. China has absorbed Taiwan and is steadily increasing its naval presence around the Pacific Rim and, from the Pakistani port of Gwadar, on the Arabian Sea. The European Union has expanded to well over 30 members and has secure oil and gas flows from North Africa, Russia and the Caspian Sea, as well as substantial nuclear energy. America's standing in the world remains in steady decline.

hy? Weren't we supposed to reconnect with the United Nations and reaffirm to the world that America can, and should, lead it to collective security and prosperity? Indeed, improvements to America's image may or may not occur, but either way, they mean little. Condoleezza Rice has said America has no "permanent enemies," but it has no permanent friends either. Many saw the invasions of Afghanistan and Iraq as the symbols of a global American imperialism; in fact, they were signs of imperial overstretch. Every expenditure has weakened America's armed forces, and each assertion of power has awakened resistance in the form of terrorist networks, insurgent groups and "asymmetric" weapons like suicide bombers. America's unipolar moment has inspired diplomatic and financial countermovements to block American bullying and construct an alternate world order. That new global order has arrived, and there is precious little Clinton or McCain or Obama could do to resist its growth.


[more]
child care
[more]
thanks to Neatorama
stuff
Until new links appear (which should be soon -- I hope.), amuse yourself with this. I could put up a YouTube teaser but screw the teaser. This gets at the root cause of all our problems. Go watch this. Now.
| | | |
| --- | --- | --- |
| | From its extraction through sale, use and disposal, all the stuff in our lives affects communities at home and abroad, yet most of this is hidden from view. The Story of Stuff is a 20-minute, fast-paced, fact-filled look at the underside of our production and consumption patterns. The Story of Stuff exposes the connections between a huge number of environmental and social issues, and calls us together to create a more sustainable and just world. It'll teach you something, it'll make you laugh, and it just may change the way you look at all the stuff in your life forever. | |
[more]
thanks to daily KOS
update
Just checking in to show that I'm still alive. Life in the real world has been a little overwhelming. Running hard and falling behind. I have things to show (hopefully soon).
One of the big distractions are my camera straps. Sales have taken off. January was my best month yet and February is starting off stronger than January. On top of that I've added the new wrist strap pads, shown above, on my lug-mount and tripod-mount wrist straps. I'm struggling to catch up. I'm not complaining. This is a good problem. And then there are the M42 lenses that were given to me. More on that later.