Archives
Eye Candy
Chris Woods
Stations of the Cross
Here are descriptions of the real The Stations of the Cross
thanks to Andrew Abb at American Samizdat
----------
thanks to Andrew Abb at American Samizdat
----------
Japanese Old Photographs in Bakumatsu-Meiji Period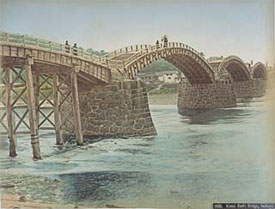 Environment
2001 SOCIAL RESPONSIBILITY RANKINGS FOR GAS STATIONS
Yes, I know—socially responsible gas stations is an oxymoron.
Baseball
Baseball is just around the corner.
2002 MARINERS PREVIEW
"Breaking the Spell"
Road to Series inevitably goes through Bronx
Pitching prowess to rival the Braves'
M's not lacking for offensive options
So many wins, so few errors
Merry Pranksters
For a Merry Prankster, A Day-Glo-Free Funeral
It was a fitting night for a Prankster's wake. Halloween jack- o'-lanterns glowed in the windows of farmhouses draped with American flags; plastic tombstones leered up from the dark lawns. Exactly the way Ken Kesey—if not my Uncle Sandy— would have staged it.
As the mourners poured into the Stewart Murphy Funeral Home in the quiet upstate New York town where Sandy spent his last years, I felt as if we were burying not only my uncle, but also the time he'd come to represent.
[read more]
thanks to This Modern World
Israel/Palestine
The War has Begun: News Update
Editor's Note: Following an Israeli security cabinet meeting today, Israel declared an 'extended war' on the Palestinians, a war that doesn't abide by 'geographic borders'. The war has in fact begun.
[read more]
----------
Beware the martyr
If assassinated, Yasser Arafat really would be an 'enemy' to be reckoned with
Ever since he was confined to his Ramallah headquarters, Yasser Arafat - the world's most exalted political prisoner - has been making it clear that he is prepared to die for his cause. Several weeks ago he reportedly ordered his guards to resist Israeli assault "up to and including the death of the president". And now, from the windowless basement where he has taken refuge from Israeli troops already within his compound, a pistol on his desk and a mobile phone to his ear, he proclaims to the world that "the Palestinians will never kneel" and that the only form in which his historic adversary, General Ariel Sharon, will ever lay hands on him is "as the corpse of a martyr".
His demise would certainly have as dire a posthumous impact as any one man's could have. For he is now, in what could be his last hours, the supreme, heroic embodiment of his people's will. At the same time, this is an Israeli assault on the whole quest for Middle East peace, both in its Palestinian and its wider Arab dimension, which he has come to embody as never before. It comes just after the most convincing olive branch ever to come from the Arab world. At their summit conference in Beirut, the Arab kings and presidents unanimously offered that full acceptance, and integration into, the region for which Israel has been striving since it came into being.
[read more]
----------
Robert Fisk: The lies leaders tell when they want to go to war
'The problem with Arafat is that he has a lot in common with Sharon: old, ruthless and cynical'
How much longer can Ariel Sharon pretend that he's fighting in the "war against terror"? How much longer are we supposed to believe this nonsense? How much longer can the Americans remain so gutlessly silent in the face of a vicious conflict which is coming close to obscuring the crimes against humanity of 11 September? Terror, terror, terror. Like a punctuation mark, the word infects every Israeli speech, every American speech, almost every newspaper article. When will someone admit the truth: that the Israelis and Palestinians are engaged in a dirty colonial war which will leave both sides shamed and humiliated?
[read more]
---------
For some background...
Unholy Alliance -- Sharon, Hamas Work in Concert Against Peace
Though enemies, Israel Prime Minister Ariel Sharon and the Palestinian militant group Hamas are working in a tacit alliance, writes PNS contributor Michael Lerner. Their shared goal: the elimination of Yasser Arafat and the Palestinian Authority. Lerner (RabbiLerner@tikkun.org) is editor of TIKKUN Magazine, a bimonthly Jewish critique of politics, culture and society, and rabbi of Beyt Tikkun synagogue in San Francisco.
[read more]
----------
You can get timely information at indymedia israel and Palestine Independent Media Center, although most of the Palestinians have been evacuated form the Palestine Independent Media Center.
Still Moving
Moved another load into Gerry's house, with Robby's help. Tomorrow we rent a U-Haul and do the rest of the move. I even got some paying work done today. Not easy with the developments in Ramallah unfolding.
Environment
The smog we breathe
The EPA is neither environmental nor protecting, discuss
Boy, we are marching backwards on the environment at a truly impressive pace. Between the Senate and the Bush administration, we are advancing to the rear, double time. The Clean Air Act, the Clean Water Act, fuel efficiency standards, toxic waste -- this is literally sickening stuff.
Last week, the Senate voted 62 to 38 to postpone, yet again, increasing the fuel efficiency standards for cars and trucks. According to the Sierra Club, the average fuel economy of cars sold last year was 20.4 miles per gallon, the lowest since 1980. The failed fuel efficiency proposal could have saved the country up to 1 million barrels of oil a day by 2016 -- as much as the United States currently imports from Iraq and Kuwait.
[read more]
thanks to BuzzFlash
Internet Radio
Big media is trying to destroy little media.
Web radio's last stand
A new ruling involving the Digital Millennium Copyright Act is set to wipe out independent online music stations.
thanks to Doc Searls
----------
Plan to alter Internet radio
SMALL WEBCASTERS THREATENED BY FEES
thanks to Brian Lamb at American Samizdat
----------
thanks to Brian Lamb at American Samizdat
War Agaisnt Some Terrorists
Bush comes to shove
Nato was being counted out a few months ago. Now the US is using it to control the new Europe
While Britain and other member states ponderously plod towards agreement on the EU's eastern enlargement, the Bush administration is steaming full speed ahead with the reunification of Europe - under US auspices, on US terms, and primarily for US purposes.
This worrying extension of American power and influence is happening almost without debate in western European capitals, under the noses of leaders in France and Germany preoccupied with elections and of others, in Britain, Italy and Spain, too willing to do Washington's bidding. Yet the US plan, now being pursued by high-level envoys, has enormous political, military and commercial implications.
[read more]
----------
''U.S. armed forces surrounding Iraq under veil of secrecy''
As Dick Cheney tours the Middle East in search of support for an American offensive against the Iraqi regime, Yellowtimes.org has learned through multiple independent sources that the Pentagon has already begun planning and building new bases in the region.
According to anonymous U.S. military sources, the new airbases will be in Jordan, the Arab Emirates, and Kuwait. Logistics and communications components are already en route or being prepared for deployment from active duty, Reserve, and National Guard units.
[read more]
thanks to SmirkingChimp.com
Moving Day
The walk-through inspection of Gerry's new house took two hours this morning. Lot's of little touch up work for them to do. Robby and a friend of his helped me unload the van this evening. There is now furniture in the house.
Moving Day
No surfing today. Zoe picked me up at 10 this morning and we went over to Redmond to pick up her mother. We swung by the Maltby Cafe for lunch and headed back to Whidbey Island for the final walk-through inspection of Gerry's new home. Stopped by Whidbey Telephone to sign her up for phone and Internet service and arrived at her new house in Freeland at 4:00. She hadn't seen it (except for the many photos Zoe sent) since before the wallboard was put up. She loved it.
Unfortunately the woman who we were to meet for the inspection never showed up. She did have a pretty good excuse though. Her son had fallen about 25 feet and crushed one of his feet a couple of days ago. She had been late leaving a hospital appointment for him to meet us. They will have to do surgery on the foot. It should be OK.
Then I drove Gerry back to Redmond and then back to the Island. Four ferry rides today. Got back after 9:00. It's been a long day.
The inspection is on again for tomorrow and we will be moving Gerry's stuff in, hopefully, tomorrow night starting with the stuff in the van I have been driving around since Sunday. We should have her moved in Sunday. Correction: We will have her moved in on Sunday.
This is slowing everything down. It's worth it.
The Boondocks by Aaron McGruder

You can see Aaron's daily strip at The Boondocks. Not to be missed. You can even sign up, from the above page, to have it sent to your e-mail box daily.
Visual Design
TROTTER'S SELECT ILLUSTRATED TOPOGRAPHY OF THIRTY MILES AROUND LONDON (1839)
34 Steel engravings by several artists and engravers, Trotter wrote the text.
----------
Posters of the "Fighting Pencil" Group from Leningrad
Posters of the "Fighting Pencil" have for many years been part of the interior of many public places in St. Petersburg (Leningrad). One could see them in foyers of movie theaters and clubs, waiting rooms of administrative offices and health clinics, buses, trolleys and subways. Like advertisements in the West, they formed a familiar pattern in the decoration of streets, often put up on special stands in the busiest parts of the city. But unlike advertisements, they did not promote merchandise; rather, their aim was to promote the ideology, and to caricature and publicly condemn such vices as alcoholism, parasitism, bureaucratic red tape, corruption and fraud.
[read more]
both thanks to plep
Shrub
George W. was a happy little monkey.
He lived on an estate in Texas
without a care in the world.
[read more]
thanks to BookNotes
Media
When elephants dance, it's best to get out of the way. That's exactly what's happening now as the entertainment industry—the recording, publishing, and motion picture industries, mainly—attempts a worldwide intellectual property power grab with two distinct targets. Think of it: a coup and a lock on all published content in the same year, amazing isn't it?
Target number 1 is the average customer: anyone who purchases software, an audio CD, an electronic book, or a movie on DVD. The entertainment industry sees customers as pirates, plain and simple. In their collective mind's eye, we all have a wooden leg, eye patch, and a filthy talking parrot on our shoulder. While the Constitution grants customers certain rights with regard to copyrighted material, the entertainment industry very much wants to separate us from those rights.
Target number 2 in the sights of the entertainment industry are technology behemoths like Microsoft, Intel, IBM, and Apple. These companies, in the perverse worldview of the entertainment industry, make the tools— computers mostly—that allow customers to practice their piracy.
[read more]
thanks to follow me here...
Quotes
Craig, at Booknotes has some quotable quotes.
How fortunate for governments that the people they administer don't think.
-- Adolf Hitler
[read more]
Books
At 100, Beatrix Potter's curiously naughty rabbit still shapes children's literature
"Once upon a time there were four little Rabbits, and their names were Flopsy, Mopsy, Cotton-tail, and Peter."
-- "The Tale of Peter Rabbit" by Beatrix Potter
For 100 years, Beatrix Potter's most famous creation, Peter Rabbit, has gone lippity-lippity across the page and into the hearts of young children.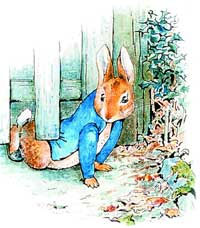 [read more]
----------
The 1911 Edition Encyclopedia Brittanica
The best encyclopedia ever written was published nearly 90 years ago! And now you can find right here on the web! This 1911 edition of the Encyclopedia Britannica is filled with historical information that is still relevant today.
It fills 29 volumes and contains over 44 million words. The articles are written by more than 1500 authors within their various fields of expertise. As a research tool, this 1911 encyclopedia edition is unparalleled-- even today.
[read more]
thanks to consumptive.org
I've heard about the 1911 Brittanica for years. I actually owned a set briefly. It left with my first wife. Now I can read it again. There are errors from the OCR scan but I guess you can't have everything.
Israel/Palestine
The summit of Arab leaders is meeting in Beirut. It appears that the Arabs are about to offer Israel the most far reaching peace proposal they have ever proposed.
We still don't have the final version of the peace plan initiated by Crown Prince Abdullah of Saudi Arabia and about to be proposed at the summit of Arab League leaders meeting today in Beirut, but its framework is becoming clear. If approved in the general outlines sketched so far, the plan is in essence a far-reaching one, of a type never before proposed on the issue of relations between Israel and the Arab states. For the first time, all the Arab countries, via their common forum, will make a general peace proposal to the State of Israel.
(...)
In the present sensitive political state of Israel's foreign relations, that should not be allowed to happen. If it turns out that the approved plan does not differ in essence from the framework that has been leaked and publicized, the government must declare that it accepts the principles of the plan, and that they are worthy of clarification in negotiations with the forum chosen for the purpose by Arab leaders.
[read more]
----------
However, it appears that Sharon is heading in the opposite direction. Arafat isn't going to the summit because of Sharon's threat to not let him back. (Arafat has always had to ask Israel's permission to move around the West Bank and Gaza as well as to leave the Palestine and return.)
Analysis / The American version of Had Gadya
The public pressure by the administration, to let Arafat go to the summit, didn't budge Sharon. In his conversations this week with senior U.S. officials, Sharon quoted Bush as saying that "those who nurture, harbor, and finance terror are as bad as the terrorists and will go to the way of Osama bin Laden." As far as the Prime Minister's Office is concerned, Arafat fits all three categories.
Sharon's strategy now is to defeat the Palestinians with force, imposing an arrangement on them that leaves large portions of the territories in Israeli hands. Peres and his colleagues now face a difficult challenge in the cabinet, which is dominated by the proponents of the military option.
Shas Chairman Eli Yishai said this week that they should stop wasting their time playing travel agent for Arafat. Yishai, who attends a lot of funerals of terror victims, fears Israeli society will collapse if the terrorism continues at the current levels and next year brings hundreds more victims. He believes that Zinni's failure will lead to a drastic increase in the violence and supports a large-scale military operation that will force the U.S. to intervene, in the hope that it will threaten Arafat with putting him on Washington's list of terrorists. Israel may come in for some criticism, but Arafat will also have to make some tough decisions.
[read more]
Catholic Sex
POLICE MUST NOTIFY RESIDENTS WHEN CATHOLIC CHURCH MOVES INTO NEIGHBORHOOD
Controversial "Egan's Law" Expected to Gain Widespread Support
Under a new law designed to protect minors, local police departments will now be required to inform residents any time a known Roman Catholic church moves into their neighborhood.
The law also mandates that Catholic churches register with authorities, wear electronic monitoring devices, and be prohibited from moving to within a half-mile radius of a school.
[read more]
Do you get my drift?
The goal of the PALEOMAP Project is to illustrate the plate tectonic development of the ocean basins and continents, as well as the changing distribution of land and sea during the past 1100 million years.
[read more]
thanks to plep
Airpower
thanks to MetaFilter
More proof that bad taste is timeless while good taste is mere fad
Ad Report Card: Lee Jeans Gets Surreal
Most of the time the Ad Report Card focuses on commercials shown in the United States, for the simple reason that I live in the United States, and those are the ads I see. Today's installment is an exception. Recently I read in the advertising column of the Wall Street Journal about a campaign for Lee Jeans that's currently running in Europe (on television and in theaters). I found the description hard to believe. Happily, the ad exists on Lee's European site, right here. The Journal was right about it. And you should really see it.
[read more]
Environment
State in danger of losing its official bird
Report blames predicted loss on climate changes
A new study released this week supports what environmental scientists and backyard birdwatchers have long suspected - that global climate changes are already having a profound effect on wildlife habitats, migration patterns and survival. And unless the warming trend is reversed, at least six states, including New Hampshire, will see their official birds disappear by the end of the century, the study says.
[read more]
thanks to Liberal Arts Mafia
Is Nothing Sacred?
So sad.
Computer Stupor
I saw this page and roused myself from my computer induced stupor.
Zoe and I took the ferry over to Port Townsend and went down to Silverdale where the Costco there was having a special on leather jackets. Zoe has been wanting one for riding. It was a glorious spring day. There was a Navy vessel passing through the Hood Canal Bridge so we got out and watched a couple of sea lions. Spring is here!

Zoe took this picture of me as we were waiting on the Hood Canal Bridge. Obviously, it was a hard day today. Zoe took the picture and she says you can look but don't steal this picture (it's not Abbie Hoffman approved.) © 2002 Zoe.

We stopped by her Mom's new place and the carpet has been installed. We do the walk-through inspection Wednesday.





Rolling Thunder

Texas populist Jim Hightower's plan to "put the party back into politics" with a rollicking national tour of speechifying, entertaining, organizing and coalition-building along the lines of the 19th-century Chautauqua gatherings had always been greeted with a measure of skepticism. Hightower's friends and allies mumbled that the Lollapalooza of the Left idea might be a hair too ambitious. Would it really be possible, at a time when conservative President George W. Bush is supposed to be enjoying 80 percent approval ratings, to pack a fairgrounds east of Austin for a day of Bush-bashing, corporation-crunching, plutocrat-poking politics with a punch? Hightower admitted that he worried about whether he would prove right one of the best lines of Oklahoma populist Fred Harris: "You can't have a mass movement without the masses."

But the organizers needed have worried. The masses were ready for this movement.
[read more]

thanks to BuzzFlash

----------

Rolling Thunder Down-Home Democracy Tour

"For too long progressives have walked fearful of their shadows, whimpering and whining about what's wrong and fighting amongst themselves over crumbs. That time is over. It's time to sing and work and build a new community dedicated to hope and real change. And good beer.
-- Jim Hightower
[read more]

I'm ready for the beer!