Archives
iraq
vietnam on internet time
For a continous war update see: The Agonist
For analysis see: dailyKOS and Talking Points Memo
For a blog of an unembedded journalist: Back to Iraq 2.0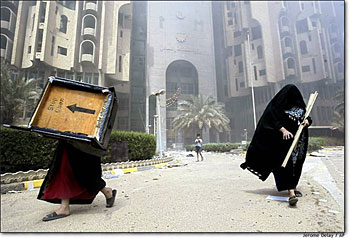 Reallocation of wealth
Two Iraqi women carry furniture away from an Iraqi government office building on fire in downtown Bagdhad on Friday. Widespread looting continued in the Iraqi capital after the disappearance of Iraqi government officials and police.
[more]
But it's hard to ignore the duplicitous role of the media in hyping yesterday's main Kodak moment: the destruction of the statue of Saddam in central Baghdad. The camera shots all gave the very deliberate impression that this event was played out in front of a huge mob of cheering Iraqis, and these video images were played incessantly, at least three or four times an hour.
But as the photo below shows, the truth was rather different: there was a gathering of at most a hundred, and more likely only a few dozen Iraqis present in the square for this event.

As seen on TV

The long shot doesn't show many people. How is that?
Robert Fisk: Flames engulf the symbols of power
Baghdad is burning. You could count 16 columns of smoke rising over the city yesterday afternoon. At the beginning, there was the Ministry of Trade. I watched the looters throw petrol through the smashed windows of the ground floor and the fire burst from them within two seconds.
[more]
Robert Fisk: Baghdad: the day after
Arson, anarchy, fear, hatred, hysteria, looting, revenge, savagery, suspicion and a suicide bombing
It was the day of the looter. They trashed the German embassy and hurled the ambassador's desk into the yard. I rescued the European Union flag – flung into a puddle of water outside the visa section – as a mob of middle-aged men, women in chadors and screaming children rifled through the consul's office and hurled Mozart records and German history books from an upper window. The Slovakian embassy was broken into a few hours later.
[more]
US soldiers have shot and killed a Baghdad shopkeeper defending his business with a Kalashnikov assault rifle against looters.
[more]
thanks to American Samizdat
Fires are still burning across the Iraqi capital after looters set light to government ministries and banks in full view of US forces.
[more]
Crowd Kills 2 Clerics at Shiite Shrine
A furious crowd hacked two clerics to death in a Shiite Muslim shrine Thursday when a meeting meant to be a model of reconciliation in post-Saddam Iraq erupted into a melee between rivals, witnesses said.
The bloodshed underscored how difficult it will be to bridge deep emnities and political rivalries in Iraq as the American military and interim administration led by retired U.S. Gen. Jay Garner tries to fill the power vaccuum left by the collapse of Saddam's regime.
[more]
[more]
iraq — now what?
The Lie Of Liberation
Cheering Iraqis are just a diversion, folks. BushCo's real goal is only just beginning
By Mark Morford
Yay! The gorilla has crushed the mouse. The bazooka has blown apart the BB gun. The dinosaur has stomped the fly. Yay!
Rejoice in the streets! The bright shiny righteous angry Christian god has obliterated the angry sullen foreign god. Or something.
Except, of course, it hasn't, not by a long shot. But, hey, we've more or less taken Baghdad, right? Headlines are screaming, it looks like victory, it smells like victory ... it must be victory! We've won! Sort of! But not quite! Savor it like bloodied candy, we will!
[more]
The national gloat
On the fall of Baghdad, and the wars to come
by Geov Parrish
America's triumphalism is delusional for two reasons. First, its armed forces have managed, between Afghanistan and Iraq, to rout the rag-tag armies of two of the world's poorest countries, the latter ravaged by eight years of war with Iran, the invasion of Kuwait, the Gulf War, and especially the economic sanctions that put the country in a stranglehold for 12 long years. That Iraqis were willing to fight at all against so much greater a military force should be a warning sign of the resentments America is unleashing.
The second delusion is the war itself. The war Americans witnessed -- clean, antiseptic, with only minor delays along the supply lines to counter rear- guard attacks -- is not the war witnessed by much of the rest of the world. From Morocco to Mindinao, and Sydney to Stockholm, the images of American soldiers wrapping the head of Saddam's statue in a flag, or sitting in Saddam's chair in the rubble of a presidential palace, are not the actions of a liberator; they are the actions of an imperial power, boasting to the world of its fearsome might.
In America, the general impression is that Iraqi civilians were spared by the awesome precision of American weaponry. In the rest of the world, the more gruesome truth -- that in war, some people die, and many more suffer horribly -- has been broadcast in living color every day for three weeks. Those images will linger long after Saddam Hussein is forgotten.
[more]
We said it would be a nightmare
And yes, that's exactly what it is
by Alexander Cockburn
Baghdad's hospitals admit a hundred casualties an hour and have run out of anesthetics. Surgeons try to numb up mangled children with short-term pain-killers, but even these are in dwindling supply. Iraqi families who fled into the desert face 100-degree temperatures and no water. U.S. tanks inflict mayhem and slaughter in Baghdad's streets.
[more]
What amazes me is the patronizing way that commentators have watched the total collapse of law and order in Iraq so sanguinely. As if they're waiting for us to get set up. Oh, things will calm down once we get the exiles and the occupation government in place, seems to be the theme.
According to the BBC, Rummy was peeved when he was asked about the collapse of civil order in Iraq's main cities. He said the media was exaggerating. They were 100 percent accurate when showing US Marines pulling down yet another statue from Saddam, even though a wide shot shows a much smaller crowd than one you see on TV, yet when they show five major buildings burning like a bonfire, they're exaggerating. The doctors and the photographers are using Photoshop to create those images. It's like that old Richard Pryor joke: believe me, not your lying eyes.
[more]
How Iraq could devolve into Civil War
Iraq is clearly suffering a period of disorder, the question is will it shift into civil war?
I am not predicitng a civil war. What I am saying is that there will be signs of a country slipping into civil war which should be clear. I don't know what will happen. Maybe the exiles and the US can build peace. I certainly hope so, because the alternative could be a catastrophy for both Americans and Iraqis.
[more]
The war against Iraq is on the road to failure in its most important, durable objective: to transform this construct of British imperialism, Baathist oppression, and American fantasies into a willing replica of Western democracy.
[more]
Power vacuum that has taken US by surprise
Washington row over who will take reins of government
The US won the war with relative ease: the peace is proving to be a lot harder. The collapse of Saddam's regime has left a power vacuum that has taken America by surprise.
[more]
The Night After
The Easier the Victory, the Harder the Peace
by Uri Avnery
It is now fashionable to talk about "the day after". Let's talk about the night after.
After the end of hostilities in Iraq, the world will be faced with two decisive facts:
First, the immense superiority of American arms can beat any people in the world, valiant as it may be.
Second, the small group that initiated this war--an alliance of Christian fundamentalists and Jewish neo-conservatives--has won big, and from now on it will control Washington almost without limits.
[more]
Who's Next for Global Vigilante?
A reader's letter published in the Los Angeles Times last week said it all: "We have learned two things from the war in Iraq. We have learned that the Tigris flows through Baghdad, and the Hubris flows through the White House."
[more]

iraq — a little history
Exclusive: Saddam key in early CIA plot
U.S. forces in Baghdad might now be searching high and low for Iraqi dictator Saddam Hussein, but in the past Saddam was seen by U.S. intelligence services as a bulwark of anti-communism and they used him as their instrument for more than 40 years, according to former U.S. intelligence diplomats and intelligence officials.
United Press International has interviewed almost a dozen former U.S. diplomats, British scholars and former U.S. intelligence officials to piece together the following account. The CIA declined to comment on the report.
While many have thought that Saddam first became involved with U.S. intelligence agencies at the start of the September 1980 Iran-Iraq war, his first contacts with U.S. officials date back to 1959, when he was part of a CIA-authorized six-man squad tasked with assassinating then Iraqi Prime Minister Gen. Abd al-Karim Qasim.
[more]
thanks to The Agonist

magnetic art
Appearance of Magnetism 3
Experiment of Shape using magnetic fluid
This piece is composed of two electro magnets, a responsive timer relay, power source, and magnetic fluid. Magnetic fluid is put into the center plate, and the two electro magnets are placed above and below it so that the same polar sides are facing each other. The eletro magnets are controlled individually to increase or decrease magnetic strength. The magnetic fluid can change shape within the magnetic field created by the two electro magnets.
[more]
thanks to dublog
maybe there is some hope
My Oscar 'backlash'
'Stupid White Men' back at #1, 'Bowling' breaks new records
by Michael Moore
And that, my friends, is the real point of this film that I just got an Oscar for -- how those in charge use FEAR to manipulate the public into doing whatever they are told.
Well, the good news -- if there can be any good news this week -- is that not only have neither I nor others been silenced, we have been joined by millions of Americans who think the same way we do. Don't let the false patriots intimidate you by setting the agenda or the terms of the debate. Don't be defeated by polls that show 70% of the public in favor of the war. Remember that these Americans being polled are the same Americans whose kids (or neighbor's kids) have been sent over to Iraq. They are scared for the troops and they are being cowed into supporting a war they did not want -- and they want even less to see their friends, family, and neighbors come home dead. Everyone supports the troops returning home alive and all of us need to reach out and let their families know that.
Unfortunately, Bush and Co. are not through yet. This invasion and conquest will encourage them to do it again elsewhere. The real purpose of this war was to say to the rest of the world, "Don't Mess with Texas - If You Got What We Want, We're Coming to Get It!" This is not the time for the majority of us who believe in a peaceful America to be quiet. Make your voices heard. Despite what they have pulled off, it is still our country.
[more]

he's right, you know
'Hitler' Exec Producer Fired Over Remarks
The executive producer of a CBS miniseries about Adolf Hitler's rise to power has been fired after giving an interview in which he compared the current mood of Americans to that of the Germans who helped Hitler rise to power. (...)
"It basically boils down to an entire nation gripped by fear, who ultimately chose to give up their civil rights and plunged the whole nation into war," Gernon said in the interview. "I can't think of a better time to examine this history than now."
[more]
thanks to Eschaton
map art
This is one of the most amazing things I've seen on the web. David Rumsey has a lot of money. He really loves maps. He takes his money and his maps (and now other maps) and makes them freely available on the web in a *very* useful way.
In Vintage Maps, a Japan Bygone Floats Lyrically Online
FOR half a century, a rare and extensive collection of historical Japanese maps spanning hundreds of years have been stored in the East Asian Library at the University of California, revealing their secrets only to those few who had received permission to handle them. Now, through state-of-the-art imaging technology, anyone can view these fragile maps online, at www.davidrumsey.com/japan.
So far, 210 maps - some dating back almost 400 years - from the 2,300-piece collection are online. The collection, which will be available for viewing in its entirety within two years, includes 252 maps of the city of Edo (now Tokyo), 79 maps of Kyoto and 40 maps of Osaka spanning the years 1600 to 1867. Many are woodblock prints on handmade paper. The collection also includes a map from 1710 depicting the center of the world as the source of four great rivers of India, and a 40-foot scroll map of the roads of Japan in 1687.
Visitors to the Web site can save the maps for their own collections; analyze, rotate, enlarge and crop them; and compare them with modern maps.
[more]
thanks to wood s lot
The Japanese Historical Map Collection contains about 2,300 early maps of Japan and the World. The collection was acquired by the University of California from the Mitsui family in 1949, and is housed on the Berkeley campus in the East Asian Library. Represented in this online collection are about 100 maps and books from this Collection. The maps were selected by Yuki Ishimatsu, Head of Japanese Collections at the East Asian Library, and scanned and put online by David Rumsey and Cartography Associates. The project was initiated by Peter Zhou, Director of the East Asian Library. Funding and project management is provided by Cartography Associates and the East Asian Library.
[more]
thanks to wood s lot
Here are a couple of screen shots showing a complete map and how far you can zoom in to see detail. All these maps are works of art and can be studied in detail. Many, many, many, many thanks are due to David Rumsey for sharing this beauty.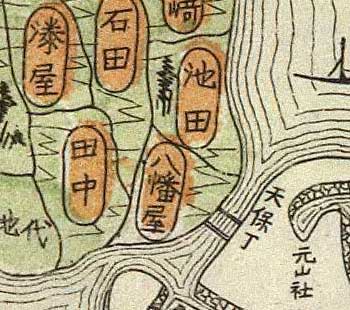 [Update: The viewing software allows you to download the images at *high* resolutions! The above image downloaded, at the highest resolution (there are nine choices), a 16.5mb jpeg. That expanded to 154mb in Photoshop.]

media
America's Fox News network has been demonstrating since the start of the war in Iraq an amazing lesson in media hypocrisy. The anchors, reporters and commentators unceasingly emphasize that the war's goal is to free the Iraqi people from the tyranny of Saddam Hussein. The frequency, consistence and passion with which they use that lame excuse, and the fact that nearly no other reasons are mentioned shows that this is the network's editorial policy. The American flag lies in the upper left-hand corner of the screen, while the logo accompanying the programming is Operation Iraqi Freedom, the official name given by the Pentagon. Fox journalists display what appears to be genuine happiness, innocent and sincere, brainwashed in nature, in the expectation for the wonderful day when the American army leads the Iraqi people from slavery to freedom.
[more]

remember south america?
COMMENT & ANALYSIS: A distant world for which Bush cares little
President George W. Bush is presiding over the ruin of US foreign policy. A world united against the war in Iraq is only the start, since US diplomatic failure and neglect extend to virtually every area of foreign policy.
Another stunning example lies in the Andes, where the US administration has proved to be incapable of even the simplest responses to a profound crisis engulfing the region. Venezuela's chaos continues, while Colombia's violence deepens. Most recently, the US has looked on as Bolivia, a close ally and a desperately poor, and until recently stable, Andean nation, teeters on the brink of collapse. This is in large measure because of US policies but the administration has not shown the slightest recognition of the incipient disaster it is helping to create.
[more]
thanks to Eschaton

extreme sports
Welcome To The Official Naked Skydiving Page! This is the lighter side to our sport; Literally!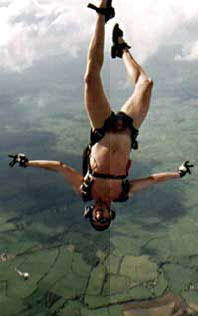 [more]
thanks to Geisha asobi blog
The site has a video that is not to be missed. The link is in the center column. It's a 10 minute download with a modem. It's worth it.

talibanic science
The battle for American science
Creationists, pro-lifers and conservatives now pose a serious threat to research and science teaching in the US, report Oliver Burkeman and Alok Jha
One of the first signs that something was changing came in March last year in the suburbs of northern Atlanta, when people started talking, a little more frequently than might be expected, about mousetraps. It was hardly unprecedented in the US that a group of local parents should be lobbying for their children to be taught that evolution was a disputed theory, not a fact. But the way some of them were doing it was new, which is where the mousetraps came in. Unlike some of the openly evangelical Christian lobbies, they didn't want schools to teach creationism - the theory that God created the universe in seven days - they only wanted to air a theory known as Intelligent Design. ID holds that the living cell is "irreducibly complex", like a mousetrap. Remove the spring from a mousetrap and it isn't just an inferior mousetrap; it isn't a mousetrap at all. It had to have been created by an intelligent designer. It was the same, they said, for cells, and so life must have been designed by some kind of intelligence. Critics called this "stealth creationism" - religious dogma masquerading as science - but the ID proponents got their way, thanks partly to wording in President Bush's new education bill. Schools in Atlanta are now theoretically entitled to "teach the controversy" (though officials have urged teachers to stick to evolution for now, sparking a lawsuit) - and textbooks presenting Darwinism as fact have stickers inside, pointing out that it might not be.
[more]
thanks to Dumbmonkey
Back to the dark ages we go — superstition as science.

a transportation problem
The analogy of my nation as a bus keeps coming to me, as if in a dream.
It's a big fancy bus, and it drives through some of the poorest sections of town. When it does, it splashes pedestrians, runs stop signs, sideswipes parked cars. The   passengers are a mixed bag, but the most vocal and aggressive ones seem to think they speak for everyone on the bus.
A while back, the passengers voted for a new driver, but some of the big tough guys stood in the front of the bus and collectively told the rest of the passengers that the vote was so close, that they were going to put their own driver in, and we should all get over it. Then we started driving through the poor neighborhoods even faster, running over kids' pets, while the driver and the tough guys hooted and gave the bird to the folks scrambling to get out of the way.  
[more]

war
Only three types of creatures engage in warfare--humans, chimpanzees, and ants. Among humans, warfare is so ubiquitous and historically commonplace that we are often tempted to attribute it to some innate predisposition for slaughter--a gene, perhaps, manifested as a murderous hormone. The earliest archeological evidence of war is from 12,000 years ago, well before such innovations as capitalism and cities and at the very beginning of settled, agricultural life. Sweeping through recorded history, you can find a predilection for warfare among hunter-gatherers, herding and farming peoples, industrial and even post-industrial societies, democracies, and dictatorships. The good old pop-feminist explanation--testosterone--would seem, at first sight, to fit the facts.
But war is too complex and collective an activity to be accounted for by any warlike instinct lurking within the individual psyche. Battles, in which the violence occurs, are only one part of war, most of which consists of preparation for battle--training, the manufacture of weapons, the organization of supply lines, etc. There is no plausible instinct, for example, that could impel a man to leave home, cut his hair short, and drill for hours in tight formation.
[more]
thanks to also not found in nature
elephants
'Babar the Elephant' creator dies at 99
Cecile de Brunhoff, the inspiration for Babar, the enchanting little elephant whose adventures captivated generations of children, has died in Paris. She was 99.
[more]
thanks to Speckled paint
iraq
vietnam on internet time
For a continous war update see: The Agonist
For analysis see: dailyKOS and Talking Points Memo
For a blog of an unembedded journalist: Back to Iraq 2.0

Too much to watch
A Jordanian in Amman covers his face in front of a television showing a U.S. Marine draping a U.S. flag over the face of a statue of Iraqi President Saddam Hussein in Baghdad on Wednesday. Jubilant Iraqis tied a noose around the statue and pelted it with shoes as Saddam's 24-year rule collapsed in chaos.
[more]
Robert Fisk: The dogs were yelping. They knew bombs were on the way
Day 20 of America's war for the "liberation" of Iraq was another day of fire, pain and death. It started with an attack by two A-10 jets that danced in the air like acrobats, tipping on one wing, sliding down the sky to turn on another, and spraying burning phosphorus to mislead heat-seeking missiles before turning their cannons on a government ministry and plastering it with depleted uranium shells. The day ended in blood-streaked hospital corridors and with three foreign correspondents dead and five wounded.
[more]

iraq and the arab world
Exclusive: Betrayal on All Sides
Now it's obvious that the Iraqis aren't going to put up a credible fight, and it's equally clear that as a result the world has changed into pretty much what the Americans wanted it to be. The pride the Arabs felt in the initial stages of the invasion, before those legendary "pockets of resistance" halting the advance of the world's only superpower were revealed as a myth, has been replaced by immense shame and humiliation. The images of US soldiers taking a picnic in the heart of Baghdad will haunt the Arab psyche for generations to come.
[more]
thanks to thoughts on the eve of the apocalypse
Arab world riven by fury and despair
As American forces tighten their grip in Baghdad, much of the Arab world appears reluctant to accept the inevitable fall of Saddam Hussein's regime. Some are refusing to believe the news or are sinking into quiet despair.
Some commentators were clinging to a vain hope that the Iraqi leader may have one final masterstroke up his sleeve, while militants view suicide attacks as the Arab world's only chance of escape from American domination.
[more]

iraq aid
Postwar Humanitarian Aid Plans in Disarray
Critical humanitarian action for postwar Iraq is in disarray as the endgame approaches in Baghdad. Near-riots break out at feeding stations near Basra. Nobody can agree on how relief should be delivered and who should do it. This squabbling has gone on for months, while Iraq's civilians get by on food stocks set to run out by May Day.
The human costs of this war have not been so high as anticipated, but stemming imminent disaster now proves far more complicated than anyone realized. American troops entering Najaf arrived without the one thing residents needed - water, the supply of which had been cut for four days. Last week the Baghdad power grid failed, affecting public health facilities like hospitals and sewage treatment plants. The water system in Basra, a city of more than a million people, also failed. Together, dirty water could threaten nearly a fifth of Iraq's population with epidemic disease.
[more]
Chaos stymies aid work in Iraq
Hospitals overwhelmed; Red Cross briefly suspends operations after worker killed in Baghdad
Chaos and jubilation joined Thursday to further confuse what aid workers described as an "extremely critical" humanitarian situation in Iraq, overwhelming hospitals and preventing power and water workers from reaching their jobs. Conditions were so dangerous that the International Committee of the Red Cross, the first line of defense against death and disease among the war-weary, suspended its operations in Baghdad for a while.
[more]
iraq and the u.s.
The War's Dirty Secret: It's About Changing United States, Not Iraq
Much to her surprise, the federal government is promising to do everything Los Angeles Congresswoman Maxine Waters has spent years fighting for.
Education for the neediest souls will be transformed, quality health care will be guaranteed, damaged roadways and bridges will be rebuilt, and millions of dollars will be spent to spur new business.
Waters just never figured the beneficiaries would be residents of Iraq.
[more]
thanks to wood s lot
This comes to mind because of a bitter conversation I heard today. People were asking "where are the jobs, because they must be here if they can spend all that money in Iraq".
At a time of unprecidented fiscal crises in nearly every state and in most major cities in the US, there is a plan to spend billions on Iraq. The problem is that while there was a great deal of interest in spending that money in Iraq, including reforming education and spending money on universal health care, while the President only offers more tax cuts for the wealthy as our solutions. So if you live in Iraq, maybe occasionally shoot at Americans and teach children we are the great Satan returned, we will pay for your health care. Join the US Army, come home to Bay Ridge, you get no free health care and we'll cut your veterans benefits.
Someone else said, when they heard of the plan "maybe we ought to bring Saddam to Brooklyn, because then they can attack Brooklyn and give them healthcare."
[more]
Soldiers now fighting in Iraq are being exposed to battlefield hazards that have been associated with the 'Gulf War Syndrome' that afflicts a quarter-million veterans of the 1991 war, said a former Central Command Army officer in Operation Desert Storm.
Part of the threat today includes greater exposure to battlefield byproducts of 'depleted uranium' munitions used in combat, said the former officer and other Desert Storm veterans trained in battlefield health and safety.
[more]
After Iraq: Perpetual War and a Nuclear World
John Bolton is at it again. Just in case the Arabs were worried that the attack on Iraq is just the beginning of an American crusade, the Assistant Secretary of State for Disarmament Affairs rushed to confirm their worst fears.
Speaking on the U.S.-financed Arabic station Radio Sawa, Bolton declared: "We are hoping that the elimination of the dictatorial regime of Saddam Hussein and the elimination of all of Iraq's weapons of mass destruction would be important lessons to other countries in the region, particularly Syria, Libya, and Iran, that the cost of their pursuit of weapons of mass destruction is potentially quite high." The statement is especially significant, coming as it does from the man who went to Israel two months ago to promise Ariel Sharon that "it will be necessary to deal with threats from Syria, Iran and North Korea afterwards."
Of the list of likely villains, Syria – Israel's neighbor – is shaping up to be the strongest candidate for the next war of "liberation." The administration is already preparing the reasons why Syria should be the next in line – for arming Saddam, hosting his hidden weapons, and supporting terrorism.
[more]
iraq — now what?
Let's say we fully control Baghdad in the next week or so and the rest of the cities in the next month. What Iraqi government official surrenders? Who runs things? Do we just slide from Saddam rule to American rule?
We have set up clear political goals, remove Saddam, establish democracy, but the problem is that we have no power base to work with.
Kamiya and his fellow liberals in the INC have no power. They say nice things, but they are largely strangers in Iraq. Saddam killed anyone who could be considered opposition, except for the hardest of the hard core clerics and guerrillas. The tribal leaders have been courted, bribed, threatened and have limited power. The Baathists, tainted by their connection to Saddam, still control the levers of government.
Tom Friedman suggested that Iraq was either an Arab Switzerland or an Arab Yugoslavia. I would suggest a third alternative: an Arab Congo.
[more]
Looting breaks out in Baghdad, British control looting in Basra
They're happy today, because the Marines mean Saddam is gone. What happens when those same Marines have to give them orders directed from the new US governor of the province? Will they be happy then?
If this is liberation, why didn't they fight, and why did they loot their own city? No cops, no soldiers, just a power vacuum. What bothers me is what will they do when we try to impose not just basic order, but a military government.
There are so many armed people running around. They didn't surrender, they weren't killed. The US has to do something to get those weapons under control. There are armed fighters from all over the Arab world, armed Saddam loyalists, no chemical weapons found, Shia clerics and a 15,000 man guerrilla army.
Remember, the Catholics were happy to see the British Army in Belfast in 1969. They were there to protect tyhe Catholics from Protestant mobs. It only took weeks before the stones started flying.
[more]
Hold Your Applause
By Thomas L. Friedman
We are so caught up with our own story of "America's liberation of Iraq," and the Arab TV networks are so caught up with their own story of "America's occupation of Iraq," that everyone seems to have lost sight of the real lives of Iraqis.
"We are lost," said Zakiya Jassim, a hospital maintenance worker. "The situation is getting worse. I don't care about Saddam. He is far away. I want my country to be normal."
America broke Iraq; now America owns Iraq, and it owns the primary responsibility for normalizing it. If the water doesn't flow, if the food doesn't arrive, if the rains don't come and if the sun doesn't shine, it's now America's fault. We'd better get used to it, we'd better make things right, we'd better do it soon, and we'd better get all the help we can get.   
[more]
Some Iraqis Are Grateful, But Still Wary of U.S. Plans
At that point, an elderly man, Sultan Mahdi, stepped forward to declaim that such ambivalence was an evasion. "For 75 years I have been alive, and I'll say this," he said. "If the Iraqi people loved Saddam Hussein, the American military wouldn't be able to last one day in Iraq. Not one day. We would attack them.
"If Bush just wants to get rid of Saddam, that's fine, but if he is going to try go alter our basic institutions, like our religion and traditions and culture, then he will have no support."
[more]
thanks to Zoe
THE REAL WAR
Now it starts
There are many differences between the two competing visions of postwar Iraq, and I have covered some of them here. But the one disparity that stands out is that the Morganthau-type plan put out by the neocons, and favored by the Pentagon, assumes a permanent American troop presence. It is an implicitly colonial model, that sees the US military as the de facto ruler of a conquered province – and Iraq as a forward base for future military operations.
The UN-Powell plan, on the other hand, assumes some endpoint to an American military presence. It is an exit strategy, a major aspect of the Powellian view of warfare, that basically amounts to asking the rest of the world to clean up the mess we made, even though they opposed us making it in the first place. This will be far less costly, and risky, for the US, but politically it will be hard to pull off. If anyone can do it, Powell can – if he ever gets the chance.
That hardly seems likely, however. The news that James Woolsey, former CIA director under Bill Clinton – and a tireless advocate of "World War IV" – is on the list of administration favorites to lead the "interim" Iraqi government is a not so subtle hint as to which plan is favored by the White House.
In our accelerated, totally-wired, up-to-the-minute, fully-"embedded" hyper-reality, where immediacy is everything, the war will have lasted but a few weeks, a month or so at the most. But the real war is going to be the long occupation, during which US troops will be sitting ducks for every Islamist nutball in a region filled with them – and the War Party will be looking for new lands to conquer. The danger could not be greater.
God help us all.
[more]
thanks to Cursor
Is this what we thought we were fighting for?
Hawks find no shortage of enemies abroad; Sen. Stevens says police and firefighters aren't sacrificing enough
So, we've got a crook, a Zionist and an old spy who thinks this is the beginning of WWIV set to run Iraq. How lucky can the Iraqis get? Is this what we thought we were fighting for?
[more]
iraq — why?
Secret Bechtel Documents Reveal:
Yes, It Is About Oil
Is the war against Iraq all about oil? Not to hear Defense Secretary Donald Rumsfeld tell it. Back on Nov. 15, he called the notion that oil was the real reason behind the Bush administration's drive against Saddam Hussein "nonsense," saying, "It has nothing to do with oil, literally nothing to do with oil."
But a new study released by the Institute for Policy Studies, based upon secret diplomatic cables just declassified by the National Archives, and internal communications of the Bechtel Corporation, suggests just the opposite?that oil is the underlying cause of this war.
[more]
The Reason Why
by George McGovern
The President and his team, building on the trauma of 9/11, have falsely linked Saddam Hussein's Iraq to that tragedy and then falsely built him up as a deadly threat to America and to world peace. These falsehoods are rejected by the UN and nearly all of the world's people. We will, of course, win the war with Iraq. But what of the question raised in the Bible that both George Bush and I read: "What does it profit a man to gain the whole world and lose his own soul," or the soul of his nation?
It has been argued that the Iraqi leader is hiding a few weapons of mass destruction, which we and eight other countries have long held. But can it be assumed that he would insure his incineration by attacking the United States? Can it be assumed that if we are to save ourselves we must strike Iraq before Iraq strikes us? This same reasoning was frequently employed during the half-century of cold war by hotheads recommending that we atomize the Soviet Union and China before they atomize us. Courtesy of The New Yorker, we are reminded of Tolstoy's observation: "What an immense mass of evil must result...from allowing men to assume the right of anticipating what may happen." Or again, consider the words of Lord Stanmore, who concluded after the suicidal charge of the Light Brigade that it was "undertaken to resist an attack that was never threatened and probably never contemplated." The symphony of falsehood orchestrated by the Bush team has been de-vised to defeat an Iraqi onslaught that "was never threatened and probably never comtemplated."
[more]
thanks to reading & writing
cartoons
I first discovered Horsey in the UW Daily, during his student days.
P-I's Horsey wins second Pulitzer Prize
Cartoonist says 2002 was rich in targets [Editor's comment: Duh!]
David Horsey, the Post-Intelligencer's award-winning editorial cartoonist, doesn't typically sip champagne at work at midday. But he's starting to get used to it.
Bubbly flowed in the P-I newsroom in 1999 when Horsey was awarded a Pulitzer Prize -- journalism's most prestigious honor -- for editorial cartooning. Corks popped again yesterday when Horsey achieved a rarity: a second Pulitzer for cartooning.
[more]
The Seattle Post-Intelligencer's David Horsey won the 2003 Pulitzer Prize for Distinguished Editorial Cartoons in the nation's most prestigious journalism contest. These cartoons were included in his Pulitzer entry.
[more]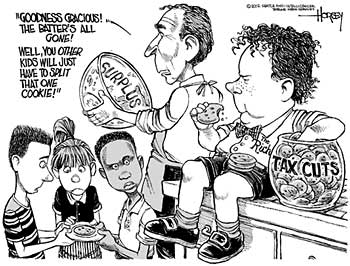 america — where have you gone?
The U.S. Betrays Its Core Values
by Gunter Grass
Disturbed and powerless, but also filled with anger, we are witnessing the moral decline of the world's only superpower, burdened by the knowledge that only one consequence of this organized madness is certain: Motivation for more terrorism is being provided, for more violence and counter-violence. Is this really the United States of America, the country we fondly remember for any number of reasons? The generous benefactor of the Marshall Plan? The forbearing instructor in the lessons of democracy? The candid self-critic? The country that once made use of the teachings of the European Enlightenment to throw off its colonial masters and to provide itself with an exemplary constitution? Is this the country that made freedom of speech an incontrovertible human right?
It is not just foreigners who cringe as this ideal pales to the point where it is now a caricature of itself. There are many Americans who love their country too, people who are horrified by the betrayal of their founding values and by the hubris of those holding the reins of power. I stand with them. By their side, I declare myself pro-American. I protest with them against the brutalities brought about by the injustice of the mighty, against all restrictions of the freedom of expression, against information control reminiscent of the practices of totalitarian states and against the cynical equations that make the death of thousands of women and children acceptable so long as economic and political interests are protected.
[more]

anatomy
Images from
Anatomia Universa
[more]
thanks to dublog
remember afghanistan?
Taliban Reviving Structure in Afghanistan
Before executing the International Red Cross worker, the Taliban gunmen made a satellite telephone call to their superior for instructions: Kill him?
Kill him, the order came back, and Ricardo Munguia, whose body was found with 20 bullet wounds last month, became the first foreign aid worker to die in Afghanistan since the Taliban's ouster from power 18 months ago.
The manner of his death suggests the Taliban is not only determined to remain a force in this country, but is reorganizing and reviving its command structure.
[more]

fauna
Nature Journal Declares Catastrophic Decline of Africa's Apes
Scientists from the New York-based Wildlife Conservation Society, Princeton University, and other organizations have reported in the latest issue of the journal Nature that a dramatic decline of gorillas and chimpanzees is taking place in western equatorial Africa, the last stronghold for great apes on the continent.  Ravaged first by a wave of commercial hunting, and more recently by an outbreak of the deadly Ebola virus, gorillas and chimpanzees could be pushed to the brink of extinction during the next decade without immediate protective measures, scientists warn.
[more]
thanks to Dumbmonkey
candy
These pages all came form a 1949 candy salesman book - this is a good cross section of the candy that was available to the national market.
[more]
thanks to Speckled paint

Unsung heroes
All over the world, Israeli peace activists are being showered with awards and attention. Why is it, then, that the Israeli media and the public ignore them?
It seems that in Europe you are much more welcome than in Israel.
"I have a strange feeling when I go from Israel to Europe. Instead of being a member of a small and persecuted minority, I suddenly become the majority. In the foreign ministries of the European countries I find an atmosphere of complete agreement. In the past year alone I have been in four such ministries. I can only imagine how I would feel today in the Israeli Foreign Ministry. I am completely cut off from Israeli diplomacy. They are vigorously propagandizing abroad in favor of Sharon, and former leftists are the worst of all, because they want to prove their loyalty. At all the prizes I have received to date, the ambassadors from the Palestine Liberation Organization in those [prize-awarding] countries were present, and only once was the Israeli ambassador present, and it was extremely moving. That was in Germany in 1995, still during the Oslo period, and our ambassador was Avi Primor. He and the PLO ambassador shook hands festively in front of the entire audience, and it was the first and last time that happened."
Are you sometimes concerned by the possibility that when you level criticism at Israel abroad, you are liable to cause harm to the country?
"Because I believe that Israeli-Palestinian peace is an existential need for the State of Israel, I don't find this approach valid. What causes us harm is the government policy. I keep saying in my lectures that you don't have to be against Palestine or in favor of Israel, but in favor of both."
[more]
War provides cover for a fresh Israeli crackdown
While the world focuses on Iraq, 17 Palestinians have been killed and more than 1000 detained as Israeli forces step up 'anti-terrorism' raids. Robert Tait in Jerusalem reports
Road Map to Nowhere: Because Israel Says So
There is more than one problem with the so-called "Road Map for Peace" in the Middle East. But the greatest hurdle of them all is Israel's rejection of the plan, put forth by the United States, jointly with the rest of the so-called Middle East quartet, consisting of the US, the European Union, Russia and the United Nations.
Israel has made it clear that it has no interest in the comprehensive plan, detailing a final solution to one of the Middle East's most lingering conflicts. Clear rejection was uttered directly by Israeli Prime Minister Ariel Sharon on Saturday, January 18, 2003, ahead of his country's general elections. In an Interview with Newsweek, Sharon claimed, "Oh, the quartet is nothing! Don't take it seriously. There is [another] plan that will work."
[more]

photography
Tune Andersen
Fotograf og billedkunstner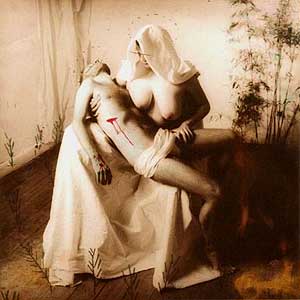 [more]
thanks to Speckled paint
justice — unless, of course, you are a person
Calpundit is pissed off about this...
(3) State Farm v. Campbell, which strikes me as a true outrage when compared to the Court's decisions a few weeks ago on the California three strikes cases. We know now that, according to this Court, putting someone in jail for 25-to-life for stealing a few golf clubs is JUST PEACHY, but that punishing a company with a $145 million penalty for a $ 1 million tort is WAY TOO DRACONIAN AND THEREFORE UNCONSTITUTIONAL!!! [updated insert: indeed, the majority even says that in nearly all cases, a punishment that was even just more than 10 times the compensatory award would be unconstitutional. Try squaring that with 25-to-life for some golf clubs worth about $1000 dollars!]
[more]
I still can't get over the Supreme Court's blatantly greater solicitude for corporations than for people, comparing yesterday's punitive damages case (State Farm v. Campbell) with the Three Strikes cases (Ewing and Andrade). As I posted yesterday, it strikes me as a major outrage.
[more]
Is there any question that this country is run by the corporations and for the corporations? There shouldn't be.
movies
"Vertigo"
Then and Now
Before and after images of various San Francisco locations used in Alfred Hitchcock's 1958 masterpiece.
Castro and Market
Madeleine turns left onto Market and veers right to 17th Street making her way to the California Palace of the Legion of Honor to sit before the Portrait of Carlotta.
1958

2003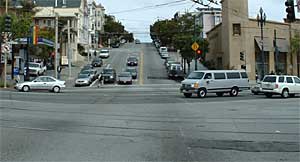 thanks to Coudal Partners
economy
Fed crafts economic rescue plan
Move reflects recession fears
Confronting new fears of recession, the Federal Reserve is refining an emergency economic rescue plan that includes further interest rate cuts and billions of dollars in extra cash for the banking system.
The Fed's effort would be aimed at pulling the country out of a nose dive that has seen 465,000 jobs evaporate in just the past two months, raising fears among economists that the weak recovery from the 2001 recession is in danger of stalling out altogether.
[more]
thanks to Eschaton
Economies begin march to recession
G7 indicators turning south
Carl Weinberg says he can't remember the last time he saw such a stream of universally miserable economic reports as those that poured out of the global economy last week.
"Every country we watch, in the last few days, has reported at least one indicator turned south or very depressed," said the chief economist of High Frequency Economics. "Almost every one of the declines booked was impressive."
Welcome to the global economy. It's more synchronized than ever, but the consensus among policymakers over how to manage it appears more fractured than ever.
[more]
thanks to DANGEROUSMETA!
travel art
THE ILLUSTRATING TRAVELER:
ADVENTURE AND ILLUSTRATION IN NORTH AMERICA AND THE CARIBBEAN 1760-1895
The travel narrative is one of the earliest and most enduring of literary genres. From the Odyssey onward, the interest of the public in hearing tales of foreign places, and the desire of the traveler to tell them, have never wavered. Through their words of description writers tried to provide their readers with pictures of places and things seen. Early travel narratives very seldom contained accurate illustrations; pictures were generally included for decoration, not illustration and readers relied on the verbal text for information.
In the 18th century travel accounts began increasingly to incorporate illustration as a parallel visual text to describe and explain the observations of travelers. The ability of pictures to accurately convey detail and nuance gave both the artistic and scientific traveler a new tool with which to explain their experience to the reader. With the invention of the new printing techniques of aquatint and lithography in the late 18th and early 19th centuries the possible uses for illustration increased in sophistication and affordability.
[more]
thanks to dublog
war and hair
I don't know if I was brave or stupid but I ended up having an anti-war chat, in public, with a lot of women, some with scissors, others with color, up in Oak Harbor, WA., home of the Whidbey Island Naval Air Station.
[more]
[Disclosure: Zoe is my LOML.]

movie poster art
Welcome to Posteritati's searchable movie poster web site, where our entire inventory is always on display. We always have the quickest and most varied searching capabilities.
[more]
thanks to Coudal Partners
iraq
vietnam on internet time
For a continous war update see: The Agonist
For analysis see: dailyKOS and Talking Points Memo
For a blog of an unembedded journalist: Back to Iraq 2.0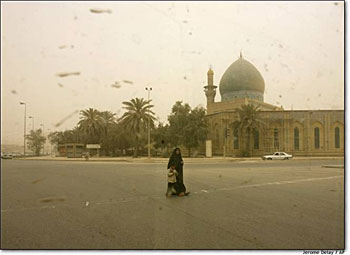 Eerily quiet capital
An Iraqi woman seen through the window of a press bus walks with a child across an otherwise empty square in downtown Baghdad on Monday.
[more]
The Battle of Baghdad
'Ever so slowly, the suburbs were turned into battlefields'
By Robert Fisk
The Iraqi bodies were piled high in the pick-up truck in front of me, army boots hanging over the tailboard, a soldier with a rifle sitting beside them. Beside the highway, a squad of troops was stacking grenades as the ground beneath us vibrated with the impact of US air strikes. The area was called Qadisiya. It was Iraq's last front line. Thus did the Battle for Baghdad enter its first hours, a conflict that promises to be both dirty and cruel
[more]
Iraq War: The Movie
You don't have to wait for the film version.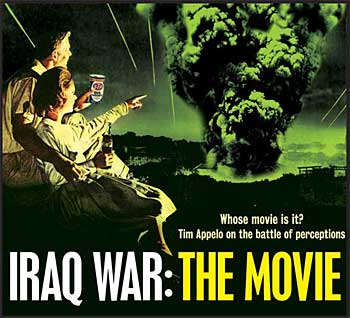 Movie dreams, if they're grand enough, have a horrible way of becoming reality. In America, where there is so much less to foment terrorist thinking, there was once a film in development called Ten Soldiers, a Lord of the Flies–like cautionary fable about children reverting to violence. The studio handed the project over to Gen. Al Haig, who made the screenwriter rewrite it according to the crazed notions of right-wing think tanks very like the fringe-dwelling loonies who later wrote the 2000 Project for the New American Century (the blueprint these loonies are using to bend the world to their mad, visionary will, now that they've corrupted the Supreme Court, seized control of the U.S. government, hypnotized the public, and exploited the opportunity Osama and Saddam have handed them). The movie became Red Dawn, a fantasy about a small band of fanatics defending their home soil against "the enemy": back then, Russia, Cuba, and pinkos in Mexico. "It will be a surefire international blockbuster," the right-wingers said. It wasn't; just a $40 million mediocrity.
But it did succeed in serving as the chief career inspiration for at least one young visionary: Timothy McVeigh, until 9/11 the most destructive terrorist in U.S. history.
How many young Islamic terrorists do you suppose the movie Gulf War II will inspire?
[more]
Support of U.S. Military Role in Mideast Grows
Buoyed by success on the battlefield, most Americans now express support for an expansive U.S. role in the Middle East, with a clear majority backing the war in Iraq and half endorsing military action against Iran if it continues to develop nuclear weapons, according to a new Los Angeles Times poll.
[more]
thanks to Eschaton
The US mistake lies in failing to recognise three key trends. The first is the demographic process that has resulted in many tens of millions of young people who are increasingly marginalised from economic participation. This is compounded by the second trend, the effect of secondary and tertiary education on millions of people across the region, giving them a much clearer understanding of what is happening. Such people all too frequently see their ruling elites as benefiting at their expense as well as being inextricably linked with the US and other western states. The third trend is the existence of new channels of communication like al-Jazeera that present the realities in the Middle East in a way that has not hitherto existed.
The end result is a bitterness that will express itself in many different ways in the coming years, not least in the development of further radical and extreme social movements such as al-Qaida. Even in Iraq itself, there may be sustained resistance to US dominance, but this will be marginal compared with the reaction across the region.
[more]
thanks to PageCount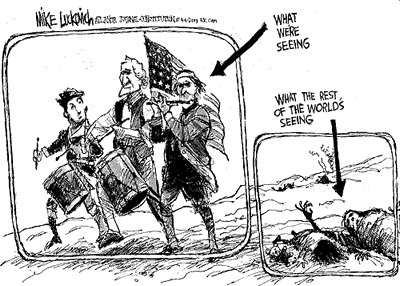 thanks to Politics in the Zeros
U.S. Fumbling Postwar Plan thanks to CalPundit
Turf War Rages in Washington Over Who Will Rule Iraq
The war that may end the age of superpower thanks to also not found in nature
Iraq Debts Add Up to Trouble
Economists say Bush administration officials are wrong to assume that petroleum revenue will pay for postwar reconstruction.
Unhappy endings
The Downing Street dream factory paints a hopeful postwar future. But everyone else sees potential disaster thanks to PageCount
Hearts, minds and bodybags
Iraq can't be a Vietnam, pundits insist. Those who were there know better
Rage, Hubris, and Regime Change thanks to Talking Points Memo
John Sutherland
There is really on one source of reliable information on this war - and it's coming from Russian spies thanks to The Agonist
poster art
This project was started in early March on a public design forum, in the midst of spirited debate over the impending war in Iraq. One member of the design forum suggested that the other members offset their war anxieties by focusing their energies in a more positive way. He encouraged everyone to create posters that expressed their views of the war.
[more]
korea
North Korea and the US 'on a slide towards conflict'
War in North Korea is now almost inevitable because of the country's diplomatic stalemate with America, a senior UN official claims.
Ahead of this week's crucial talks between members of the UN Security Council, Maurice Strong, special adviser to the Secretary General Kofi Annan, was gloomy on the chances of a peaceful settlement.
I think war is unnecessary, it's unthinkable and unfortunately it's entirely possible,' he said.
[more]
North Korea to put faith in deterrence
North Korea appeared to abandon diplomatic negotiation as a means of settling its nuclear dispute with the US yesterday, with a warning that only "tremendous military deterrence" could prevent Pyongyang suffering the same fate as Baghdad.
Backtracking from its central negotiating demand - a non-aggression treaty - the foreign ministry said yesterday that the Iraq war had proved that peace deals were all but worthless if they required disarmament.
"The Iraqi war shows that to allow disarming through inspection does not help avert a war but rather sparks it," its statement said
[more]
congratulations to tom tomorrow — a fine cartoonist and blogger
I just got a call from Ethel Kennedy...
...letting me know that I've won the Robert F. Kennedy Journalism Award for cartooning for the second time (first was in 1998).
It's a good way to close out the week.
[more]
This Modern World: Like father, like son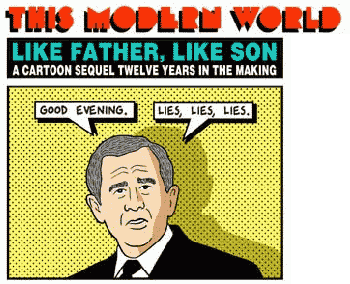 [more]

Jews settle in Palestinian Jerusalem
Sharon tests Bush, Blair and the road map by letting families occupy contested district
Ariel Sharon has brushed aside an appeal by the White House to stop an unprecedented move by Jewish settlers into a Palestinian district of Jersualem which his critics say will further hinder a political settlement.
After more than two years of legal and political wrangling, Mr Sharon's office approved the plan last week and the first Jewish families have moved into new flats in the Ma'aleh Ha'zeitim settlement, beside the densely populated Arab district of Ras al-Amoud.
It is the first time a Jewish settlement has been built in a Palestinian area of Jerusalem since Israel seized control of the entire city in 1967.
[more]
When are people going to realize that Sharon has zero interst in a political settlement?
Was Einstein Right?
Israel's Bloody Excesses
But even in a cause so dear to his heart, Einstein never stopped thinking for himself. He not only opposed the establishment of a formal Israeli state--he was after all a great internationalist--but he always advocated treating the Arabic people of Palestine with generosity and understanding.
Clearly Einstein's Zionist path was not the one followed. The actual path chosen by Israel has been pretty much that of "the iron wall," a phrase put forward by Ze'ev Jabotinsky in the 1920s as the appropriate posture for Zionists to adopt towards Arabs in Palestine.
[more]
WAS THIS HOUSE WORTH HER LIFE?
ELI SANDERS reports from the Gaza Strip on the death of Olympia's Rachel Corrie--Evergreen student, anarchist, activist, and accidental martyr.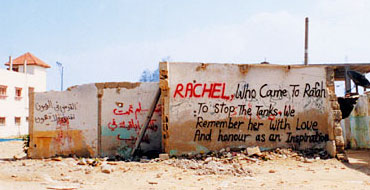 RAFAH, GAZA STRIP--At first, the doctor did not want to see me. I had come by dirt road to his small pharmacy in this dingy town along the border between the Gaza Strip and Egypt because I wanted to ask about the young woman from America--the one who died defending his house. He did not want to talk about her. He was tired of talking to journalists. He now required appointments to be made in advance.
I didn't know about the new policy, I said. I apologized. Our guide gave him a cigarette. I said I was from Seattle, near the city where Rachel Corrie grew up. I told him I wanted to learn more about what happened. "Okay," he said. "Come."
The doctor, Samir Masri, is known to all as simply Dr. Samir, and he is now famous in this city because it was his house Rachel was defending when she was killed by one of the giant armored Israeli bulldozers that people here say terrorize them.
[more]

bug art
[more]
thanks to hatley.org
mlk, war, and the poor
King's Legacy: Americans Must Choose Between War and Social Progress
Thirty-five years ago Martin Luther King, Jr. was assassinated in Memphis.
Exactly one year before, on April 4, 1967, he had made one of the most fateful speeches of his life, denouncing the Vietnam War and calling on young men to resist the draft.
". . . I knew that America would never invest the necessary funds or energies in rehabilitating its poor so long as adventures like Vietnam continued to draw men and skills and money like some demonic destructive suction tube," he said.
"So I was increasingly compelled to see the war as an enemy of the poor and to attack it as such."
These words proved to be prophetic. But as true as they were then, they are many times truer today. While George W. Bush was requesting $75 billion from Congress as a first installment for the war in Iraq, state governments were slashing billions from education and health care spending for the poor.
[more]

magazines
thescreamonline.com
A Magazine for Art, Photography, Literature
ram • i • fi • ca • tion n. 1. The act of branching out or dividing into branches. 2. A branch or other subordinate part extending from a main body. 3. An arrangement of branches or branching parts. syn. divergence, outgrowth, consequence, development, complication, technicality, subtlety. TheScreamOnline has branched out significantly since its June 2001 premier issue, embracing such subjects as the Chelyabinsk-40 plutonium site in Russia; the images of U.N. photographer John Isaac; the wrenching Holocaust poetry of John Guzlowski; Jim Perry's discovery of slave traders in his family; a generous array of art featuring the talents of painters, illustrators, sculptors, and one digital artist; and topics so strange and bizarre that they could come from nowhere else in the animal kingdom but Homo Sapiens: a house of cheese, hats of meat, Naked News, and the unfortunate meeting of a bird and a 97-mile-per-hour baseball (click on the Past Issues button at the upper left to see all articles).
[more]
The Towercam Unit is mounted on the east side of the UCLA 150-Foot Solar Tower, at Mount Wilson Observatory. The base of this telescope is at an elevation of 5672 feet above mean sea level, and the towercam itself is mounted on a rail 150 feet above that. Typically, the towercam points towards the 100-inch telescope dome at an azimuth of 45 degrees east of true north.
[more]
thanks to MetaFilter
music
I've been listening to The Be Good Tanyas all weekend. I can't stop! Their site has many mp3s and RealAudio as well as a couple of video clips. It's been awhile since I couldn't stop playing a CD.
Those thirsty for real backwoods hooch to chase the mass-market Zima of recent "roots-influenced" chart toppers should take a swig of the Be Good Tanyas. On their second release, Chinatown, the British Columbia trio offer up invigorating versions of traditional tunes, like "Reuben", as well as sweet-and-dirty originals such as the lush "Ship Out on the Sea." BGT are strongest on the darker songs, like Townes Van Zandt's haunting "Waiting Around to Die" ("Well one time friends I had a ma/I even had a pa/He beat her with a belt once cause she cried"). These knotty-pine girls sound like no one else -- and no one else would sing two songs about a dead dog.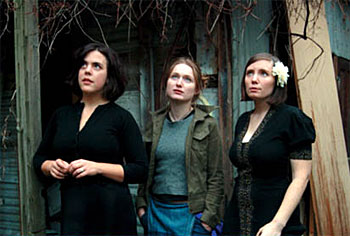 [more]
thanks to wood s lot