Archives
the anti-suv
The Bruce Weiner Microcar Museum
[more]
thanks to panoramas.dk
canada — land of the free
U.S. says Canada cares too much about liberties
Terrorism report also says too little spent on police
The United States says the lack of funding for police and restrictive privacy legislation in Canada are frustrating probes of political extremists.
The comments in an annual report on international terrorism were the latest critical remarks from the U.S. apparently aimed at prodding Canada to bring its security measures in line.
The State Department report on global terrorism for 2002 suggests that while Canada has been helpful in the fight against terrorism, it doesn't spend enough on policing and places too much emphasis on civil liberties.
It says "some U.S. law enforcement officers have expressed concern" about Canadian privacy laws.
The U.S. officers feel those laws, as well as funding levels for law enforcement, "inhibit a fuller and more timely exchange of information and response to requests for assistance," the report says.
"Also, Canadian laws and regulations intended to protect Canadian citizens and landed immigrants from government intrusion sometimes limit the depth of investigations."
[more]

iraq
Killings in Al Fallujah, City of Mosques
Has America Taken on a New Military Culture with New Rules that Allow Us to Kill Civilians at Will?
What happened next has raised questions among Iraqis and many international Middle East experts. Crowds gathered and demanded the troops leave. As the crowds became louder and more insistent, the American troops fired into the crowd and killed 13 people and injured more than 20 more according to doctors at the local hospital. The American troops said they were fired on; but all other witnesses at the scene denied the gunfire came from the demonstrators. Today, 2 more people were killed and more injured, with the Muslims of Al Fallujah and the city officials saying no one shot at the Americans, the American troops claiming otherwise.
There is something troubling about this situation. Why is it that crowds of people cannot be dispersed by tear gas rather than bullets? Certainly, this is not an unknown tactic.
Furthermore, why is it that the American troops insist in remaining or trying to remain in these "holy cities"? Surely, the commanders must be at least half way intelligent; they should know this will cause upset and protests. Or, are these commanders following orders from above so that there can be cause for firing on the crowds in order to terrorize them into submission-just as the Israelis do to the Palestinians? Are the American troops following the Israeli style of occupation, massive force, even against stone and shoe throwing protesters to show them that America controls Iraq and that the Iraqis had better get used to it in a hurry?
[more]
Independent Baghdad militias carve out turf
Gun-toting guards bring back memories of Beirut, Mogadishu
The Iraqi capital these days appears to be awash in gunmen waving or shouldering automatic rifles.
Members of a Sunni Muslim-led exile force suddenly set up checkpoints and snarl traffic in one neighborhood. Kurdish bodyguards screen visitors outside political-party offices in another. Shiite Muslims pile into mosques for Friday prayers, casually toting AK-47s they stole from government storehouses.
Three weeks after the collapse of Saddam Hussein's government, quasi-independent militias are carving out turf in the 2,000-square-mile capital, mostly along sectarian lines, much like the Christian, Sunni and Shiite militias that bedeviled Beirut, Lebanon, or the clans that sliced up the Somalian capital of Mogadishu.
[more]
thanks to American Samizdat
Iraq situation critical, warn aid agencies
The Iraqi people will be forced to suffer more death, disease and fear if the coalition does not step up security to help humanitarian aid get through, relief agencies warned today.
[more]
Strong-arm tactics leave the world a weaker place
The United States today is discovering what other great powers have found before it, which is that military victories can have results quite opposite to those intended. The world has not been made more pliant and respectful by a demonstration of American might, but is, on the contrary, more recalcitrant, sulky, and difficult than it was before the war.
[more]
personality defect
What Monty Python Character are you?

When danger reared its ugly head, he bravely
turned his tail and fled!
thanks to reading & writing
labor
May Day has come and gone without much enthusiasm in the United States. But for much of the world, May 1st or International Workers' Day, is a time to celebrate the hard-won victories of working people the world over. Millions march militantly demonstrating the power of ordinary working people.
But here in America, we apathetically go to the factory, the retail counter, and the cubicle, ignorant to the fact that May Day is the product of an American, radical workers' movement that successfully agitated for the 8-hour day during the 1880's.
In these uncertain, tenuous times we have much to learn from these heroic men that braved the Billy-club and bullet to overcome economic exploitation.
Distracted by war, working families are unaware the latest Bush budget slashes funding for healthcare, public education, and proven job creation techniques while the Administration showers lucrative contracts on the military-industrial complex and bankrupts the Treasury on an ill-advised, cynical tax cut for upper class constituents and campaign financiers.
The Administration's hostility toward working people has never been more obvious.
[more]
economy
George Walker Hoover?
President Bush is on track to match Herbert Hoover's record of job destruction.
Now that the war with Iraq is over, President Bush is focusing on passing his proposed tax cut—optimistically dubbed the "Jobs and Growth Plan," rather than the more accurate "Deficits and Deficits Plan."
The Treasury Department is putting out word that accelerating the planned reduction of marginal tax rates, cutting taxes on dividends, and otherwise tinkering with the tax code will create more than 1 million jobs by the end of 2004. The Council of Economic Advisers is more sanguine, estimating the Bush plan will create 1.4 million new jobs by the end of 2004.
But 1.4 million jobs in 18 months isn't many jobs, and it isn't much growth. By historical standards, when it comes to job creation, Bush is shaping up to be more like Herbert Hoover than Ronald Reagan. He stands to preside over the first presidency since Hoover's in which the American economy lost jobs.
[more]
thanks to Tapped
Unemployment jumps to 6%
Jobless rate surges to cyclical high as employers shed another 48,000 jobs from non-farm payrolls.
The U.S. unemployment rate rose to 6 percent in April, the government said Friday, as businesses cut thousands of jobs from their payrolls for the third straight month, extending the longest stretch of labor-market pain since World War II.
[more]
thanks to Brad DeLong's Website
So, what's the real unemployment number?
This morning, the Bureau of Labor Statistics released the April unemployment figures. The rate, which had decreased from its high of 6.0% in December to 5.7% in January, due to a shell game "change in statistical calculations", crept up to 5.8 in March, and returned to 6.0% in April.
But a number of questions have been raised recently on exactly what does the "official" rate mean, and is it indicative of the actual employment picture in the US economy. Last weekend, the New York Times focused on the influence of long-term joblessness on the numbers, as these workers have been purged from the calculations in increasing numbers in the past few months. Yesterday, See the Forest asked what factors are included and does the BLS provide a number which includes such factors as discouraged workers, part-time due to economic factors, etc.
Well, the answer turns out to be yes and no. Or, I should say, the BLS provides that information, but only in "raw" numbers, i.e., not seasonally adjusted. It claims that somehow the information it needs to calculate the "real" unemployment rate, seasonally adjusted, is "not available".
Funny, with a little digging, I was able to do it. By using archived reports, I was able to find those counted as unemployed, those not in the labor force but desiring employment, and those employed part time for economic reasons, e.g., no available full time jobs.
[more]

trailer art
This is our most requested feature - photos of vintage Airstreams listed by year and length. Without any Airstream history books, or any official Airstream guides, listings like this are the only way many people get to see what many of the models look like, how they changed over the years, and find comparison data for that missing part or feature on their model. This listing is the most complete an accurate one available anywhere at this time.
[more]
thanks to Coudal Partners
music
Chrissie Hynde: The great Pretender
Nowadays Hynde says she's content "just getting old and being in a great rock band." She leans forward in her chair and, for the first time in an hour's conversation, lowers her voice. "Look, as long as we can make records and sell enough so we can do some shows, that's all I want. You know what? I just want to play guitar and be in a band. Same as I always did."
[more]
1952
In 1952, a roundup  grocery store closed their doors because of a death in the family and was never opened until a few months ago...Over 50 years have passed! Everything was left, including all the memorabilia you would find in a 50s store...This will be the most interesting collectable auction you may ever attend...We will be taking phone and silent bids if you cannot attend, plus when they went into the basement, they found a speak easy with all the bar signs and memorabilia.....Keep your eye on this web site as pictures will be arriving soon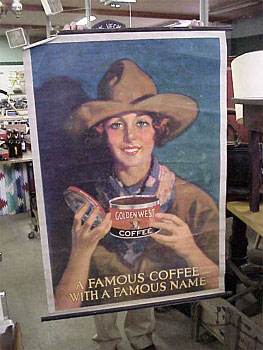 [more]
thanks to BookNotes
time
I don't know who wrote this code, but it sure is clever.
Move the mouse around and watch what happens.
[more]
thanks to Coudal Partners
workers of the world unite!
thanks to Whiskey Bar
afghanistan
Afghanistan, once more the melting pot
As spring approaches in Afghanistan, a number of factors are likely to contribute to a significant escalation of the country's ongoing guerrilla war.
These include Iran, which fears the US presence in its region, Pakistan's mafia groups, a local cartel of Afghan governors-cum-warlords who foresee no political future for themselves in elections scheduled for next year, as well as Islamic radicals looking to regroup for an assault on the United States and it allies.
The border areas alongside Pakistan are the hotbed of these activities, notably around Pakistan's South and North Waziristani belts and the Chaman area.
Increasing reports are emerging from Afghanistan of battles between anti-foreign forces and Afghan militias and US troops, with a number of casualties on both sides. The main characteristic of the guerrilla attacks has been what appears to be, for the first time, a consolidated strategy.
[more]
thanks to The Agonist
comic blogs
The Gulf War Diary started almost spontaniuosly. I was sitting watching the news and grabbed paper and pencil and began drawing a cartoon, starting March 28th I think it was. I didn't know what to do with it so I had it put up on my web site. The cartoons are drawn fast, written pencilled and inked in about an hour. The great limitation I found with print comics was by the time I drew them I had worked and reworked them so much the passion, the urgency was gone. And by the time they were printed and available, months after the event, they were now history. This is, I think, the major advantages of on-line comics, topicality and reach, a genre that otherwise holds little interest for me. I will try to post a cartoon strip day for who knows how long. I'm told what I'm doing is a "blog", which sounds to me like Australian slang for vomiting, so I guess it's not all that orginial. I just knew I had to say something about this war. I've written letters to the editor but I am at heart a cartoonist. This is how I howl...
[more]
thanks to Liberal Arts Mafia

Background / Betting on Abu Mazen - to Lose
The "road map" has been unfurled at last, its destination a independent Palestine by 2005. So why are so many Israeli government hawks walking around with smiles on their faces?
The war in Iraq may be one big reason, the newfound sense among rightists that the Middle East can be made over by force of will, force of arms, and force of example.
Another possibility is rooted in the gambling instincts of George Bush and Ariel Sharon, who may well be betting heavily on new Palestinian Prime Minister Abu Mazen - to lose. (...)
What's in it for Sharon? Eldar believes that the Israeli leader quietly but genuinely believes what Israeli ultra-hawks like Likud cabinet minister Uzi Landau and American neocons like Richard Perle are pleased to say out loud: that everything connected with Oslo must go - up to and including the whole of the Palestinian Authority.
Because the road map is at heart a return to many of the aspects of Oslo and its offshoot the Peres-Abu Ala plan, even with a similar cast of characters, the hawks reject its very basis. As in U.S. neocon recommendations to then-prime minister Benjamin Netanyahu in 1996, "They reject the principle of land for peace. They believe that Israeli-Palestinian military cooperation doesn't work. They believe in peace by force, by regime change. They believe that the victory in Iraq proved that they were right, that the way to deal with terrorism is simply by force."
At the end of the day, "If 'Bush comes to shove' and the administration must decide whether to crack down on Sharon or on Abu Mazen, it's very clear what they are going to do."
[more]
It looks like the Palestinians are being taken again. The bloodshed will continue until the Palestinians get their own country (a real country, not the phony country Israel wants for the Palestinians) or the Israelis make all the Palestinians go away — one way or the other.
AIDS tightens grip on South
Region has 40% of U.S. cases, experts report
The AIDS epidemic is "drastically and quickly" increasing in the South, which already faces a dire shortage of resources to combat the disease, health officials said in a new report Thursday.
"In essence, we're declaring a state of emergency in the South," said Dr. Gene Copello, co-chairman of the Southern AIDS Coalition, made up of health officials in 14 states, including Georgia. "The AIDS epidemic is out of control in the South." (...)
The South is more greatly plagued by AIDS and HIV infections because of racial and economic differences and a conservative cultural attitude that interferes with attempts to halt the disease, the report said.
[more]
thanks to Counterspin Central
Another case of where the mental illness called fundamentalist christianity kills.
collage art
Welcome to Collage Town where we celebrate the art of collage and photomontage -- traditional and digital. The site is constantly developing with exhibits of the finest collage artists working today, information on the history of collage, techniques and a look at classic collage art.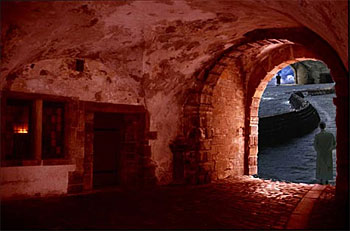 [more]
thanks to Giornale Nuovo
economy
Dollar Slumps as Euro Moves to Fresh Four-Year High
Having tried for several days to shatter long-standing resistance above $1.1084, the euro decisively made the break Wednesday, and was trading above $1.11 in New York for the first time in over four years.
The break -- which happened during Asian trading -- came amid heavy demand for the euro, coupled with continuing concerns about the U.S. economy that conspired to drive the dollar down.
[more]
thanks to The Agonist
Greenspan Says Tax Cut Is Not Needed for Growth
Alan Greenspan, the chairman of the Federal Reserve Board, told Congress today that the economy was poised to grow without further large tax cuts, and that budget deficits resulting from lower taxes without offsetting reductions in spending could be damaging to the economy. Opponents of the large cut favored by President Bush took Mr. Greenspan's testimony as support for their position.
Mr. Greenspan's statements to the House Financial Services Committee were made as new Treasury data showed that tax revenues have arrived at a much slower pace than expected this spring. As a consequence of the revenue shortfall and increased spending enacted this month, government and private analysts said today, the budget deficit this fiscal year will be at least $80 billion higher than the Congressional Budget Office projected last month.
With a large deficit, Mr. Greenspan said, "you will be significantly undercutting the benefits that would be achieved from the tax cuts."
[more]

gorilla art
Gorilla Art
( Paintings by Koko and Michael )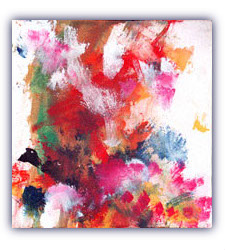 [more]
thanks to The J-Walk Weblog
women's rights
Another example of the destruction that the mental illness of fundamentalist christians causes.
On Women's Rights, Iran Becomes a 'Friend'
The United States sided repeatedly with Iran and other repressive regimes at the annual session of the UN Commission on the Status of Women last month. The commission's agenda was to address women and technology, and violence against women.
The first topic wasn't controversial. The second was.
The American delegation joined with Iran, Pakistan, Sudan, Libya and others in efforts to delete a phrase - included in previously agreed-upon UN statements dating back a decade - that calls on countries to condemn violence against women and "refrain from invoking any custom, tradition or religious consideration" to avoid the obligation to stop the violence.
[more]
thanks to Eschaton
plant art
Endeavour botanical illustrations
The voyage of HMS Endeavour (1768-1771) was the first devoted exclusively to scientific discovery. This site presents most of the botanical drawings and engravings prepared by artist Sydney Parkinson before his untimely death at sea, and by other artists back in England working from Parkinson's initial sketches.

Aechmea sp.
[more]
thanks to plep
dixie chicks
DISMEMBER MS. MAINES! The Dixie Chicks troubled poor Diane Sawyer. But where was this scribe in the past?
SAWYER'S MILL: Diane Sawyer's performance on Thursday's Primetime painted the portrait of a corrupt age. As you know, Dixie Chicks singer Natalie Maines had recently criticized the president of the United States. Maines had said this, on a London stage: "Just so you know, we're ashamed that the president of the United States is from Texas." Result? For a good solid hour on Thursday's show, the troubled Sawyer pursued a retraction. Sawyer's clucking, mother-hen performance has been critiqued by Jim Lewis at Slate.
Sawyer was troubled by Maines' vexing comment. But where was Sawyer a few years ago, when a much more influential public figure was saying much rougher things about the president? That person, of course, was Jerry Falwell. Falwell, a well-known "religious" figure, regularly peddled a tape on his Old Time Gospel Hour which—among many other things—accused the president of the United States of murder.
[more]
thanks to consumptive.org
photography
James Luckett refers to Frank Hurley as the "toughest photographer ever." That doesn't even begin to cover it.
Ernest Shackleton, a British polar explorer, hired Frank Hurley to record, in still and moving pictures, an expedition to Antarctica, the last unexplored region on Earth. By 1914, Norway had beaten England to both the North and South poles. Now, as war loomed in Europe, Shackleton determined to win for England another polar prize: a trek across Antarctica on foot. Hoping to partly finance the expedition through advance sale of photographic, movie, and story rights, Shackleton hired Hurley.
By seeking beauty in icy bleakness, Hurley changed expedition photography forever. Instead of routinely recording day-by-day activities, Hurley chose to tell a dramatic story. He produced a saga that endures in his stunning photographs.
[more]
nuclear madness
Without the UN safety net, even Japan may go nuclear
After North Korea, Japan may be next to build the bomb. This possibility is an additional reason for Russia and China - and, indeed, you and me - to be worried about the knock-on effects of the Korean nuclear crisis.
The notion of a Japanese bomb seems extraordinary because people think of Japan as a nation that has been anti-nuclear since Hiroshima. Japan is a world leader in supporting the UN and it is also at the forefront of UN disarmament efforts, especially to control the spread of rifles and handguns in the developing world. But there has been a long-standing debate in Japan about whether to build the bomb, and today domestic and international pressures are edging Japan towards the nuclear option.
[more]

browsers
10th anniversary of Mosaic browser marked
Ten years ago this month, software developers at the University of Illinois released Mosaic, which used graphical images and simplicity to open the World Wide Web to the masses.
What had been a domain of scientists and computer geeks dominated by cumbersome language and technical complexity became simple enough for nearly anyone to use.
[more]
I discovered the web with Mosaic. I downloaded it from...
ncsa
Please note that this content is no longer updated, but remains available for your use.
Welcome to NCSA Mosaic, an Internet information browser and World Wide Web client. NCSA Mosaic was developed at the National Center for Supercomputing Applications at the University of Illinois in Urbana-Champaign. NCSA Mosaic software is copyrighted by The Board of Trustees of the University of Illinois (UI), and ownership remains with the UI.
[more]
testingtesting
The pictures are up for Monday's show with Sweet Briar (That's my living room. Actually, it's most of my house.) Check out the pictures and listen to some celtic fiddle music.
iraq
Bush might want to wait before declaring victory in Iraq.
To the US troops it was self-defence. To the Iraqis it was murder
To the Americans it was justified self-defence, to most residents it was murder.
What is beyond dispute is that 14 Iraqis were dead yesterday and 70 wounded lay in the main hospital, surrounded by angry family members, after US troops fired on a crowd of demonstrators.
The shooting late on Monday night was the bloodiest incident since the fall of Saddam Hussein. It occurred 40 miles west of Baghdad in an overwhelmingly Sunni town which had been quiet for two weeks until the Americans arrived.
By yesterday the mood was changed. Tempers were highly charged as demonstrators chanted slogans and waved their fists across coils of razor wire at men of the 82nd Air borne Division, the US army's elite paratroopers, who had commandeered a school in a residential street.
[more]
U.S. Troops Fire on Iraqi Protesters Again, Killing 2
United States soldiers opened fire here today on marchers protesting a clash late Monday night in which 15 anti-American demonstrators were reported killed by American troops. The city's mayor and hospital officials said two protesters were killed in today's incident and 14 were wounded.
A United States Army officer said soldiers in a convoy passing the demonstrators were shot at, and then returned fire. There was no immediate indication of any American casualties.
About 1,000 residents marching down Falluja's main street stopped today in front of a battalion headquarters of the United States Army's 82nd Airborne Division, in a compound formerly occupied by Saddam Hussein's Baath Party. The demonstrators were carrying signs condemning Monday night's shooting.
Protesters threw rocks and shoes at the compound and troops opened fire at about 10:30 a.m., scattering the demonstrators.
[more]
Bush's "Iraq Victory Lap 2003" continues unabated, with the latest glorious news:
The People's Mujahedeen, an Iranian terrorist organization based in Iraq, is clearly one of the baddies. While not allied with Al Qaeda, the group killed several Americans in the 70s and supported the takeover of the American Embassy in Tehran in 1979. In other words, these guys are worse than Abu Abbas -- the terrorist whose capture was mightly trumpeted by the administration.
So the group and its 10,000 fighters are in Iraq, in view of US forces. What should the US do? Eradicate them of course. They are terrorists, after all, and isn't that what we do with terrorists? Isn't that one reason we launched a war that cost $80 billion, caused hundreds of allied casualties and thousands of dead Iraqis?
But here's the rub -- the group was deemed a terrorist group by Bill Clinton, and being Clinton's terrorists is not the same as being Bush's terrorists. Got it? So, the US has signed a cease fire agreement with the group that lets them keep their weapons, vehicles and other equipment.
[more]
Army Seizes Massive Files On Iraq's Secret Prisoners
Backed by tanks, U.S. troops have seized millions of Iraqi intelligence files from a citizens group involved in a daunting search for those who disappeared into the secret prisons of fallen president Saddam Hussein.
U.S. Army officers said the operation was meant to protect the files from former government officials who might have an interest in destroying evidence. The records will be translated from Arabic and reviewed before eventually being returned to an interim Iraqi government once it is in place, U.S. officers said.
But watching U.S. troops remove what the citizens group said were the last of 4.2 million files gathered since Baghdad's fall on April 9 infuriated many officials of the Committee of Free Iraqi Prisoners and angered other Iraqis who gather each day in a small courtyard to read lists of prisoners' names. Shouts of anger and groans rose from the crowd, as some surged forward to see the files before they were removed.
[more]
Top Iraqi Prisoners All Denying Saddam Had Weapons of Mass Destruction
persian stories
[more]
thanks to Speckled paint
korea
US rejects weapons offer from N Korea
The White House ruled out making broad economic concessions yesterday in return for a promise by North Korea to abandon its nuclear programme, sharply reducing prospects for a quick end to the crisis.
Ari Fleischer, the president's spokesman, said Pyongyang would not be rewarded "for bad behaviour".
He said: "What we seek is North Korea's irrevocable and verifiable dismantlement of its nuclear weapons programme. We will not provide them with inducements for doing what they always said they were going to do."
[more]
This is encouraging — not! Let's see — Korea is willing to give up it's nukes if the US promises peace and gives a helping hand. The US continues is bullying ways. Where is the incentive for Korea?

trilobite art
Amazing new trilobites have been found in Morocco with details of their anatomy preserved intact.
Fossils are usually flattened by the weight of deposited sediment above them as they lie on the sea floor after death or following burial, or by subsequent crushing of the rock formed from the sediment, during tectonic movement. In the case of these trilobites, however, the fossils show little or no distortion. As the delicate exoskeletons are complete, it is likely that this gentle burial followed an initial sudden engulfment that suffocated the trilobites.
[more]
thanks to plep
fundamentalist policy
Yesterday I linked to a piece that maintained fundamentalist christianity was so out of touch with reality that it could be considered a mental illness. This is an example of how the mental illness of the fundamentalist christians infects public policy and kills people.
The most blatant attack was the severe gutting of the Centers for Disease Control and Prevention (CDC) fact sheet on condoms, which had been disappeared from the website in July 2001 and replaced, with significant battle scars, in December 2002. Pre-Bush, the fact sheet had encouraged consistent condom use, advice supported by vast bodies of scientific research that show condoms to be 98-100 percent effective in preventing pregnancy and sexually transmitted infections, including HIV. "The primary reason that condoms sometimes fail," read the original fact sheet, "is incorrect or inconsistent use, not failure of the condoms itself." Following that statement was user-friendly guidance on proper use.
Now, according to the once nonpartisan CDC, abstinence is the "surest way to avoid transmission of sexually transmitted diseases." Along with the condom "how to," the CDC removed the "Programs that Work" section, which summarized several large studies of teenagers that found no increase or hastening of sexual activity among those who were taught about condoms.
Revising the CDC website is just one of the many ways the Bush administration has sought to distort and suppress scientific inquiry, not to mention sound public health policy, that contradicts its so-called family values.
"We've been monitoring a deeply unsettling trend where public health science is being supplanted by politics and ideology," says James Wagoner, president of Advocates for Youth, a proponent of comprehensive sexuality education. The Bush administration has stacked scientific advisory panels with ideologues who have scant credentials and conflicts of interest; flooded schools with medically inaccurate "abstinence-only" programs; punished HIV/AIDS prevention groups with audits; and gagged overseas healthcare workers who receive US funds, repeatedly exemplifying its willingness to let ideology trump the very pillars of democracy it claims to be defending.
[more]

mermaid art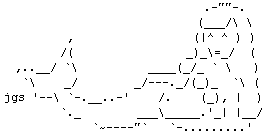 A collection of vintage postcards featuring mermaids and mermen, with a few advertisements, posters, photographs, and illios thrown in for good measure - I couldn't resist. Some are from my personal collection, some have been collected from online sources, some were scans sent from good sharers. I hope to add to this collection on a somewhat regular basis.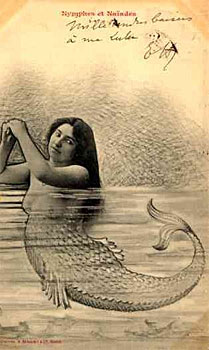 [more]
homeland insecurity
This is what America is becoming with the Patriot Act.
Two weeks ago I experienced a very small taste of what hundreds of South Asian immigrants and U.S. citizens of South Asian descent have gone through since 9/11, and what thousands of others have come to fear. I was held, against my will and without warrant or cause, under the USA PATRIOT Act. While I understand the need for some measure of security and precaution in times such as these, the manner in which this detention and interrogation took place raises serious questions about police tactics and the safeguarding of civil liberties in times of war.
That night, March 20th, my roommate Asher and I were on our way to see the Broadway show "Rent." We had an hour to spare before curtain time so we stopped into an Indian restaurant just off of Times Square in the heart of midtown. I have omitted the name of the restaurant so as not to subject the owners to any further harassment or humiliation.
We helped ourselves to the buffet and then sat down to begin eating our dinner. I was just about to tell Asher how I'd eaten there before and how delicious the vegetable curry was, but I never got a chance. All of a sudden, there was a terrible commotion and five NYPD in bulletproof vests stormed down the stairs. They had their guns drawn and were pointing them indiscriminately at the restaurant staff and at us.
[more]

baseball
Yesterday was a beautiful day in the neighborhood. The sun was out, I was busy with work, a customer came by with money, but, best of all, the Mariners shut out the Yankees in Yankee stadium. Spring is here, Spring is good.
Mariners 6, Yankees 0: Meche silences Yankees
Usually when you're in New York and you want to hear beautiful music, you go to the Met or take in a musical on Broadway.
Last night, you went to Yankee Stadium.
You heard the sound of "shhhh." Gil Meche took all that Ichiro-vs.-Matsui talk and buried it under a cone of silence, 6-0.
[more]

america — land of the imprisoned
Throwing Away the Key
Our Nation's Penal System Has Abandoned All Pretense of Penitence or Any Notion of Rehabilitation
The Department of Homeland Security, the new cabinet post with the Teutonic inflection, was created last January to assuage Americans' fears of future terrorist attacks. But while we focus our attention on external threats, we're ignoring homegrown forces that imperil our nation's security much more profoundly than suicidal Islamic cults. These forces are being generated by an incarceration epidemic that has earned this country the dubious title of the world's largest jailer.
Figures released last month by the Justice Department revealed that as of June 30, 2002, the number of inmates in American prisons and jails had exceeded 2 million for the first time in history. There were 1.35 million prisoners in state and federal prisons and an additional 665,000 in local jails, the report noted. The United States not only imprisons more people than any other nation, our incarceration rate of 702 inmates per 100,000 residents is also the highest in the world. "We have 25 percent of the world's prisoners, but we're only 5 percent of the world's population," says Kara Gotsch of the ACLU's National Prison Project.
The most destructive feature of this skyrocketing incarceration rate is its dramatic racial disparity. Among black males 25 to 29, 12.9 percent were in prison or jail; only 1.6 percent of white men in the same age group are incarcerated. The report calculates that at least 29 percent of all black men will have spent some time behind bars over the course of a lifetime. And although the number of black women inmates is much lower than black men, there are five times as many black women inmates than their white counterparts.
[more]

archeology
Gilgamesh tomb believed found
The Epic Of Gilgamesh - written by a Middle Eastern scholar 2,500 years before the birth of Christ - commemorated the life of the ruler of the city of Uruk, from which Iraq gets its name.
Now, a German-led expedition has discovered what is thought to be the entire city of Uruk - including, where the Euphrates once flowed, the last resting place of its famous King.
[more]
thanks to DANGEROUSMETA!

Don't Envy Abu-Mazen
by Uri Avnery
Now there is a new situation. Arafat has agreed to appoint Abu-Mazen Prime Minister. (The very fact that the whole world, and Israel too, have welcomed the Palestinian "government" and "Prime Minister" is a big step towards the establishment of the State of Palestine. In Oslo Israel still strenuously resisted terms like "President", "government" and "parliament" for the Palestinians.)
Abu-Mazen has taken upon himself a great responsibility vis-a-vis his own people and the world. He has put himself in a well-nigh impossible position.
Sharon & Co. demand that he first of all put an end to "terrorism" ("armed struggle" in Palestinian parlance), liquidate the "terrorist organizations" collect their arms and prevent "incitement". Only after the successful completion of all this can real negotiations begin. Freezing the construction of settlements, of course, should not even be mentioned at this stage.
The Palestinian public, on the other hand, demands that first of all the Israeli army should leave the Palestinian towns, stopping "targeted assassinations", settlement activity, the demolition of homes and all other acts of oppression, and start real negotiations for the establishment of the State of Palestine.
This threatens to become a deadlock.
[more]
books
Let's browse in strange library with unknown and old books.
Het eerste boek uit de Jezuïetencollectie is retrospectief gedigitaliseerd. Gekozen is voor Het boek der uitvindingen, 2e druk (Leiden 1863). Dit boek geeft inzicht in de stand van (en het denken over) techniek en wetenschap in brede lagen van de bevolking in de tweede helft van de negentiende eeuw. De voorliggende digitale versie van dit boek is een van de resultaten van het UB-project Van gedrukt naar digitaal.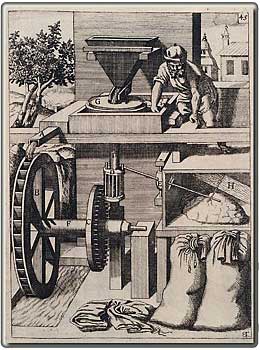 [more]
thanks to Giornale Nuovo
america's future
If there is only one thing you read today, this should be it. A must read.
George W. Bush, properly understood, represents the third and most powerful wave in the right's long-running assault on the governing order created by twentieth-century liberalism. The first wave was Ronald Reagan, whose election in 1980 allowed movement conservatives finally to attain governing power (their flame was first lit by Barry Goldwater back in 1964). Reagan unfurled many bold ideological banners for right-wing reform and established the political viability of enacting regressive tax cuts, but he accomplished very little reordering of government, much less shrinking of it. The second wave was Newt Gingrich, whose capture of the House majority in 1994 gave Republicans control of Congress for the first time in two generations. Despite some landmark victories like welfare reform, Gingrich flamed out quickly, a zealous revolutionary ineffective as legislative leader.
George Bush II may be as shallow as he appears, but his presidency represents a far more formidable challenge than either Reagan or Gingrich. His potential does not emanate from an amiable personality (Al Gore, remember, outpolled him in 2000) or even the sky-high ratings generated by 9/11 and war. Bush's governing strength is anchored in the long, hard-driving movement of the right that now owns all three branches of the federal government. Its unified ranks allow him to govern aggressively, despite slender GOP majorities in the House and Senate and the public's general indifference to the right's domestic program.
The movement's grand ambition--one can no longer say grandiose--is to roll back the twentieth century, quite literally. That is, defenestrate the federal government and reduce its scale and powers to a level well below what it was before the New Deal's centralization. With that accomplished, movement conservatives envision a restored society in which the prevailing values and power relationships resemble the America that existed around 1900, when William McKinley was President. Governing authority and resources are dispersed from Washington, returned to local levels and also to individuals and private institutions, most notably corporations and religious organizations. The primacy of private property rights is re-established over the shared public priorities expressed in government regulation. Above all, private wealth--both enterprises and individuals with higher incomes--are permanently insulated from the progressive claims of the graduated income tax.
[more]

fundamentalism
Ending Biblical Brainwash
For better mental and cultural health, it's time we classified religious fundamentalism as a psychological disorder
Imagine that you're a psychiatrist. A new patient comes to see you and says that he regularly talks to an invisible being who never responds, that he reads excerpts from one ancient book and that he believes wholeheartedly that its contents must be accepted implicitly, if not taken literally.
The patient goes on to say that that the world is only 6,000 years old and that dinosaurs never existed. He brazenly rejects modern science's observations and conclusions, and subscribes to the notion that after death he will live in eternal bliss in some alternate dimension. And throughout your meeting, he keeps handing you his book and urging you to join him, lest you end up after death in a far less desirable alternate dimension than him.
Is this a mentally healthy person? If you were a responsible psychiatrist, how could you answer yes? These symptoms border on delusional schizophrenia, which the American Psychological Association's DSM-IV describes as involving a profound disruption in cognition and emotion, assigning unusual significance or meaning to normal events and holding fixed false personal beliefs.
So, should you insist on follow-up appointments along with some strong medication? Well, quite obviously, the patient is a religious fundamentalist. So he would most likely not be diagnosed with a psychological problem. In fact, such a diagnosis could land you in hot water; the patient's religious beliefs are constitutionally protected.
Yet, perhaps it's time this changed, and that we made religious fundamentalism a mental and cultural health issue. People should be able to believe what they like, but only so long as their convictions don't harm others or, arguably, themselves. Fundamentalism, however, breeds fanaticism and often leads to terrible violence, injustice and inequality. If society can force drug addicts into rehabilitation because they're a danger to themselves and the public, then we should be able to compel religious fundamentalists to undergo treatment as well.
[more]
thanks to BookNotes

iraq
U.S. Troops Fire on Iraqi Protesters, Leaving 15 Dead
United States soldiers opened fire on Iraqis at an antiwar demonstration here, and according to local hospital officials killed 15 people and wounded about 75. An American officer said today that the troops opened fire after being "intentionally" shot at by some of the protesters, a claim disputed by residents.
[more]
I'm glad to see the rebuilding of Iraq is going well. This should really help.
Fury at agriculture post for US businessman
Oxfam last night launched a scathing attack on the man the US has put in charge of agricultural reconstruction in Iraq.
Dan Amstutz is a former senior executive of Cargill, the biggest grain exporter in the world, and served in the Reagan administration as a trade negotiator in the Uruguay round of world trade talks.
Oxfam is concerned that his involvement is an example of the potentially damaging commercialisation of the reconstruction effort in Iraq, which it would prefer to see conducted under the auspices of the United Nations.
Kevin Watkins, Oxfam's policy director, said Mr Amstutz would "arrive with a suitcase full of open-market rhetoric", and was more likely to try to dump cheap US grain on the potentially lucrative Iraqi market than encourage the country to rebuild its once-successful agricultural sector.
[more]
And it's good to see that the Rape of Iraq™ is right on schedule.
Meanwhile, aren't the leaders of a democratic nation supposed to tell their citizens the truth?
One wonders whether most of the public will ever learn that the original case for war has turned out to be false. In fact, my guess is that most Americans believe that we have found W.M.D.'s. Each potential find gets blaring coverage on TV; how many people catch the later announcement — if it is ever announced — that it was a false alarm? It's a pattern of misinformation that recapitulates the way the war was sold in the first place. Each administration charge against Iraq received prominent coverage; the subsequent debunking did not.
Did the news media feel that it was unpatriotic to question the administration's credibility? Some strange things certainly happened. For example, in September Mr. Bush cited an International Atomic Energy Agency report that he said showed that Saddam was only months from having nuclear weapons. "I don't know what more evidence we need," he said. In fact, the report said no such thing — and for a few hours the lead story on MSNBC's Web site bore the headline "White House: Bush Misstated Report on Iraq." Then the story vanished — not just from the top of the page, but from the site.
Thanks to this pattern of loud assertions and muted or suppressed retractions, the American public probably believes that we went to war to avert an immediate threat — just as it believes that Saddam had something to do with Sept. 11.
Now it's true that the war removed an evil tyrant. But a democracy's decisions, right or wrong, are supposed to take place with the informed consent of its citizens. That didn't happen this time. And we are a democracy — aren't we?  
[more]
What with Shia and Sunni and Ba'ath and imams and Syria and Abu Mazer and WMDs, it's no wonder many are confused in this post-Iraq-war period. Time once again to turn to that franchised series of books for easy-to-comprehend answers to difficult questions.
[more]

wall street
In a Wall St. Hierarchy, Short Shrift to Little Guy
Documents disclosed as part of yesterday's settlement show how Wall Street firms, in pursuit of investment banking fees, put the interests of their individual clients dead last.
As an analyst at Lehman Brothers told an institutional investor in an e-mail message, "well, ratings and price targets are fairly meaningless anyway," later adding, "but, yes, the `little guy' who isn't smart about the nuances may get misled, such is the nature of my business."
In a newly disclosed tactic, Morgan Stanley and four other brokerage firms paid rivals that agreed to publish positive reports on companies whose shares Morgan and others issued to the public. This practice made it appear that a throng of believers were recommending these companies' shares. (...)
But because greed is a part of human nature and human nature seldom seems to change, Alan Bromberg, professor of securities law at Southern Methodist University, remains skeptical that the terms of the settlement will bring substantive change to Wall Street.
"I don't see this as a great reformation," Mr. Bromberg said. "I don't see this as a new world we are moving into. The pressures are still going to be there. Brokerage firms don't make money other than by selling securities, so they're going to inevitably be encouraging people to buy and will always have pressures to hype what they think is good or what they're otherwise involved in."
[more]
This illustrates the whole fallacy of the "free market". A free market depends on everyone having the same information. Those that run the "free market" do everything the can to keep that from happening. Investing in stocks is investing in a game that is even more rigged that the gambling tables in Las Vegas. At least the casinos in Las Vegas are honest about it.

trading card art
AMERICAN CRUSADE 2001+ TRADING CARDS
World affairs today can sure be confusing!
President Bush tried his bestest to simplify the picture as Good vs. Evil, but it's still a jumble! Who knew all those crazy Dorkistan countries even existed?! Now The Infinite Jest rides to the rescue with a set of educational trading cards.
[more]
thanks to Spitting Image
things that get in the way of blogging
Last night I had a 8 musicians in my living room for TestingTesting #150 with Sweet Briar. It was an evening of Celtic fiddle tunes. I will have pictures up later today. Zoe's nephew was in town this weekend and it was Zoe's 50th birthday. Zoe comments about both in her weblog. The only thing now keeping me from blogging is work. Work?! Work?! We don't need no steenking work! Well...maybe we do.
testingtesting
It's going to be light linking today. We're taking Zoe's nephew to the airport this morning and getting ready for TestingTesting this afternoon. TestingTesting, for those that don't know the drill, is an Internet webcast I do from my living room. Tonight we will have a living room full of fiddlers. An evening of celtic fiddle tunes and flying bows. So click on in tonight at 7pm (pacific) (other time zones on the TestingTesting website) for an evening of living room music. A good time will be had by all.

iraq
To build its case for war with Iraq, the Bush administration argued that Saddam Hussein had weapons of mass destruction, but some officials now privately acknowledge the White House had another reason for war — a global show of American power and democracy.
Officials inside government and advisers outside told ABCNEWS the administration emphasized the danger of Saddam's weapons to gain the legal justification for war from the United Nations and to stress the danger at home to Americans.
"We were not lying," said one official. "But it was just a matter of emphasis."
[more]
thanks to Talking Points Memo
Keep out of town hall, Kut tells US troops
Self-appointed Shia ruler issues decrees from barricaded building
First the marines tried to get this dusty town's 200 police officers back to work, but 100 dropped out after local people warned them that only traitors collaborated with America.
Then the police station burned down. It was still smouldering yesterday as frustrated US troops began to realise that governing a people is much harder than defeating one.
"We've all just been issued with non-lethal equipment: batons, riot gas, shields, and stun grenades," Corporal Nathan Braden said.
Two hundred metres away several hundred Iraqis were guarding the gates of the governor's office, trying to ensure no that Americans entered. "No, no to America; no, no to Israel. Yes, yes to unity; yes, yes to Islam," some were chanting.
[more]

Say It Slowly: It Was About Oil
by Ted Rall
Iraq is going to hell. Shiites are killing Sunnis, Kurds are killing Arabs and Islamists are killing secular Baathists. Baghdad, the cradle of human civilization, has been left to looters and rapists. As in Beirut during the '70s, neighborhood zones are separated by checkpoints manned by armed tribesmen. The war has, however, managed to unite Iraqis in one respect: Everyone loathes the United States.
[more]
American to oversee Iraqi oil industry
The US is preparing to install an American chairman on a planned management team of the Iraqi oil industry, providing further ammunition to critics who have questioned the Bush administration's agenda in the Middle East.
[more]
Pentagon Sending a Team of Exiles to Help Run Iraq
The Pentagon has begun sending a team of Iraqi exiles to Baghdad to be part of a temporary American-led government there, senior administration officials said today.
[more]
White House Moving Toward Single Resolution on Iraq's Future
The Bush administration's foreign policy factions have begun to coalesce behind an omnibus proposal that would endorse the authority of the American-led forces to control Iraq and remove Iraq's oil revenues from the sole control of the United Nations, Security Council diplomats confirmed today.
[more]

canada
The title of this essay alone is likely to get me into trouble with both Canadians ("We do not!") and Americans ("You ingrates still don't get it."), but someone ought to talk about this. Let me start by dispensing with two myths: That most Canadians and Americans are really very similar, and that Canada couldn't exist without American support and forbearance.
I spend half of my work life working with Americans and half with Canadians. While there are dangers in generalizing, recent opinion polls illustrate fundamental differences between American and Canadian worldviews and value. Here are three major differences:
[more]


all thanks to wood s lot



afghanistan

In Afghanistan, Violence Stalls Renewal Effort

In the middle of the main road between Kabul and Kandahar lie two bombed-out, rusted fuel trucks, destroyed in American strikes in October 2001. That no one — not the Americans, nor international aid workers, nor Afghans themselves — has dragged them out of the way shows how little has been done to mend Afghanistan since the 2001 war, despite promises of copious foreign assistance.

In a very real sense, the war here has not ended — as shown by an attack today that killed two American soldiers and by a planned visit on Sunday from Defense Secretary Donald H. Rumsfeld. Nearly every day, there are killings, explosions, shootings and targeted attacks on foreign aid workers, Afghan officials, and American forces, as well as continuing feuding between warlords in the regions.
[more]