Archives
Israel/Palestine
This is just fucking great. What can Israel do that can make a bad situation even worse?
Cabinet in Israel Endorses Seizure of the West Bank
Prime Minister Ariel Sharon's security cabinet followed through on a plan for all-out seizure of the West Bank today, scrapping a tactic of intermittent raids in favor of a permanent armed presence as tense Israeli soldiers in armored columns poured into Palestinian cities, towns and refugee camps, military officials said.
The government's pledge this week to begin taking Palestinian lands "as long as terror continues," went into full swing today. Israeli tanks and troops moved into six of the eight West Bank towns designated for self-rule in the Oslo accords, with later reports of forces moving toward Hebron, one of the remaining two.
It was the largest operation since the six-week Israeli sweep through the West Bank that began in March. The Israeli radio described the action today as a "wide offensive, but smaller" than the spring operation, which at the time drew American calls for a speedy withdrawal.
[read more]
But this has been the Israeli Generals' goal for some time. Again:
Israel: the generals' grand design
In conventional political discourse, Israel's recent attacks on Palestinian civilians, villages, and governmental institutions are described as "retaliatory acts". They are justified as a "response" to the latest wave of terror attacks on Israeli civilians. In fact, these "retaliatory measures" are part of a systematic assault on the Palestinian Authority that was carefully prepared long before the current "war on terrorism." As far back as October 2000, at the outset of the Palestinian uprising and before the terror attacks had started, military circles in Israel had prepared detailed operative plans to topple Arafat and the Palestinian Authority.
[read more]
Baseball
A couple of baseball links.
Great Moments in Literary Baseball
The centrefielder cannot hold....
—Willie Yeats
In the second game of a double-header in Detroit in 1919, the Boston firstbase coach began pointing his finger at the mound and gesturing wildly as Detroit pitcher Frank Kafka started his delivery. The home- plate umpire went out to the mound to ask Kafka what the hell he thought he was doing. Kafka protested that he had not committed a balk. The umpire said that a balk was not the issue and ejected Kafka from the game. The following day, after a short inquiry conducted by the American League commissioner, Kafka was permanently suspended from organized baseball. The commissioner never disclosed the nature of Kafka's violation.
[read more]
thanks to reenhead.com
----------
This baseball link was in Welsh. It appeared like this:
Iaith a chwaraeon
Amlieithrwydd ym myd pęl fas - erthygl ddidddorol ar bwysigwydd siarad yr un iaith â'ch pitsiwr.
Not knowing what it was about, since I am Welsh challenged, but since Morfablog links are often of interest, I clicked on it and found an article about language and my favorite baseball team.
Multilingual clubhouse makes M's communication more significant
Just listen. The world can surround you inside the Mariners' multilingual clubhouse.
Manager Lou Piniella might be talking hitting with Edgar Martinez, alternating his conversation between Spanish and English as naturally and effortlessly as a car changing lanes. Sportswriters born in Ohio, California and Missouri ask questions in English to a translator born in Japan but raised in Seattle, and he converts them to Japanese for pitcher Kazu Sasaki. All of it is over the vital issue of what kind of pitch he threw.
Players from equatorial neighbors Venezuela, Puerto Rico, the Dominican Republic and Aruba chatter in Spanish throughout the room. They bounce to a Salsa beat. Bret Boone, a fun-loving Southern California kid, horses around with Japanese star Ichiro, who smiles and gives it back to Boone.
Then there's Australian Chris Snelling. Not only does he talk in another dialect, but there is a growing suspicion that he may be from another planet.
[read more]
thanks to MorfaBlog
Internet Radio
The abysmally bad decision by the Librarian of Congress in the Internet radio royalties case is, quite simply, the end of almost all Net radio. It's another victory for the greed-mongers who control popular music in America, and the hell with the rest of us.
To claim this is anything but a disaster for a medium that had promised to provide an alternative to the absolute garbage on today's commercial radio is to deny reality. Cutting in half a royalty rate that would put Internet radio stations out of business immediately only means they'll go out of business slightly less quickly.
So, another charade in Washington has turned in favor of entrenched interests. Sad times, folks. Sad times.
More:
Doc Searls: Stay lifted on execution of Internet radio.
Mercury News: Cut in Webcast royalty angers both sides.
Washington Post: Curtain Call for Webcasts?
The Register: Net Radio Going off the Air.
This is of interest to me since I do Internet radio with a little show called TestingTesting. It's all live music and we are running under the RIAA's radar but I have wonder when are they going to go after even the smaller then small fry like me?
Listen to whatever Internet radio there is while you can. It will be your last chance to hear non-corporate music. Fuck there black hearts.
Death in the neighborhood update
I talked with my son Robby. He had a report from the Harborview Trauma Center concerning the recent shootings. He visited Bruce. Bruce's surgery is over and he is recovering from his abdomen wounds. He didn't talk much, he had an oxygen mask on, but seems to be doing as well as could be expected. Sierra was resting. She had 11 hours of surgery — they were able to save her right arm. They had to reconnect 2 arteries. There will be more surgery but they expect her to recover most of the movement of her arm. She may be coming home in a week.
Global Warming
"We know," said Dr. Oppenheimer, "that if the ice sheet were destroyed, sea levels would rise about five meters, which would be catastrophic for coastal regions. That would submerge much of Manhattan below Greenwich Village, for instance. It would drown the southern third of Florida, an area inhabited by about four million people."
Five meters is approximately 16 feet. Tremendous amounts of housing, wetlands and farming areas around the world would vanish. Large portions of a country like Bangladesh, on the Bay of Bengal, would disappear.
So what could actually set this potential catastrophe in motion? Dr. Oppenheimer has looked back at past geological epochs. "There is some evidence," he said, "that when the global temperature was warmer by about four degrees Fahrenheit than it is today the ice sheet disintegrated."
It is now estimated that if we do nothing to stem the rise of global warming, the increase in the earth's temperature over the course of this century will be between 3 and 10.5 degrees Fahrenheit. That is a level of warming that could initiate the disintegration of the ice sheet. And stopping that disintegration, once the planet gets that warm, may be impossible.
[read more]
thanks to This Modern World
Photography
Mr. Cieciel, at Spitting Image, linked to these wonderful photographs with the comment:
Erotic or exotic?
Over time an erotic image becomes exotic as if there's entropy of the imagination?
The Burlesque Portraits of Raoul Gradvohl
[read more]
----------
Raoul Gradvohl's photographs are part of the Univerisity of California at Riverside's California Museum of Photography. I went rummaging around the site — it's worth rummaging. I found the following photographs which I saw during a 3 1/2 year stay in Lower California in the mid 80's. I made a trip out to Riverside to see them. I hope they get them all up. They're wonderful.
Japan, hand-colored photographs, ca. 1880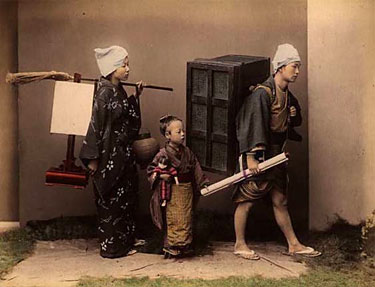 [read more]
----------
After some more rummaging I came across this find. This is in regards to my original link and comments on Katinka Matson and subsequent comments. This is a piece on scanner photography including pieces by Susan Silton that are Iris prints done in 1995.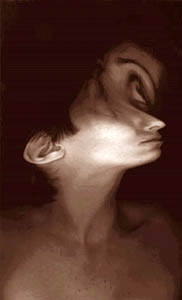 [read more]
----------
Children's Art at First Sundays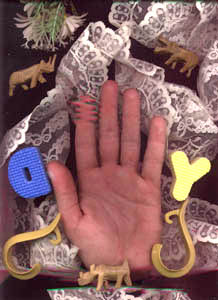 [read more]
Global Warming
World sickens as heat rises
Infections in wildlife spread as pests thrive in climate change
Climate change is favouring pests and parasites and triggering widespread outbreaks of disease in wildlife, according to US scientists.
Warmer summers and milder winters are encouraging disease- bearing infections that blight coral reefs, kill shellfish colonies, and threaten lions, cranes, vultures and even ferrets. The global warming is also helping to spread tropical diseases to human habitations previously unaffected by such illnesses, they report in the journal Science today.
"This is not just a question of coral bleaching for a few marine ecologists, nor just a question of malaria for a few health officials. The number of similar increases in disease incidence is astonishing," said Richard Ostfield, of the Institute for Ecosystem Studies, in Millbrook, New York.
[read more]
----------
The journalist I.F. Stone used to joke that the government issues so much information every day, it can't help but let the truth slip out every once in a while. The Bush Administration's recent report on global warming is a classic example. Though far from perfect, it contains some crucial but awkward truths that neither George W. Bush nor his environmentalist critics want to confront. Which may explain why the Administration has sought to bury the report, while critics have misrepresented its most ominous conclusion.
U.S. Climate Action Report 2002 made headlines because it contradicted so much of what the Administration has said about global warming. Not only is global warming real, according to the report, but its consequences--heat waves, water shortages, rising sea levels, loss of beaches and marshes, more frequent and violent weather--will be punishing for Americans. The report's biggest surprise was its admission that human activities, especially the burning of oil and other fossil fuels, are the primary cause of climate change. Of course, the rest of the world has known since 1995 that human actions have "a discernible impact" on the global climate, to quote a landmark report by the United Nations Intergovernmental Panel on Climate Change. But the White House has resisted this conclusion. After all, if burning fossil fuels is to blame for global warming, it makes sense to burn less of them. To a lifelong oilman like Bush, who continues to rely on his former industry colleagues for campaign contributions as well as senior staff, such a view is nothing less than heresy.
[read more]
Israel/Palestine
Jordan's King: Arafat losing control of extremists
Jordan's King Abdullah said in an interview published on Friday that Palestinian Authority Chairman Yasser Arafat had substantially lost control of militant groups and warned that even worse violence lay ahead in the Middle East.
"What I can say is that over the years I always thought Arafat was capable of controlling Palestinian public sentiment and extremism," the king was quoted as saying in an interview with the Belgian weekly Le Vif/L'Express. "I think that is no longer the case today."
[read more]
----------
Hope's Burial Ground
The Slide Show That Moved Cherie Booth Blair
But understanding of the depths of desperation which can lead to the decimation of humanity by suicide bombers came with the two youngest cases. When Maysoon, aged twenty one, went into labor during the night, her husband set off to drive her to the hospital. At a checkpoint, he was shot dead, Maysoon was shot twice in the back, stripped naked and left in the road for two hours, until an ambulance finally arrived, her screams having been heard by locals. Her baby was born in the hospital elevator. Her survivor guilt and trauma are so severe that her family fear she will commit suicide or become a suicide bomber.
Ahmed is twelve: "calm, together and determined to kill Israelis." His best friend was shot dead in front of him by an Israeli soldier. Fifty three percent of Palestinian children suffer from trauma symptoms. MAP aims to build a network of councilors and reach the affected within twenty four hours. In Gaza, almost certainly the next place to be massively targeted, they aim to establish one hundred first aid posts so the injured no longer bleed to death where they lie.
[read more]
----------
The Israeli army jeep with several soldiers pulls up to the corner where we all stand, and Teenage Soldier 1 (I'll call him TS1) gets out of the passenger side and playfully tosses a soda can at the family. Then, still having fun, he tosses a concussion grenade in the same direction, prompting the father to grab his children and run. The Voice reporters, unused to dodging explosives, stare dumbly at the smoking orange cylinder a few feet away, and then it blows up. Concussion grenades can break bones. Everyone gets off easy this time, slightly disoriented and temporarily deaf.
But TS1 is not done. He hops back into the jeep, and the soldiers tear off for 100 feet to the concrete blocks that mark the checkpoint proper, where a Palestinian van waits for permission to pass. TS2, sporting the same peroxide-blond coif as his partner, asks the driver a question, and then the two soldiers charge over to the passenger side, pull out a Palestinian teenager, and while TS1 steadies the lethal end of his M16 an inch from the boy's nose, TS2 kicks the shit out of him with his boot. I look at Jehad, whose usual thirst for bang-bang has fled; his camera stays in his bag, and he whispers, "They're going to shoot him." But they don't shoot him, instead hauling him off, shackled, blindfolded, and surely bruised, to the waiting jeep.
[read more]
----------
Sharon & the Senators
by Robert Novak
"We need many more Jews to come to Israel, a million more Jews," Israeli Prime Minister Ariel Sharon told the Senate Foreign Relations Committee behind closed doors last week. Here was something entirely new even for well-informed senators, and their facial expressions conveyed surprise. Massive immigration to a country of 6 million signified no interest by Sharon in negotiating a settlement with the Palestinians.
Indeed, speaking off the record to mostly uncritical American politicians, the old soldier-statesman was even more blunt than he is in public. Sharon pointed to no Israeli-Palestinian deal for at least 10 years and talked of a hundred years struggle with Arabs. Warning of Egyptian and Saudi duplicity, he informed the senators that removal of Saddam Hussein from Iraq would be the best way to deal with Palestinians.
[read more]
----------
Analysis: Hamas history tied to Israel
Israeli Prime Minister Ariel Sharon immediately vowed to fight "Palestinian terror" and summoned his cabinet to decide on a military response to the organization that Sharon had once described as "the deadliest terrorist group that we have ever had to face."
Active in Gaza and the West Bank, Hamas wants to liberate all of Palestine and establish a radical Islamic state in place of Israel. It is has gained notoriety with its assassinations, car bombs and other acts of terrorism.
But Sharon left something out.
Israel and Hamas may currently be locked in deadly combat, but, according to several current and former U.S. intelligence officials, beginning in the late 1970s, Tel Aviv gave direct and indirect financial aid to Hamas over a period of years.
[read more]
Here comes the sun
Since this is the longest day of the year, it means the most sun for the day (cloud cover notwithstanding but the sun is out today here in the Great Northwet.) So here are a couple of sun links from Mr. Cieciel at Spitting Image.
Loops on the Rim of the Sun
I liked the title of this article. Simple words to describe an object: (the sun is an object), a universally experienced, responsible for all living things type-object. Which until images like this were produced all but defied description. Everything we, meaning the non-scientists among us, could say about the sun consisted of variations on 'round', 'hot' & 'rays'. Now we have loops on a rim. (their gaseous nature is a bonus for the easily amused). I was also impressed with their 'twanging' vibrational energy.
Posted by Mr. Cieciel
[read more]
----------
Huge Loops Of Hot Gas Vibrate During Storms On Sun
Huge loops of very hot gas rising above the Sun's surface vibrate with enormous energy at times of solar storms.
This is the latest surprise from ESA's flotilla of spacecraft -- SOHO, Ulysses and the four Cluster satellites -- with which scientists are trying to make sense of how disturbances on the Sun affect the Earth.
[read more]
It's Summer!
The summer solstice is the longest day of the year, respectively, in the sense that the length of time elapsed between sunrise and sunset on this day is a maximum for the year. Of course, daylight saving time means that the first Sunday in April has 23 hours and the last Sunday in October has 25 hours, but these human meddlings with the calendar and do not correspond to the actual number of daylight hours. In Chicago, there are 15:02 hours of daylight on the summer solstice of June 21, 1999.
[read more]
The solstice occured today at 13:23 UT = 6:23 PDT according to Guy Ottewell's Astronomical Calendar 2002.
Some Assembly Required
If you ever buy some of that Danish furniture that requires assembly and they offer to assemble it for $30 — go for it. Trust me on this.
Death in the neighborhood
I was just finishing up my coffee this morning when my son, Robby, called. His good friends Sierra and Bruce were shot, and wounded, at 2am this morning. Bruce's mother and sister were killed. The killer is an ex-boyfriend of Bruce's sister. The killer turned the gun on himself. Three dead, two wounded. Bruce and Sierra are in surgery in serious condition.
I know Sierra. She has been over to my house many times. You will not find a sweeter person.
Three dead, two wounded in Whidbey Island shooting
[The evening news reported Sierra was in surgery for 18 hours. Bruce has been upgraded to satisfactory condition.]
War Against Some Terrorists
Enemy Wanted
by Ben Cohen
A couple weeks before 9/11, you may have seen this job posting in the newspaper:
ENEMY WANTED. Serious enemy needed to justify Pentagon budget increase. Defense contractors desperate. Interested enemies send letter and video (threatening okay) to Enemy Search Committee, C/O Ben Cohen, Burlington, VT, 05401.
[read more]
----------
War on terror: FBI 'guilty of cover-up' over anthrax suspect
AMERICAN investigators know the identity of the killer who paralysed the US by sending anthrax in the post but will not arrest the culprit, according to leading US scientists.
[read more]
thanks to BookNotes
The Pergola
This will not mean much to people not familiar with Seattle. But, to those who have been around Seattle, particularly Pioneer Square, this is a big deal.
Pergola pieces are back, fittingly
The pergola, that long-absent friend of Pioneer Square, returned yesterday the way it left: piece by piece.
The erection and assembly of the cast-iron and glass canopy will take five weeks. It won't come a moment too soon for neighborhood residents and merchants.
"It's much more than a physical structure," said Casey Jones, executive director of the Pioneer Square Community Association. "It's the heart and soul of the neighborhood."
The pergola was built in 1910 as a graceful waiting area and gateway to the "comfort station" -- the underground restrooms of marble, brass and terrazzo.
It withstood anything man or nature would dish out in Pioneer Square for 90 years.
Then on Jan. 15, 2001, an 18-wheeler took the corner at First Avenue and Yesler Way too sharply and pulled the pergola down like a row of dominoes.
[read more]
Before the 18-wheeler
Truck accidentally destroys historic Pioneer Square pergola on January 15, 2001.
Pioneer Square Pergola Restoration Under Way

Photography
Two pieces from the excellent Ralph (Early Summer 2002 edition.)
Dream Street
W. Eugene Smith's Pittsburgh Project
But he was the Compleat Photographer --- wanted to have total control of not only what he produced, but how it was reproduced. The editors at Life found him impossible to work with. Nine years after the end of the war, he took off on his own, and immediately landed a contract to work with historian Stefan Lorant producing a book commemorating Pittsburgh's bicentennial.
Smith began work in early 1955 --- and, according to him, never finished. He worked for three years, produced the required 400 shots for Lorant, but then went on to make another 17,000 photographs --- 600 as master-prints --- for his own project. It was to be called "Labyrinthian Walk," with essays and meditation on Pittsburgh. The photographs he accumulated --- of which some 175 are presented here --- are brilliant, sobering; an astonishing mix of shots of children playing, politicians debating, debutantes dancing, steelworkers surrounded by flame and dust and dirt, and most of all, the havoc that was the ecological nightmare called Pittsburgh: belching chimneys and darkness and grime and men and women prematurely aged in what they used to call The Glory of American Industrial Might.
[read more]
----------
W. Eugene Smith Interview
Excerpt from W. Eugene Smith's interview with Philippe Halsman regarding the Pittsburgh project, 1957.
PH: How can this be financed? Is there any way, in American today, to pay a man back for his works?
WES: Time and pay? I don't know. It is not a new problem. How long did it take Joyce to do Ulysses? Finnegan's Wake? And what were his returns? I could never be rested within myself without doing this.
PH: But what of the photographer who does not have financial means?
WES: I don't. Sometimes it seems I financed it from the lining of my stomach. As for others --- if asked, I will advise them not to do it --- and I will hope they do.
[read more]
Israel/Palestine
A Buddhist between The Israelis and The Palestinians
Neta Golan, a thirty-year-old Israeli peace activist and Buddhist, lives with her Palestinian husband in Ramallah, in the West Bank. Last year she co-founded the International Solidarity Movement, an organization committed to nonviolent resistance to lsrael's occupation of lands captured during the 1967 Arab/Israeli war.
How Jews Can Support Israel
Support the People, not the Government
by Ran HaCohen
The best form of de-fence?
As President Bush prepares to deliver an important policy statement on the Israeli-Palestinian conflict, Israeli bulldozers have begun constructing what Israel's defence minister calls a "non-political fence" between the two sides. In fact, it could have far-reaching political ramifications
Smallpox
I athought this disease had been eradicated.
SWABI: Smallpox epidemic spreading in Swabi
The smallpox epidemic is rapidly spreading in these parts of the province, but the district health department has failed to take any step to contain this deadly disease, Dawn learnt here on Saturday.
It has been reported from different parts of the Swabi district that a large number of children have suffered from smallpox, but the authorities concerned have failed to take any action to prevent this disease or immunize the people against it.
Smallpox is a fatal disease which causes high fever, leaves permanent marks on the skin and spreads very fast. Timely treatment and precautionary measures are vital for controlling this malady.
A health official said that the dilemma of the people was that they were not aware of the danger aspects of this ailment as the children suffering from it have neither been kept in isolation nor properly treated. And this resulted in the spread of the virus.
[read more]
thanks to Liberal Arts Mafia
Is there a difference between extreme Islam and extreme Christianity?
Islamic Bloc, Christian Right Team Up to Lobby U.N.
Conservative U.S. Christian organizations have joined forces with Islamic governments to halt the expansion of sexual and political protections and rights for gays, women and children at United Nations conferences.
The new alliance, which coalesced during the past year, has received a major boost from the Bush administration, which appointed antiabortion activists to key positions on U.S. delegations to U.N. conferences on global economic and social policy.
But it has been largely galvanized by conservative Christians who have set aside their doctrinal differences, cemented ties with the Vatican and cultivated fresh links with a powerful bloc of more than 50 moderate and hard-line Islamic governments, including Sudan, Libya, Iraq and Iran.
(...)
"This alliance shows the depths of perversity of the [U.S.] position," said Adrienne Germaine, president of the International Women's Health Coalition. "On the one hand we're presumably blaming these countries for unspeakable acts of terrorism, and at the same time we are allying ourselves with them in the oppression of women."
[read more]
thanks to MetaFilter
America's Assault on the World
The U.S. vs. Bert Sacks' principles on Iraq
Seattle man won't pay fine for taking medicines there
Today is the deadline for Sacks to pay a $10,000 fine for violating economic sanctions against Iraq. The violation is connected to a 1997 trip Sacks took to Iraq in which he has acknowledged taking $40,000 worth of medicine.
(...)
Mild mannered as he is, Sacks is steadfast in his opposition to the sanctions that have been in place for 12 years. He refuses to pay the fine and is willing to face the consequences.
"We should speak in clear English," he says. "It's killing 5,000 children a month. It's not honest; it's not accurate to say it penalizes the Iraqi people. It kills them. I've been to Auschwitz, I'm Jewish. Nobody would say Auschwitz created hardships for the Jewish people. We need to be honest."
[read more]
Let us not forget that Halliburton, under Cheney, sold oil field supplies to Iraq.
----------
Taking on the School of the Americas
Graduates from Ft. Benning partook in Latin America's most corrupt regimes, yet Congress still funds the school
Since the tragedy of 9/11, we have learned some of the ways Osama bin Laden has schooled his al-Qaida organization into a formidable terrorist organization. No major media organization I know of, however, dares today to discuss how for more than five decades - the last two decades on our own soil - our own government systematically has been operating a more substantial terrorist school.
Established in Panama in 1946 as a hemispheric Cold War beachhead, the U.S. Army School of the Americas (SOA), which operates solely for the training of Latin American military officers, was moved to Ft. Benning in Columbus, GA in 1984. Over 60,000 have graduated. They include Panamanian strongman Manuel Noriega and Bolivian dictator Hugo Banzer; the assassins of an archbishop, a bishop, six Jesuit priests and four American churchwomen; and countless other military strongmen responsible for the deaths of literally hundreds of thousands.
[read more]
Bush's Assault on Everybody
Tom Tomorrow has a good rant with links at This Modern World this lovely Monday morning. A must read. Or, been there, doing it again.
Holy Text
Shocking Bible Store
Dare to Wear Scripture Shirts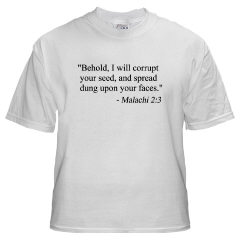 [read more]
Israel/Palestine
Mideast Plan a Tough Sell
Policy: An expected Bush proposal for an interim Palestinian state could be risky, experts say. It also raises a host of difficult issues.
Palestinian Elections Now
by Edward Said
A dispatch from Shatila
American journalist gets a ground-floor view of Palestinian refugee life.
A Tale of Two Middle East Villages
Israelis turn to Berlin for refuge from conflict
The Rivers and Streams of LA
One of my favorite movies as a kid (as seen at a Saturday Matinee and not on TV) was Them, the giant ant movie. I loved the final part of the movie that took part in the giant concrete drainage ditches called rivers in LA.
I lived in the LA area in the mid 80s. I commuted from Huntington Beach to Pico Rivera by bicycle on a bicycle path running along one of these drainage ditches. I think it was the San Gabriel River. One of the unrealized ambitions of my stay in Lower California was to do a photographic series titled The Rivers and Streams Of LA.
FOVICKS -- Friends Of Vast Industrial Concrete Kafkaesque Structures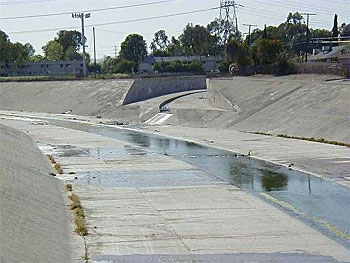 This is my photo journal of industrial photographs I've taken of the Los Angeles River flood control channel.
As an amateur 'Industrial Archaeologist', I love the LA River as a bizarre curiosity. Many groups have formed in attempt to beautify or revert the "river" to a previous state. But I like it the way it is; a weird, massive flood control channel.
[read more]
Global Warming
Alaska, No Longer So Frigid, Starts to Crack, Burn and Sag
In Alaska, rising temperatures, whether caused by greenhouse gas emissions or nature in a prolonged mood swing, are not a topic of debate or an abstraction. Mean temperatures have risen by 5 degrees in summer and 10 degrees in winter since the 1970's, federal officials say.
While President Bush was dismissive of a report the government recently released on how global warming will affect the nation, the leading Republican in this state, Senator Ted Stevens, says that no place is experiencing more startling change from rising temperatures than Alaska.
Among the consequences, Senator Stevens says, are sagging roads, crumbling villages, dead forests, catastrophic fires and possible disruption of marine wildlife.
[read more]
Father's Day
This had to be my best Father's Day ever. We were going to go out for breakfast but everybody had the same idea and the grandkids weren't going to sit still that long. Katie and Jenny got some breakfast food and Jenny, Katie, and Robby cooked it all up. Yum!
After we ate, I subjected them to having their portraits scanned. "Do we have to do this, Dad?" "Yes, it's Father's Day!" Every one had a fun time with this. This is one of Katie. Check out rest of the scanned portraits of my family .
It got better. I knew there was to be a surprise gift from Jenny and Katie. Robby, Zoe, and I took the Robyn and Mikey down to the beach at Double Bluff while Jenny and Katie prepared the surprise. Zoe took a lot of wonderful pics of this at Zoe's Father's Day Album at Ofoto.
[Ofoto is an affiliate with Amazon. They make it easy to set up photo albums where you can buy prints if you want. Family members may find this feature of use. There is a short registration to view. Check it out. It's an interesting way to share photo albums.]
We returned home and Jenny and Katie had spent the entire afternoon doing a deep cleaning of my house. Really deep. They started with a vacuum cleaner that actually sucks, and dusted, oiled bookcases, scrubbed sinks, washed all windows (inside and out), cleaned the glass on all the pictures on the wall, cleaned the keyboard and monitor (removed the food particles), scrubbed the shower, and even folded the toilet paper into a little V. They used to clean Bed and Breakfasts here on the Island and brought all their professional cleaning experience into play. They needed to.
Truly an act of love. They couldn't have made me feel any more special.
[The next day — I keep finding new things that they cleaned. I didn't realize my bathroom faucet could ever be that shiny again. How did they do that?]