Archives
iraq
Groceries and Election Results...
by Riverbend

You feel it all around you. It begins slowly and almost insidiously. You stop wearing slacks or jeans or skirts that show any leg because you don't want to be stopped in the street and lectured by someone who doesn't approve. You stop wearing short sleeves and start preferring wider shirts with a collar that will cover up some of you neck. You stop letting your hair flow because you don't want to attract attention to it. On the days when you forget to pull it back into a ponytail, you want to kick yourself and you rummage around in your handbag trying to find a hair band… hell, a rubber band to pull back your hair and make sure you attract less attention from *them*.

We were seriously discussing this situation the other day with a friend. The subject of the veil and hijab came up and I confessed my fear that while they might not make it a law, there would be enough pressure to make it a requirement for women when they leave their homes. He shrugged his shoulders and said, "Well women in Iran will tell you it's not so bad- you know that they just throw something on their heads and use makeup and go places, etc." True enough. But it wasn't like that at the beginning. It took them over two decades to be able to do that. In the eighties, women were hauled off the streets and detained or beaten for the way they dressed.

It's also not about covering the hair. I have many relatives and friends who wore a hijab before the war. It's the principle. It's having so little freedom that even your wardrobe is dictated. And wardrobe is just the tip of the iceberg. There are clerics and men who believe women shouldn't be able to work or that they shouldn't be allowed to do certain jobs or study in specific fields. Something that disturbed me about the election forms was that it indicated whether the voter was 'male' or 'female'- why should that matter? Could it be because in Shari'a, a women's vote or voice counts for half of that of a man? Will they implement that in the future?


[more]
Shiites Have Majority
by Juan Cole

The Iraqi Electoral Commission confirmed on Thursday the projection I reported here last Monday, that the United Iraqi Alliance or the Shiite religious parties have a 51 percent majority of seats in the new Iraqi parliament. They have 140 seats out of 275. The wire services have been confused about this matter all week. Some were reporting the 140 seat total but then saying it was 48 percent. ??? Others did not seem to know about the second-round process where the votes that went to small parties that did not get seats would be reapportioned to the parties that did win. This is called the reapportionment variation on the "Hare" method, and was apparently the suggestion of the United Nations official Carina Perelli. Some observers are convinced that this method makes room for a lot of mischief.

Ibrahim Jaafari of the Dawa Party seems almost certain to win the prime minister slot. In my view the persistent reports that Ahmad Chalabi is still in the running are baseless propaganda coming out of Chalabi's formidable but empty PR apparatus. I take it he wants an important cabinet post, and this is his way of staking claim to it.

Note that if there is a disagreement among the Shiite religious parties on who should be prime minister, they say they will take it to Grand Ayatollah Ali Sistani, who will resolve it. Sistani would certainly choose Jaafari, an old-time Dawa operative from Karbala close to the ayatollah.

Interestingly, Sistani would informally be playing a role here similar to that played by the monarch in the UK. Sistani as Elizabeth II. It certainly wasn't what Bush had been going for with this Iraq adventure.



[more]
Tomgram: Engelhardt and Hiro on Iraqi and American fault lines

In October 2003, the TV series Frontline did a show from Iraq, "Truth, War, and Consequences," that featured a remarkable scene shot the previous April, not long after American troops arrived in Baghdad. A group of GIs have captured some Iraqis whom they accuse of stealing wood. As an instant punishment in the "Wild West" of that moment, they simply run their tank over the Iraqis' car. First the tank climbs forward over the car's body, then does it again in reverse, two sustained blows that turn the vehicle into something like a metal pancake. (GI: "We try to stop them from looting, and they don't understand, so we take their car and we crush it, the United States Army tankers. That's what you get when you loot.") One of the Iraqis later says to an interviewer simply: "I am a taxi driver. The car was my livelihood."

The scene stuck in my head and, when I was trying to imagine how Iraq might be described today, I thought of that car again -- this time in a ditch at the side of an Iraqi highway. An election has, of course, just occurred in Iraq which amounted to two massive presences and a massive absence, accounting for the three major Iraqi communities -- Kurd, Shiite, and Sunni. At the same time, much American celebration and self-congratulation (from our media as well as the Bush administration) took place over that success. And the election was indeed a striking statement of some sort.

It was as if representatives of two of those Iraqi communities suddenly appeared at the roadside in a generous mood, banged that crushed car back into some crude shape, lifted it onto the road, and pointed it in the direction they wanted to go. Soon after, a group of squabbling, none-too-savory drivers appear, eager to get into the windowless, still broken vehicle. The only problem is that, barring a miracle, it won't take them anywhere. And even if it did, representatives of the third community, feeling none too generous of spirit, have already set up a series of roadblocks and ambushes, just a few hundred yards down the highway.


[more]
News About Iraq Goes Through Filters
by Dahr Jamail

How is it that more than 40 percent of Americans still believe Iraq has weapons of mass destruction even though President Bush personally has admitted there are none?

How is it possible that millions of Americans believe the recent election in Iraq showed that Iraqis are in favor of the ongoing occupation of their country? In reality, the determination displayed by the roughly 59 percent of registered voters who participated in the election did so because they felt it would bring about an end to the U.S. occupation.

How do so many Americans wonder why more Iraqis each day are supporting both violent and non-violent movements of resistance to the occupation when after the U.S. government promised to help rebuild Iraq, a mere 2 percent of reconstruction contracts were awarded to Iraqi concerns and the infrastructure lies in shambles?

It's because overall, mainstream media reportage in the United States about the occupation in Iraq is being censured, distorted, threatened by the military and controlled by corporations that own the outlets.


[more]
photography
Norman Beierle + Hester Keijser
[more]
thanks to Conscientious

Israel Is Failing the Moral Test
Apparently, it is forbidden for Palestinians to use the tactics of Gandhi and Martin Luther King, Jr. to try to save their land and their communities from destruction.

According to Israeli authorities, one reason for my arrest two weeks ago in Biddu and my denial of entry into Israel in 2003 is that I "organized and participated in illegal demonstrations." Israeli authorities frequently use the term "illegal demonstrations" to describe peaceful protests against Israeli government violations of international law. This twisted reasoning needs to be exposed and rejected.

What is legal often does not completely correspond to what is moral. However, when what is moral is described as illegal, there is a major problem.


[more]
camera accessory
I've been making my own neck straps out of scrap leather strips that I get from a friend of mine that's a leather worker. I like the thinner straps. A friend of mine turned me on to the thin leather straps. He shot a Leica M3 and couldn't see using straps bigger than the camera. The problem I had was finding a strong enough twine for the serving. I finally found some and it arrived today. It's a waxed (bee's wax) linen twine and now I finally have a wrist strap for the FED 2. I need to make some more. I hope I have enough twine.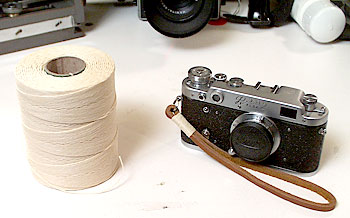 when news becomes propaganda
All Propaganda, Almost All the Time
| | | |
| --- | --- | --- |
| | Chomsky has said that propaganda is to democracy what violence is to totalitarianism. In a totalitarian state, you just shoot people who don't do what you want them to. In a democracy, you have to control what they think. Thus, as he says, "Education is a system of learned ignorance." | |
[more]

Now if most conservatives at least had the integrity of Madeleine Albright -- not exactly a high standard to meet -- they'd look at those facts, acknowledge them, and say that they think the deaths of hundreds of thousands of children were "worth it." or say that there was no alternative, short of the destabilizing war we eventually had, to deal with Saddam. And that might be the basis of a productive discussion.

But they don't. They just retreat into a world where facts don't exist, and events they're uncomfortable with don't take place.


[more]
Wanted: An Investigative Reporter to Break Open the Explosive Story of a Mainstream Press that Betrays America

The White House apologist mainstream press corps is now flagellating the Internet blogs and news services, such as BuzzFlash, claiming that writers on the net are fast with the truth.

What the reality is is this: sites like BuzzFlash.com are fast, fast in telling the truth. The New York Times and Washington Post are so interested in protecting the status quo that they are now the tail end of breaking White House scandal stories, rather than breaking them. They can lay claim to be 12th and 13th to publish hot news stories, two weeks after they've hit the Internet.


[more]
thanks to Madelane Coale
photography
Los Angeles Fire Department Historical Archive
[more]
thanks to The Cartoonist
social security
Alan Greenspan and the Meaning of "Trust"
| | | |
| --- | --- | --- |
| | When Federal Reserve chairman Alan Greenspan testifies before the Senate Banking Committee on Wednesday, it will be the first time he will comment publicly on President George W. Bush's proposal to privatize Social Security. Great weight will be given to his statements. But in light of Greenspan's long, tortured relationship with Social Security, his views should be treated with the same skepticism that Dr. Phil shows toward his guests. | |
[more]
thanks to Talking Points Memo



Three-Card Maestro
by Paul Krugman

Privatizers claim that financial markets won't be disturbed by all that borrowing because the Bush plan prescribes offsetting cuts in guaranteed benefits for the workers who open private accounts. Mr. Greenspan, who does know a thing or two about markets, put his finger on the reason why those prospective future benefit cuts wouldn't offset current borrowing in the eyes of investors: "Well, the problem is that you cannot commit future Congresses to stay with that."

Yet the chairman managed to avoid admitting the obvious - that borrowing on the scale the Bush plan requires would substantially increase the risk of a financial crisis. And the headlines didn't emphasize his concession that crucial critiques of the Bush plan are right. As he surely intended, the headlines emphasized his support for privatization.

One last point: a disturbing thing about Wednesday's hearing was the deference with which Democratic senators treated Mr. Greenspan. They acted as if he were still playing his proper role, acting as a nonpartisan source of economic advice. After the hearing, rather than challenging Mr. Greenspan's testimony, they tried to spin it in their favor.

But Mr. Greenspan is no longer entitled to such deference. By repeatedly shilling for whatever the Bush administration wants, he has betrayed the trust placed in Fed chairmen, and deserves to be treated as just another partisan hack.


[more]
photography

St Thomas' Hospital, Lambeth: nurses, including a black nurse,
at work in George Ward
c.1900-1920
[more]
thanks to The Cartoonist
global climate change
World View of Global Warming
Glaciers and Glacial Warming, Receding Glaciers

The Pasterze, Austria's longest glacier, was much longer in the 19th C. but is now completetely out of sight from this overlook on the Grossglockner High Road.

thanks to CounterPunch





FED 2

I love my little FED 2. They are not well known in this country but here is a famous person that has one.
[more]
thanks to RangeFinderForum.com
sex

In the old days, social conservatives simply fought any mention of sex. In 1906, The Ladies' Home Journal published articles about venereal disease - and 75,000 readers canceled their subscriptions. Congress banned the mailing of family planning information, and Margaret Sanger was jailed in 1916 for selling a birth control pamphlet to an undercover policewoman.

But silence about sex only nurtured venereal diseases (one New York doctor, probably exaggerating, claimed in 1904 that 60 percent of American men had syphilis or gonorrhea), so sex education gradually gained ground. Then social conservatives had a brilliant idea: instead of fighting sex ed directly, they campaigned for abstinence-only programs that eviscerated any discussion of contraception.

That shrewd approach succeeded. In 1988, a survey by the Alan Guttmacher Institute found that only 2 percent of sex-ed teachers used an abstinence-only approach. Now, the institute says, a quarter of them do.

Other developed countries focus much more on contraception. The upshot is that while teenagers in the U.S. have about as much sexual activity as teenagers in Canada or Europe, Americans girls are four times as likely as German girls to become pregnant, almost five times as likely as French girls to have a baby, and more than seven times as likely as Dutch girls to have an abortion. Young Americans are five times as likely to have H.I.V. as young Germans, and teenagers' gonorrhea rate is 70 times higher in the U.S. than in the Netherlands or France.


[more]
thanks to DANGEROUSMETA!
view camera image capturing device
The Burke and James is all back together. All the loose screws have been tightened and it's ready for shooting. The bad news is that I still haven't found my 4x5 sheet film holders. The good news is that my 120 roll film back arrived. Now I have a really big medium format view camera. At least the roll film is a cheap way to test out the camera and check for light leaks, etc. I hung around eBay until I found one (a 2.25x3.25) that was going for a low price. I got it for half of what they normally go for. I always worry that there must be something wrong with it to go so low but it arrived and is in excellent shape. Looks almost new.
It mounts on the Graflock back and has a dark slide so that you can take it off the camera while there is film in it.
The back pops open...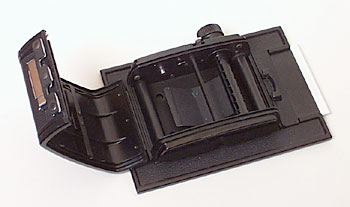 ...and the insert comes out. The film is loaded on the insert and loaded back into the 120 back.
This is the back with the hood open. The glass is the size of the 4x5 film and the pencil marks on the ground glass are for composing for the 120 roll film.
The Graflok back is a wonderfull invention. You press on the two spring loaded arms...
...and just slide the part with the hood and gound glass out.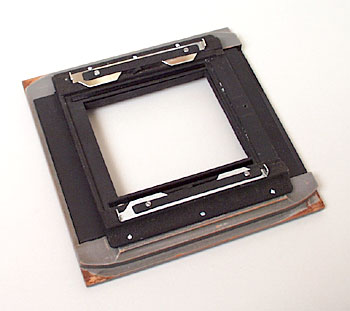 Then place the roll film back in and slide down the little holders and, voila!, you have a really big medium format camera.
I ran a roll of XP2 though it last night taking camera portraits of my Mamiya Universal and my Leica IIIc. It was really nice to have full movements and to be able to make fine adjustments by just moving or rotating the standards. If the pictures come out I will be posting them. Now to find those 4x5 film holders!
Wednesday February 16 2005
iraq
Shiites Take Absolute Majority in Parliament
Iran Scores Victory in the Iraqi Elections
| | | |
| --- | --- | --- |
| | Lebanese Broadcasting Co.'s satellite television news is reporting that the United Iraqi Alliance (UIA), comprising Shiite religious parties, has won an absolute majority (141 seats) after adjustments were made in accordance with electoral procedure. Abdul Aziz al-Hakim, the list leader, expressed his pleasure at this 51 percent outcome for his coalition. The UIA still needs a 2/3s majority, and therefore a coalition partner or partners, to form a government (which involves electing a president and two vice-presidents, who will appoint a prime minister). But it can now win votes on procedure and legislation without needing any other partner. | |
[more]
Iraq Winners Allied With Iran Are the Opposite of U.S. Vision

When the Bush administration decided to invade Iraq two years ago, it envisioned a quick handover to handpicked allies in a secular government that would be the antithesis of Iran's theocracy -- potentially even a foil to Tehran's regional ambitions.

But, in one of the greatest ironies of the U.S. intervention, Iraqis instead went to the polls and elected a government with a strong religious base -- and very close ties to the Islamic republic next door. It is the last thing the administration expected from its costly Iraq policy -- $300 billion and counting, U.S. and regional analysts say.


[more]
US fights back against 'rule by clerics'

Of these calls for autonomy or federalism, the most disconcerting for US authorities is the call for religious rule. Already, leading Shi'ite clerics in Iraq are pushing for "Islam to be recognized as the guiding principle of the new constitution".

To head off this threat of a Shi'ite clergy-driven religious movement, the US has, according to Asia Times Online investigations, resolved to arm small militias backed by US troops and entrenched in the population to "nip the evil in the bud".

Asia Times Online has learned that in a highly clandestine operation, the US has procured Pakistan-manufactured weapons, including rifles, rocket-propelled grenade launchers, ammunition, rockets and other light weaponry. Consignments have been loaded in bulk onto US military cargo aircraft at Chaklala airbase in the past few weeks. The aircraft arrived from and departed for Iraq.


[more]
Pentagon Covers Up Failure to Train and Recruit Local Security Forces

Training of Iraq's security forces, crucial to any exit strategy for Britain and the US, is going so badly that the Pentagon has stopped giving figures for the number of combat-ready indigenous troops, The Independent on Sunday has learned.

Instead, only figures for troops "on hand" are issued. The small number of soldiers, national guardsmen and police capable of operating against the country's bloody insurgency is concealed in an overall total of Iraqis in uniform, which includes raw recruits and police who have gone on duty after as little as three weeks' training. In some cases they have no weapons, body armour or even documents to show they are in the police.

The resulting confusion over numbers has allowed the US administration to claim that it is half-way to meeting the target of training almost 270,000 Iraqi forces, including around 52,000 troops and 135,000 Iraqi policemen. The reality, according to experts, is that there may be as few as 5,000 troops who could be considered combat ready.


[more]
music
Sunday night Zoe and I watched the Grammy's. Not something we normally do but Dave Van Ronk was up for a Grammy in traditional Folk. While watching we googled away (Zoe on her Mac and I on my PC (we have a mixed relationship)) only to discover that the Traditional Folk category wasn't going to be televised but Zoe found this article by Christine Lavin. [Disclosure: Zoe and I work on Christine's website.] She read it to me. I would read it to you but you will have to read it for yourself.
On Grammy Night, an Elegy for A Folk Hero
by Christine Lavin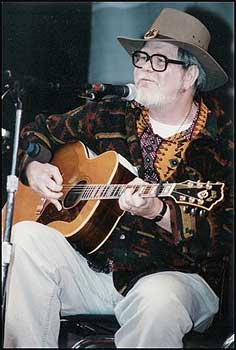 In one of the obscure categories that won't be televised live at tonight's 47th Annual Grammy Awards -- traditional folk -- is a nominee who can count among his fans actors Tim Robbins and Susan Sarandon, novelists Lawrence Block, Carl Hiaasen and Stephen King, folk singers Pete Seeger, Tom Paxton, Suzanne Vega, Richie Havens, Odetta . . . and even the Oregon Psychiatric Association, which in 1997 made him an honorary member simply because they liked his music that much.

His name is Dave Van Ronk. During his lifetime he performed concerts around the world, taught countless young guitarists how to play, recorded more than 35 albums, received an ASCAP Lifetime Achievement Award . . . yet never won a Grammy. He was nominated only once before, in 1996, but watched his friend Ramblin' Jack Elliott win it that year. Tonight in Los Angeles is his last chance. Dave died Feb. 10, 2002, at age 65; I was one of the young guitarists who studied with him, having moved to New York in 1976 for that sole purpose. We ended up pals for 26 years.

The nominated album, titled "And the Tin Pan Bended and the Story Ended," was recorded at Dave's final concert, performed Oct. 22, 2001, at the Paint Branch Unitarian Universalist Church in Adelphi. Three days before the concert he was diagnosed with colon cancer and scheduled to enter the hospital on Halloween. "Not an auspicious sign," he joked.

There's a lot riding on this for Dave. The Grammy Award is an official stamp of approval that could make all the more valuable the 60-plus hours of never-released archival tapes belonging to his widow, Andrea Vuocolo. In the first chapter of Bob Dylan's "Chronicles," recently nominated for a National Book Award, he acknowledges the great influence Van Ronk had on him, so when Dave's own book, "The Mayor of MacDougal Street," is published in May, a Grammy win would shine the spotlight more brightly on that, too. And there is Martin Scorsese's documentary for PBS, set to air this year (working title: "Bob Dylan's American Journey"), in which Dave is prominently featured.


[more]
Further googling showed that Dave didn't win a Grammy. However, in my world, Dave did win. Listen to Dave's album. Listen to any of his albums. Trust me on this.
does anyone feel a draft?
The Return of the Draft
With the army desperate for recruits, should college students be packing their bags for Canada?

Uncle Sam wants you. He needs you. He'll bribe you to sign up. He'll strong-arm you to re-enlist. And if that's not enough, he's got a plan to draft you.

In the three decades since the Vietnam War, the "all-volunteer Army" has become a bedrock principle of the American military. "It's a magnificent force," Vice President Dick Cheney declared during the election campaign last fall, "because those serving are ones who signed up to serve." But with the Army and Marines perilously overextended by the war in Iraq, that volunteer foundation is starting to crack. The "weekend warriors" of the Army Reserve and the National Guard now make up almost half the fighting force on the front lines, and young officers in the Reserve are retiring in droves. The Pentagon, which can barely attract enough recruits to maintain current troop levels, has involuntarily extended the enlistments of as many as 100,000 soldiers. Desperate for troops, the Army has lowered its standards to let in twenty-five percent more high school dropouts, and the Marines are now offering as much as $30,000 to anyone who re-enlists. To understand the scope of the crisis, consider this: The United States is pouring nearly as much money into incentives for new recruits -- almost $300 million -- as it is into international tsunami relief.


[more]
thanks to wood s lot
photography
Urformen der Kunst
The Complete Portfolio
| | | |
| --- | --- | --- |
| | Karl Blossfeldt (1865-1932) was a German instructor of sculpture who used his remarkable photographs of plant studies to educate his students about design elements in nature. Self-taught in photography, he devoted himself to the study of nature, photographing nothing but flowers, buds and seed capsules for thirty-five years. He once said, "The plant never lapses into mere arid functionalism; it fashions and shapes according to logic and suitability, and with its primeval force compels everything to attain the highest artistic form." | |
[more]
thanks to Coudal Partners

From Aqaba to Sharm: Fake Peace Festivals

Judging from the optimistic language of the media, the new era exists not just at the level of declared plans. The praises for Sharon, the feeling of huge progress, would let one almost believe that things have actually changed on the ground - some settlements evacuated, the occupation almost over, cessation of Israeli violence. The Palestinian elections, together with the Iraqi elections that also took place in January, were hailed as a big victory for democracy, with hardly any mention of the fact that in both places, these were elections under occupation. In the CNN report of the Palestinian election day, the enthusiastic reporter spoke about the future relations between the two "countries" (Israel and Palestine), as if the Palestinian state is already founded on its liberated land.

But the bitter reality is that nothing has changed. The new "peace plans" are no more real than the previous ones, and on the ground, the Palestinians are losing more of their land and are being pushed into smaller and smaller prison enclaves, surrounded by the new wall that Sharon's government keeps constructing. On the day of the Sharm El-Sheikh summit Israeli sources announced that even the illegal outposts that Israel has committed to evacuate long ago will not be evacuated until "after implementation of the disengagement from the Gaza Strip".[2]

Mahmoud Abbas was elected as president of the Palestinian authority on January 9, and had served in the role of prime minister already once before, since April 29, 2003. These were the days of another promising "peace plan" - the Road Map. Just as now, the new era was celebrated, in June 2003, in a summit in Aqaba Jordan, with Bush, Sharon and Abbas. If we want to know what awaits Abbas on this round, it would be useful to examine in detail what happened in that previous round. The Road Map story contains all the elements of Israel's policy in the last four years, and of what Israel will continue to do, if undisturbed by the international community.


[more]
thanks to Aron's Israel Peace Weblog
newspapers
The Kansas City Journal-Post
A Digital Version of the Diamond Jubilee Section of December 29th, 1929
[more]
thanks to The Cartoonist
economics
| | | |
| --- | --- | --- |
| | One person, one economist, can get a government to change its policy. I have done it. Often. It is what I do for a living. My book, The Economist's Tale (Zed Books) shows one case where I did it. This time, I stopped a famine. | |
[more]
thanks to The Blogging of the President: 2004

architecture
The Wright Stuff: Rare Images of Taliesin
| | | |
| --- | --- | --- |
| | The 32 photographs are in an album once owned by the late Dale O'Brien and his wife Helen, who lived in Spring Green during the 1960s. They were put on the market by Helen Conwell, a retired physician from Fairhope, Alabama, who acquired them from the O'Brien estate 20 years later. Dating from 1911-1912, they show the construction of Wright's original Taliesin enclave before it was destroyed by fire in 1914. It was subsequently rebuilt, only to burn again, and was continually revised throughout the architect's life. These images therefore document Wright's original idea for a creative sanctuary as he first envisioned it. | |
[more]
thanks to gmtPlus9
responsible capitalism need not be an oxymoron
The New Colossus
by William Greider

While dispirited Democrats stew over their party's uncertain future, they might check out an unusual cluster of progressive "activists" forming within their ranks. Some politicians with real muscle are pursuing far-ranging possibilities for reforming the economic system. Their potential for driving important change is not widely recognized, perhaps because the reformers are drawn from unglamorous backbenches of state government--treasurers, comptrollers, pension-fund trustees. Yet these state officials, unlike the minority Democrats in Congress, have decision-making power and control over enormous pools of investment capital. They are fiduciaries who manage the vast wealth stored by state governments in public-employee pension funds, invested in behalf of working people--civil servants, teachers and other types of public workers--who as future retirees are "beneficial owners" of the capital.

In the wake of Enron-style corporate scandals, in which public pension funds lost more than $300 billion, some of the leading funds have restyled themselves as more aggressive reformers. They are picking fights with Wall Street orthodoxy they long accepted, like the obsessive maximizing of short-term gains. More important, they are broadening their definition of fiduciary obligations to retirees by trying to enforce corporate responsibilities to serve society's long-term prospects. Instead of adhering passively to market dogma, the activist funds now regularly accuse corporate managements and major financial houses of negligently or willfully injuring the long-term interests of pension-fund investors, therefore injuring the economy and society, too. Pension-fund wealth is thus being mobilized as financial leverage to break up the narrow-minded thinking of finance capital and to confront the antisocial behavior of corporations.
[...]

The best evidence that the reform-minded pension funds are onto something--maybe something big--is the fierce and nasty counterattack launched by business and financial interests. Last spring, the Business Roundtable, the US Chamber of Commerce and the American Enterprise Institute began a simultaneous barrage of complaints and name-calling accusations (faithfully echoed by the Wall Street Journal and Forbes). State pension officials, they warned, are departing dangerously from their fiduciary duties, putting "social issues" first and becoming pawns of organized labor. AEI's economic-policy director claimed CalPERS (the mammoth California Public Employees' Retirement System) "is abusing the public trust in a manner as serious and grave as any I have seen. They have a pool of money controlled by politicians and they are using that pool to strong-arm changes in targeted companies."


[more]
thanks to Bad Attitudes
transportation
subway systems of the world, presented on the same scale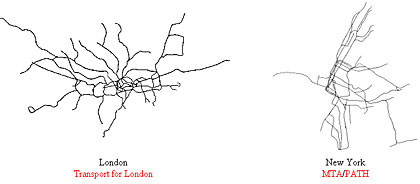 [more]
thanks to plep
voting
by David Neiwert

I'm sure glad the Democrats took my advice [as if!] and made Howard Dean chair of the DNC. It'll bring some fresh life to the party -- but he has his work cut out for him.

If he wants a good case in microcosm of what he's up against, particularly the kinds of tactics that Democrats will be facing, he should take a good look at the fight over the election of Washington's governor.

For the time being, Democrat Christine Gregoire appears fairly secure in her narrow 129-vote win. Dino Rossi, her Republican opponent, has continued to pursue his court challenge of the election, even though the rulings so far have not gone his way. A Chelan County Superior Court judge ruled last week that state law does not provide for a revote, which is what Republicans have been pushing for. The state Supreme Court eventually will make the final decision, though that likely won't happen until June at the earliest -- by which time Gregoire will have had about six months to entrench herself as governor.

But that doesn't mean Republicans will give up. Even now, they continue to beat the war drums, demanding a revote, while Rossi steadfastly refuses to concede.

This public campaign -- waged largely on the right-wing talk-radio bandwidths, as well as those belonging to conservative bloggers like Stefan Sharkansky's Sound Politics -- is in fact representative of Republicans' larger effort to remake America into a one-party state.

The whole idea, it seems, is to attack relentlessly, barraging the public with a steady drumbeat of misinformation and wild speculation, all designed to undermine the legitimacy of the Democrats.


[more]
And, while they are at it, undermine democracy.
stupid google tricks
Googling for Gordon Coale doesn't give a big surprise — this blog is first. Even googling for Coale gets a top spot. The hard one is googling for Gordon. For a long time this blog was mired in the 40s. Either this site has become wildly popular of Google has change their ranking algorithms again. Gordon comes in at number 11 as of this writing. I'm sure this new fame will result in a vast fortune.
authur miller

Arthur Miller, in his autobiography, "Timebends," quoted the great physicist Hans Bethe as saying, "Well, I come down in the morning and I take up a pencil and I try to think. ..."

It's a notion that appears to have gone the way of the rotary phone. Americans not only seem to be doing less serious thinking lately, they seem to have less and less tolerance for those who spend their time wrestling with important and complex matters.

If you can't say it in 30 seconds, you have to move on. God made man and the godless evolutionists are on the run. Donald Trump ("You're fired!") and Paris Hilton ("That's hot!") are cultural icons. Ignorance is in. The nation is at war and its appetite for torture may be undermining the very essence of the American character, but the public at large seems much more interested in what Martha will do when she gets out of prison and what Jacko will do if he has to go in.

Mr. Miller's death last week meant more than the loss of an outstanding playwright. It was the loss of a great public thinker who believed strongly, as Archibald MacLeish had written, that the essence of America - its greatness - was in its promises. Mr. Miller knew what ignorance and fear and the madness of crowds, especially when exploited by sinister leadership, could do to those promises.


[more]
first light
The 4x5 back is done for the Burke and James. There are a few bits left to put back on the camera but here it is ready for first light.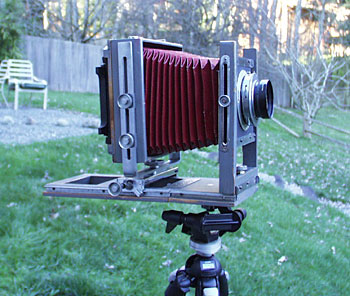 The new 4x5 reducing back.
The hood is open for first light.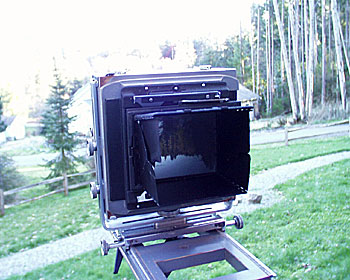 And there was light.
And it was upside down.
And it was good.
I don't think I will be buying more camera gear for awhile. Reality is rearing it's ugly head again and money is short but there is a roll film back already in the pipeline that should be here soon. And Nick, the guy I traded for the camera, is sending me a 127mm lens for the price of postage. Time to fix up what I have and find things like my 4x5 film holders. The 127mm lens is equivalent to a 35mm lens on 35mm cameras. The two lens I already have are a 254mm lens, equivalent to a 70mm lens, and a 210mm lens, equivalent to a 58mm lens. There are a few holes there but they should occupy me for some time.
The first thing to upgrade will be the tripod. The Manfrotto tripod and head are rated for 11 pounds. The camera is less than that but that long camera hanging out there flexes the tripod pretty badly. Just have to be careful and it'll work. A low cost solution is a surveyor's tripod with a Majestic gearhead. Both can be had cheap on eBay and will hold up to 35 pounds. Such as an 8x10 or an 11x14. Two low cost lenses (relatively) to consider are a 150mm (43mm equivalent) Schneider G-Claron like my 210 and a 100mm (28mm equivalent) Kodak wide field Ektar. Then there is the 5x7 back and the dark room...
iraq
And Life Goes On...
by Riverbend

The elections have come and gone. The day of elections was a day of eerie silence punctuated by a few strong explosions and the hum of helicopters above. We remained at home and watched the situation on tv. E. left for about an hour to see what was happening at the local polling area, which was a secondary school nearby. He said there were maybe 50 people at the school and a lot of them looked like they were involved with the local electoral committee. The polling station near our house was actually being guarded by SCIRI people (Badir's Brigade).

It was like an voting marathon for all of the news channels- everywhere you turned there was news of the elections. CNN, Euronews, BBC, Jazeera, Arabia, LBC… everyone was talking elections. The Arab news channels were focusing largely on voting abroad while CNN kept showing footage from the southern provinces and the northern ones.

I literally had chills going up and down my spine as I watched Abdul Aziz Al Hakeem of Iranian-inclined SCIRI dropping his ballot into a box. Behind him, giving moral support and her vote, was what I can only guess to be his wife. She was shrouded literally from head to foot and only her eyes peeped out of the endless sea of black. She stuffed her ballot in the box with black-gloved hands and submissively followed a very confident Hakeem. E. turned to me with a smile and a wink, "That might be you in a couple of years…" I promptly threw a sofa cushion at him.


[more]
Getting the Purple Finger
by Naomi Klein

The Iraqi people gave America the biggest 'thank you' in the best way we could have hoped for." Reading this election analysis from Betsy Hart, a columnist for the Scripps Howard News Service, I found myself thinking about my late grandmother. Half blind and a menace behind the wheel of her Chevrolet, she adamantly refused to surrender her car keys. She was convinced that everywhere she drove (flattening the house pets of Philadelphia along the way) people were waving and smiling at her. "They are so friendly!" We had to break the bad news. "They aren't waving with their whole hand, Grandma--just with their middle finger."

So it is with Betsy Hart and the other near-sighted election observers: They think the Iraqi people have finally sent America those long-awaited flowers and candies, when Iraq's voters just gave them the (purple) finger.


[more]
thanks to Bad Attitudes
photography
[more]
thanks to Conscientious

Mideast: No Peace Without Justice
by Robert Fisk

It was all too clear in the reporting. What was on offer, said CNN, was "an end to all violence" -- as if occupation and illegal colonization was not a form of violence. The Associated Press talked gutlessly about "towns that, for now, continue to be under Israeli security control" -- in other words, under Israeli occupation, although they would not tell their readers this.

So Mahmoud Abbas is going to be the Hamid Karzai of Palestine, his tie the equivalent of Karzai's green gown, "our" new man in Palestine, the "tsunami" that has washed away the contamination of Arafat, whose grave Rice managed to avoid. But the tank-traps remain: East Jerusalem, Jewish settlements and the "right of return" of 1948 Palestinians to the homes they lost.

If we are going to clap our hands like the Sharm El-Sheikh "peacemakers," we'd better realize that unless we are going to resolve these great issues of injustice now, this new act of "peacemaking" will prove to be as bloody as Oslo. Ask Mahmoud Abbas. He was the author of that first fatal agreement.


[more]
Eyad Sarraj: hopeful in Gaza
by Helena Cobban
| | | |
| --- | --- | --- |
| | Go straight here. Read why Eyad Sarraj, a dedicated children's psychiatrist, human rights activist, and the director of the Gaza Community Mental Health Programme, titled this op-ed piece, This time, I'm hopeful. | |
[more]
photography
Real Chicago
from the files of the Chicago Sun-Times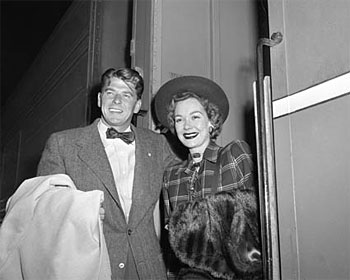 Ronald Reagan and wife, Jane Wyman, arrive at Dearborn Station on October 6, 1946.
[more]
thanks to J-Walk Blog
iran
Could Bush Possibly Make the Same Mistake Twice? Yeah.

The Bush administration is making the same mistakes with Iran that it made with Iraq. It makes allegations unsupported by facts, refuses to negotiate and threatens sanctions or military action, neither of which is feasible.

In short, it has no rational Iran policy.

The Bush administration seems to be under the impression that the Iranians are pursuing the development of a nuclear weapon. Sound familiar? The Iranians deny it. The administration says, in effect, that they are lying. If the administration has any proof, let's see it. It was so all-fired certain that Iraq was not only pursuing nuclear weapons but had stockpiles of other weapons, all of which has been proven untrue. That was a mistake that has cost us 1,400 lives and 10,000 wounded. Make that mistake with Iran, and you'll see a heck of a lot more body bags coming back to the United States.


[more]
beer

Do you enjoy consuming silky, dry Irish stouts, such as those brewed by Guinness®, Murphy's®, and Beamish®?

Do you also enjoy the occasional hoppy ale, malty lager, or crisp pilsner?

Then why not enjoy the attributes of your favorite light and dark beers individually - and simultaneously - in the same glass?


[more]
thanks to J-Walk Blog
budget
Bush's Class-War Budget
by Paul Krugman

It may sound shrill to describe President Bush as someone who takes food from the mouths of babes and gives the proceeds to his millionaire friends. Yet his latest budget proposal is top-down class warfare in action. And it offers the Democrats an opportunity, if they're willing to take it.

First, the facts: the budget proposal really does take food from the mouths of babes. One of the proposed spending cuts would make it harder for working families with children to receive food stamps, terminating aid for about 300,000 people. Another would deny child care assistance to about 300,000 children, again in low-income working families.

And the budget really does shower largesse on millionaires even as it punishes the needy. For example, the Center on Budget and Policy Priorities informs us that even as the administration demands spending cuts, it will proceed with the phaseout of two little-known tax provisions - originally put in place under the first President George Bush - that limit deductions and exemptions for high-income households.

More than half of the benefits from this backdoor tax cut would go to people with incomes of more than a million dollars; 97 percent would go to people with incomes exceeding $200,000.


[more]
print making
[more]
thanks to plep
we don't need no stinkin' scientists
U.S. Scientists Say They Are Told to Alter Findings
More than 200 Fish and Wildlife researchers cite cases where conclusions were reversed to weaken protections and favor business, a survey finds
large format
My work on my large format cameras continues. All the leather is off of the Speed Graphic. Getting the residual leather and the old glue off slowed me down but I tried a scraper and that works fine. I'll have pictures when the scraping is done.
I'm almost done with the 4x5 reducing back for the Burke and James. I built an insert with a 4x5 hole that fits in the sapce for the 5x7 film holder. I used some masonite-like hardboard that came with the packing of some furniture we picked up Thursday. There are actually three thicknesses of the stuff. I just put a thin layer of 5 minute epoxy on them and then set a heavy toolbox on it until the epoxy went off. It is all one now. I think I will also be able to use the hardboard for building lens boards. I have the 210 Schnieder G-Claron process lens in a barrel that Marja-Leena sent me that needs a lens board.
The perimeter of the Graflok back had strips of self-sticking fuzzy stuff. With this insert, the corners are hanging out so I took off the fuzzy stuff, shortened it up, applied some Barge cement and moved them closer to the hole where they will be in contact with the insert. The paint is drying and I should be able to screw the Graflock back on tomorrow.
It's been a long time since I cut glass. I have a feeling it will be a long time before I cut any more. I screwed up the first piece and had to use the one that came with the camera. It cut down fine. I plan on getting some Satin Snow ground glass (and they are cut to size) so this is a short term solution although sometimes short term solutions seem to become long term solutions. (I learned this from Blaine.) The Satin Snow site had some PDF files of ground glass markings so I printed them out and marked up the ground glass with a pencil.
I moved last summer and somewhere there is a box with my 4x5 sheet film holders and a Polaroid back. I'm still looking for them. There is also a Packard shutter with them that I will need for the 210. The first thing I want to do is get a roll film back for shooting close ups.
I have the 210 and the 254 that came with the camera. Now that the 4x5 is nearing completion the guy I got the camera from is sending me a 127mm lens in shutter that will better for the 4x5. That will help with the close-ups.
I've been a long time without a view camera. The Burke and James is going to be a lot of fun! It's perfect for what I want to do.