Archives
oil
I've been linking to articles on peak oil for awhile. There seems to be a real flood of them lately. Maybe people are waking up.
Back to the Ancient Future
Chewing Raw Grubs with the "Nutcracker Man"

Anyway, I came away from the meeting deeply struck by one thing. Every person there seemed to understand and acknowledge the coming global human "die-off." The one that has already begun in places like Africa and will grow into a global event sometime within our lifetimes and/or those of our children. The one that will kill millions of white people. That's right, clean pink little Western World white people like you and me. Nobody in the U.S. seems to be able to deal with or even think about this near certainty, and the few who do are written off as nutcases by the media and the public. Mostly though, it goes unacknowledged. All of which drives me nuts because the now nearly visible end of civilization strikes me as worthy of at least modest discussion. You'd think so. But the mention of it causes my wife to go into, "Oh Joe, can't we talk about something more pleasant?" And talk about causing weird stares and dropped jaws at the office water cooler.

Here's the short course: Global die-off of mankind will occur when we run out of energy to support the complex technological grid sustaining modern industrial human civilization. In other words, when the electricity goes out, we are back in the Dark Age, with the Stone Age grunting at us from just around the corner. This will likely happen in 100 years or less, assuming the ecosystem does not collapse first. And you are thinking, "Well ho ho ho! Any other good news Bageant? And how the fock do you know this anyway?"

For those willing to contemplate the subject, there is a scientifically supported model of the timeline of our return to Stone Age tribal units. A roadmap to the day when we will be cutting up dog meat with a sharpened cd rom disc in some toxic future canyon. It is called the Olduvai Theory.


[more]
thanks to Bad Attitudes



"The First Half of the Oil Age Now Closes"



The end of oil is closer than you think
Oil production could peak next year, reports John Vidal. Just kiss your lifestyle goodbye



The gushing truth
Contrary to Bush, enviros and Thomas Friedman, America will never be energy independent. The sooner we accept this, the sooner we'll be able to change our gas-guzzling ways.



Global race is on to snag oil supplies



thanks to DANGEROUSMETA!



Carter Tried To Stop Bush's Energy Disasters - 28 Years Ago
thanks to Bad Attitudes
photography
JOSEF SCHULZ
fotografische Arbeiten
[more]
thanks to Conscientious
iraq
Secret British Memo Shows Bush Tampered with Iraq Intelligence
by Juan Cole

A top secret British memorandum dated 23 July 2002 was leaked in the run-up to yesterday's parliamentary elections in the UK (which Blair won, though his Labour Party was much weakened by public disgust with such shenanigans as the below). I mirror the memo below, from the Times Online site. It summarizes a report to Blair and others in the British government by Sir Richard Dearlove (This is the press release when he was appointed in 1999). The head of MI6, or the foreign intelligence service of the UK, is known as "C."

Here is the smoking gun:

"C [Dearlove] reported on his recent talks in Washington. There was a perceptible shift in attitude. Military action was now seen as inevitable. Bush wanted to remove Saddam, through military action, justified by the conjunction of terrorism and WMD. But the intelligence and facts were being fixed around the policy.


It is not surprising on the face of it that Bush had decided on the Iraq war by summer of 2002. It it is notable that Dearlove noticed a change in views on the subject from earlier visits. By summer of 2002, the Afghanistan war had wound down and al-Qaeda was on the run, so Bush no longer felt vulnerable and was ready to go forward with his long-cherished project of an Iraq War. What is notable is that all this was not what Bush was telling us.

Bush was lying to the American people at the time and saying that no final decision had been made on the war.


[more]
Analysis: U.S. back to stage one in Iraq

The most sobering aspect of the ongoing wave of terror in Iraq is not that things have changed, but that they haven't.

By Monday, at least 74 people had been killed in attacks all across the country since Friday and so far the numbers show no signs of abating.

The political and strategic motivation for the current wave of attacks appears clear: It is to discredit the Shiite-Kurdish coalition government that has finally been laboriously cobbled together after many weeks of wrangling. It would appear, therefore, that the insurgents had carefully husbanded their resources and prepared for this moment over the past three months since the Jan. 30 national elections.


[more]
thanks to Antiwar.com
photography
touchless automatic wonder
by Lewis Koch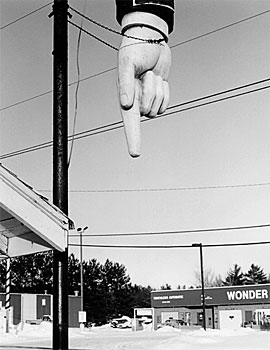 [more]
china
Does the Future Belong to China?
A new power is emerging in the East. How America should handle unprecedented new challenges, threats—and opportunities.

Americans admire beauty, but they are truly dazzled by bigness. Think of the Grand Canyon, the California redwoods, Grand Central Terminal, Disney World, SUVs, the American armed forces, General Electric, the Double Quarter Pounder (With Cheese) and the Venti Latte. Europeans prefer complexity and nuance, the Japanese revere minuteness and minimalism. But Americans like size, preferably supersize.

That's why China hits the American imagination so hard. It is a country whose scale dwarfs the United States—1.3 billion people, four times America's population. For more than a hundred years it was dreams of this magnitude that fascinated small groups of American missionaries and businessmen—1 billion souls to save; 2 billion armpits to deodorize—but it never amounted to anything. China was very big, but very poor. All that is changing. But now the very size and scale that seemed so alluring is beginning to look ominous. And Americans are wondering whether the "China threat" is nightmarishly real.


[more]
A couple of weeks ago I was in a local thrift store and came across Barbara W. Tuchman's Stilwell and the American Experience in China, 1911-45. It's a book that I think about buying every decade or so. Got if for 40 cents and I'm finally reading it. Buying it new will cost a lot more and be worth whatever you pay for it. An excellent background to China up to the Communist takeover. Reading this it's easy to see why the Communists prevailed. This book came out in 1972 and is more relavent then ever. Now I need to find a good book on the Communist period in China. Anyone have a recommendation?
photography
[more]
nuclear options
It appears that Frist is going to implement the nuclear option of elimination the filibuster in the Senate next week in order to ram Bush's right wing judges through. Juan Cole has some comments followed by comments on Cole's comments.
The Nuclear Option, Algeria and David Hume's Perfect Commonwealth

In his press conference on last Thursday, President Bush said, "Speaking about judges, I certainly hope my nominees get an up-or- down vote on the floor of the Senate. They deserve an up-or-down vote. I think, for the sake of fairness, these good people I've nominated should get a vote. And I'm hoping that will be the case as time goes on."

But they do not deserve an up-or-down vote. They don't deserve anything at all.

US Constitution:

Article 2, Section 2, Clause 2: "He shall have Power, by and with the Advice and Consent of the Senate, to make Treaties, provided two thirds of the Senators present concur; and he shall nominate, and by and with the Advice and Consent of the Senate, shall appoint Ambassadors, other public Ministers and Consuls, Judges of the supreme Court . . ."

The senators have to consent. In the case of the presidents' treaties (which affect their prestige and often policies much more than a mere judicial appointment) there even has to be a 2/3s majority in concurrence. Such a supermajority is not required for the appointments, but there is clearly no presumption that the president should be deferred to by the senate. The president should be consulting beforehand, which would have made consent easier to obtain. The issue isn't the filibuster. The issue is the independence of the Senate and of the judiciary. The question is whether we have 3 branches of government, or only one.


[more]
| | | |
| --- | --- | --- |
| | Now where I disagree with Professor Cole: First, the filibuster is central to this dispute. Why? Because it is the filibuster, the zealously guarded Senate tradition, that ensures the drive for consensus in choosing judges not beholden to one faction or the other. Norm Ornstein of AEI, an expert on the Congress, has driven this point home time and time again. The filibuster is no mere procedural technicality. It is intended to force consensus. | |
[more]
boats
Superbattleships
Superpancerniki typu "YAMATO"
(1941-1942)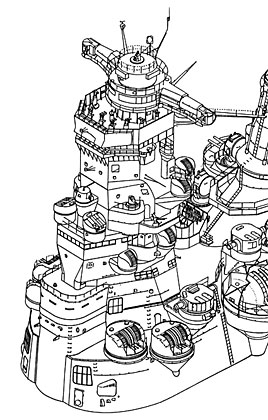 [more]
thanks to consumptive.org
housing bubble

Pardon the cutesy, alliterative title - it's just an attempt to find some new way to discuss that boring old real estate bubble that never seems to burst. Or at least that's the frustration of those who think there is a real estate bubble; the jury is usually out on these debates until something disastrous has happened in a market and everyone can see after the fact that a bubble truly existed.

But the omens are gathering that the real estate boom is close to its end. The pace and depth of the price declines ahead will in the end convince any doubters that the U.S. real estate market was grossly over-extended. It will be, in retrospect, another NASDAQ debacle.


[more]
photography
I found these Frank Van Ripper essays mentioned on Rangefinder Forum
One Photographer's Return to Film

At a time when Eastman Kodak is announcing that it no longer will sell traditional film cameras in the US, Canada and Western Europe, I think it's important to offer the thoughts of my friend and colleague Paul Gero, an ex-newspaper photographer-turned freelance who is making a name for himself on the west coast as a commercial shooter and wedding photographer.

Paul, who bows to no one in his appreciation and use of PhotoShop, who knows his way around virtually every high-end digital rig on the market, and who has been shooting professionally for well over two decades, relayed the following to me in a recent e-mail:

"Just wanted you to know that after seven years, I've decided to buy a Leica again!"

Not only that, Paul said, but "I've also decided to go back to film for my own weddings..."


[more]
Burnett's 4x5: Covering Politics the Hard Way
I've linked to this before but it's worth reading again.
| | | |
| --- | --- | --- |
| | Dave, who never met a camera system he didn't like – or couldn't master and produce great images with – is now covering the men who would be president with a brace of ancient 4x5 Speed Graphic press cameras – and the occasional medium format Rolleiflex and Holga. He was a familiar sight on the trail four years ago with his plastic square-format Holgas, and in fact, made one of the best images of the 2000 campaign with it: a picture of Al Gore on the stump, stemwinding in shirtsleeve shortly before Election Day – as ominous clouds loom overhead. | |
[more]
Here is his index page. I need to check back regularly.
Frank Van Riper on Photography
dumb fucks

Evolution is going on trial in Kansas.

Eighty years after a famed courtroom battle in Tennessee pitted religious beliefs about the origins of life against the theories of British scientist Charles Darwin, Kansas is holding its own hearings on what school children should be taught about how life on Earth began.

The Kansas Board of Education has scheduled six days of courtroom-style hearings to begin on Thursday in the capitol Topeka. More than two dozen witnesses will give testimony and be subject to cross-examination, with the majority expected to argue against teaching evolution.

Many prominent U.S. scientific groups have denounced the debate as founded on fallacy and have promised to boycott the hearings, which opponents say are part of a larger nationwide effort by religious interests to gain control over government.

"I feel like I'm in a time warp here," said Topeka attorney Pedro Irigonegaray who has agreed to defend evolution as valid science. "To debate evolution is similar to debating whether the Earth is round. It is an absurd proposition."


[more]
money
Banknotes of Ireland (Republic)
[more]
Before the Euro, Ireland had some great money. James Joyce on a 10 pound note. What are the odds of Walt Whitman on a ten dollar bill? Ha!
only christians need apply
Robertson, Sheldon: Muslim-Americans not fit for higher office in America

Pat Robertson and Lou Sheldon says that Muslims-Americans are not fit for higher office in America.

Appearing on ABC's "This Week," Robertson ? who founded the Christian Coalition ? also said he would be wary of appointing Muslims to top positions in the U.S. government, including judgeships.

His comments on Islam drew a heated response from Muslim leaders, who criticized them as racist and inaccurate.

Another conservative Christian leader, the Rev. Louis P. Sheldon, was more cautious in an interview about embracing Giuliani as a presidential candidate, but said he was inclined to agree with Robertson's view of Islam.

Again, this is Nazi Germany territory. I called it several years ago. Said that first it was the gays, but other groups would next become the targets of the religious right. We yet again have a perfect opportunity for our liberal non-profits to jump in. Robertson and Sheldon just made themselves instant pariahs - no politician should ever meet, talk to, or do anything with any organization that has anything to do with either of these two ever again.


[more]
thanks to Eschaton



Juan Cole has some very intersting comments on this...
Is Bigotry All Right in Politics?
Juan Cole
| | | |
| --- | --- | --- |
| | John Aravosis argues that Pat Robertson should be a political pariah after his remarks on ABC's "This Week" on Sunday that Muslim Americans are not fit to serve in the US cabinet. It is actually much worse than that. Robertson also implied that Jews are unfit to serve on the Supreme Court because some of them defend the ACLU, which he equates with defending Communism. The anti-Jewish bigotry among some evangelicals that codes Jews as a "cultural elite" promoting non-Christian values just drips from his words. I give the relevant parts of the interview below. | |
[more]
The only thing lower than a Muslim or a Jew, to these people, is an atheist. As an atheist, seeing these people driving our government's policies doesn't give me a warm nor a fuzzy feeling.
the hurryerder i go the behinder i get
It's been another week since I posted. I'm not slacking. Really. Part of it is those pesky customers that want me to make changes on their websites. Part of it is that Zoe got some weird results back from a mammogram. She is supposed to see a surgeon next week about a biopsy on some calcification and she went in this week for an ultrasound on a cyst. The ultrasound didn't show that it was a cyst and now they are talking surgery to remove whatever it is. This is upsetting to say the least. Zoe has been posting about it on her blog. Her mother who has Alzheimer's has been living with us. We sold her house and the new owners want to move the closeing up to June 1, which means we have to get her stuff moved out. Most of it is packed but it's like stuffing ten pounds into a five pound sack. We actually have it pretty much under control.
Then there is gordy's camera straps. I've sold about 15 of these little suckers and promises of more orders on the way. I've started working on a version that will attach to the tripod mount for those cameras that don't have strap lugs. I built a prototype...

I posted pictures of it over at Rangefinder Forum and got a lot of good input. I'm going to be talking to some local machinists about making the little metal thingy. Another customer requested colored waxed thread. I found what looks like a great source for colored waxed cord. I've ordered some red that should be in early next week. If it's good, I will be ordering other colors. My sales have been from the Rangefinder Forum folks and they have been a big help. One of my RFF customers did this cartoon on the back of his envelope.
Another, who is Japanese, has offered to translate description and ordering information into Japanese for my camera strap site so Japanese characters should be showing up soon. And then there was the stress test.
VOIGHTLANDER, of RFF, ordered a couple of straps from me and asked the following:
"A question ... your strap is it made from a continuous loop of leather or both ends are tied/hidden within the waxed thread.
I need to know if it's the latter cos i will take care not to swing the camera around as the strap ends may just came loose."
There is a glued joint under the waxed thread where the two ends are joined together. I've really pulled on these with my hands before to test them but I've been thinking about something a little more measurable. VOIGHTLANDER's question prompted me to do a test to destruction to see what the limits of this joint is. I first hung a vise and hammer that totaled 17 pounds.
That worked fine so the only other thing heavier I had was an old monitor. It weighs 25 pounds. It hung there just fine but the split ring was starting to deform.
At this point I didn't want to add more weight because I didn't want that much weight falling when something failed.
I think it's safe to say that if the camera you are carrying with the wrist strap is starting to deform the split ring that you might not want to swing it around.
Anyway, I've got a lot of links to put up today as well as some cleaning, a ceiling fan to install, and a lawn to mow. It may take most of the day to get the links up.